10 Best Contour Sticks To Highlight Your Cheekbones – 2023
Sculpt, define, and flatter your facial features with easy-to-use contour sticks!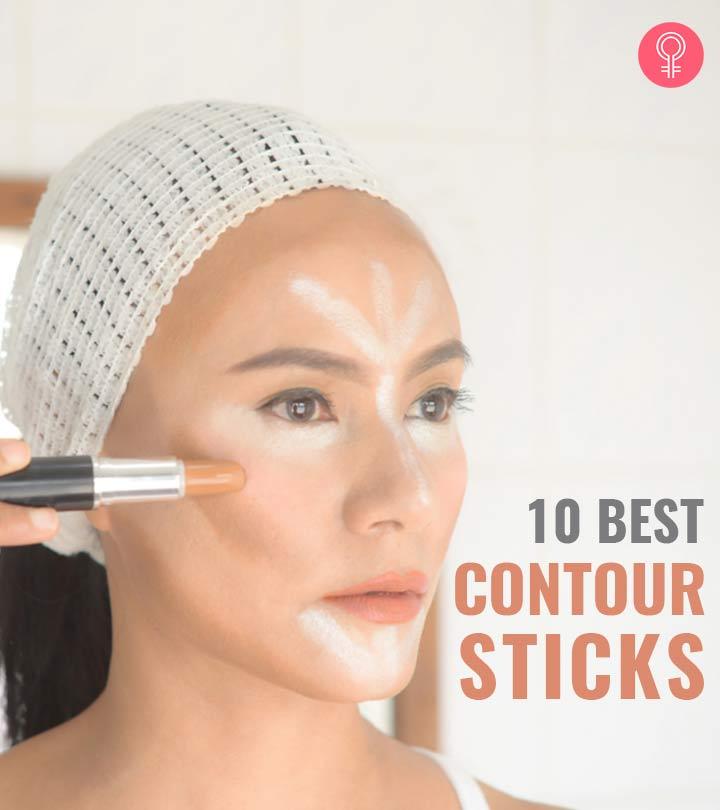 You don't need to undergo invasive and costly celebrity-inspired surgical procedures to look younger because some of the best contour sticks on the market can help you achieve a youthful appearance in no time. Contouring is a versatile technique that helps soften, define, and enhance the appearance of your features for enhanced beauty. For example, you can use a contour stick to highlight your cheekbones, produce a defined jawline, and accentuate your nose. It may sound complicated, but these expertly crafted contour sticks make contouring simple for beginners. You can also always look up a contouring tutorial, if need be.
Lorrie Pearson, a professional makeup artist, says, "Contour sticks are fast and easy to use. You can define your features quickly to create your beautiful look."
Contouring for beginners requires practice and patience to achieve a natural-looking sculpted, statement-making effect. Contouring for advanced enthusiasts allows for more intricate techniques and greater creativity in manipulating facial features for dramatic transformations. However, contour sticks are a must for face makeup and natural definition. They are simple to use, fuss-free, portable, and practical. Most of these contouring products come in a two-in-one contour and highlight stick, with a dark and a light hue on either side. There are numerous color combinations to choose from to suit various skin tones. They are available in creamy formulas that blend smoothly and last a long time. In addition, contour sticks are so lightweight that they slide effortlessly over the skin and help you get ready quickly.
A decent contour stick should be free of toxic substances, allergy-tested, hypoallergenic, non-comedogenic, and cruelty-free. We have hand-picked some contour sticks that have good highlight hues, harmonizing mattes, and beautiful shimmers, along with a creamy yet lightweight formulation to help you achieve that flawless makeup look with enhanced features. Scroll down to find the product that is ideal for you!
10 Best Contour Sticks Available Right Now
NYX Cosmetics Wonder Stick has two different shades on either side – one for highlighting and the other for contouring. It helps you achieve that glowing, sculpted look. Its thick, creamy formula glides smoothly on the skin, blends well, and offers buildable coverage. This expertly crafted ultimate dynamic duo stick is available in six color-coordinated shade pairings. This blendable formula is easy to apply and PETA-certified cruelty-free.
Pros
Blends well
Comes with a highlighter
Easy to apply
Creamy formula
Available in 6 shades
Cruelty-free
Cons
L'Oreal Paris Infallible Longwear Shaping Stick has SPF 27. It offers long-lasting, buildable coverage. This celebrity-inspired contouring stick comes in multiple shades and feels weightless on the skin. Its natural formula melts into your skin without caking or dragging. The creamy texture helps in blending the product well for a sculpted look that helps you define and enhance your features. This blendable formula can be used to shape and contour your face quickly.
Pros
Lasts up to 24 hours
SPF 27
Lightweight
Medium-to-full buildable coverage
Creamy formula
Glides easily on the skin
No caking
Cons
Maybelline FaceStudio's Master Contour V-Shape Duo Stick has a creamy matte formula that blends easily into the skin. It has a dark contouring shade on one side and a light highlighting shade on the other. It helps you add definition and structure to your face. This 2-in-1 contour shade and highlighter stick glides easily on your skin to help you create the illusion of a sculpted V-shaped jawline. Maybelline FaceStudio Master Contour V-Shape Duo Stick is available in 3 shades for light, medium, and dark skin tones. This handy contour stick helps you get a flawless natural finish in a very short time and has many positive reviews online from reviewers all over the world.
Pros
Glides smoothly on the skin
Easy to use
Comes with a highlighting shade
Blendable formula
Available in 3 shades
Cons
Kiko Milano Creamy Stick Contour is enriched with African walnut oil and soothing pistachio extract that give it a soft and creamy texture, thus ensuring good coverage. This blendable formula is easy to use and made with pure matte pigments that leave a natural matte finish on your skin. The stick's ergonomic shape allows you to define your features with precision and ease. Thus, you can contour your features easily to create a sculpted look and flawless finish. This dermatologist-tested contour stick is hypoallergenic and safe for most skin types and has received many positive reviews from reviewers online. It is non-comedogenic, so it does not clog your pores and lets your skin breathe.
Pros
Creamy formula
Great coverage
Matte finish
Cruelty-free
Hypoallergenic
Non-comedogenic
Dermatologically tested
Cons
Has orangish warm undertones
Wet N Wild MegaGlo Dual-Ended Contour Stick helps you contour and highlight your face with ease. Its creamy formula glides smoothly on the skin and helps add definition and a smooth finish. The warm contouring gives you a chiseled or sculpted face, while the lighter shade enhances your features by strobing them. This convenient and portable stick allows for precise application. This cruelty-free contour stick lasts all day.
Pros
Blends well
Highly pigmented
Creamy formula
Long-lasting
Easy to use
Portable
Cons
Fenty Beauty By Rihanna Match Stix Matte Skinstick is the must-have all-rounder in your makeup kitty. This contour stick highlights, imparts radiance, sculpts, and adds warmth and contours to create definition. The lightweight cream-to-powder formula is buildable and easily blendable without creasing. It complements most skin types flawlessly and is available in a wide array of shades for all skin undertones.
Pros
Contours, highlights, sculpts
 Wide range of shades
Phthalate-free
Paraben-free
Easy to use
Buildable formula
Vegan
Cruelty-free
No caking
Cons
None

The Catrice Shape and Define Contour Stick is the perfect makeup companion! This dual-ended retractable applicator offers both contouring and highlighting products to help you create a fabulous makeup look. The contour side of this stick helps you effectively shape your cheekbones, nose, and temples. This blendable formula is easy to apply, has a buildable texture, and offers a coveted finish. It is free of parabens, gluten, alcohol, oil, fragrance, phthalates, and microplastic particles.
Pros
Dual-ended stick
Easy to blend
Value for money
Non-greasy
Paraben-free
Gluten-free
Oil-free
Alcohol-free
Fragrance-free
Microplastic particles-free
Phthalate-free
Cons
None
PÜR Cameo Contour & Highlight Stick is made with a proprietary blend of ceramides and vitamin A that has anti-aging properties. The microspheres in this hydrating formula have light-reflective properties that make your skin look good by hiding imperfections such as age spots, fine lines, and uneven skin tone or texture. Its creamy formula gets absorbed easily into the skin to add depth and dimension to your face. Thus, this dual-ended contour stick contours and highlights your face simultaneously for a flawless look. It also comes with a contour blending sponge.
Pros
Comes with a highlighting shade
Creamy formula
Anti-aging properties
Hydrates the skin
Cruelty-free
Comes with a contour blending sponge
Cons
TRE'STIQUE Color & Contour Bronzer Stick is a new generation cream-gel contour stick that is ideal for creating a perfectly sculpted look. It is formulated to glide with a silky touch and contour your cheeks with a veil of matte bronzing color. It is infused with coconut oil that moisturizes your skin. Its formula is super blendable and comes in one universal shade that looks good on everyone. Blend it to your heart's content and mix it with your favorite blush or highlighter for your ideal contoured look. Its custom magnetic seal cap keeps your makeup bag clean. Use the built-in angled brush on the opposite end to blend and buff the contour.
Pros
Blends well
Matte finish
Moisturizes the skin
Durable
Cream-gel formula
Custom magnetic seal cap
Comes with an angled blending brush
Cons
Only available in one shade
The Physicians Formula Organic Wear Sculpting Face Bronzer cream helps you get a sun-kissed glow without having to expose your skin to harmful UV radiation. This multi-use cream-to-powder formula is ultra-blendable and buildable. It is packed with natural ingredients, like organic jojoba oil, Indian senna seed, aloe vera, and botanical cactus flower that moisturize your skin while protecting it against free radical damage.
Pros
Blends easily
Long-lasting
Vegan
Creamy
Value for money
Cons
None
Anyone can achieve the perfect cheekbones with contouring. By using a darker shade of makeup product on the areas, you want to recede and a lighter shade on the places you want to bring forward, you can create the illusion of higher cheekbones.
Many products on the market can be used for contouring, but contour sticks are a great option because they are easy to use and blend. However, when looking for a contour stick to highlight your cheekbone, you should keep a few things in mind.
Things To Look For In A Contour Stick To Highlight Your Cheekbone
First, consider the shade of the contour stick. You want a shade slightly darker than your skin tone to create natural-looking shadows. For instance, look for a light brown or taupe contour stick if you have fair skin. For medium skin, look for a dark brown or chocolate contour stick. Look for a black or espresso contour stick if you have dark skin.
Look for a contour stick that has buildable coverage and blends seamlessly without looking patchy or cakey even on oily skin. You should be able to build upon the color and intensity as you like. For sensitive skin, opt for a clinically tested stick or powder contour and create a natural look. Always look for a waterproof and long-lasting formula to avoid the need for touchups throughout the day.
The brand you select should have a good reputation in the industry. It should already have a few high-quality products. Look for brands that have been around for a while and have a good track record. Also, look for customer reviews and tester's experience to understand what others think of the brand. If you find that difficult, just go for a brand you may have tried.
Finally, don't forget to consider the price when shopping for a contour stick. There are great drugstore options available that won't break the bank. But if you want something high-end, there are plenty of luxurious options out there as well. However, if any contour stick meets your eye, whether affordable or expensive, don't hesitate to invest in it. It is definitely worth having in your contouring kit.
Why Trust StyleCraze?
Baishali Bhattacharya, the author of this article, is certified in makeup techniques. Her expertise in this field drives her to choose the best contour sticks for her readers. Understanding the struggle women go through with finding the perfect makeup, she has reviewed some of the top contour sticks out there to make it easier for you. This well-researched list of contour sticks is simple, portable, easy to use, and most importantly, helps you achieve a flawless look!
Frequently Asked Questions
What is the purpose of a contour stick?
A contour stick imparts definition to your face as it highlights and darkens certain areas of the face to make it look sculpted.
Is liquid or stick contour better?
For dramatic effect, the liquid contour can work wonders. However, if you want to go for a subtle makeup look, it is better to use stick contour.
Which contour stick is best for beginners?
Beginners can use the NYX Cosmetics Wonder Stick. It has easy application and blends well with your skin tone.
Do you use a contour stick before or after foundation?
Contouring is done after applying foundation and concealer. This makes the process of blending makeup products easier and more effective.
Is a contour stick the same as concealer?
No, contour sticks and concealers have different usages. Contour sticks offer definition while highlighting the natural features of your face. On the other hand, concealers cover spots, blemishes, and signs of aging to enhance the appearance of your skin.


Recommended Articles