17 Best Contouring Kits Of 2022 – Reviews + Buying Guide
Give your face the shape and structure of your choice with these cosmetic products.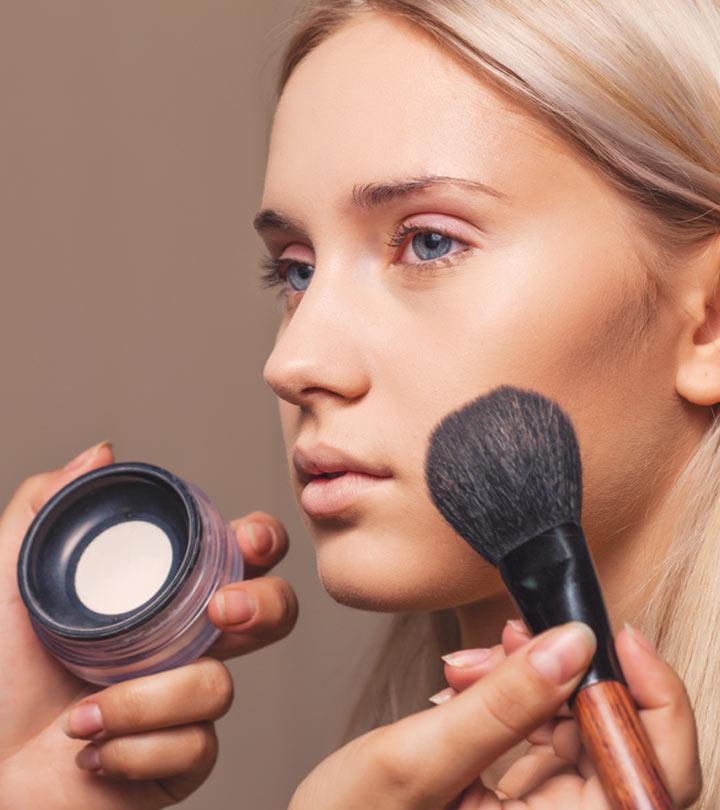 If you were not an artist before, mastering the art of contouring flawlessly can definitely make you one. Owning the best contouring kits is a clear indication that you have reached the epitome of pro-level makeup skills. The hype is understandable as many influencers and celebs like the Kardashians use contouring to look hot with a sharp jawline and angled cheekbones. All you need is the right application technique and just the right amount of product to help you contour perfectly. Blending is also equally important to achieve the look. We have compiled a list of the 17 best contouring kits complete with a buying guide for you to exercise your skills and creativity. Keep scrolling to check them out below!
17 Best Contour Makeup Kits Reviews Of 2022
One of the best contouring kits in the market, Aesthetica helps you achieve that coveted contoured look with their contouring palette. The contour kit includes 6 blendable shades of silky texture. These shades can be used to highlight, define, and sculpt your face to create the defined look. The best thing about this kit is that you get step-by-step instructions on how to contour like a professional with their contour mapping guide. The contour kit offers a great payoff with the highly pigmented contour creams that can be used to get that flawless airbrushed finish. The kit includes 3 foundation/concealer shades and 3 illuminating creams for contouring and highlighting respectively. Watch this video of the product for more information.
Pros
All the shades can be mixed and matched
Ideal for fair, light, medium, and dark skin tones
Dermatologically tested and hypoallergenic
Ideal for all skin types
100% vegan and cruelty-free
Removable and replaceable pans with a mirrored palette
Cons
Limited color options for darker skin tones
Slightly expensive
Finding the best contouring kit can be challenging especially if you fall in the medium to dark skin tones. But with the True Complexion Creme Contour Palette, you get three blendable shades that will help you highlight, shape, and sculpt your facial features. This contour kit is perfect for sculpting your jawline, defining your cheekbones, and perfecting the shape of your nose. All three shades are creamy, oil-free, and they blend easily to give you full coverage. With this kit, your search for the best contour palette for darker skin tones comes to an end. Go through this video review for a detailed understanding of the product.
Pros
Ideal for medium to dark skin tones
Blendable shades
Oil-free shades
Easy to use
Cons
The NYX Professional Makeup brings you a pro palette with 8 contouring and highlighting shades. All 8 shades can be customized to define your favorite facial features. The product can be refilled so that you don't have to invest your money on a new palette every time you run out of your favorite shades. Want more reasons to love this contour kit? This cruelty-free brand is PETA-certified and suitable for all skin tones. Check out this video for a detailed review of the product.
Pros
Refillable palette
Cruelty-free
Ideal for all skin tones
Perfect for highlighting and contouring
Cons
The building up may be time-consuming
The Anastasia Beverly Hills Contour Kit comes in a sleek black design and is ideal for light to medium skin tones. This contouring kit features 6 shades — 3 highlighter shades and 3 contour shades. All the shades have a powdery texture and offer shimmer and matte finishes. The shades are easily blendable and are perfect for layering to offer a satin finish. The kit includes both warm and cool shades to perfectly match with your skin tone and offer buildable coverage.
Pros
Removable and refillable blocks
Can be layered to intensify results
Blendable
Shimmer without oiliness
Cons
Conceal and contour quickly with this travel-friendly contour kit from Youngfocus. The contour palette contains 8 creamy shades that can be mixed and matched to create the chiseled look you always admired. Ideal for a wide range of skin tones, the contour kit features a lightweight concealer that will make your contour last long. The green shade can be used to neutralize red cheeks and to cover redness caused by acne. The dark yellow shade can be used around the eyes and mouth to even out the skin tone. The contour kit has got every shade you could possibly need to cover all the imperfections and highlight your facial features.
Pros
100% natural ingredients
Hypoallergenic and non-irritating
Cruelty-free
Ideal for all ages and suits all skin tones
Removable pans
Talc, paraben, and gluten-free
Cons
May not be effective on oily skin
If you are still looking for a contour kit to effortlessly sculpt and chisel your face, then you might want to take a look at this makeup kit from Beauty Junkees. The palette features 3 contour and 3 highlighter shades that are highly pigmented. All 6 shades are soft pressed powders and offer a matte finish. The multi-functional shades also work as concealer, brow definer, and eye shadows. The darker contour shades can be used to define and sculpt whereas the lighter highlighter shades can be applied to cover dark circles under your eyes, and brighten and lift your cheekbones.
Pros
Multi-functional shades
Offers natural flawless finish
Paraben-free
Cruelty-free
Travel-friendly
Cons
Best suited for lighter skin tones
Whether it is defining your favorite facial features or adding dimension to your face, this contour palette has got you covered. The palette features 6 pressed powder shades, 3 for contouring, and 3 for highlighting. The lighter illuminating powders can be used to enhance the nose, jawline, eyes, and cheekbones whereas the darker matte powders can be used to define features. The step-by-step guide makes it easy for you to contour like a pro. The shades can be blended for custom skin tones and they offer a matte finish. Hence, it is the best powder contour kit.
Pros
Suitable for all skin types and ages
Removable and replaceable pans
Includes a contour mapping guide
Vegan, cruelty-free
Gluten, paraben, and talc-free formula
Cons
Not suitable for dark skin tones
If you are not a fan of too many choices, this contour palette from e.l.f. is exactly what you need. Featuring four shades, this powder contour palette can be used to sculpt and brighten your face to create the desired look. Formulated using vitamin E, apply the shade of your choice to highlight, bronze, and contour your face for a flawless look. This contouring kit is suitable for light to medium skin tones and is free of phthalates, triclosan, nonylphenol, triclocarban, ethoxylates, parabens, and hydroquinone.
Pros
Cruelty-free
Vegan
One of the best drugstore countour kits
Offers a luminous matte finish
Paraben-free
Cons
Does not suit dark skin tones
Finding the best contour palette can be tricky when you're always on the go. You need something simple and classy that is compact enough to fit into any handbag. This Face Contour Kit from Sleek MakeUp comes with minimum fuss. The kit features a pressed highlighter and contouring powder for that beautifully sculpted look you always dreamed of. The easy-to-blend matte contour powder can be applied to define the facial features whereas the illuminating highlighter can be applied to those areas of the face where the light would naturally fall.
Pros
Compact
Travel-friendly
Ideal for light skin tones
Cruelty-free
Cons
Not suitable for medium and dark skin tones
This contour palette from Maybelline comes with a cheat sheet and eliminates the guesswork when it comes to contouring and highlighting. The Face Contouring Kit
features three shades that help you contour, blush, and highlight. All shades are blendable and buildable to create the customized makeup look. The kit also includes step-by-step instructions for a foolproof contouring experience. The palette is available in two shade combinations for light to medium and medium to deep skin tones.
Pros
One of the best contouring kits for beginners
Easy to use
Affordable contouring kit
Brush included
Ideal for light, medium, and deep skin tones
Cons
This contour kit makes it to our list of the best contouring kits for its creamy and blendable contour shades. The palette features 6 shades that are ideal for every skin tone. Designed in a travel-friendly palette, the contour kit comes with a step-by-step guide for easy contouring. Perfect for creating shadows and highlighting the best features of your face, the creamy shades offer a radiant glow. If you don't love this kit already, we are here to tell you that it's cruelty-free as well.
Pros
Non-toxic cream
Safe for all skin types
Cruelty-free
Travel-friendly packaging
Exclusive guide included
Cons
Doesn't come with a brush
Just take a look at the reviews, and you would know why this contour kit is a favorite among beauty bloggers and stylists alike. The Smashbox Step-By-Step Contour Kit is one of the best contour kits available in the market today. The kit includes three shades to highlight, bronze, and contour your face effortlessly. The blendable powders are universally flattering to match every skin tone and kit includes a free contour brush. The travel-size packaging also makes it easy to carry the kit on the go.
Pros
Universal shades
Compact design
Includes a contour brush
Includes step-by-step instructions
Cons
If you haven't already mastered the art of contouring, this contour palette has everything you need. Packed with one shimmer and two matte highlighters, the palette can be used to conceal and brighten the under-eye area and focus on the high points of your face. The matte contour shades are available in light, medium, and deep shades that can be used to define the facial features and create natural shadows. All the shades can be mixed and matched to create custom looks and they work well on eyes and brows. All the shades featured are universal and match perfectly with every skin tone.
Pros
Comes with a contour brush
Ideal for light, medium, and deep skin tones
Can be used for brows and eyes
Infused with soothing, high-quality ingredients
Cons
Contour shades may be difficult to blend
Finding the right contour kit can be a challenge especially when you are a beginner at the contouring technique. Contouring is made easy with this kit from Too Faced that has four universal shades for you to choose from. The kit includes two contour shades, a matte highlighter, and a "Pop of light" shade with a luminous finish. Formulated using the antioxidant-rich cocoa complex, they are free of parabens and gluten. With a yummy chocolate scent to it, you would definitely love having this in your makeup collection.
Pros
Ideal for light to medium skin tones
Comes with a contour Buki brush
Mirrored palette
Pleasant scent
Paraben-free
Gluten-free
Cons
The bronzer maybe a little reddish
Finding the best contour palette doesn't have to cost you a ton. This contour makeup kit from L'Oreal is one of the most affordable contour kits to add dimension and depth to your face. The kit features 4 creamy contouring shades that can be blended or used individually for concealing and contouring. The shades offer full coverage and can be used to cover scars, dark circles, and blemishes on your skin.
Pros
Affordable contouring kit
Easy to blend
Highly pigmented
Doesn't get cakey or greasy
Cons
May not be easy to use for beginners
The best contour kit is one that simplifies the art of contouring while giving you a flawless makeup finish. And the Ulta Contour Kit does just that. The kit includes six shades, with two highlighter shades and four bronzer shades. The shades are of powdery texture and offer great coverage for healthy and glowy skin. The palette includes a tutorial card with instructions on how to define and enhance your facial features.
Pros
Includes 6 shades
Offers natural glow
Perfect for highlighting and defining features
Easy to blend
Cons
May not suit sensitive skin
With this contour kit from Magic Minerals, sculpting and defining facial features is made easy. The kit includes 6 blendable shades to contour and highlight different areas of your face. Formulated with minerals, the shades are hypoallergenic and free of fragrance. The palette offers long-lasting wear up to 12 hours so you don't have to worry about touching up every hour. Ideal for every skin tone, the contour palette also includes a double-ended contour brush.
Pros
Ideal for sensitive skin
Fragrance-free
Mineral-enriched formula
Contour brush included
Long-lasting wear
Cons
Buying Guide Of Contouring Kits
What Is Contouring?
Contouring is a makeup technique that can be a real game-changer if done right. Contouring is done by applying a shade darker than your skin tone to create shadows and add more definition to your face. You can take your contouring game up a notch by using a highlighter which is a lighter shade to bring out the beauty of certain facial features.
Why Should I Use A Contour Kit?
A contour kit is used to shape, define, and highlight your face to create that sculpted, chiseled makeup look. Contouring helps to bring out the best facial features by focusing on the high points of your face.
How To Choose A Contour Kit?
There are two important factors to consider while choosing the right contour kit:
Cream or powder: Both cream and powder are excellent choices for contouring. While cream offers a more dewy finish, powder contours give a matte flawless finish. However, if you are a beginner, we recommend using a powder contour as it offers greater control and is not as heavy on the pigment compared to the creamy formulas.
Picking the right colors: When it comes to contouring, it's best to go for one or two shades darker than your skin tone. For highlighter, choose a color that is one or two shades lighter than your skin tone/foundation. If you have fair skin, avoid products with an orange hue. For medium skin tones, shades with bronze hue work great and if you've got dark skin tone, opt for a deeper shade that has red undertones.
Prep your skin by applying a moisturizer or a primer. Next, apply a foundation that matches your skin tone for a smooth and even complexion. Using a contour sponge or a brush, apply the contour shade starting from your ear gradually towards your mouth by blending it gently. This adds definition to your cheeks. Similarly, you can apply the contour shade along your chin and the lengths of your jawline to create the desired look.
Features Of Contouring Kit
Each contour kit may vary as they are created based on the needs of different individuals. Here, we list down some of the most important features to consider when searching for the best contour kit that will suit your needs:
Color: As discussed earlier, it is recommended to choose a contour shade that is slightly darker than your foundation. Similarly, for highlighter, it is best to opt for a shade that is lighter than your foundation.
Formula: Both cream and powdery formula work great for contouring and the decision comes down to personal preference.
Blush: If you don't have a blush in your makeup kit, it's best to choose a contour palette with a blush in it. Blushes are essential to add that pop of color on the apple of your cheeks.
Contour brush: Since most contouring kits don't come with a brush, it's best to invest in a good quality brush to help you blend like a pro.
Price point: Contour kits can come as cheap as $7 to as expensive as $70. And an affordable contour kit doesn't necessarily mean that you are compromising on quality. Look for one that suits your skin tone and skin type, and has everything you need. However, if you are a beginner at this, it's wise to go for an affordable contour kit than a high-end contouring kit.
Why Trust StyleCraze?
Chaitra Krishnan, the author of this article, has a gift for discovering the best makeup products. If you are looking for excellent makeup products that accentuate your facial features, Chaitra recommends using the contouring kits listed above. These products have been widely reviewed on various online platforms. These kits have been selected based on their color payoff, ease of application, formula, consistency, and additional benefits like hypoallergenic properties.
Frequently Asked Questions
What is a contour kit and how does it work?
A contour kit creates the illusion of sharp and defined features when used strategically with highlighter and contour shades.
How many shades darker should you go for contour?
It is best to go for one to two shades darker than your skin tone to create the perfect makeup look with contouring.
What products to use for contouring?
A basic contour kit should have a contour shade and a highlighter to create the desired look.
Is powder or cream contour products is better?
Both powder and cream contour can be used for contouring. However, if you're a beginner, it's safe to opt for powder contour as it is easy to use.
What do I need for beginner contouring?
Other than a contouring kit, it is crucial to invest in a professional contour brush or a blending sponge to make your makeup look more natural.
What is the best powder contour palette?
The best powder contour palettes are Anastasia Beverly Hills Contour Kit, Beauty Junkees Exclusive Contour & Highlighting Palette, Aesthetica Cosmetics Powder Contour Kit, e.l.f. Cosmetics Contour Palette, and Smashbox Step-by-Step Contour Kit. However, you can pick your own favorite from our list according to your preferences.
Do you highlight and contour before or after foundation?
Foundation should be applied before you highlight and contour your face. Foundation provides a good base for proper contouring. You can also apply a concealer if you want to cover the under-eye area for an even skin tone.
Recommended Articles