The 10 Best Convection Microwave Ovens For All Purposes – 2023
Upgrade your kitchen with the much-loved and essential convection microwave ovens.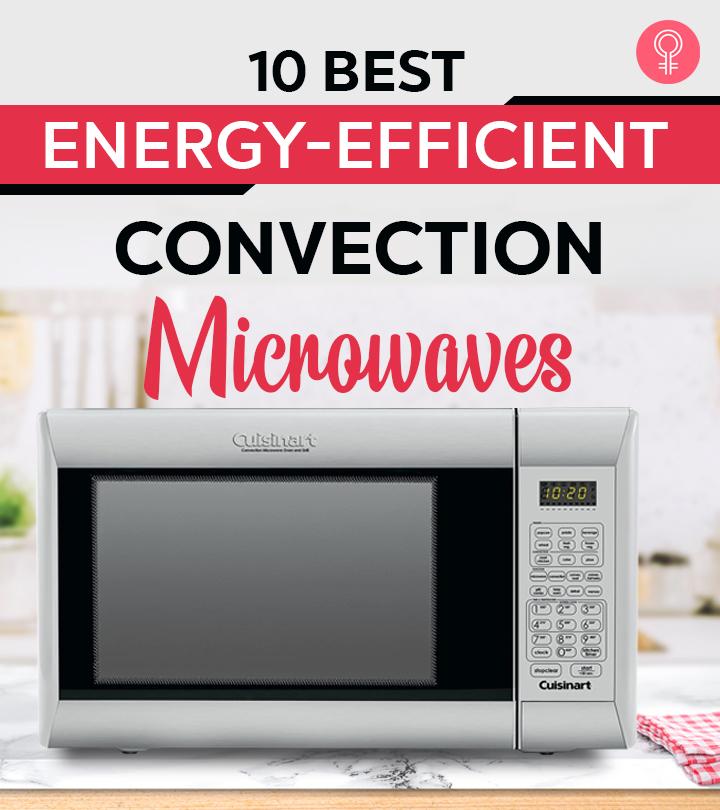 Microwaves have become part and parcel of every household nowadays. The best convection microwave ovens are considered an essential kitchen appliance that offers multiple operations like heating, cooking, grilling, defrosting, and baking. Even professional bakers and chefs love convection microwave ovens. However, you are spoilt for choice as many brands have come up with various models of convection microwave ovens due to their growing popularity. In this article, we have reviewed the best models available online. Read on!
10 Best Energy Efficient Convection Microwaves
The Cuisinart Convection Microwave Oven offers numerous cooking options in one countertop design. It has an automatic menu for roasting, baking, and defrosting food. The oven is incredibly versatile and convenient. It has eight cooking functions, which include convection, microwave, convection fast bake, convection roast, defrost, memory, keep warm, and grill/combo. These will allow you to cook your dishes perfectly. The oven's interior space is 1.5 cubic feet, and it has a 1000-watt power. Its interiors and exteriors are made of stainless steel, making it easy to be cleaned. The oven does not absorb food smells. It is 19 x 12.2 x 21.2 inches in size and it weighs 38 pounds.



Pros
BPA-free
Eight cooking options
Reversible grill rack
Large 12-inch glass tray
Absorbs no odors
Cons
Tinted glass window keeps you from seeing the food being cooked.

Caution
Overcrowding a convection oven restricts air circulation and may lead to undercooked or unevenly cooked food.
Price at the time of publication: $284.99
This microwave from Oster French has double doors – but pulling a single door pulls open both. This microwave has turbo convection baking technology, which enables it to cook food faster and brown veggies more evenly. The digital controls have precise cooking time and temperature options, and you do not have to rely on mere guesswork anymore. This microwave has two racks that offer a lot of cooking flexibility. It also allows you to cook your food slowly at a preset temperature of 150°F. It has an adjustable time (up to six hours). It also has a 90-minute timer with a signal, after which the oven turns off automatically.
Pros
Versatile
Very easy to clean
Auto shut-off feature
Glass doors offer visibility
Cons
Price at the time of publication: $269.99
The Toshiba Counter top Convection Microwave is a brilliant addition to the kitchen. It is available in two color options – stainless steel and black stainless. The microwave measures 21.8 x 21.5 x 13 inches and comes with a 13.6 inches turntable. This convection microwave features an auto menu for quick cooking, sensor cooking function, one-touch start buttons reheating function, and so on. The available presets are –warm hold, auto bake, favorite, auto defrost, time defrost, popcorn, sensor cook, auto roast, and sensor reheat. You can also switch modes between microwave, convection oven, or a combination of both these features. The numeric keypad on this microwave can be used to increase the temperature. It hasten power levels –and needs just 1000 watts power. It comes with a grill rack that can be used in the convection mode.
Pros
Pre-programmed sensor menu
Sound on/off option
Power saving mode
Child safety lock
Cons
Cooks slow in the microwave mode
Not durable
Overheating issues

Caution
If you are new to using a convection microwave, do not wait for the bell; check on the food midway through the cooking as it heats food faster than a traditional microwave.
Price at the time of publication: $238.4
The Elite Gourmet ETO-4510M Oven is an efficient, versatile appliance that offers an impressive capacity of 45L. It is designed with two doors that you can open together or one at a time, which saves your counter space. It features four racks allowing you to cook several dishes at the same time. The two racks of the oven can hold up to 18 slices of toast or a 20lb turkey, and with the help of four rack positions, you can bake two 14″ pizzas. It is powered by convection technology that circulates hot air inside it to encourage faster roasting. The rotisserie fork assembly of the oven rotates the food for even cooking, and the temperature knobs can be adjusted up to 450°F. The oven also is designed with a 60-minute timer with a signal that automatically shuts it. The oven door is built with tempered glass for utmost safety and the steel handles give it a sleek touch. The interior lighting allows you to monitor the cooking. Additionally, the slide-out crumb and greasy tray, make it an easy-to-clean oven.
Pros
Value for money
Versatile
Easy to clean
Easy to use
Durable
Four cooking racks
Features interior light
60-minutes automatic timer
Cons
The doors close too easily
Price at the time of publication: $99.19
The Panasonic Microwave Oven is a microwave, air fryer, broiler, and convection oven – all in one! You can use each function on its own or mix and match as per your requirements. The oven circulates hot air around food super quickly. You do not need to pre-heat. The convection bake option ranges from 100° and 215° to 425°F. The Flash Xpress broiler is great for browning, toasting, and crisping. It is 14.97 x 15.36 x 9 inches in size and weighs 39.1 pounds.
Pros
Compact design
Versatile
Easy to clean
No pre-heating needed
Cons
Noisy operation
Controls are hard to read
Price at the time of publication: $529.95
The Farber ware Counter top Oven is an all-in-one appliance, featuring convection, microwave, grill, and air fry settings all in a single oven. It has nine healthy air fry menu settings, and all you need to cook in this oven is a drop of oil. The grill option will allow you to toast, brown, or combine with the microwave option to make foods juicy inside and crispy outside.The oven has ten power levels and multi-stage cooking options. It is 20.1 x 20.5 x 12.8 inches in size and weighs 46.6 pounds.
Pros
Versatile
Easy to clean
Needs just a drop of oil
Easy-to-use controls
Adjustable power function
Cons
Noisy operation
Expensive
The GE Profile Countertop Convection Oven has a stainless steel exterior and interior. It has an internal capacity of 1.3 cubic feet. It offers a plethora of menus and options that make cooking easy. It has auto-cook functions, including beverage, sensor cook, popcorn, warm, auto defrost, convection roast, broil, and bake. This unit has ten power levels and 1000-watt power. It measures 20 x 21.1 x 12.1 inches and weighs 45 pounds.
Pros
Includes a broiler
Sensor cooking function
Easy to clean
Cons
The Sharp microwave oven is quite a decent addition to the kitchen. It has an internal capacity of 1.5 cubic feet. It offers functions like auto defrost, convection cooking, popcorn, and beverage. It has ten cooking power levels to choose from. It is made of stainless steel and measures 18 x 28 x 22 inches. It weighs 60 pounds.
Pros
Very easy to clean
Long-lasting
Quiet operation
Cons
Does not have many cooking options.
Price at the time of publication: $597.0
The Frigidaire Microwave Oven is a 27-inch electric combination wall oven. It is made of smudge-proof stainless steel. It has a microwave capacity of 2 cubic feet and an oven capacity of 3.8 cubic feet. It features a quick pre-heat option with sensor cooking. It also has a kitchen timer,  a baking system, a keep-warm option, an oven lock-out system, a broiling option ranging from 400°to 550° F, and a convection conversion option. The oven also has a 30-minute self-clean option. It has 2500 watt power and measures 24.75 x 27 x 42.8 inches. It weighs 250 pounds.
Pros
More cooking space
Smudge-proof make
Self-cleaning mechanism
Quiet operation
Cons
Bulky design
Not suitable for small kitchens
The RCA RMW1749-SS Microwave Oven With Sensor has a 1000W microwave, 1400W convection, and 1200W grilling capacity, imparting you with multiple options for cooking. It features an automated humidity sensor, auto time defrost, and a turntable on/off, ensuring easy operation. For additional convenience and efficiency, it has a venting system to expel steam, smoke, and odors, and a pull door handle for safe use. The easy-to-read control panel allows you to make the best use of this oven. It is also designed with a shockproof bar and a child safety lock. The LED cavity light of the oven allows you to have a crystal-clear inside view while your food is being cooked. The oven also features an ECO mode that reduces energy usage and operational costs. This compact oven has 10 different heat settings for smart and effective cooking.
Pros
Easy to install
Easy-to-use control panel
Variable heat settings
Shockproof bar
Has a child safety lock
Compact
Value for money
Cons
Price at the time of publication: $329.99
These are the top 10 convection microwaves available online. In the following section, we have discussed the buying guide.
What To Consider When Buying A Microwave Oven – Buying Guide
Now that you have decided to invest in a convection microwave, we have a few tips to share with you that will ensure you choose the perfect product. Check for the following factors before making a purchase.
Size: If you want to use the microwave to prepare dishes in large quantities, you can get an oven with more interior space.
Visibility: Many cooks find it convenient to be able to look into the microwave when the food is getting cooked even when the door is closed. This way, they can keep track of the progress and ensure the food is not under- or overcooked. However, not all ovens provide the same visibility. Some microwave ovens have tinted glass doors and obstruct visibility. If visibility is an important factor for you, ensure you get an oven with a clear glass door.
Price: Some convection microwave models are simply overpriced because of their brand name. If you are not on the lookout for a commercial-grade microwave oven, go for a reasonably priced unit.
Versatility: While some microwave ovens have limited features, others allow you to cook food in a number of ways and offer customizable settings. A versatile microwave oven, in general, offers convection, grilling, and even air frying options in addition to its regular traditional microwave cooking. If you do not want to buy several appliances, get a microwave with multiple features.
Capacity and Wattage: The internal capacity of a microwave oven ranges from 1.1 to 1.5 cubic feet. If you do not need to cook large meals, you should get a unit with a capacity of 1.1 cubic feet. Where wattage is concerned, a unit with around 850 watts should be ideal for regular cooking.
Cleaning: Foods inevitably spill or splatter in the microwave and make a sticky mess. You should always invest ina microwave that is designed for easy cleaning. This will save you a lot of effort and time. The easiest to clean microwaves are those that have solid interiors of one material. Stainless steel ovens that do not absorb odors are one good example.
Features: Do not simply invest in a microwave oven just because it has a lot of features. You need to carefully assess your needs and make sure the oven you want is fulfilling those. Anything extra is just going to cost more and sit unused forever. Hence, be wise and make a list of all the things you need and do not need from a microwave oven.
The upcoming sections further discuss microwave ovens.
How Does Microwave Oven Work?
Microwave ovens cook food by injecting them with microwaves, a form of energy. These microwaves are electromagnetic waves that fall between radio waves and infrared waves in the electromagnetic spectrum. Ovens contain magnetron, which is an electron tube that generates microwaves. When you turn the appliance on, the magnetron converts the electricity from the power outlet to high-powered 12cm (or 4.7 inch) radio waves. The magnetron then fires these waves into the cooking compartment through the wave guide. The food is put on a turntable, which slowly spins around so that the microwaves cook it evenly.The reflective walls of the cooking compartment bounce the microwaves back and forth, just the way light bounces off a mirror. But when these waves fall on the food, they penetrate it. As the waves travel through it, they make the molecules of the food vibrate more quickly.Vibrating molecules create heat and heat up the dish.
What Are The Different Types Of Microwave Ovens?
There are five types of microwave ovens:
Solo Microwave Oven, which is ideal for reheating and basic cooking.
Grill Microwave Oven, which can be used to grill veggies and meat besides reheating.
Convection Microwave Oven, which can be used for grilling and baking in addition to reheating.
Over the Range Microwave Oven, which is installed over the stovetop and also works as a range hood.
Built-in Microwave Oven, which should be installed in custom cabinetry cutouts. It requires no clearance.
What Are The Benefits Of A Convection Microwave?
A convection microwave can be a boon in the kitchen. It:
Is multifunctional
Is affordable
Saves time and space, and does the work of multiple appliances
Helps cook faster
Imparts better flavor to the food
When it comes to electronics, microwaves are a must-have in every household. The best convection microwaves are an essential kitchen appliance as they can be used for multiple operations like cooking, baking, grilling, and defrosting. These microwaves have grown in popularity over the years. The reviewed options in the list have advanced features. You must consider factors like the size, visibility, price, versatility, capacity, wattage, cleaning, and features while choosing the best convection microwave oven.
Why Trust Stylecraze?
Pratyasha Ray loves writing about kitchenware products. Here she has curated a list of the best convection microwaves available in the market. She has thoroughly researched these products and has included information regarding every feature. Her content is backed by expert reviews and can be trusted to refer to before you make a purchase.
Frequently Asked Questions
Can a convection microwave replace an oven?
Yes. A convection microwave can effectively be used as an oven. However, it depends on the user's preference.
Can you cook a pizza in a convection microwave?
Yes, we can make pizza in a convection microwave.
Would the exterior of an oven become hot?
Cooking foods in a convection microwave oven for long periods can cause the heat to transfer from the internal walls to the external cabinet as well. However, this is not known to cause any danger.
Can you use metal in a convection microwave?
Yes, you can safely use metal in a convection microwave.
Is a convection microwave like an air fryer?
Yes, you can air fry in your convection oven and get the same results as a countertop air fryer.
Can I use a cookie sheet in a convection microwave?
Yes, you can use a cookie sheet in a convection microwave oven.
The following two tabs change content below.