11 Best Cookware For Glass Top Stoves – Reviews & Buying Guide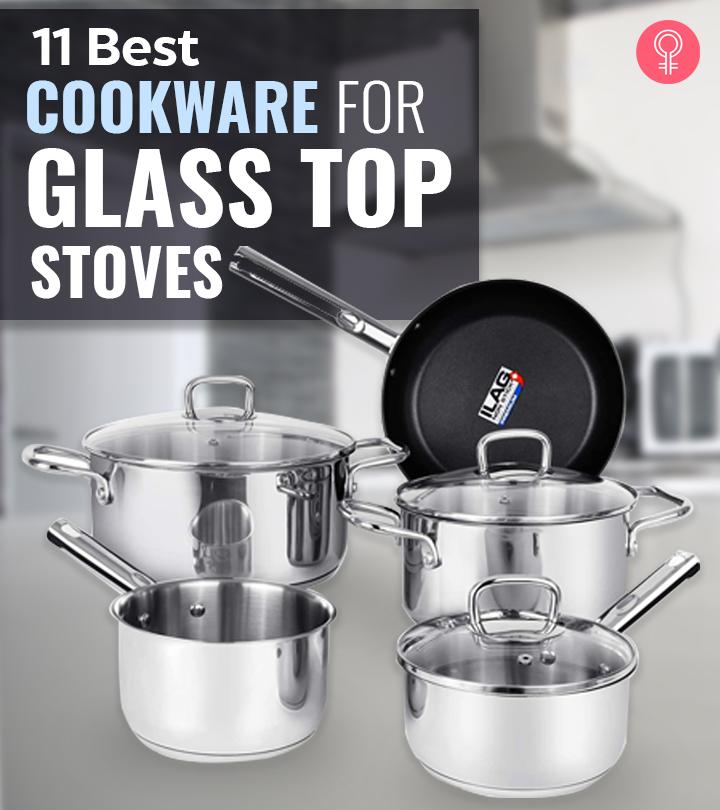 A glass stovetop is a stylish and energy-efficient cooking appliance. More and more people are switching to glass stovetops as they are functional, affordable, and can save on electricity bills. As these stovetops have a delicate glass/ceramic surface, you need special cookware made using high-quality materials for cooking over them. We have rounded up the 11 best cookware sets that will add to the elegance of your kitchen and facilitate efficient cooking. Take a look!
11 Best Cookware For Glass Top Stoves
The T-Fal Ultimate 17-piece Cookware Set features a hard titanium nonstick interior to make cooking a fun and mess-free experience. It also comes with a thermo spot indicator that turns red when the pans are heated just right and ready to cook. The riveted handles are designed for safety and comfort while the vented glass lids trap enough heat and moisture to cook perfect meals. The set includes frying pans, a square griddle, saucepans, asauté pan, a steamer insert with side handles, and an egg wonder fry pan.
Features
Material:Hard anodizedaluminum and titanium
Dimensions:84 x 13.85 x 15.41 inches
Weight:3 pounds
What It Includes: 8″, 10.25″, and 11.5″ fry pans with lids, 10.25″ square griddle, 1 qt, 2 qt, 3 qt saucepans with lids, 3.5 qt deep sauté, 5 qt Dutch oven with lid, 3 qt steamer insert with 2 side handles, and 1 egg wonder fry pan
Pros
Scratch-resistant
Corrosion-resistant
Thermo-spot technology
Dishwasher-safe
Oven-safe up to 350°F
Lead-free
Cadmium-free
Cons
The Cuisinart MulticladPro Cookware Set is equipped with a polished cooking surface that does not react with food or alter its taste and flavors. The secured stainless steel rivets and cool-grip handles make it easy and safe to handle. The tight-fitting and self-basting lids ensure proper heat distribution and maximum heat retention in the pans. The stainless steel set includes saucepans, skillets, sauté pan, stockpot, and a steamer to meet different cooking requirements.
Features
Material:Pure aluminum core and brushed stainless steel exterior
Dimensions:2 x 14.2 x 10.7 inches
Weight:1 pound
What It Includes: 1 1/2 qt and 3 qt covered saucepans, 3 1/2 qt covered sauté pan, 8" and 10" open skillets, 8 qt covered stockpot, and a steamer insert with lid
Pros
Hotspot-free
Drip-free pouring
Oven-safe up to 550°F
Dishwasher-safe
Cool-grip handles
Cons
The Viewee 8-piece Kitchenware Set is made using premium-grade nonstick material. The set features an aluminum tri-ply bottom and 4mm thick metal bottom to provide quick heat-up and even heat distribution while cooking. The heavy-duty stainless steel pans can withstand extreme heat. The cookware set is resistant to surface damage and scratches. The nonstick skillet is easy to clean and cooks healthy food with less oil or butter, so if you prefer healthy alternatives, this one is a great pick.
Features
Material:Stainless steel and tri-ply aluminum bottom
Dimensions:6 x 13.6 x 9.7 inches
Weight:76 pounds
What It Includes: 1 qt and 4 qt sauce pots, 1.5 qt and 2.5 qt saucepans with lids, and 9.5" open skillet
Pros
Quick heat-up
Corrosion-resistant
Dishwasher-safe
Oven-safe up to 446°F
Durable
Cons
Handles are not cool to touch.
If you want a stress-free cooking experience, go for the Paula Deen Signature Cookware Set.It features stunning speckled exteriors and copper accents to complement your kitchen's decor. The set includes every cookware item you may need for everyday cooking, such as sauté pans, saucepots, frying pans, and a measuring spoon set. The durable aluminum construction provides even heat distribution and top quality nonstick operation. The shatter-proof glass lids lock in flavors and heat for efficient cooking.
Features
Material: Aluminium
Dimensions:00 x 11.00 x 14.00 inches
Weight:72 pounds
What It Includes: 1 qt and 2 qt saucepans with lids, 8" and 10" frying pans, 6 qt saucepot with lid, 2.75 qt sauté pan with lid, and 5-piece measuring spoon set
Pros
Heavy-duty
Quick heating
Easy to clean
Stain-resistant
Oven-safe up to 350°F
Riveted safe handles
Cons
The best thing about the AmazonBasics Non-Stick Cookware Set is that every item in the set is made using heavy-duty aluminum with nonstick coating to provide a hassle-free cooking experience. This heavy-duty cookware set includes frying pans, saucepans with lids, and acasserole pan. The soft-touch and stay-cool handles are easy to grip and prevent burns and accidents. The vented lids allow the steam to escape while the food is cooking. All the items in the set have spiral bottoms for even heat distribution.
Features
Material:Aluminum
Dimension:57 x 12.36 x 4.88 inches
Weight:23 pounds
What It Includes:8" and 10" frying pans, 1.5 qt and 2 qt saucepans with lids, and 3 qt casserole pan with lid
Pros
BPA-free
Even heating
Seamless cleaning
No harmful fumes
Stay-cool handles for firm hold
Cons
The Cook N Home Cookware Set not only adds to the aesthetics of your kitchen but is also highly practical and affordable. The utensils are made of thick gauge aluminum that prevents hotspots and burns while providing even heat conduction. They feature a nonstick coating that does not let the food stick to the base.Each pan comes with stay-cool and comfortable handles to prevent accidents and burns. The set includes saucepans, frying pans,casserole, and 5-piece nylon utensils.
Features
Material:Aluminium
Dimension:8 x 7.9 x 12.6 inches
Weight:16 pounds
What It Includes: 1 qt and 2 qt sauce pans, 3 qt casserole, 5 qt Dutch oven stockpot with lids, 8" and 10" fry pans, and 5-piece nylon utensils
Pros
No hotspots
Non-slip handles
Easy to clean
PFOA-free
Comes with tempered glass lids
Cons
What's not to love about the Rachel Ray Nonstick Cookware Set? It is one of the best nonstick and cookware sets that features durable aluminum construction and distributes heat evenly. The two-toner color finish in orange gives it a bold and unique look. The nonstick coating prevents the food from sticking and facilitates easy cleaning. The double-riveted handles of the cookware set are designed for comfort and extra strength. The shatter-resistant glass lids help retain moisture and flavors in the food.
Features
Material:Aluminium
Dimensions:25 x 13.75 x 11 inches
Weight:46 pounds
What It Includes: 1 qt and 2 qt saucepans with lids, 3 qt covered sauté with lid, 6 qt stockpot with lid, 8.5" and 10" frying pans, crispy sheets, spatula, spoonula, and Lil' Devil turner
Pros
Versatile
Easy to clean
Durable
Shatter-resistant glass lids
Oven-safe up to 350°F
Cons
The enamel coating is prone to chipping.
The GreenLife Soft Grip Cookware Set is an affordable and beautiful addition to your kitchen. This turquoise set consists of frying pans, saucepans, stockpot, a stainless steel steamer, and four additional kitchen utensils, so you can cook your favorite meals conveniently. The soft-to-touch handles offer the utmost comfort, and the sturdy aluminum body prevents hotspots.
Features
Material:Aluminium
Dimensions:13 x 10.2 x 21 inches
Weight:72 pounds
What It Includes: 4", 7", and 9.5" fry pans, 7" stainless steel steamer, 1 qt covered saucepan, 2 qt covered saucepan, 2.5 qt covered sauté pan, 5 qt covered stockpot, and 4 kitchen utensils.
Pros
Ergonomic handles
Sturdy
Dishwasher-safe
Lead-free
Cadmium-free
PFOA-free
Oven-safe
Cons
The GreenPan Stackable Cookware Set is a premium grade 11-piece cookware set that comes with frying pans, stockpot, saucepans, steamer, and three pan protectors. They are infused with Thermolon Diamond Advanced healthy nonstick coating that allows you to make healthy food without using tons of butter or oil. All the utensils are free of PFAS, cadmium, lead, and PFOA, so you don't have to worry about harmful chemical fumes or toxins.
Features
Material:Ceramic
Dimension:5 x 15.75 x 10.5 inches
Weight:4 pounds
What It Includes: 1 foldable stainless steel steamer, 6 qt stockpot with a glass straining lid, 1 6 qt and 3 2 qt saucepans with glass straining lids, 10″ and 12.5" frypans, 11″ forged round grill pan, and 3 pan protectors
Pros
Foldable steamer
Easy to clean
Easy store
Scratch-resistant
Oven-safe
Dishwasher-safe
Cons
Not for high-heat cooking.
The Circulon Aluminium Cookware Set is made of heavy-duty hard-anodized aluminum. It features a metal utensil safe pot and pans with anonstick base. The triple-layer nonstick coating and raised circles provide better cooking and cleaning. The construction is two times harder and more reliable than stainless steel and provides better heat distribution and even heating.
Features
Material:Hard Anodized Aluminium
Dimensions:25 x 12.63 x 10.88 inches
Weight:7 pounds
What It Includes: 2 qt and 3 qt saucepans with lids, 3 qt sauté pan with lid, 8 qt stockpot with lid, and 8.5″ and 10″ frypans
Pros
Durable
Triple-layer nonstick system
Silicone handles
Easy to clean
Oven-safe up to 400°F
Cons
The Anolon Smart Stack Cookware Set is one of the most affordable and heavy-duty cookware sets available online. It saves 62% storage space and features a savvy space design. The pots have a sapphire-reinforced Infinity Slide nonstick coating for effortless cooling and cleaning. This cookware set lasts 80 times longer than any standard ceramic cookware set. You also don't have to worry about hotspots or burning as the bottomdistributes heat evenly. The double-riveted stainless steel handles with silicone grips make it easy to handle the pots and pans.
Features
Material:Hard anodized aluminum
Dimensions:75 x 14.62 x 12.5 inches
Weight:6 pounds
What It Includes:2 qt and 4 qt saucepans with lids, 5 qt sauté pan with lid and helper handle, 8 qt stockpot with lid, 8.5" and 10" frying pans, stainless steel steamer basket insert, and bonus trivet
Pros
Durable
Easy to clean
Space-saving
Dishwasher-safe
Stain-resistant
Cons
Now that we have explored the best cookware for glass top stoves,here's a detailed buying guide to pick the right one according to your needs.
What To Look For In Your Glass Top Stove Cookware – Buying Guide
The material is the most important thing to keep in mind while buying a cookware set. Look for cookware made of aluminum, stainless steel, and titanium as they offer even heat distribution and are easy to maintain. You also don't have to worry about hotspots, burns, and sticky food.
Choosing flat-bottom cookware has many benefits. Cookware with flat bottoms heat up quickly and do not cause scratches on the glass cooktop surface.
When you cook food at medium or high temperatures, it may stick to the bottom and sides of the cookware. Cleaning such pans and pots is extremely difficult. Hence, opt for cookware with heavy-duty and easy-slip nonstick coating. The nonstick coating makes cleaning and cooking convenient.
Compact and stackable cookware is easy to store and more functional. Medium-sized cook ware can easily fit on glass stove tops and heat quickly. It is also energy-efficient and will cook food in lesser time compared to large pots.
If you are investing in heavy-duty cookware, you have to make sure that it is versatile and multi-use. If a cookware set is induction-compatible, you can use it with different types of stove tops without having to worry about burns and hotspots.
Most of the cookware sets come with utensils with nonstick coating and polished exteriors. They are easy to clean and require less maintenance.
Many cookware sets come with stay-cool and silicone-coated handles that promote comfort and prevent accidents. If you are investing in stainless steel and aluminum cookware, make sure that you look for heat-resistant and stay-cool handles.
Cookware sets usually come with a 1-year manufacturer's warranty. Although most of the non-stick and heavy-duty cookware sets are long-lasting and durable, you should ensure that the products have at leasta 1-year warranty, so you can replace the item if anything goes wrong.
That was our round-up of the 11 best cookware options for glass stovetops. If you are looking forward to remodeling your kitchen, our buying guide will help you choose the right cookware as per your needs. Pick any of them for hassle-free cooking.
Expert's Answers For Readers' Questions
What to avoid in your glass top stove cookware?
Although the glass stove tops are sturdy, they are made using glass and ceramic, which means, you should handle them with care.
Don't place too many containers on the stovetop.
Avoid using glass and cast iron utensils on the glass stovetops as these materials can melt and are not resistant to high temperatures.
Use a wet cloth to clean the stovetop after 2-3 hours.
Don't use ammonia-based cleaning products for cleaning the stovetop as it can leave streaks on the glass.
What is the best material for glass top stove cookware?
Aluminum, stainless steel, and titanium are the best materials for glass top stove cookware. The cookware made using these materials is heat-resistant, easy to clean, durable, and offers mess-free cooking.
How do you protect a glass stovetop?
Don't move a pan back and forth on the burner.Pick it up and shake it when you need to mix the food.
Clean the spills as soon as the stovetop cools down.
Use pans with flat and smooth bottoms for cooking to prevent scratches.
Don't use an aluminum foil directly on the stovetop because it can leave streaks on the surface.
Use glass stove top covers to protect them when not in use.
How do you clean a burned glass stovetop?
To clean a burned glass stovetop, you can use soap and water or ingredients like baking soda and white vinegar. Wipe the glass top surface with vinegar and a damp cloth to remove the debris or grease. Spread baking soda on the stovetop and gently wipe the surface. Remember, you don't have to scrub the surface because baking soda will work efficiently without scrubbing. Use a wet towel to wipe off the baking soda from the surface. Wipe with a dry clothand surface and let it dry. Don't scrape the surface with any harsh or pointed tools.
Can glass top stove cookware be cleaned in a dishwasher?
Yes. Some cookware items come with a dishwasher-safe coating.
What type of cookware should be used on a glass cooktop?
Cookware made using heavy-duty materials like stainless steel, titanium, and aluminum can be used on the glass cooktop. These materials are scratch resistant and won't cause any harm to your cookware. They also provide energy-efficient and quick cooking with easy cleaning.
What pans should not be used on a glass top stove?
You should never use a cast-iron, glass, or low-quality ceramic cookware or pans on glass top stoves. These materials may leave scratches on the glass top and may cause the burner to stop.
Is Calphalon cookware safe for glass top stoves?
Yes. Calphalon cookware set comes with heavy-duty aluminum construction and offers even heat distribution and prevents hotspots. The base of this cookware is nonstick and easy to clean.
Induction vs. glass cooktop – what is the difference?
Induction cooktops rely on indirect radiation, and copper wire is placed under the cooking pot for high power cooking. Ceramic glass tops use radiant heating coils or infrared heating lamps as a heating element. Glass cooktops are very energy-efficient, while the induction cooktops are easy to clean and maintain. If you are looking for a budget-friendly cooktop that can help you save on your energy bills, a glass cooktop is a great pick.
Recommended Articles
The following two tabs change content below.

Latest posts by Harini Natarajan (see all)

Harini Natarajan
As Chief Editor, Harini sets the tone and editorial direction for StyleCraze to deliver engaging, interesting, and authentic content revolving around women's health, wellness, and beauty. She has over 14 years of experience in content writing and editing for online media. She specializes in the areas of Beauty, Lifestyle, and Health & Wellness and is proficient in Medical Sciences (Biology, Human Anatomy and Physiology, and Biochemistry). Her background in Biomedical Engineering helps her decode and interpret the finer nuances of scientific research for her team. Harini is a certified bibliophile and a closet poet. She also loves dancing and traveling to offbeat destinations.