15 Best Cooler Bags For All Seasons, According To Reviews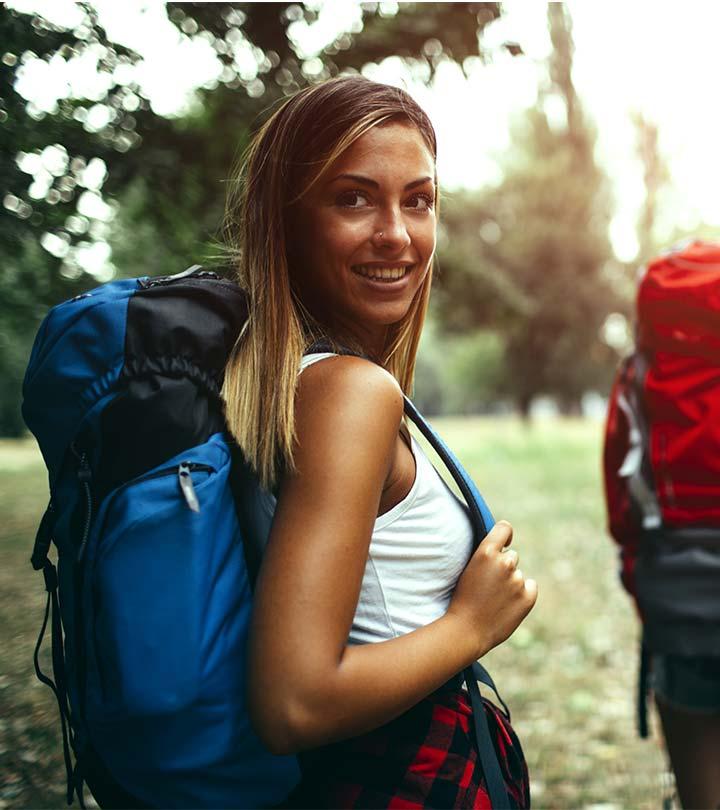 With summer approaching, people mostly prefer going out to indulge themselves in outdoor activities like camping or going for a picnic at the beach or seaside. And it is a good idea to invest in the best cooler bag for such outings as they keep your food and drinks chilled. Some coolers also double up as chairs or tables. We have listed the best cooler bags available on the market. Read on to know more!
15 Best Soft-Sided Cooler Bags
While you are camping, you will want to access your food and beverages quickly, right? Then the Arctic Zone Freeze Zipperless HardBody is for you! This zipperless cooler bag prevents heat from entering inside, thereby keeping the contents inside the bag cool for a long time. This insulated cooler bag also comes with a SmartShelf detail, which separates your food from all other contents of the bag. This leak-proof cooler bag is easy to carry as it comes with adjustable shoulder pads and is also easier to clean.
Key Features:
Radiant heat barrier
Deep Freeze high-performance insulation
Flip-open Zipperless lid (patented)
Includes insulated front pocket
Removable SmartShelf that separates food from drinks
The Coleman 16 Can Cooler is the best cooler bag you can take if you are going camping. The plastic liner in this cooler bag is made from a top-quality insulating material, thus ensuring that your beverages remain cold. The bag comes with an adjustable shoulder strap that is easy-to-lug. This bag also comes with multiple pockets that are capable of holding 16 cans. It is designed to prevent leakage and fungus.
Key Features
Adjustable shoulder strap makes this bag easy to carry around
Multiple pockets to hold smaller items
Can hold 16 cans
Prevents leakage and fungus
Long weekends mean only one thing, night out with your besties! If you have this planned out, you know you have to carry the Carhartt Deluxe Compartment Insulated Cooler! This well-insulated cooler bag is perfect for carrying beverage cans as well as snacks as it keeps them fresh for a long time. The best feature of this travel cooler bag is that it includes a zippered compartment in the front that is perfect for keeping condiments and cutlery. The water-resistant cooler bag equipped with YKK zippers makes it a highly attractive travel companion!
Key Features:
Water-Resistant
YKK Zippers that add to the durability of this bag
Easy to haul with shoulder strap and top handle
Not heavy
Spacious main compartment
Affordable and looks attractive
Carrying snacks for a day at the park never felt easier! The widely popular Coleman C003 Soft Backpack Cooler is one of the best cooler bags to invest in. Coupled with antimicrobial properties that resist mildew, a zipped front, and adjustable straps, this is a must-have for everyone! The heat-welded seams are padded near the waist, making it easy to carry your beverages around. This ice chest bag can hold 28 cans, is leak-resistant, and is the best thing to take with you for picnics.
Key Features
Antimicrobial properties resist mildewT
he zipped front lets you keep more snacks or other essential things
Adjustable straps are padded to provide comfort
Padding near waist and bag makes it easier to carry
Prevents leakage
Designed with a nylon outer shell, the Polar Bear Cooler bag is an ideal choice for anyone who wishes to take a trip in the wilderness. The soft cooler bag, lined with high-density foam insulation, showcases superior craftsmanship while keeping your drinks and snacks fresh. The heavy-duty zipper reduces the chance of breakage and keeps all the contents of the bag safe. The resilient double-helmed anchor seams are tear-proof, and the zippered side pockets makes it easier for you to carry keys and items such as cutlery safely everywhere on your trip.
Key Features–
Lined with high-density foam insulation
Heavy-duty zipper reducing the chance of breakage
Nylon outer shell
Resilient double-helmed anchor seams
Zippered side pocket
Are you clueless about what to pack your picnic food in? The CleverMade Collapsible Cooler Bag is just what you are looking for! The portable cooler bag ensures that the food you packed remains fresh throughout the day. Carry this versatile cooler bag on lunches and road trips or use it to store household tools and cutlery.
Key Features:
Can carry 50 cans
Built-in bottle opener
Durable
The eBags Crew Cooler Lunch Box was originally designed to meet the needs of pilots and flight attendants. The separate compartments for perishables and non-perishables allows you to carry them separately and avoid any accidents. It comes with zipped, meshed pockets that can be used for storing napkins and other small essentials. If you wish to have fresh meals in the refreshing air of camping grounds or the beach, then investing in this bag is a great idea!
Key Features:
Separate compartments for perishables and non-perishables
Meshed pockets that are zipped for storing napkins
Bottom compartment welded with PVC-free PEVA liner that is replaceable
Hours of staying in the stadium to support your favorite sports star can get the best of you. But if you carry the Coleman NFL Soft-Sided Insulated Cooler and Lunch Box Bag, you can replenish while you enjoy the game. This cooler bag is anti-bacterial, comes with adjustable straps, and lasting temperature protection making it easy for you to root for your team as long as you want without worry!
Key Features:
Anti-bacterial
Lasting temperature protection
Adjustable straps
Do you want to keep your groceries or food at the exact temperature you bought them in? This Rachael Ray Jumbo ChillOut Thermal Tote is the best at a reasonable price. This fantastic cooler tote bag comes with a 10-gallon capacity and is designed using Triple-Tek insulation foam that makes it easy to carry both hot and cold products. The sealed seams lining makes this bag anti-leakage and prevents bacteria from growing inside the bag.
Key Features
Very large with 10-gallon capacity
Built using Triple-Tek insulation foam
Sealed seams lining prevent leakage
The material of the bag prevents bacteria from growing inside it
The AO Coolers High-Density Insulation Charcoal cooler bag is the best thing to bring to a getaway in the woods! This cooler has a TPU liner that can keep ice from melting for 24 hours. It can also store about 14 pounds of ice and 24 cans. This bag is made from durable canvas material that will withstand the travel journeys you take up. The best part about it is the shoulder strap that can be removed and adjusted as per your convenience. The liner of the cooler is leak-resistant and meets the carry-on requirement of airlines. Side pockets are available for storing other essentials making this bag a wise purchase.
Key Features
The shoulder strap can get removed or adjusted
Liner is leak-resistant
Side pocket available for storing small items
Meets the carry-on requirement of airlines
Do you want to enjoy hot food like home while you are out camping? Then MOJECTO Insulated Compartment Insulation Pockets is the cooler bag that you need. Its design includes thick foam insulation, tear-resistant polyester, and two replaceable thick-sealed PVA liners that make it a perfect buy for those looking for an insulated cooler bag. You will get an extra liner when you buy this in case you damage it and need to replace it with the same material.
Key Features
Two insulated compartments
Spacious compartments
Multiple pockets
More room can be created with expandable zippers on the side
Sipping chilled beer or other beverages while relaxing on your fishing outing is something that everyone longs for. Supplement this experience by consuming snacks kept fresh in the YETI Hopper Flip Portable Cooler. This cooler bag provides easy access to the contents within because of its wide mouth. This bag cooler can easily hold up to 13 cans on a 2/3rd portion of ice.
Key Features
Leak-proof material is used to make this bag
Prevents mildew
Tough exteriors resist abrasions and punctures
feature of superior cold-holding with the help of Coldcell Insulation Technique
Camping is the way to go when it comes to taking an inexpensive vacation, and the IceMule Classic Insulated Backpack Cooler Bag is your go-to storage when it comes to keeping food fresh. It is designed to be portable so that you can lug it around with ease. Whatever be the occasion, you can be assured that your refreshments and drinks will remain ice cold for the entire day. The best part about this portable cooler bag is that it is water-proof! So hurry up and get this amazing cooler bag for the much-awaited trip.
Key Features
The double padded straps allows you to carry the bag with ease
The cooler is easily collapsible which makes it a space saver
The closure system of this bag makes it completely waterproof.
What is a game night without something to drink? Make it the perfect game night with your friends with the Caddyswag Par 6 Pack Golf Bag Cooler. You can not only carry the drink of your choice with you but also keep it chilled with this stylish cooler bag. It also comes with a freezer gel pack ensuring that all the edibles remain fresh. The dimensions of this bag are perfect for carrying six 12-ounce cans. This bag is reusable and can be used for years without any trouble. Buy one before the next game night!
Key Features
The insulation feature will keep your drinks cold for long.
Comes with a stronger and durable zipper
Get a Gel Freezer Pack with the bag
Take on motherhood with the ease of Lekebaby Breast Milk Cooler Bag! For every mother who is worried about carrying around breastmilk for their babies, this bag has got you covered. It has been designed with 600D Oxford fabric, and you will benefit from the durability and water-resistant material of the bag. It is the best baby bottle cooler bag around and is known to make life easier for most.
Key Features
Can hold up to 6 large baby bottles
Insulated lining will help your bottle remain warm or cool
Designed for convenience
Extremely durable
Laying off on the weekend could mean an outdoor camping adventure or just a day out in the park. Add to the fun of it all by carrying the cooler tote bags we put together for you, keeping your snacks and beverages intact and cool! Do you have any other cool cooler bags (see what we did there?) that you would like to share with us? Let us know in the comments below.
Why Trust StyleCraze?
The author, Shreya Vishwanathan, loves to explore new places and has the lowdown on the best soft-sided cooler bags to take on a holiday. She understands the desire to quench your thirst for iced drinks while chilling out with friends. So, after reading every product review on the market, she compiled a comprehensive review of the top cooler bags. This review will help you organize your drinks easily while remaining within the budget.
Frequently Asked Questions
Can you put ice in a cooler bag?
The use of ice mostly depends on the stuff you are packing. But most cooler bags have a great capacity and spacious compartments that allow you to carry ice in them.
How long does food stay frozen in an insulated bag?
Insulated bags can keep foods frozen for a couple of hours. Some cooler bags come with spacious compartments that allow you to carry ice, thereby keeping the food frozen for a longer time.
Recommended Articles