15 Best Copper Eyeshadows To Try This Summer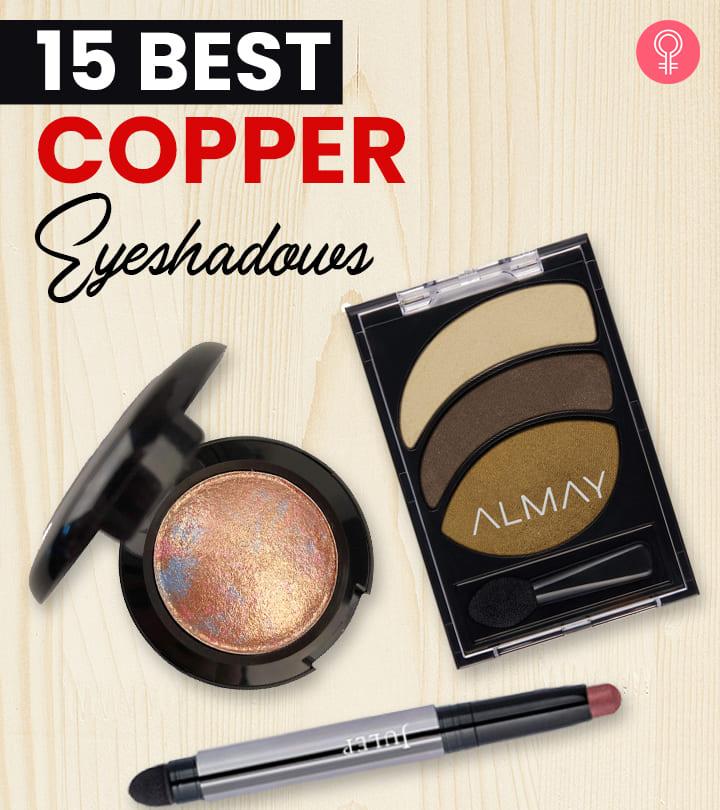 Gone are the times when just one style or look was enough to be termed fashionable and if you don't have the best copper eyeshadow yet, you are probably missing out on quite a number of exquisite looks!
With makeup artists creating distinctive styles by the dozen, numerous retro looks are back on the show alongside a few new ones. Copper eyeshadows, in particular, have made a strong comeback and secured a spot on the trend wagon. The tones compliment shades of gold and peach, and lights up your eyes with a metallic touch. If you need a subtle yet attractive day look or a glamorous look for a night party, copper eyeshadows can be your go to and we have got the best 15 listed down for you.
15 Best Copper Eyeshadows
The Julep Beauty Eyeshadow Stick is crease-proof and has a rich formula that delivers intense, shimmery color payoff with an all-day stay. Its waterproof formula glides smoothly over the lids without any need for an application brush. This eyeshadow stick is enriched with vitamin E to combat free radicals that cause oxidative damage. The eyeshadow also improves skin tone and texture and reduces the impact of environmental damage. It comes with an in-built smudger that makes blending and diffusing easy. This video will help you make an informed decision about your purchase.
Pros
 Brush-free application
 Buildable
 No creasing
 Waterproof
 Creamy texture
 Easy to blend
Cons
 The color fades with time.
Mallofusa's Baked Eyeshadow offers a super smooth and shimmery finish. This easy-to-apply copper eyeshadow has a silky texture that glides flawlessly onto the skin to give an intense, lustrous, and pearly finish over the eyelids. Its long-lasting formula stays intact for up to 8 hours without creasing or looking heavy. Crafted with the baked technology, the eyeshadow provides bold color payoff with a natural look.
Pros
 Easy application
 Long-lasting
 No creasing
 Intense color
 Light texture
 Blends easily
 No smudging
 For wet and dry use
Cons
This Smoky Eye Trios Eyeshadow palette from Almay offers a bright and bold finish to your eyes. Its velvety-luxurious formula is non-fading, non-smudging, and provides a long-lasting finish that stays in place for 16 long hours. The color-coordinated copper eyeshadow palette delivers a gorgeous blend of shades to complement all skin types without irritating the skin. The formula is also ophthalmologist-tested.
Pros
 Long-lasting
 Blendable
 Non-fading
 Non-smudging
 For all skin types
 Non-irritating
 Hypoallergenic
Cons
Maybelline New York's Eye Studio Color Plush Silk Eyeshadow has an exclusive formula with intense pigments that delivers a rich color payoff with a touch of luminosity. It glides smoothly over the eyelids and has a refined, silky texture. Its ophthalmologist-tested formula is safe for sensitive eyes and contact lenses. Watch this video to get a detailed review of the product.
Pros
 Silky texture
 Glides smoothly
 Suits sensitive eyes
 Suits contact lenses
 Luminous finish
Cons
The BareMinerals Gen Nude Copper Eyeshadow Palette comes with six nude and neutral eyeshadow shades that offer a satiny, metallic finish. This blendable, crease-free, and smudge-resistant eyeshadow palette has a matte formula and high color pigments to deliver an intense color payoff. Its shades can be worn alone or blended to produce a fresh new tone. This long-lasting eyeshadow contains mineral-rich ingredients such as borage oil for moisturizing, cucumber extract for soothing and calming puffiness, and antioxidant-rich algae to protect the sensitive eye area. Here's a video to help you know more about this product.
Pros
 No creasing
 No smudging
 Matte finish
 Blendable
 Paraben-free
 Phthalate-free
Cons
This mineral eyeshadow from Jill Krish Color is enriched with natural light diffusing minerals that stay gentle on the skin and enhances its texture. It contains minerals like phenoxyethanol that has antiseptic properties and zinc oxide that aids in healing. Infused with an aromatherapeutic lavender scent for soothing and calming effects, it offers a subtle tint of color to your eyelids.
Pros
 Mineral-based formula
 Gentle
 Antiseptic properties
 Not tested on animals
Cons
Demure's mineral makeup eyeshadow has an organic and highly pigmented formula that is chemical-free and safe for skin. This natural, shimmery mineral-based copper-pink shade stays gentle on your skin and its luxurious formula is easy to apply. Its water-resistant formula allows the skin to breathe, while the earthy and lightweight minerals in this eyeshadow provide a rich color payoff. The color is intensely pigmented and offers buildable coverage.
Pros
 For all skin types
 Water-resistant
 Easy application
 Buildable
 Blendable
 Long-lasting
 Shimmy finish
 Irritants-free
 Talc-free
 Rice-free
 no harmful preservative
 No fillers
 No binders
 No fragrances
 Bismuth oxychloride-free
 Paraben-free
Cons
● None
The CoverGirl Bombshell Shineshadow is a shimmery eyeshadow that has a lightweight formula enriched with rich reflective pigments. It offers a bold color and stays on the eyelids for 12 long hours. Its blendable formula can be worn alone or mixed with other eyeshadows shade to get the perfect shade.
Pros
 Long-lasting
 Lightweight
 Blendable
 Easy application
 Non-creasing
Cons
The Expert Wear Eyeshadow Quads from Maybelline New York provides a superb silky finish that stays for up to 12 hours. Its easily blendable formula is ophthalmologist-tested and contains intense pigments to deliver a smooth and glamorous finish to your eyes. These shades can be worn alone or clubbed with other hues for a dramatic look.
Pros
 Blendable
 Easy application
 Long-lasting
 Buildable
 Lightweight
Cons
The Belé Make Up Italia's Eyeshadow has an intense texture that delivers a bold, bright color payoff. It is suitable for high-strength makeup and provides a smooth finish. The sensory formula of this eyeshadow smoothly blends onto the lids to add a gorgeous pop of tint to the eyes.
Pros
 Easy application
 Comfortable wear
 Intense texture
 GMO-free
 GMO-free
 Cruelty-free
Cons
The mineral makeup eyeshadow from Demure has an organic formula made with all-natural mineral shimmers. This copper eyeshadow is water-resistant and easy to apply. It allows your skin to breathe and is made from skin-friendly ingredients. Its weightless formula is suitable for all skin types. It offers an intense color payoff. The buildable formula of this eyeshadow is suitable for creating both subtle and bold looks.
Pros
 Organic
 Water-resistant
 Buildable
 Lightweight
 Talc-free
 Rice-free
 No irritants
 Binders-free
 Fillers-free
 Fragrance-free
 Chemicals free
 Cruelty-free
 Paraben-free
 Bismuth oxychloride-free
Cons
The Maybelline New York Color Tattoo Pure Pigments has a crease-proof formula that delivers a shimmery finish. It contains explosive, intense pigments to offer a rich color payoff that stays as it is for up to 24 hours.
Pros
 All-day wear
 Crease-proof
 Rich color payoff
 Shimmery finish
 Easy to apply
Cons
Golden Rose's Metallic Liquid Eyeshadow has a creamy liquid formula with shimmery sparkles to offer your eyes a long-lasting finish. These shimmers are made from reflecting pearls and metal pigments to beautify the eyelids with a copper tint. Its lightweight formula glides smoothly, spreads easily, and offers an intense color payoff.
Pros
 Easy application
 Spreads easily
 Intense color
 Long-lasting
 Lightweight
Cons
The Golden Rose Diamond Breeze Shimmering Liquid Eyeshadow has a shimmery liquid, crease-free formula that offers an all-day stay. This super shine eyeshadow has illuminating metallic pigments that make the eyes shimmer with its bold color. Its creamy texture makes application easy by gliding smoothly on the eyelids.
Pros
 Crease-free
 Long-lasting
 Intense color
 Easy application
 Lightweight
Cons
This illuminating eyeshadow from Mar Kay is perfect for every skin tone. The shimmery copper eyeshadow offers excellent coverage and gives an intense look to the eyes. It is crease-resistant, long-lasting, and fade-resistant. This mineral-based formula is perfect for both day and night looks.
Pros
 Long-lasting
 Full-coverage
 Crease-resistant
 Intense color
Cons
Why Trust Stylecraze
Certified in makeup techniques and driven by a passion for reviewing cosmetics, Baishali Bhattacharya, loves to compile comprehensive lists of the best beauty products. To find the best copper eyeshadows, she has applied her understanding of what works and what does not to the data she has collected through extensive research into user feedback and product formulations. The shortlisted products are the most highly rated and light up the eyes with a metallic touch.
Recommended Articles