13 Best Cordless Hair Clippers For Professional Grooming – 2022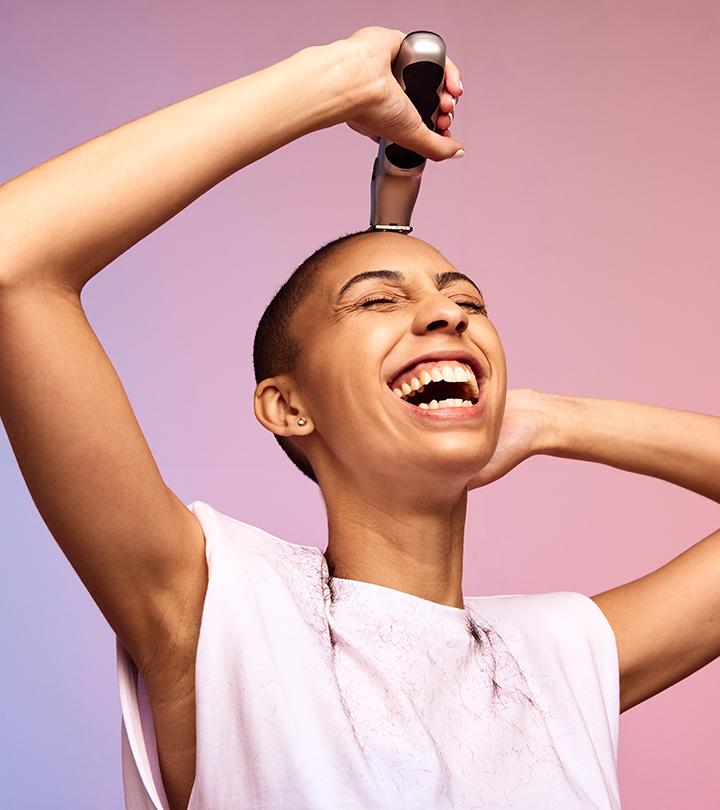 True, you can always run to the salon to get a quick hair trim. But when you are on a tight schedule and you need to attend an important party, and your hair demands some trimming, that's when your worries drop-in because you need a quick and effective solution. Fret not because we have prepared a list of the 13 best cordless hair clippers for you. With these tools in place, you can tame your hair and keep it fresh between your salon trips—no hassle of any wires, just beautiful hair with only a button click. So, let us dive deep and check out the list without further ado! Come on!
13 Best Cordless Hair Clippers For Easy At-Home Hair Trimming
The Wahl Color Pro Cordless rechargeable hair clipper and trimmer features removable stainless steel blades that are easy to clean. For a smooth and easy haircut, multiple cutting lengths are available with pain-free adjustment. The color-coded guide combs are convenient as you won't have to find and remember hair lengths at different times. When charged, you can use the Wahl cordless clipper for 60 minutes.
Pros
Removable stainless steel blades
Multiple cutting length
60 minutes of run time
Can also be used corded
Rechargeable battery
Cons
No battery level indicator
HAUSBELL's professional cordless hair clipper is waterproof and low-vibration for convenience. A blend of alloy with ceramic is used for the blade, which enables it to cut through hair like butter. Additionally, it doesn't rust and won't pull at your hair. With 3 hours worth of charge, you can run the cordless hair trimmers for up to 300 minutes without any hassles. To accommodate various lengths, 3 levels are provided, which can be changed with the help of a button. The lightweight design of this pair of cordless clippers is suitable for giving yourself a little trim here and there.
Pros
Waterproof
Low-noise
Sharp anti-rust blades
300 minutes of run time
3 levels of hair lengths
2 additional combs
Cons
Instructions might not be easy to understand
PRITECH's professional cordless hair clippers come with a standing recharge dock for easy charging. Equipped with precision self-sharpening blades, it works on all hair types and as all the teeth are lined up evenly, you don't need to worry about snagging or pulling. With an electromagnetic motor that is powerful and speedy, the noise is low and your device won't heat up. Charge the waterproof cordless hair clippers for up to 2 hours and enjoy around 90 minutes of runtime! The lightweight design and safety blades allow you to use the clippers even on your children with no fear of cuts.
Pros
Standing charging deck
Powerful electromagnetic motor
Low-noise
90 minutes of runtime
Safe for children
Self-sharpening blades
Cons
Some may find that the blades aren't sharp enough
Perhaps the best cordless clippers for children, this toy-like device features an ultra-silent system that is only 42 dB. With 3 guide combs in 6 lengths, you can easily try different hairstyles with ease. The battery has a capacity of 800 mAh and can run for up to 2 hours. You can use the clippers on wet or dry hair as they are waterproof, making them easy to clean. For a comfortable grip, the outer material is soft. Designed especially for your baby, Bololo's professional cordless clippers have an Intelligent Monitoring System and R-shaped rounded corners that prevent hair pulling or scratching sensitive skin. To accommodate both toddlers and kids between ages 0 to 12, 2 modes with 2 speed settings are available.
Pros
Low vibration motor
Waterproof
Rounded corners
Doesn't harm skin or hair
Comfortable grip
Runtime of up to 2 hours
Cons
The guards might be a little loose
The best cordless hair clipper for home or salon use comes from Opove, with 8 guide combs that helps you create various hairstyles. A stainless steel fixed blade and a titanium-coated ceramic blade move together for precision and are also removable. The powerful rotary motor maintains a stable yet fast cutting speed to snip hair with no snags or pulls. With a lithium-ion battery, you can use the clippers for up to 250 minutes once charged and an LCD screen displays the battery and oil level. As it has an ergonomic handle, it is comfortable to use and the non-slippery charging mode prevents the low-noise device from falling.
Pros
5 speed settings and 4 length regulators
Low-noise
Anti-snag blades
Up to 250 minutes of runtime
Large LCD screen
Ergonomic handle
Cons
The placement of the control buttons might get in the way during use
A pair of good cordless hair clippers like this one by Rewell prevents hair and skin from being pulled owing to the R-shape angle design. You can adjust the guide combs between 5 lengths that allows you to trim hair more evenly. After being charged in the dock for 8 hours, you can avail 1 hour of runtime. As a cleaning brush and oil are included, maintaining the blades is super easy. Use Rewell's lightweight cordless hair clippers for your hair or beard for fantastic results.
Pros
5 cutting lengths
1 hour of runtime
Anti-snag design
Easy to clean
Charging dock for convenience
Cons
Might not be ideal for thick hair
With 160 minutes of working time, Hatteker's best professional cordless clippers also feature a smart LED indicator to show battery levels. The self-sharpening and precision ground blades are rust-resistant with ceramic snap-in blades for the ultimate sharpness and hygiene. Without any nicks or snags, all hair types can be cut through like a breeze with the blades staying sharper for longer. With a quiet performance and 2 speed levels with a taper lever for customized cutting, this clipper is super convenient. The copper motor equipped with 6 guide combs is all you need for a clean trim or shave.
Pros
Rust-resistant and hypoallergenic blades
High speed and low noise
Powerful copper motor
Up to 160 minutes of runtime
6 guide combs and 2 speed settings
LED screen
Cons
Some may find it slightly heavy
Sosoon's cordless barber clippers offer a comfortable grip and move smoothly without pulling your hair. 4 guide combs and an adjustable blade make way for haircuts that are precise and painless. With a powerful yet quiet motor, you can expect stellar performance without noise and the battery lasts for up to 5 hours at a single charge. In case your battery is about to die, the LCD screen display alerts you. As there are 5 speed settings available, you can go about grooming at your own pace.
Pros
4 guide combs and adjustable blade
Powerful yet quiet motor
Up to 5 hours of runtime
LCD screen display for alerts
5 speed settings
Comfortable grip
Cons
Some may find the clipper to be heavy to hold
The Baistom Hair Trimmer comes with ceramic blades with 28 R-shaped teeth to gently trim a baby's hair without tugging or pulling the skin. It also comes with 3 guide combs, one brush, one sponge, and one lube and bib to effortlessly get your kids stylish and ready. This noiseless trimmer creates less than 50 dB sound, making it highly suitable for toddlers, infants, kids, children, etc. It is waterproof, cordless, and rechargeable through a USB, making it perfectly travel-friendly, portable, and easy to use.
Pros
60 minutes of run time
Waterproof
Rechargeable battery
Noiseless trimmer
Complete kit for styling baby's hair
Cons
Might not be suitable for all hair types
AIBORS' rechargeable cordless hair clippers create noise levels less than 60 dB, making them great for kids or people with sensory issues. The powerful motor clips hair in no time without pulling hair or causing any discomfort. With a unique R-shaped non-corrosive blade, your skin is safe from cuts and as it is made of ceramic, the self-sharpening blade causes no irritation. With up to 3 hours of use and 4 guide combs, AIBORS makes hair grooming a comfortable experience.
Pros
Low-noise and vibration
Non-corrosive ceramic blades
Anti-snag
3 hours of runtime
4 guide combs included
Corded option available
Cons
The clippers might heat up during use
BESTBOMG's lithium cordless hair clippers allow up to 4 hours of smooth runtime. The self-sharpening precision blades are properly aligned to evenly cut both wet or dry hair. With a heavy-duty motor, all hair types can be cut through with no snagging or loud noise. There is also a cord for charging, if that's something you prefer and the LED display alerts you about battery life. As there are 4 guide combs and an adjustable taper lever, you can try hairstyles of various lengths.
Pros
4 hours of runtime
Self-sharpening precision blades
Anti-snag and low-noise
Corded charging available
LED display
4 guide combs
Cons
Might be difficult to clean
To care for babies' sensitive skin, SweetLF's mini cordless hair clippers feature a small washable blade with R-shaped edges to avoid cuts. The 50 dB device is quiet with low vibrations and 3 guide combs can be attached to suit different hair lengths. Small and lightweight, you can carry the wireless clippers with you to give your child a quick cut even while on the go. With up to 45 minutes of working time, your baby will be able to enjoy haircuts with no issues.
Pros
Low-noise and vibration
Skin-safe ceramic blades
3 guide combs
Lightweight
Washable blades
45 minutes of working time
Cons
Blades might become dull with use
Nikai's noiseless design is suitable for both kids and adults owing to its quiet grooming experience. The ergonomic design features 3 adjustable guide combs and the superior grip gives you control along with comfort. Stainless steel blades and a powerful magnetic motor allow for even coarse hair to be cut through in a clean manner without being pulled or snagged at. Small enough to fit in your travel bag, you can easily touch-up your hairstyle without having to book an appointment with your hairstylist!
Pros
Powerful motor
Comfortable ergonomic design
Stainless steel blades
3 adjustable guide combs
Noiseless design
Lightweight and portable
Cons
Might not be ideal for thick hair types
Now that we've looked at the best cordless hair clippers on the market, let's learn how you can choose the best one for yourself.
How To Choose The Right Cordless Hair Clippers
Before bagging a pair of cordless clippers, keep an eye out for the following features:
The battery performance helps determine power, runtime, charge time, and motor size. Opt for a lithium battery as it is quite strong, reliable, and maintains the same power output. Alternatively, clipper battery technologies deteriorate as the capacity of the batteries reduces. If you're a professional hairdresser, a battery with a runtime of over 90 minutes is ideal. Anything below that would be suitable for home or infrequent use.
A good and efficient design can enhance any device's usability and comfortability. Pay attention to the weight, grip, and size. Cordless models with an ergonomic design that are lightweight with a soft grip won't hurt wrists when in use. Adjustable cordless hair clippers allow ease as they can help customize your right combs and speeds.
Ensure that accompanying accessories that make trimming easier, are included with the hair clippers. This would be the guide attachment combs, a detachable blade adjusting system, and a clipper oil to keep said blades well-lubricated.
This includes a strong motor and sharp blades as these determine how easily and neatly the hair can be cut. If the blades you have are blunt or poor, the process is not only time consuming, but can snag or pull at hair causing discomfort. Small cordless hair clippers with a noiseless design that doesn't go louder than 60 dB is a great option if you're sensitive to sound or want to use the clippers on children.
After you've bought a good pair of cordless grooming clippers, let's dive into how you can use them to cut your own hair.
How To Use Cordless Hair Clippers
Step 1: Decide the kind of hairstyle or haircut you want to create before going in with the hair clippers.
Step 2: You can use a hand mirror or set up 2 mirrors to be able to see the back of your head better.
Step 3: Make sure the area you're in is well-lit and you're wearing something that you can toss afterwards. You could also use a towel or nothing at all as this makes clean-up easy.
Step 4: Start slowly and use the longest guard available. Go lower gradually until you arrive at the length you desire. Take a good look at your head to ensure you haven't missed any spots and that nothing is uneven.
Please note that this whole process is easier standing up as sitting in a chair and leaning towards the mirror could be uncomfortable.
Cordless hair clippers are a great tool for when you're not able to visit your local barber or salon. If you want to try out an elaborate hairstyle or maintain an already-existing one, keeping your hair fresh and neat between salon visits can be achieved with this one device. All you need is your bathroom and a pair of high-quality cordless clippers (and maybe some YouTube tutorials!), and you're all set! You could also touch-up your beard, sideburns, or goatee to keep them in tip-top shape. Now, you can easily trim your own or your loved ones' hair at little-to-no cost!
Why Trust StyleCraze?
The author, Sneha Manandhar, has a passion for discovering the best hair care products and tools to cater to your hair issues and concerns. She conducted thorough research and checked online reviews to bring you this hand-picked list of the best cordless hair clippers for neat and easy grooming. She chose these products as they help you tame your hair and keep it fresh between your salon trips—no hassle of any wires, just beautiful hair with only a click of a button.
Frequently Asked Questions
Are cordless clippers worth it?
Cordless clippers are convenient to use as they allow you to move around freely and they also have a strong motor.
What's the difference between corded and cordless hair clippers?
Corded hair clippers have a wire that needs to be plugged into a power source to be able to work. Cordless ones, on the other hand, come with batteries that can be charged for a while and can be used without being plugged in.
Which hair clippers do professionals use?
Wahl and Babyliss are among some professional cordless hair clipper brands used worldwide.
How long do cordless clippers last?
Fully charged, cordless clippers can last anywhere between 60 to 300 minutes depending on battery quality and power.
How often should you change your hair clippers?
Clippers must be changed every 6 months or so as the blades might not be as sharp as the first time.