7 Best Cordless Vacuum Cleaners Available In India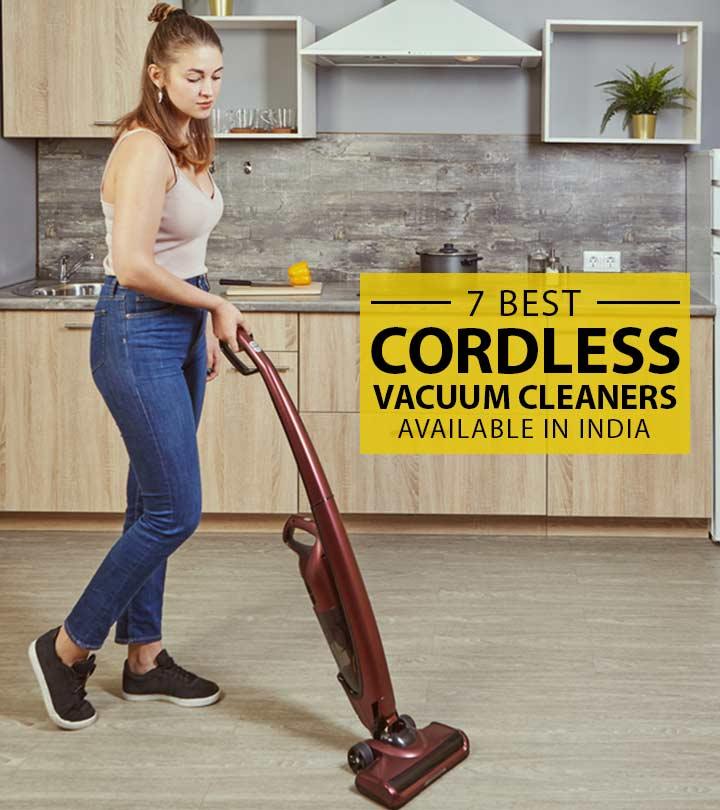 If the constant plugging and unplugging of your vacuum cleaner is frustrating you, go for a cordless option. Cordless vacuum cleaners are also known as stick cleaners. They are lightweight and run on rechargeable batteries. Therefore, you need not worry about staying in the range of the electric outlet.
The portable design and ergonomic handle make it easy to use them on upholstery, in tight corners, and even inside more closed spaces, such as a car. They feature a highly efficient HEPA-filtration system that allows deep cleaning of micro-particles. In this article, we have shortlisted 7 best vacuum cleaners in India for seamless and effective cleaning. Keep scrolling to pick your best choice!
7 Best Cordless Vacuum Cleaners In India – 2021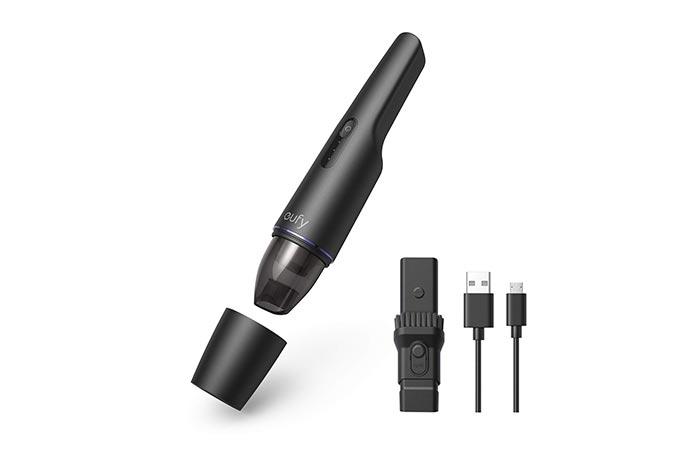 The eufy HomeVac from Anker is an ergonomically designed cordless vacuum cleaner for easy cleaning. It can be charged with a USB and allows for hassle-free storage. Its extension nozzle allows you to clean hard-to-reach places and deep cleaning of low furniture, while the brush is suitable for delicate surfaces like laptops. The default nozzle helps with everyday cleaning and sucks pet hair to keep surfaces clean. On a full charge, you can enjoy 13 minutes of cleaning time with a maximum suction power of 5500 Pa. The high-efficiency filter is washable and easy to clean.
Specifications
Capacity: 7 L
Weight:5 kg
Power: 70 W
Battery Life: 13 minutes
Pros
Lightweight
Easy to maintain
Non-slip handle
Easy to charge
Suitable for delicate surfaces
Cons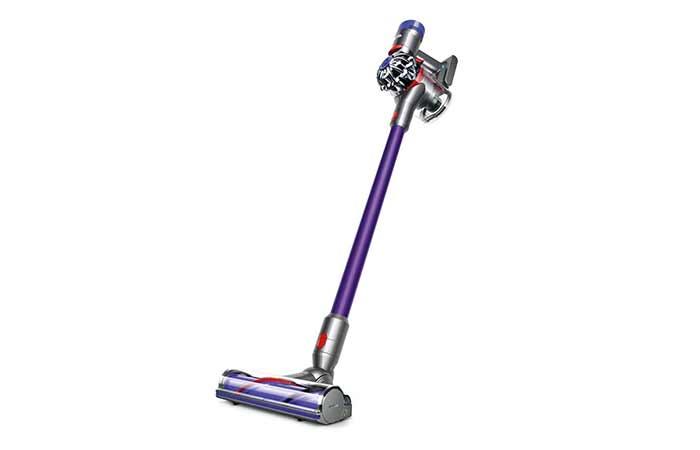 The Dyson V7 Animal Cord-Free Vacuum Cleaner is equipped with a powerful digital motor that generates powerful suction. Its six-cell lithium-ion battery allows you to vacuum for up to 30 minutes without any obstruction.
The powerful cleaner head removes ground-in dirt from carpets. The motor in the handle makes it easy to lift the device to clean high places. This vacuum cleaner can also be converted to a handheld for spot cleaning and cleaning difficult places. It is small enough to clean hard-to-reach areas like corners of your house or car seats. This device comes with a docking station to charge and store the device and hold additional attachments.
Specifications
Capacity: 54 L
Weight:3 kg
Power: 100 W
Battery Life: 30minutes 
Pros
Pet-friendly
Easy to use
Good suction power
Convertible handle
Allergy-friendly
Convenient to dock
Cons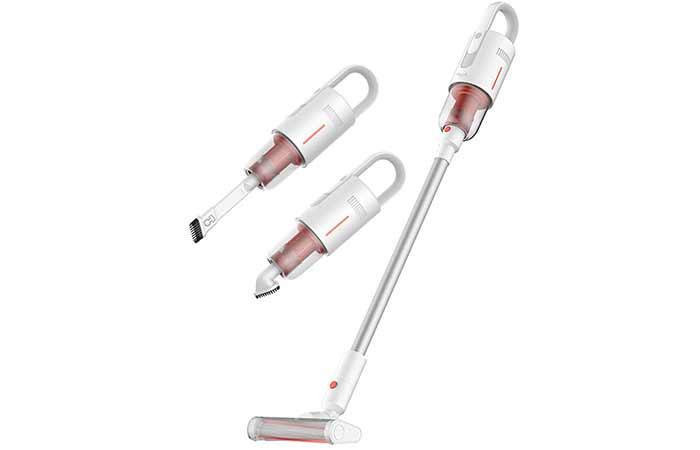 The Deerma Vacuum Cleaner provides 150 W of suction power in the max mode to suck dust, debris, and pet hair from the floor in a matter of a few minutes. It comes with three different brush heads, including a power brush, a 2-in-1 crevice nozzle brush, and a small corner brush.
The power brush has slim and flexible bristles and an independent motor drive to deep clean your carpets and floors. The crevice nozzle brush and small corner brush facilitate easy cleaning of hard-to-reach areas. On a full charge, the battery allows 30 minutes of cleaning time. This lightweight cordless vacuum cleaner can be used on hard floors, walls, ceilings, cars, furniture, and upholstery.
Specifications
Capacity:6 L
Weight: 1 kg
Power: 150 W
Battery Life: 30 minutes
Pros
Convertible handle
Low noise
Smart battery
Large cup for dust collection
Cons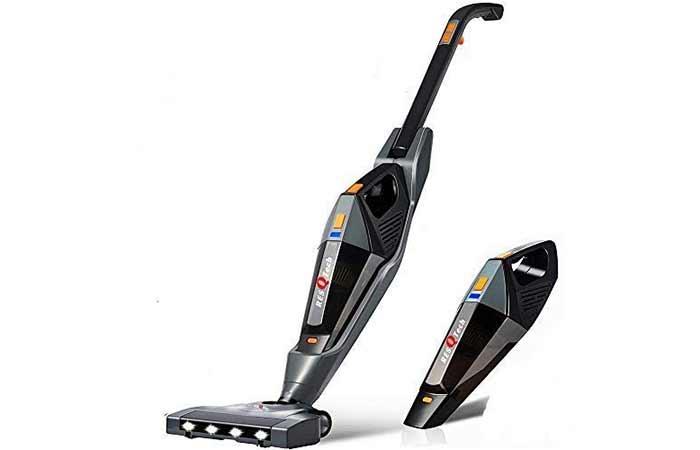 The ResQTech Vacuum Cleaner is equipped with a powerful digital motor that supports two modes. The low-power mode sucks out the dust on hard floors, while the high-power mode provides deep cleaning for hidden debris. The flexible rotation brush with a 180-degree swivel provides effective cleaning. The integrated LED headlights make dark areas accessible. This cordless vacuum cleaner takes about 4-5 hours to get fully charged and works for about 30 minutes on high power and 40 minutes on low power.
Specifications:
Capacity: 3 L
Weight: 99 kg
Power: 150 W
Battery Life: Up to 40 minutes
Pros
Easy to use
Replaceable battery
Lightweight
Easy maintenance
Cons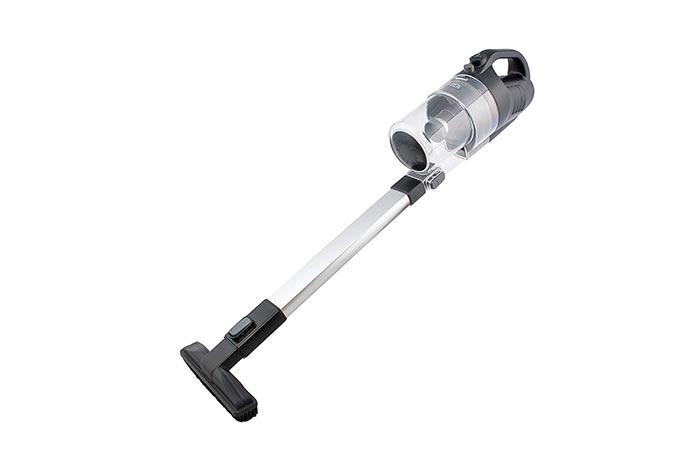 The iGRiD Cordless Vacuum Cleaner is designed with high-density HEPA filters that help in removing micro dust particles. The wireless design provides hassle-free cleaning. The pro-cyclone technology extends powerful suction even when the dust compartment is full. The extension pipes ensure ease of use by cleaning hard-to-reach places. The canister filter can be easily washed to maintain hygiene. You can use this vacuum cleaner to clean upholstery, mattresses, sofas, and quilts.
Specifications:
Capacity: 1 L
Weight: 05 kg
Power: 80 W
Battery Life: Up to 40 minutes 
Pros
Lightweight
Easy to clean
Value for money
Cons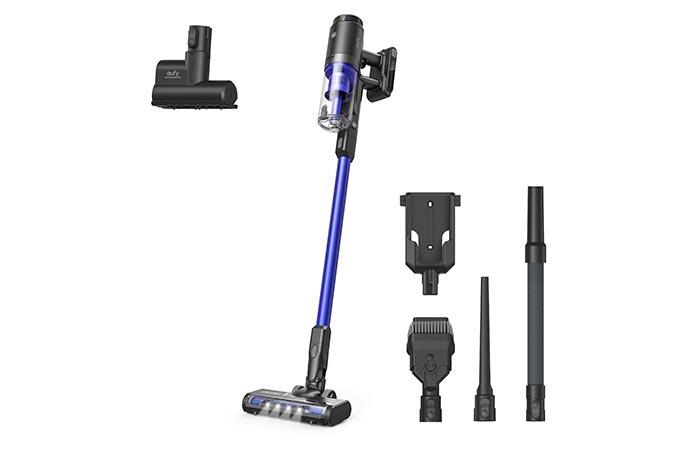 The eufy HomeVac S11 is equipped with dual-vortex technology for increased efficiency and dust-tight containment. The strong motor uses 120 W of power to provide eight minutes of cleaning on Max Mode.
The 5-tier filter system improves motor performance. The detachable battery offers 30 minutes of cleaning in the standard mode and 40 minutes in the endurance mode. This device is also equipped with a 2-in-1 crevice tool for delicate surfaces and a mini-motorized brush to clean beds and sofas. The high-efficiency filter is washable and ensures easy maintenance of the device.
Specifications
Capacity:5 L
Weight:5 kg
Power: 120 W
Battery Life: Up to 40 minutes
Pros
Easy to maintain
Lightweight
Good suction power
Cons
Battery drains quickly on carpets.
This device from RUilY is a portable vacuum cleaner equipped with powerful cyclone suction for intense cleaning. The highly efficient motor uses low power to provide maximum cleaning. It is designed stylishly with an umbrella-like handle for easy grip. It comes with detachable cleaning components.  This stick vacuum cleaner can be used for your home or car and provides deep cleaning in hard-to-reach places.
Specifications:
Capacity: 40 L
Weight:5 kg
Power: 120 W
Battery Life: Up to 40 minutes
Pros
Ergonomic design
Lightweight
Low noise
Easy to clean
Cons
Cordless vacuum cleaners ensure easy cleaning and hassle-free maintenance. But there are a few important points that you need to keep in mind before buying one of these products. Let's check them out below.
How To Choose The Best Cordless Vacuum Cleaners 
Battery Life: Since these devices are cordless, it is crucial to choose one with a durable battery for the long run. Go for a vacuum cleaner that provides at least 30 minutes of cleaning on a single charge.
Types: In terms of the cordless category, it is always recommended to choose between upright and canister types, as they fulfill the requirement with ease.
Noise Level: A vacuum cleaner that makes too much noise can be bothering the rest of the family. Hence, choose one with a low-noise feature.
Suction Power: Choose a vacuum cleaner that a suction power of at least 5000 Pa. Such devices work effectively and efficiently without consuming much power.
Features: It is essential to consider the design, weight, and functions of the vacuum cleaner. A lightweight design is always easy to maneuver. It should come with additional brushes for deep cleaning.
Cordless vacuum cleaners are handy tools that set you free from frustrating cords. They are designed with versatile features for spot cleaning or deep cleaning in hard-to-reach places. Go through our above list of the best cordless vacuum cleaners in India and pick the one that is most suitable for your needs.

Recommended Articles
The following two tabs change content below.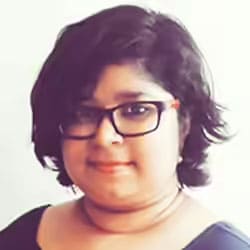 Pratyasha has a master's degree in English from the University Of Calcutta, West Bengal, and is an avid lover of...
more