The 11 Best Core Sliders – Reviews
Make your workout sessions more productive and effective with these core sliders.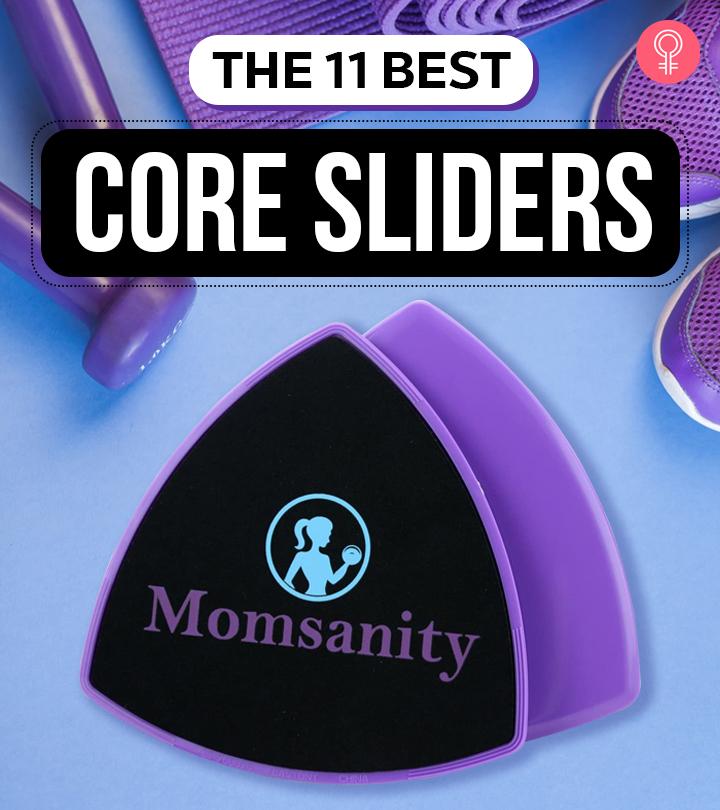 If you plan to engage your core, one of the most convenient ways would be to invest in the best core sliders. Featuring two-sided discs, they not only help burn fat but also aid in muscle strengthening. They're specifically suited for beginners as they are lightweight, ideal for exercises that are low-impact, and you can also carry them along when on the go. To help you make the right choice and know all the features, here's our list of the best core sliders from different manufacturers with their pros and cons!
How Do Core Sliders Work?
Core sliders make workouts more efficient by eliminating friction between the floor and your hands/feet. You sweat more to maintain the motion and resist the slide. Thus, each workout session becomes productive and rewarding.
Let's now look at the top 11 core sliders available online.
11 Best Core Sliders
The Synergee Core Sliders are lightweight and offer optimum support during core body exercises. These dual-sided sliders have foam on one side and plastic on the other. The foam side offers a perfect slide on the hard floor, and the plastic side works best on carpets. The curved and contoured edges prevent chafing of your palms and fingers. These sliders help intensify planks, lunges, and bridges. The package includes a pair of core sliders and an exercise manual that describes the exercises to do with them.
Pros
Dual surface
Durable
Available in 4 colors
Sweat-free
Affordable
Cons
Price at the time of publication: $9.95
The Prodigy Core Coaster Abdominal Trainer strengthens your core muscles and is suitable for any fitness level (1-4). It activates the obliques 435% more than a traditional crunch and 300% more than a pike, according to a study by the University of Alabama. This abdominal exercise product can be used on any surface – wood, synthetic wood, concrete, rubber gym mats, thin carpet, linoleum, and astro-turf. It features finger grip slots, hard rubber casters, and roller wheels with a 360° range of motion. The package also includes a knee mat, resistance band, and instructions poster.
Pros
Durable
Finger grip slots
Hard rubber casters
100% money-back guarantee
Includes a knee mat, resistance band, and instructions poster
Cons
Price at the time of publication: $34.95
These are low-friction sliders with a non-marking surface. You can use them on tiles, hardwood, courts, and any smooth surfaces. Your body weight will activate the core to improve your strength and increase flexibility with high-intensity, low-impact moves. The non-slip, ergonomic tread pattern with a large surface area provides a comfortable grip to your hands and feet even in bodyweight training. The unique shape of the sliders enables omnidirectional movement, and the integrated fasteners clip together for bilateral training. Here's a video discussing all the ways you can use this slider and how effective it is for different exercises.
Pros
Dual-sided
Ergonomic design
Non-slip grip
Suitable for all surfaces
1-year limited warranty
Cons
Price at the time of publication: $24.99
The Peach Bands Core Sliders are dual-sided and can be used on hard and soft floors. The smooth thermoplastic side is for carpets and fake grass, and the high-density foam side is perfect for hardwood, laminate, or tiles. These 7-inch fitness sliders are suitable for mountain climbers, planks, pikes, knee tucks, lunges, arm circles, and rollouts. They target your abdomen, chest, arm, butt, and leg muscles. They come with a pink mesh carrying bag for easy transportation.
Pros
Dual-sided
Durable
Money-back guarantee
Includes a mesh carrying bag
Cons
Might not work on carpets
Price at the time of publication: $10.95
The Beachbody Strength Slides increase the intensity of your PiYo (blend of Pilates and Yoga) workout. This pair maximizes the impact of lunges, push-ups, side squats, and mountain climbers. The strength slides engage your core, stimulate your glutes, and activate muscles, and enhance coordination. Chandel Stallworth, a Personal Trainer, says, "I use these sliders with my clients to incorporate instability into their workout. The added instability recruits more core muscles in order to complete the exercise." If you want to use them on smooth surfaces, slip on the Booties over the slides, and you are good to go. Check out this video discussing all its features along with a brief review.
Pros
Durable
Easy to grip
Suitable for any smooth surfaces
Cons
Price at the time of publication: $33.5
The URBNFit Core Sliders are made of shock-resistant plastic and high-density EVA foam. They are perfect for your chest, core, arms, and leg muscles. These lightweight smooth gliding discs are dual-sided and can be used on carpets, hardwood, and tile floors. They offer optimum to increase your flexibility, mobility, and balance. The package includes a free workout guide that is created by certified personal trainers.
Pros
Affordable
Dual-sided
Lightweight
Shock-resistant
Includes a free workout guide
100% satisfaction guarantee
Available in 3 colors
Cons
Price at the time of publication: $12.99
The Core Flyte sliders are durable, lightweight, easy to store, and suitable for all ages and fitness levels. You can customize the difficulty levels by changing the friction and range of motion. This product is suitable for elite athletes and NFL players to engage core muscles and older adults for rehabilitation. The patented ball transfer technology enables omni-directional movement. They can be used on any flat surface – non-slip rubber gym floors, concrete, carpet, hardwood – and are also suitable for home workout. This review video tells you about all the exercises you can perform using these sliders.
Pros
Lightweight
Durable
Easy to store
Works on all surfaces
Adjustable friction
Suitable for all ages
Cons
Price at the time of publication: $25.18
The Tumbl Trak Smooth Sliding Slider is ideal for improving your strength and developing flexibility. The top part of this slider is made of soft EVA foam for adept cushioning while the bottom area is built with hard polypropylene plastic that helps it slide seamlessly across different kinds of flooring. The top foam holds your hands, knees, feet, or elbow tightly to prevent any accidents. The convex shape of the slider allows you to slide across the carpeted floors with ease. The shape also provides better grip and stability to your body while working out. This gym accessory is preferred by gymnasts, martial artists, dancers, and cheerleaders.
Pros
Suitable for all age groups
Dual surface
Durable
Value for money
Larger surface area
Easy to use
Comfortable
Cons
No overhead straps for support
Price at the time of publication: $24.99
Gaiam Core Sliding Discs are ideal for improving the core. They are designed for various core body exercises like lunges, squats, and upper-body movements. The dual-sided sliders are of compact size and are compatible with carpets/rugs, and hardwood in your home, office, or gym floors. Ideal for floor exercises, sliders are made of two different materials—lay foam for hardwood or tiles and lay plastic for rugs, carpets, or clothes. These are dual-sided 7" core sliders that are travel friendly and quite lightweight.
Pros
Multi-surface use
Portable
Lightweight
Exercise guide is included
Dual-sided
Cons
Some find them small in size
Price at the time of publication: $9.99
The Core Sliders by Day 1 Fitness are dual-sided, durable, portable, and made with strong and sturdy material. With these sliders, you can strengthen your upper and lower abs, back, shoulders, and arms with plank jacks, plank-to-pikes, arm circles, and single-leg slides. These sliders are perfect for carpet/rug and floors and offer extra comfort because of the thin padded foam. These are small, easy to pack, and convenient.
Pros
Durable
Easy to store
Dual sided
Multiple color options
Portable
Cons
Price at the time of publication: $9.69
The Momsanity Core Sliders are unique triangle-shaped gliding discs ideal for hand and foot placement. These sliders are two-sided and can be used on hardwood, laminate, tile, or carpet floors. You can adjust the difficulty level you want to face when using these sliders. They are easy to use and facilitate tough core leg and abs workouts. The package includes a nylon carrying bag and free slider workout videos.
Pros
Lightweight
User-friendly
Affordable
Durable
Includes a nylon carrying bag and slider workout videos
Money-back guarantee
Cons
Price at the time of publication: $20.99
Let's look at a few benefits of workout discs in the following section.
What Are Some Benefits Of Incorporating Core Sliders Into Your Workout?
Core slider exercises are more challenging than routine core body workouts. You need to control the sliding, and therefore, you recruit more of your core muscles, and who doesn't want a stronger core? These slider discs train your shoulder, arm, back, abdominal, hip, and leg muscles. Other benefits include:
Improve Stability: Use a core slider for a week or two for core stability. You will learn to maintain the balance on a sliding surface to prevent injuries.
Enhance Flexibility: Core sliders slide smoothly on hard floors and carpets. You can use the sliders to increase your flexibility over time.
Suitable For Non-Impact Workouts: Many people do not workout fearing injuries and soreness. But slider discs are not scarring fitness equipment. They are perfect for sculpting and toning your muscles with low-impact workouts. You will not slam your feet on the ground, preventing soreness and injuries.
You can challenge your body uniquely with core slider discs. These discs do not let you rest between the reps, and your body stays in motion until the set is done. Therefore, slider disc users experience better results sooner than others. You can try the following exercises on core sliders.
What Kind Of Exercises Can You Do With Sliders?
Alternating leg curls
Mountain climbers
Bear shoulder taps
Body saws
Burpees
Cross motion mountain climbers
Slider plank jacks
Planks
Slider knee tucks
Slider lunges
Knee tuck push-ups
Slider arm circles
Lying leg curls
You can also modify your favorite core exercise and incorporate workout sliders into it.
How Long Should I Work Out With My Core Sliders?
Fitness experts suggest that you should not spend more than 45 seconds in a core slider exercise. Set several reps for each set and follow that routine. Slider exercises are tougher than normal exercises. Find out how far you can stretch your arms or legs to get back in the initial position. You will achieve better core strength with regular practice.
If you want to buy a core slider, here are a few factors you need to look for.
Key Considerations To Find The Best Core Sliders
Core sliders should be small enough to be packed in a backpack and carried wherever you want. You mostly find circular or triangular-shaped discs. Circular discs are great for maintaining stability. In contrast, triangular sliders can flip if you do not grip properly.
Dual-sided core sliders are the best because you can use them on hard floors and carpets. You get soft foam on one side that slides smoothly on hard floors and tough material on the other for carpets. One-sided sliders are also useful, but they may not slide and glide smoothly on all types of non-slip surfaces.
Sliders with a poor grip can be difficult to control, and you may get injured during the workout session. Thus, look for sliders that offer a firm grip and move easily on the floor.
Sliders with poor quality material do not last more than a month or two. You will apply extreme force to control the motion of sliders during core exercises. Hence, choose a slider that can withstand force and maintain its structural integrity for several months.
Wheels And Resistance Bands
Some slider discs come with three or four roller wheels. Three-wheel sliders can flip over if you apply extra pressure on one side of the disc. Four-wheel sliders are easy to balance and use. Besides, some models allow you to customize the friction and add a resistance band to control the motion of the slider. Look for sliders with such additional features to make slider workouts easy and convenient.
Most brands provide many color options. Check the color options and the price.
Some manufacturers ship a free carrying bag with the core slider. This carry bag comes handy to pack your core sliders separately in the gym bag.
Why Trust StyleCraze?
The author, Aditi Naskar, has a diploma in health and wellness with a keen interest in trying out new arrivals in exercise equipment. She checked many user reviews online to compile the list of the best core sliders. Additionally, she considered the size, shape, durability, and other features of the sliders before shortlisting them. These products help muscle strengthening and fat burning.
Frequently Asked Questions
Which material is the best in core sliders?
ABS plastic and EVA foam material are the best for core sliders. They improve the core strength, support joints, and improve balance on the ground.
Do core sliders work on carpets?
Yes. Core sliders work on a variety of surfaces, including carpets. They stabilize your movements and offer a good balance training.
Are core sliders comfortable?
Yes. The foamy side of the sliders helps you comfortably exercise and develop your strength.
Should core sliders be loose or tight?
Invest in a slightly loose core slider. A slider somewhat bigger than your feet size helps you obtain the right balance on the floor.
Are core sliders worth it?
Yes. Core sliders are lightweight, low impact exercise partners that help you develop core strength, enhance balance, and burn extra calories.
Do core sliders work on rubber floors?
Yes. Core sliders are compatible with non-slip rubber floors.
How long do core sliders last?
Core sliders are long-lasting. They are usually wear-resistant and last for many years.
Recommended Articles