13 Best Cork Yoga Mats Of 2023 – Reviews And Buyer's Guide
For safe and conscious decisions that keep you fit and the environment healthy.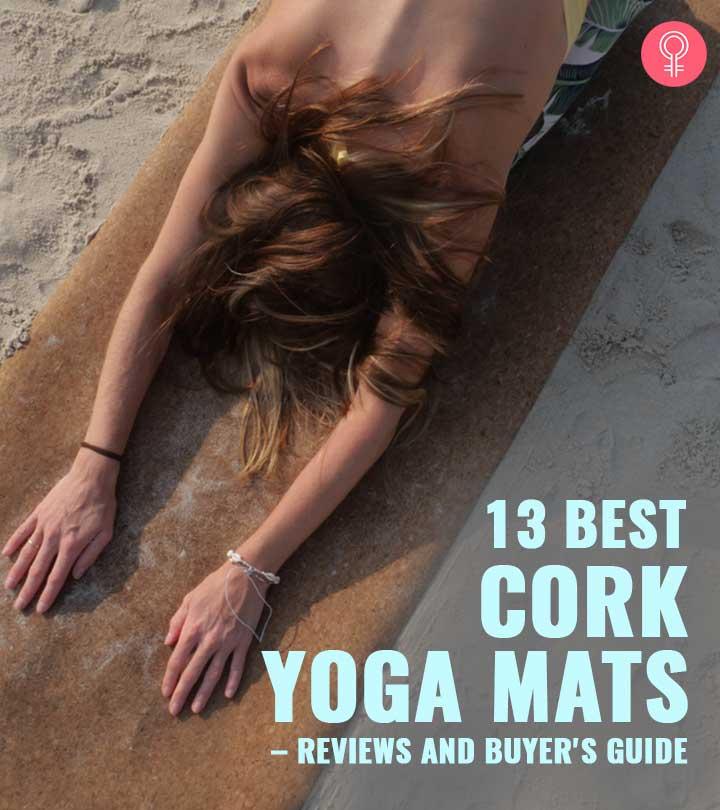 If you are excusing or skipping a workout due to clumsiness or imbalance in holding posture, you can now practice your workout without tripping or falling. Picking the best cork yoga mat can solve your issue. The mats have a non-slip surface, are durable, and are the perfect alternative to regular yoga mats. These cork mats are made with recyclable materials. They are sustainable, odor-resistant, and antimicrobial. Additionally, they also need less maintenance and help with easy cleaning. The cork yoga mats are ideal for those individuals who are environmentally conscious. Scroll down and keep reading to check about the mat's versatility and benefits. Also, find the 13 best cork yoga mats that you can get for yourself.
13 Best Cork Yoga Mats Available Right Now
Lotuscrafts Cork Yoga Mat is made with sustainable and recyclable materials such as natural cork and Thermoplastic Elastomers (TPE). Thus, this ecologically friendly cork yoga mat is an excellent choice for those hot and sweaty yoga sessions. It is also slip-resistant and sweatproof. It ensures your safety and comfort while working out. It does not contain latex or plasticizers, so it does not have that typical rubbery smell often associated with yoga mats. This also means it is lightweight and easy to carry. The natural materials of this mat are self-cleansing and odor-repellent.
Pros
Non-slip
Sweatproof surface
Odor-resistant
Self-cleaning
Made with 100% sustainable and recyclable materials
Suitable for hot yoga
Lightweight
Travel-friendly
Cons
Price at the time of publication: $25.02
The Limm Cork Yoga Mat is made up of two layers wherein the first layer is made up of natural, sustainable cork, while the second layer makes up the base and is made up of anti-slippery TPE. The product saves your skin from rashes and toxic irritants. The mat is highly flexible and durable. It is also tolerant to more than average heat and moisture. The mat is 5mm thick and provides better cushioning than other mats on the market. The mat is wide enough and comes with a carrying strap.
Pros
Great grip on all kinds of surfaces
Waterproof
Antimicrobial
Biodegradable
Non-toxic
Eco-friendly
Easy to clean
Travel-friendly
Suitable for outdoor use
Cons
Price at the time of publication: $65.49
The B Yoga B Mat Cork has a natural cork top surface that absorbs excess moisture. Its bottom area is built with natural rubber that absorbs excess shock and offers you stable grounding. This 4mm thick yoga mat is sustainable with quick drying capability that allows you to continue your exercise without slipping. This mat provides you with a better grip when you spray it with water beforehand. Additionally, this durable yoga mat features anti-microbial properties, so it repels any bacterial buildup.
Pros
Durable
Eco-friendly
Dries quickly
Anti-microbial
Sweat-resistant
Grippy when wet
Stable
Cons
Price at the time of publication: $98
The Body By Charlene Air Cork Yoga Mat is made from 100% non-toxic and natural materials while providing a non-slip surface for all your workout needs. The 10 mm cushion offers extra support for sensitive areas like your knees, hips, and spine during the workout session on any flat surface. It is ideal for both indoors and outdoors and is suitable for pilates, hot yoga, and outdoor workouts.
Pros
Portable
Natural
Non-toxic
Anti-skid
Offer extra cushioning
Modern and stylish design
Cons
None

Price at the time of publication: $125
Fitted with a carrying strap, the YOGA DESIGN LAB The Combo Yoga Mat is designed to absorb your sweat while you catch up on your daily exercise routine, be it hot yoga, power, Bikram, or Ashtanga. This mat features a recycled PET microfiber towel top layer that works wonders to absorb your sweat and provide you with a better grip to maintain your balance while you work out. The bottom of the mat is made with sustainable, natural tree rubber, which increases the friction between the mat and your floor to avoid accidental slips.
Pros
Durable
Sturdy
Value for money
Lightweight
Eco-friendly
Travel-friendly
Cons
Can become slippery if its too wet
Price at the time of publication: $105
This premium quality yoga mat is made of two recycled materials – cork and rubber. The non-slip surface provides a firm and comfortable grip. Whether it is vinyasa yoga, bikram yoga, ashtanga yoga, yin yoga, and restorative yoga, this cork mat is ideal for hot practice. The cork is renewable and recyclable, obtained through one of the world's most environment-friendly harvesting methods. The non-toxic rubber surface provides cushion-like comfort without hampering your balance. The closed cells stay fresh and keep the mat odor-free.
Pros
Non-slip grip
Durable
Lightweight
Moisture-resistant
Non-toxic
Environment-friendly
Latex-free
PVC-free
Odor-free
Cons
Price at the time of publication: $169.0
Valka Yoga Cork Mat will turn heads at your yoga studio! The intricate elephant design on this mat is absolutely beautiful. This designer travel mat is soft, foldable, lightweight, and easy to carry. Its dual-sided design makes it versatile. You can use the cork side for practicing different forms of yoga. Flip over and use the other side for HIIT, pilates, or floor exercises. The Portuguese cork and 100% natural rubber of this mat lend it flexibility, grip, and durability. It is free from harmful chemicals such as phthalates, toxic adhesives, and PVCs.  This eco-friendly product is odorless and made with plant-based inks.
Pros
Foldable
Odor-resistant
Non-toxic
Dual-sided design
Travel-friendly
Beautiful design
Cons
None
Price at the time of publication: $49.99
The Mount Adams Cork Yoga Mat is 6mm thick and is made of sustainably sourced cork. The cork top prevents the mat from absorbing any water or sweat, thus reducing the chances of bad odor. The bottom of the mat is made of lightweight thermoplastic elastomers (TPE) that increase its friction against the ground. The bottom is designed in a wave pattern that helps you gain adequate grip. This mat is 72 inches long and 26 inches wide which is big enough for a tall individual. The cork top of the mat offers adept traction and balanced footing to your body while you engage in hot yoga.
Pros
Eco-friendly
Spacious
Slip-resistant
Odor-resistant
Enhanced cushioning
Lightweight
Travel-friendly
Durable
Cons
None
Price at the time of publication: $49.99
This all-natural and sustainable cork yoga mat is inspired by the Satori philosophy of connecting with your true self. The unique logo reflects the beautiful motto. This mat offers excellent grip and provides stability and support so your workout sessions are safe and comfortable. It is made with organic cork and recycled rubber and without ant PVCs, silicones, phthalates, TPEs, and toxic glues. It is sweat-resistant and odor-resistant. 
Pros
Portable and travel friendly
Sustainable
Anti-slip
Comfortable
Sweat-resistant
Odor-resistant
Non-toxic
Cons
Loses traction after a few months
Price at the time of publication: $79.0
Body By Yoga Training Cork Yoga Mat is created by yoga instructors keeping in mind the intrinsic needs of yoga practitioners. It is made with premium-quality materials that are durable and sturdy. The mat contains 6 times more cork than regular mats, which ensures extra support, stability, and comfort. It is innovatively designed to provide extra padding to the knees and elbows, especially during strenuous poses. 
Pros
Extra padding and support
Warp-resistant
Suitable for all types of yoga
Durable
Cons
Price at the time of publication: $89.99
Larga Vitae 3mm Thick Mat is an eco-friendly, all-natural, and organic mat that is entirely made of renewable organic cork and natural tree-tapped rubber, a denser higher quality backing than any recycled rubber. It absorbs water and improves the grip as you sweat. The mat comes with a strap which makes it easy to carry. It is perfect for floor exercises, hot yoga, and pilates. This lightweight mat with a thickness of 3 mm.
Pros
Crease and crack resistant
Odor-resistant
Recyclable
Eco-friendly
Sweat-resistant
Free from harmful chemicals
High quality
Cons
Price at the time of publication: $67
The B Yoga Cork B Mat is a revolutionary step in the world of traditional yoga mats because of its elevated, unique, and grounding design. The shock-absorbent rubber layer design offers maximum grip and support. This lightweight and thin mat is designed for all surfaces and allows you to balance and align even on the go. It is suitable for all types of exercises, including yoga and pilates. Moreover, you can easily clean it with a damp cloth or vinegar solution.
Pros
Durable
Eco-friendly
Anti-microbial
Natural rubber
Lightweight
Skin-friendly
Travel-friendly
Cons
None
Price at the time of publication: $98
Lush Valley Lifestyle Premium Cork Yoga Mat is lightweight and natural rubber cushioned, which provides extra grip, stability, and balance. This biodegradable mat prevents slipping and reduces the chances of injury. It is the perfect mat for hot yoga, pilates, floor exercises, stretching, and meditation. It is a sustainable yoga mat made of cork, making it easier to hold or grip and non-slippery when damp. The best part about this mat is it is easy to clean and comes with plantable packaging, which once watered properly grows flowers!
Pros
Natural tree rubber
Anti-skid with superior grip
Non-toxic
Eco-friendly
Odor-resistant
Easy to clean
Cushioned knee protection
Cons
None
Price at the time of publication: $59
Those were our best picks for cork yoga mats that are currently available. Now, let us learn more about the important factors to look into while selecting a cork yoga mat.
Factors To Consider When Buying A Cork Yoga Mat 
Material: Look for mats made of sustainable and high-quality cork. They should also be free from toxic chemicals. This ensures your safety and comfort. Look for SGS-certified products.
Thickness: Yoga mats that are thick lie flat on the floor and provide your body with much-needed support. Look for mats with 4-6 mm thickness. If the mat is too thick, your body will sink and make it difficult to exercise.
Backing: Make sure you choose mats that have "natural" backing materials that provide greater grip as they stick to different surfaces easily. It is important to select materials that are biodegradable and recyclable. This also eliminates mats with harmful chemicals such as phthalates, silicones, PVCs, and adhesive glues.
Size: Keep the dimensions of the mat in mind. Look for mats that are long and wide so that there is more space to practice yoga comfortably.
Price: High-quality materials are more expensive. However, this also ensures the mat lasts longer without peeling or flaking. So, it is advisable to invest in a good-quality cork mat.
Michelle Thielen, certified yoga therapist, adds, "Intention and purpose of any mat purchase is incredibly important. Some of the mats listed here explain that thinness could be an issue, but for someone like me who travels a lot, this is a 'pro' and something I look for. However, for someone that spends time in seated or kneeling postures, practicing yin or restorative often, a thin mat is not ideal."
If you are still wondering why cork is the perfect material for a yoga mat, check out the next section.
4 Reasons Why Cork Is The Perfect Yoga Mat Material 
l Eco-Friendly: Cork yoga mats are made of cork that is sourced from regenerated oak trees. They are responsibly harvested so that no trees are cut. This means the cork is renewable, recyclable, biodegradable, and environmentally sustainable. The bonus is that the harvested trees also absorb 5x more carbon dioxide than non-harvested ones.
 Antimicrobial And Odor-Resistant: The natural properties of cork prevent the growth of microorganisms. Therefore, it keeps bacteria, germs, mildew, and odor at bay. This also means that you will have to spend less time cleaning it.
l Lightweight: Cork is sturdy yet lightweight, making it portable and travel-friendly. These high-density corks mats are better than rubber mats in this aspect.
l Durable And Sweat-Resistant: Cork is extremely durable and ideal for strenuous workouts. Its grip improves when wet, so it offers better traction as you sweat. You can also add a few drops of water to ensure that it stays put. You can do away with a towel during your hot yoga sessions as these mats absorb sweat.
l Support And Anti-Slip: The cellular structure of cork provides a natural cushioning effect. Thus, it supports your body as you work out. The material is comfortable, soft, and gentle on your joints.
Thus, cork yoga mats are natural, comfortable, durable, and environmentally-safe! So, how are these mats made? Keep reading to find out!
How Are Cork Yoga Mats Made?
The outer bark from oak trees is stripped to source cork, which is used to make cork yoga mats. The bark grows back, so it is an environmentally friendly practice. The cork is cleaned, treated, and dried to make it suitable for the manufacturing process. Another core component of yoga mats is rubber. Most companies use 100% recyclable natural rubber to make the base of these yoga mats. It is important to make sure the mat is free from plastics, adhesives, silicones, and phthalates. Minimalist designs with plant-based inks are used to decorate the mats.
How Do You Clean A Cork Yoga Mat?
Cork Yoga mats are easy to clean. You can spray them with warm water and vinegar once a week. You can customize the cleaning solution by adding witch hazel or a few drops of essential oil such as lavender, lemongrass, or eucalyptus. You can wipe it with a clean cloth and leave it to air-dry.
Precaution: Do not damage your mat by scrubbing it hard with a brush or an abrasive sponge. 
Why Trust StyleCraze?
The author of this article, Aditi Naskar, is a fitness enthusiast and holds a diploma in health and wellness. She has curated a list of the best cork yoga mats, keeping in mind your workout needs. This well-researched list comprises budget-friendly options which offer durability and a safe experience. These mats are made with recyclable materials, durable, sustainable, and odor-resistant.
Frequently Asked Questions
Does cork smell?
Cork has a natural earthy smell that disappears over time. The woody smell is not a deterrent for most people. You can spritz it with your favorite essential oils lift your mood and mask the smell.
How strong is the grip offered by cork yoga mats?
Cork offers a great grip! Its grip improves with added moisture. All the sweat you drip during your yoga sessions is absorbed by the mat, which helps it stick better to the floor. This ensures the mat does not slip or slide, thus reducing the risk of injury.
Are cork yoga mats safe?
Natural cork is free from toxins and safe for both your body and environment. It provides great support and prevents you from losing balance and slipping while working out.
What material is used to make the backing of cork yoga mats?
Natural rubber is the most common material used for the backing of cork yoga mats. It offers excellent traction and support. 100% recyclable rubber that is free from harmful chemicals like PVCs, glues, and phthalates is also recommended.
How do I care for my cork yoga mat?
Cork yoga mats are low-maintenance. They do not need much attention. You can clean yours once a week by spraying a water and vinegar solution on it. Leave it air-dry to get rid of any unpleasant smells before your next workout session.
Are cork yoga mats expensive?
The price of the cork yoga mat is dependent on the quality of its materials. Generally, cork yoga mats are pricier than regular yoga mats as they are made with premium-quality, non-toxic materials. These mats are durable and environmentally safer than standard yoga mats.
How long does a cork yoga mat last?
A cork yoga mat usually lasts for 1-2 years of daily use.
Recommended Articles