7 Best Cotton Pads That Work Well With Toners And Makeup Removers
Remove your makeup easily with these gentle, organic, and fragrance-free cotton pads.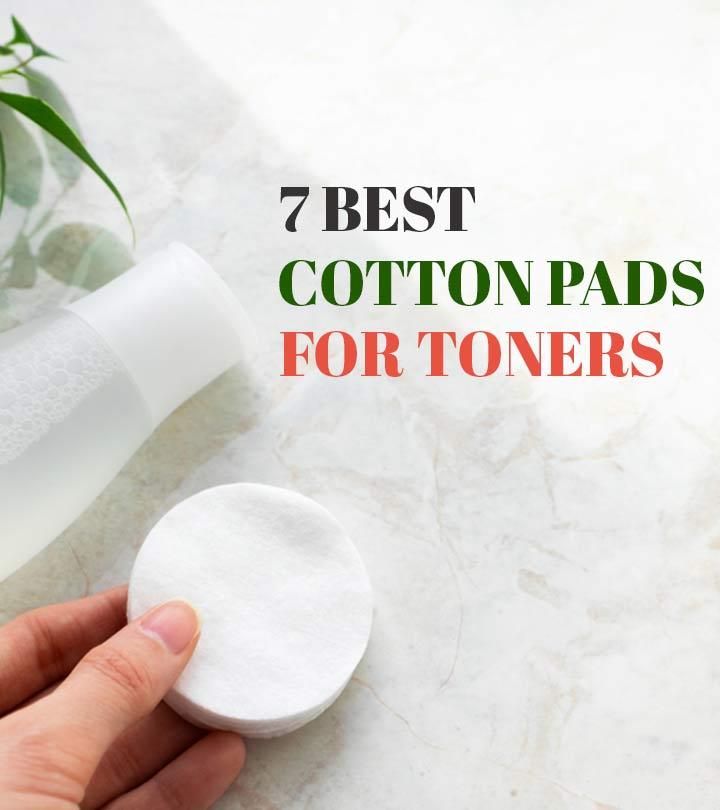 If you are aiming for zero wastage while applying toner and not succeeding, you are probably not using cotton pads. Luckily, getting the best cotton pads for toner is just a click away these days. These pads absorb liquid very well, so the question of leaking or dripping does not arise.
Carlee Spath, a licensed esthetician with over 10 years of experience, says, "Cotton pads adequately remove all residues from the skin. They are like the white glove test for the skin."
To make your search for cotton pads easier, we have listed the 7 amazing products that will up your skin care game. Take a look!
7 Best Cotton Pads For Toners
These super-soft face pads from the Good Stuff make a perfect choice to apply toner to your skin. The set includes 16 reusable pads with three different textures – velour for the eyes, muslin for cleansing and toning, and terry for gentle exfoliation.
The five smooth muslin pads can be used to apply toner. The six velour pads that are incredibly soft and smooth are ideal for use in sensitive areas. The six terry pads are suitable for removing makeup from the skin. These pads come with a string wash bag to make cleansing easy – just place the used pads in this bag and throw it in the washing machine.
Pros
Over 1000 machine washes
Soft
Suitable for all skin types
Organic
Scent-free
Cruelty-free
BPA-free
Cons
Gets wrinkled on washing.
The Rael Facial Sponge Cotton Pads use airlaid technology for extra absorption and durability. These soft and silky toner pads glide smoothly and are ideal for sensitive skin. They are designed using natural pulp and fine quality rayon and do not leave residue or lint on the skin. These pads have high absorption power and prevent product wastage, improve product efficiency, and let you apply products with ease. They are well suited for DIY masking – create your own mask by soaking these pads in toner and apply to the target area. This set has 200 pieces.
Pros
Tear-resistant
Lint-free
Vegan
Cruelty-free
No artificial color
No artificial scents
For all skin types
For all ages
Cons
Price at the time of publication: $9.99
The NOONI Toner Mask Sheets are great for DIY masking and fit snugly on every corner because of the curved design. These sheets prevent product wastage and have layers of plush plant fibers to supply the optimum amount of product to your skin. They help you target the troubled area or concern by using various toners on a single sheet and then placing them over the affected part. These toner mask sheets provide gentle cleansing for all skin types. Each pack contains 60 sheets.
Pros
For all skin types
Paraben-free
Sulfate-free
Phthalate-free
Lint-free
Cons
The Dear, Klairs Toner Mate 2 in 1 Cotton Pads are made of 100% premium cotton and are dual-sided for more effectiveness. These hypoallergenic cotton pads are soft and gentle on the skin. They are preferred by cosmeticians and suitable for applying toner, lotion, or cream and removing makeup, eyeshadow, and nail polish. They come with a handy travel-friendly storage bag and don't leave any residue on the skin. Each pack contains 120 cotton pads.
Pros
Lint-free
Dual-sided
Hypoallergenic
Thick and spongy
Cons
Price at the time of publication: $16.99
The Buddha Bath Premium All Natural Pure Cotton Squares are entirely natural and do not contain binders or fillers. They are made with hydraulic water powder and natural spun lace cotton that are soft on the skin and prevent scratching.
These pads do not leave any residue or lint and are suitable for applying toners, lotions, and creams. They allow the product to sit on the top and prevent leakage or wastage. Soak the pads with your toner and apply it to the desired areas. These versatile pads can be used for cleansing odors, wounds, stains, pet's ears, and eye boogers. The set includes 240 pieces.
Pros
Hypoallergenic
Lint-free
Dye-free
Scent-free
For all skin types
Includes resealable bag
Cons
Price at the time of publication: $15.97
The Topoint Reusable Makeup Remover Pads can be washed and reused up to 1000 times. These thoughtfully crafted cotton pads prevent product wastage and reduce landfill waste. They are derived from biodegradable bamboo and organic cotton to remove waterproof or stubborn makeup from the skin.
These cotton pads also remove oil, dirt, and other substances from the skin. Their high absorbability and durability make them an ideal choice to prevent wastage. They come with a laundry bag, which makes it easy to wash them in a washing machine or with the hands. These pads are suitable for all skin types and help eliminate dirt and oil from the pores to leave your skin comfortably clean. The set includes 16 cotton pads.
Pros
For all skin types
Suitable for kids and babies
Lightweight
Washable
Includes a laundry bag
Cons
Price at the time of publication: $11.99
These dual-sided, reusable makeup remover pads from Paw Legend have one side to remove oil-based products like foundation and the other side to remove makeup from delicate areas like the eyes. They are made from bamboo that is hypoallergenic and super absorbent.
These eco-friendly toner pads are breathable and capable of holding three times more than their weight in water. They are finished by serging using thick woolly polyester for durability. The soft threads glide seamlessly on the skin. These cotton pads can be washed over a hundred times and come with an organza pouch for easy cleaning. The set includes 16 pieces.
Pros
Machine washable
Includes a laundry bag
Dual-sided
Long-lasting
Cons
Price at the time of publication: $9.99
Why Trust Stylecraze
The author of this article, Shiboli Chakraborti, is a certified skin care coach with a passion for keeping up with emerging skin care trends. She knows that the wrong cotton pads leave you with liquid dripping everywhere. So, she conducted meticulous research and collated the list of the best cotton pads that are a must-have for your skin care kit. These cotton pads are soft and suitable for all skin types.
Frequently Asked Questions
Are reusable cotton pads hygienic?
Yes, reusable cotton pads are not only hygienic but also eco-friendly. They prevent landfill waste as you can wash them regularly after use.
Why are cotton pads better?
Using a cotton pad exfoliates your skin gently, leaving skin smooth and soft. It also aids the toner in grabbing any extra oil and pollutants that may be left on the skin.
Are reusable cotton pads safe?
Reusable cotton pads are sanitary and environmentally friendly. These pads can be cleaned and used again and again. However, do keep an eye on the expiration date (if any) and discard them accordingly.
How long do reusable cotton pads last?
Most reusable cotton pads will last you for years if properly washed and cared for. They are viable for around 500 to 1000 washes.
Recommended Articles