10 Classy Couple Tattoo Designs
Are you and your partner looking for couple tattoo designs?
Getting couple tattoos made have become a trend. Tattoo designs for couples in love are very adorable and look very cute and stylish. Couple tattoos ideas will make both you and your partner feel special and help you enjoy every moment of your love. This beautiful art work will help you hold on all the good memories with your love.
The Best Couple Tattoo Designs
Here are 10 popular tattoo designs for couples.
1. Initial couple tattoo:
Want to show your love? Get initial couple tattoo made to show your never ending love. This involves getting some part of the design made on your body and the other on your partner's. Both the designs look identical and will complete the design only when brought closer to each other. It is a kind of romantic gesture.
[ Read: Rihanna Tattoos Meaning ]
2. Finger couple tattoo:
Finger couple tattoo involves getting same or related tattoos on your fingers. These tattoos are very catchy and came into existence recently.
3. Cartoon couple tattoo:
Cartoon couple tattoos are the perfect choice for all tattoo lovers. You can even get famous video game characters tattooed both on your skin and on your partner's skin.
4. Related couple tattoos:
Get some related tattoos made. Tattoos such as 'lock' on one partner's body and 'key' on another are very well related to each other. Get beautiful and interesting designs made which match or are related to one another. Cool couple tattoos can do wonders in your relationship.
[ Read: Football Tatoo Designs ]
5. Same design couple tattoo:
Want the same design as your partner's? Same design couple tattoos are very common and simple. Agree on a single piece of art or slogan and get it tattooed on both, your skin and your partner's skin. Same design signifies how much you love each other.
6. Cute couple tattoo:
Some couple tattoos will give you a cute and elegant look. These tattoos are very stylish and a number of such designs are available in the market. These even include cute and adorable cartoon couple tattoos.
[ Read: Flowers Tattoos ]
7. Slogan couple tattoos:
Want to get a line printed on your skin permanently as a sign of your love? Choose the perfect slogan to help you recall your sweet love and get a few words tattooed on your skin and few on your partners which will help you relate them easily when you both come closer to each other and join them.
8. Skull couple tattoos:
Do you and your partner have fascination towards skull tattoos? Get couple skull tattoos made which are related to each other and when you both come close to each other their relation is showcased. These tattoos will always help you recall all moments with your partner whether special or not. These give an evil look but look very classy.
9. Word couple tattoos:
Get some words tattooed on your skin to show your love for your partner and to get connected with him or her.
10. Hot couple tattoos:
Want to do something different? Get some hot designs tattooed on both your skin and your partner's. These tattoos give a sizzling look and are common among couples these days.
Find over 8000 tattoo ideas on Tattoos For All and choose what speaks about you two the best.
Image Source: 1 , 2 , 3 , 4 , 5 , 6 , 7 , 8 , 9 , 10

The following two tabs change content below.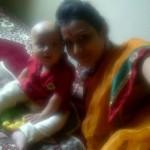 Latest posts by Khushboo Mehta (see all)