11 Best Cowboy Hats For Women To Amp Up Every Outfit – 2023
A trip to the countryside or a walk down the streets of Paris – these hats are a must.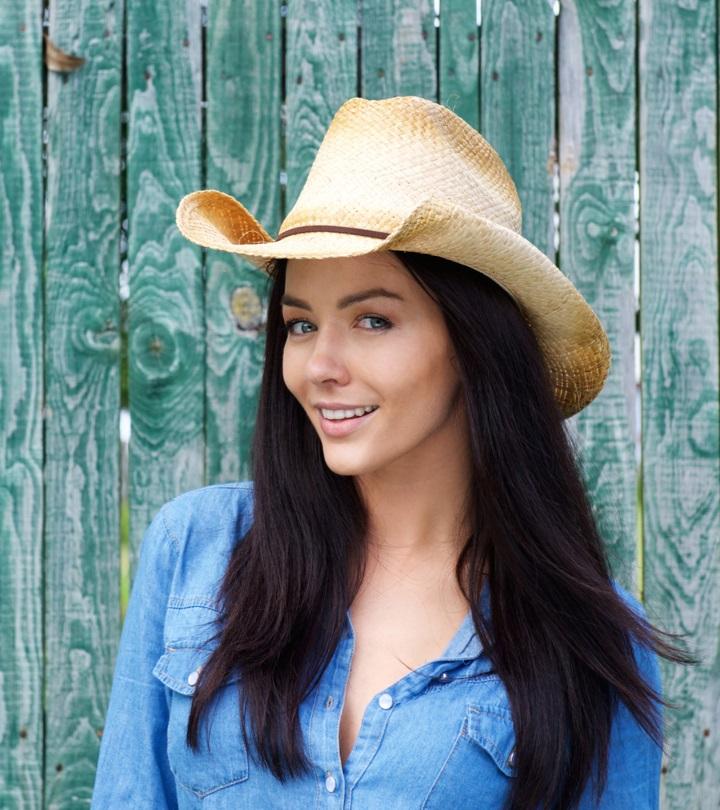 A cowboy hat is no longer just for the ranches; this stylish accessory has also found its way into the mainstream fashion world. The best cowboy hats can make your outfit stand out from the crowd and amp up your entire look. Whether it is a musical concert or a themed party, these hats look cool and add flair to personality.
Celebrities like Naomi Campbell, Chrissy Teigen, and Miranda Kerr have all tried and tested various looks with this versatile accessory. So, if you are planning to rock some beachy waves with a cowboy hat for your next Coachella or take your horses out on a ride, here are some of the best cowboy hats for women available on Amazon right now.
Top Picks
11 Best Cowboy Hats For Women To Complete The Western Look!
If you've got your rugged denims, plaid shirts, and cowboy denims in order, all you need now is a cowboy hat for women to complete the look to perfection. You can get your hands on this one that's made of 100% soft straw and comes with an elastic closure, so you can trust it to stay put, even on windy days. The large brim protects your face from the harsh sunlight and the top of the hat is designed with a belt and buckle featuring a bull's head. With a durable internal sweatband, you can rest assured that it will feel cool on your head.
Pros
14-inch front brim
One size fits most
Breathable straw
Elastic sweat headband
Available in many colors
Cons
Some may find the construction slightly stiff
Price at the time of publication: $37.99
Made with high-quality and soft straw with detailed and intricate patterns, this women's cowboy hat helps frame every face shape. With a hat band in criss-cross patterns and a blue stone in the center, the hat is quite an eye-catching piece. It is made with an sweat-absorbent inner band for superior comfort while the wide brim helps shield the sun from hitting your face. Ideal for both men and women, the hat is breathable and features a pull-on closure.
Pros
100% straw
Available in other patterns and colors
Lightweight and breathable
Sweat-absorbent band
Wide brim
Cons
Some users found that it didn't hold shape when packed tightly
Price at the time of publication: $32.99
Pros
Lightweight
Chin strap
Offers SPF 50+ protection
Travel-friendly
Moisture-wicking
Cons
None
Price at the time of publication: $30.94
Pros
100% woven straw
Adjustable strap
Wide brim for sun protection
Lightweight
Cons
Does not retain shape when packed compactly
Price at the time of publication: $27.59
Pros
High-quality
Adjustable strap
Drawstring closure
Comfortable
Durable
Cons
Easily stained
No color options
Price at the time of publication: $18.89
Now here's a cowboy hat like no other! It blinks! The shiny and sequinned dazzling cowboy hat literally lights up and is a great choice for parties or for dressing up for occasions like Halloween. It's very easy to use as well. All you have to do is press a button to change the LED settings to flashing, blinking, or steady lights. The best part? It fits most head sizes and the batteries are replaceable, so you can make use of the hat throughout the year for years to come.
Pros
Sequinned
Lights up
Replaceable batteries
Changeable LED settings
Available in other colors
Cons
May not be practical for casual wear
Price at the time of publication: $21.99
An imported cowboy hat that's made of paper straw, this one will amp up your brunch outfits, look spectacular while horseback riding, and even fit seamlessly at the beach. It features a leather band with a buckle at the crown, which makes the hat look all the more elegant and the hat comes with an adjustable chin strap, so you know it won't blow away when it gets windy. Lightweight and comfortable, you can also use this hat for other purposes such as hiking, gardening, traveling, and fishing.
Pros
Wide brim for sun protection
Lightweight
Adjustable drawstring
100% paper straw
Manually crocheted
Cons
Some may find it too large
Price at the time of publication: $19.99
If you're looking to rock a straw cowboy hat on your next hiking date or just a day out in the fields, you should get your hands on this one. The lightweight straw hat comes with an elastic closure and the classic style teardrop-shaped pinched crown make it an ideal choice for both men and women. Designed with an elastic closure, it offers a snug yet comfortable fit and while the wide brim protects your face from sunlight. Super flexible, you can mold and shape it differently to turn it into a panama hat too!
Pros
Lightweight
Flexible
Windproof chin strap
Sweatband adjustable string
Decorative band on the crown
Cons
May be slightly large for the average head size
Price at the time of publication: $18.98
Made of 100% straw paper, these fashionable cowboy hats are pinched at the brim and come with a decorative band with beads on the crown. As the hat is high-crowned, it offers a good fit for even large heads and the wide brim offers protection from the harsh rays of the sun. It also comes with an adjustable chin strap and won't fly away on windy days and you can use the hat for other purposes like gardening, fishing, and golfing.
Pros
100% paper
Available in many colors
Wide brim
High crown
Lightweight
Cons
May take some time to reshape
Price at the time of publication: $27.99
Wondering how to wear an authentic cowboy hat during the wintertime? Well, you've just got to pick one made of wool of course! These felt cowboy hats are the perfect blend of wool and polyester and keep your head warm while making you appear stylish throughout the cold months. The brim measures at 7 cm and the top is 12 cm, making it the perfect height for casual outings. Available in a range of colors like red, black, and navy among others, these women's western cowboy hats are specially designed to bounce back to their original shape even when packed tightly.
Pros
Made of wool and polyester
Warm and comfortable
Available in many of your favorite colors
Affordable
Cons
One size doesn't fit all. Check the size chart before buying.
Price at the time of publication: $19.99
A cowboy hat that frames each and every time of face shape, this lightweight straw hat is paper straw women and sits on your head comfortably without feeling heavy or stuffy. Tightly woven, the floppy brim of the hat provides excellent sun protection while the braided faux leather band on the crown adds an elegant touch. It is also equipped with an adjustable drawstring strap that ensures that the hat will stay on your head even on the windiest of days!
Pros
Paper straw woven
Breathable
Floppy brim
Chin strap
Foldable
Cons
Some may find it slightly loose
Price at the time of publication: $21.99
Now that we've looked at the 11 best cowboy hats for women in 2023, let's take a look at a few things to keep in mind when buying one for yourself.
What To Look For In A Cowboy Hat For Women
Facial shape and structure
Before settling on a cowboy hat, take a long, hard look at your face as it plays a huge role in whether a certain cowboy hat will look good on you. Those with thin faces and long, pointy chins will look good in cowboy hats with a medium crown height. If you have a round face, it's best to stick with hats with a small-sized crown.
Most cowboy hats are made of straw and paper materials, making them lightweight, breathable, well-ventilated, and a great choice for everyday wear. They don't lose shape easily and are also mostly moldable. These hats are easy to maintain and don't take much time to clean. On the other hand, you'll also find cowboy hats made of felt, wool, and even leather, making them a great choice for the wintertime. They block away dust and keep your head warm but maintaining them can take some time and require extra care.
While most cowboy hats are made to fit all head sizes, there are a few brands that offer their hats in different sizes. This is why it's important to check the circumference of your head before buying one as the hat could be too loose and fly away or drop over your eye or too tight and give you a headache. Also check the size of the brim as it should ideally protect your face from the harsh sunlight.
If you're choosing a straw cowboy hat for everyday wear, you must keep the color of the hat in mind too. Shades like white, ivory, beige, grey, and tan brown work best for the day time while navy, black, dark brown, and grey are colors that shine during the night.
Ready to travel to the wild, wild west and feel like an outlaw or simply want to rock a cowboy hat because why not? Whatever your reasons may be, it's always a great time to sport one! We hope our list of the best cowboy hats for women has given you plenty of options to choose from, so you can try one for each day of the week. Why don't you get your BFF or partner involved too and hop on the bandwagon and try out a new style every week? Who says cowboy hats are only for riding horses? You can even wear one while you're peacefully gardening too! Grab yourself one right away!
Frequently Asked Questions
Is it disrespectful to wear a cowboy hat?
Wearing a cowboy is not disrespectful as long as you remove it when greeting someone, especially someone older than yourself. You'll also be considered ill-mannered if you wear it while sitting for dinner or leaving it on the table. While there are many rules to be followed, some of the more common ones also include not wearing it to a funeral, taking it off for the national anthem and for prayer, and never to touch another person's hat.
Can women wear cowboy hats?
Yes, as long as etiquette is practiced to a certain degree.
What are the rules for wearing a cowboy hat?
• While dining in any restaurant, remove the cowboy hat.
• The bow inside the hat band is worn at the back of your head.
• When the national anthem of any country is played, remove the cowboy hat.
• While greeting people, remove your cowboy hat. This is a gesture of respect shown towards a woman or an elderly.
• When entering a public building or a private residence, remove your cowboy hat.
Is it OK to wear a cowboy hat in the summer?
Yes, cowboy hats can be worn every season.
Recommended Articles: