Top 7 Best Cream Blushes For Women Over 50
These creamy and dreamy cream blushes will give you a youthful and smooth finish.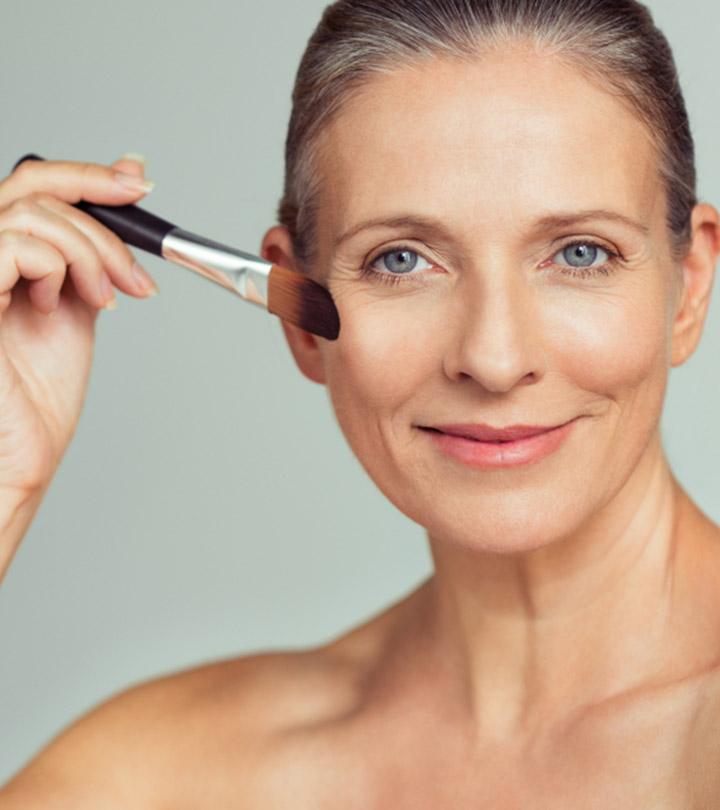 Your heart may forever remain young, but your skin will not. Age brings wrinkles and fine lines that may seem hard to conceal with regular makeup products. However, the best cream blush for over 50 can help you look youthful. As the skin starts losing its natural glow, it asks for some extra TLC. Otherwise, dullness, aging spots, and clogged pores can become constant companions. But as the world advanced, so did the makeup and skin care industry. Some products can help your mature skin look radiant and stunning like before. One such item is a cream blush. Powder blushes can damage mature skin and settle on the wrinkles and fine lines to make your face look even more aged. But the cream blushes are made with natural ingredients and blend well to provide you a hydrated and healthy glow. Makeup Artist, Lorrie Pearson, mentions how a cream blush gives the skin a soft, radiant glow that enhances your beauty.
These blushes work well on dry skin and do not highlight the aging signs. If you want to add this essential makeup item to your collection, we have got you covered. Choosing the right creamy blush for your mature skin is tricky and, not to mention, time-consuming. Our article lists 7 cream-based blushes that women love. Swipe up for the details!
Top 7 Best Cream Blushes For Mature (Aging) Skin For 2023
Say goodbye to dull skin with L'oreal Paris Visible Lift Blur Blush. It is one of the best-selling and popular products of the brand. It is formulated with opti-blur technology, which means it hides lines and wrinkles and helps your skin attain an even texture. It is not only anti-aging but also diminishes your pores in no time, leading to fresh, smooth, and youthful-looking skin. This cream blush is available in three colors – soft peach, soft pink, and soft berry, which come in squeeze tubes. Here's a tip: always start with the tiniest amount of blush and build up the intensity as you go. It is the best blush for oily acne prone skin.
Pros
Easy to apply with fingers
Hides visible lines and wrinkles
Blends smoothly
Enhances cheekbones
Cons
Lasts only a couple of hours
Tends to clump if applied with a brush
Price at the time of publication: $14.5
The Palladio I'm Blushing 2-in-1 Lip and Cheek Tint is buildable and blendable that delivers a healthy flush of color to your face. It is available in six flattering shimmery shades with sheer finishes. This blush stick is infused with nourishing ingredients like aloe, camellia, safflower, ginkgo biloba, ginseng, and chamomile that offer a hydrating glow to your face. It contains vitamins A, C, D, and E that help maintain healthy skin. This multi-utility stick comes with an easy twist-up feature, and the product easily glides on your cheeks and lips, enabling seamless application. Check out this video for an honest review of this 2-in-1 blush.
Pros
Lightweight
Easy to apply
Easy to blend
Fragrance-free
Cruelty-free
Paraben-free
Gluten-free
Travel-friendly
Cons
Might feel tacky on the skin
Price at the time of publication: $9.99
The Global Director of Stila Creative Artistry, Sarah Lucero, herself swears by the Convertible Color Lip and Cheek cream. So, rest assured, this creamy, dreamy and utterly buttery blush gives your cheeks a healthy, natural glow, and adds the right pop of color to your lips. This 2-in-1 blush is a must-have, who prefer simple makeup. It is translucent, sheer-tinted, and non-greasy. Plus, the mini mirror within the compact packaging makes it ideal for on-the-go face touch-ups. It is the best cream blush for over 50 women. To know more about how to use this product, click on this YouTube video.
Pros
2-in-1 product for cheeks and lips
Creamy and smooth
Blends well
Compact
Value for money
Easy to apply
Available in six colors
Cons
May need frequent touch-ups
Price at the time of publication: $25.0
Boasting of 10 color-rich shades, this multipurpose cream blush stick is an iconic innovation by NARS. Formulated with vitamins, minerals, and anti-aging properties, The Multiple, will make your skin look flawless. It is incredibly creamy and blends effortlessly to create shimmering accents, contours, or dynamic highlights on all skin tones. The blush also evens out skin tone and conceals wrinkles and other imperfections. This is a go-to product if you like a hint of shimmer across your cheekbones, on your eyes, lips, and body. It is the best cream blush for older skin.
Pros
Blends easily
Sheer shimmer finish
Available in an array of shades
Lends a smooth finish
Easy application
Paraben-free
Cons
Price at the time of publication: $37.87
Enhance your complexion with the Perricone MD No Makeup Blush. It provides a beautiful rosy tint to the cheeks for a youthful flush appearance. This blush is enriched with vitamin C ester that brightens the skin and provides a radiant look. It also helps in giving an even skin tone and making the skin softer. Furthermore, chinese ginseng extract reduces skin damage and dullness with its antioxidant property. The gel-cream formula is blendable and offers a sheer finish. In this YouTube video, you will find a detailed review of the Perricone MD No Makeup Blush.
Pros
 Smooth application
 Long-lasting
 Easy to apply
 Lightweight
Cons
None
Price at the time of publication: $28.0
Next time you are packing your travel bag, don't forget to pack this chubby stick cheek Clinique blush colors. Mistake-proof, creamy, and effortlessly buildable, the gel-like blush delivers a healthy-looking glow in an instant. It blends beautifully to create a fresh, rosy glow. It is so versatile that you can use it as an eyeshadow or a lipstick for times when you want to keep your makeup subtle. Available in four universally flattering shades, there is something for everyone. For best results, apply a few dots on your cheekbone and blend well using your fingertips.
Pros
Ultra creamy
Blends easily
Healthy-looking glow
Long-lasting
Buildable color
Cons
Requires frequent touch-ups
Price at the time of publication: $28.0
Achieve the benefits of a highlighter and blush with the Jamie Makeup Blighlighter. This one-of-a-kind hybrid formula blends seamlessly on your skin, delivering a natural glow. This cream blush is enriched with shea butter that soothes and hydrates your skin while adding a flush of color to your cheeks. It also contains hyaluronic acid that moisturizes your skin and reduces the appearance of fine lines and wrinkles. This clean product is available in five flattering shades and looks amazing on every skin tone.
Pros
Blends easily
Travel-friendly
Cruelty-free
Paraben-free
Phthalate-free
Gluten-free
Non-GMO
Sulfate-free
Carbon-neutral packaging
Cons
None
Price at the time of publication: $90
We will now move on to understand all the factors to keep in mind while buying a cream blush.
A Helpful Buying Guide To Choose The Right Cream Blush For Aging Skin
what color blush should I wear? before you invest in cream blush, it is essential you go through these tips to find the perfect blush for your skin.
1. How to choose cream blush for women over 50?
Always look for products that contain essential vitamins and minerals to keep your skin hydrated and radiant.
It should include antioxidants that firm your skin.
A cream blush with SPF above 30 will protect your skin from the harsh sunlight.
Search for products with anti-aging ingredients such as ceramide triple complex, Chinese ginger plant extract, and neuropeptides that slow the process of aging.
Avoid products with alcohol and artificial fragrance as it can cause skin irritation. It can also increase dryness and enhance the appearance of wrinkles.
The blush should complement your skin tone, so opt for a product that offers a varied number of shades.
It should be easy to blend with a buildable formula to give a long-lasting effect.
It should be able to conceal visible lines and wrinkles.
The right blush should glide on smoothly and deliver vibrant color and moisture, and a youthful glow.
2. How much blush should you use?
It depends on your skin tone, and how soft or intense you want the blush to look. Most cream blushes are deeply pigmented, so a little goes a long way.
3. How do you apply cream blush for women over 50?
Applying cream blush is not at all complicated. There are two ways to do it – with your fingertips or with a sponge. Most cream blushes are easy to apply and can be perfectly blended with your fingers. Just dab a little on your cheeks and glide it along your cheekbones for a smooth and even finish.
Why Trust Stylecraze?
The author of this article, Chaitra Krishnan, is a makeup enthusiast and loves to explore different products used in makeup. The list of the best cream blushes for women over 50 is curated after thorough research and reading many online reviews from various trusted platforms. She says that these blushes are a must-have for getting a youthful glow. These are made with natural ingredients, blend well, and are long-lasting.
Frequently Asked Questions
Is powder or cream blush better for mature skin?
For mature skin, cream blush is the best bet. Since your skin is mostly dry, it is recommended to use cream blush to keep your skin moisturized. Cream blush evens out your skin tone, covers age spots and wrinkles, and doesn't feel heavy on your skin. Powder blush dries out your skin and gives a cakey effect.
What color cream blush makes you look younger?
Cream blushes with warmer shades and hints of rose gold or pink can make you look younger. You can also try petal pink or subtle coral blushes on mature skin.
What are the best cream blushes for over 50 to achieve a dewy, natural flush?
Makeup enthusiasts over 50 can try cream blushes such as L'Oreal Paris Visible Lift Blur Blush, Elizabeth Arden Beautiful Color Radiance Blush, or Stila Convertible Color Lip and Cheek Cream to achieve a dewy look. These blushes offer the right amount of color to your cheeks and they appear naturally flushed.
How long does a cream blush last on your face?
Cream blushes usually last about six to eight hours on the face. However, if you prep your face properly, and apply a setting powder after makeup, your blush can last up to twelve hours.
Recommended Articles: