15 Best Cream Contour Palettes Of 2023
Sculpt your face just the way you want and accentuate your beautiful features.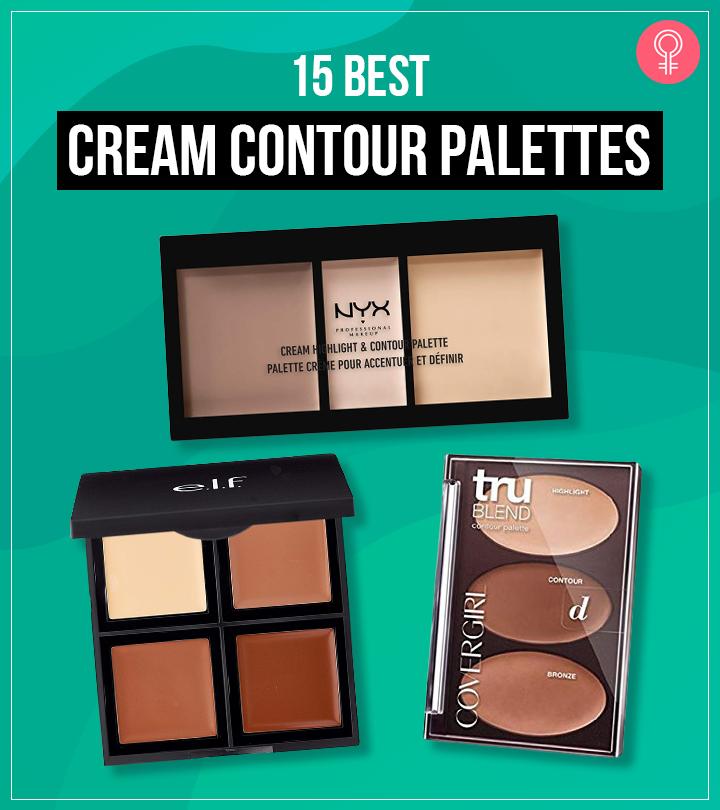 If you want a chiseled jawline alone with enhanced cheekbones with a smaller forehead, making the perfect face ever seen, you must try your hands on the best cream contour palettes. If you have the right formula, you can effortlessly achieve this look and so much more with cream contours. As a beginner, contouring might seem like art, but over time, you can master it. You can even get these looks daily.
Contouring has been a makeup step nobody quits for good. This unsung hero is an absolute game-changer. It is a favorite of makeup celebrities and bridal artists alike. We have listed the 15 best cream contour palettes for you to get a well-defined look instantly.
Do You Really Need To Contour?
While contouring is not necessary, it does help your face look great. Contouring enhances your face shape and adds definition. You can make your cheekbones appear more chiseled and defined. So, even though you don't need contouring in your daily makeup routine, it does help you look your best if you do.
Take a look at the 15 best cream contour palettes below.
15 Best Cream Contour Palettes Of 2023
The NYX Professional Makeup Highlight & Contour Pro Palette sculpts the face and enhances each contour and natural feature. The palette is made of eight shades of creamy browns and neutral tones. The shades can be refilled in the palette, and the colors can be mixed and matched for customized hues and coverage. Layer your skin with a color and blend it smoothly along the jawlines, nose line, and other areas you want to highlight.
Pros
Blends easily
Refillable palette
Eight shades in one palette
Matte finish
Cruelty-free
Vegan
Cons
May cause allergies on sensitive skin
Price at the time of publication: $17.99
Highlight your contours and bring new life into your face with the Covergirl TruBlend Serving Sculpt Contour Palette. This palette helps amplify and shape the natural features of the face. It includes a blush, highlight, and contour shades that brighten the skin tone and magnify each contour. The tonal hues add dimension to the features and depth where needed. It clarifies the skin tone and gives it an even texture. Each color blends easily and provides a natural appearance.
Pros
Dermatologically tested
Suits all skin types and tones
Blends easily
Super blendable
Lightweight
Cons
Contains parabens and alcohol
The Covergirl TruBlend Contour Palette is a 3-in-1 product that can be used to highlight, contour, and bronze. It contains three creamy, highly blendable shades that define and highlight your features. The brand offers three different options that you can choose from, depending on whether your skin tone is light, medium, or deep.
Pros
Blends well
Safe for sensitive skin
Fragrance-free
Oil-free
Affordable
Cons
May be greasy
Limited shades
Price at the time of publication: $12.52
The Aesthetica Cream Contour Kit enhances your natural features without highlighting any imperfections on the skin. It contains three dark, creamy, and easily blendable contour powders that sculpt and define your features to make your face look sharper. It also offers three highlighter shades that brighten and illuminate your features. The kit comes with step-by-step instructions to help you properly contour and highlight and add a professional touch to your basic makeup routine. This environment-friendly kit has removeable and refillable pans.
Pros
Easy to blend
Longwearing
Hypoallergenic
Refillable pans
Gluten-free
Dermatologist tested
Vegan
Cruelty-free
Cons
Price at the time of publication: $29.69
From color correcting and concealing to contouring and highlighting, the RK By Kiss 3D Contour Artist Cream Palette does it all. The weightless formula is designed to seamlessly blend into your skin for an effortless finish. The palette offers eight different shades with three shade ranges available for light, light medium, and medium dark skin tones.
Pros
Blends easily
Weightless formula
Richly pigmented
Affordable
Available in three shades
Cons
None
Price at the time of publication: $5.99
Get your complexion the best it deserves, with the Full Spectrum Contour & Correct Expert by Covergirl. This all-in-one contour palette is curated for multicultural women across all parts of the world. It comes with eight cream shades to neutralize, contour, highlight, and balance pigmentation.
Pros
Imparts a natural glow
Smooth finish
Long-lasting
Affordable
Cruelty-free
Cons
None
Price at the time of publication: $9.89
The Shany Foundation/Cream Contour & Highlight Palette is the one-stop solution for all your makeup woes. This versatile palette acts as a foundation, concealer, bronzer, and contour. It offers six creamy and easily blendable shades suitable for light, medium, and dark skin tones. The formula provides a smooth and flawless contour with a dewy finish. The medium-sized mirror placed on the top panel of the palette makes on-the-go application easier.
Pros
Easy to blend
Smooth finish
Richly pigmented
Dewy finish
Medium mirror
Magnetic closure for safe storage
Value for money
Cruelty-free
Cons
None
Price at the time of publication: $13.93
Designed to make women of color look their absolute finest, the Black Radiance True Complexion Creme Contour Palette is ideal for women with medium to dark skin tones. Whether you want to contour, sculpt, or illuminate your facial features, this contour palette has you covered. These easy-to-blend range of shades can be customized to act as foundations, highlighters, and bronzers. The oil-free and rich creamy formula offers full coverage for deeper skin tones.
Pros
Full coverage
Long-lasting
Easy to blend
Smooth finish
Richly pigmented
Value for money
Oil-free
Cons
None
Price at the time of publication: $7.99
The Youngfocus Serie Contour: Cream Kit  offers eight different shades to deliver a flawless airbrushed makeup look. The four darker shades define and contour and the four lighter shades highlight and enhance the facial features. In addition, these shades can be easily mixed and matched to give you a sharp jawline, lifted cheekbones, and a petite nose. The lighter shades work seamlessly to cover up any blemishes, freckles, or imperfections while brightening the skin for a long-lasting effect.
Pros
Long-lasting
Lightweight
Ideal for mature skin
Easy to blend
High coverage
Hypoallergenic
Value for money
Cruelty-free
Dermatologist-tested
Cons
Price at the time of publication: $20.99
The NYX Professional Makeup Conceal Correct Contour Palette offers six different shades. The formula provides buildable coverage that ensures flawless skin and adds depth to the natural facial contours. The palette includes a color corrector shade and three contour shades for deep, light, and medium skin tones. You can use the lighter shades to cover up blemishes and spots and the deeper shades for contouring.
Pros
Blends well
Lightweight
Sweat-resistant
Longwearing
Cruelty-free
Cons
Difficult to remove
May cause irritation on sensitive skin
Price at the time of publication: $11.73
The BYS Cream Contouring Palette is a 3-in-1 kit that enables you to contour, highlight, and illuminate your facial features. It offers a rich color payoff that lasts throughout the day. The silky smooth formula provides a naturally radiant complexion along with a matte finish. The neutral shades are designed to complement all skin tones and can be used by beginners and professionals alike. The palette also comes along with a mirror that makes it easier to apply makeup anywhere you want.
Pros
Richly pigmented
Long-lasting
Great value for money
Blends easily
Mirror
Cons
None
Price at the time of publication: $23.99
The W7 Lift and Sculpt Contour Palette features six light to dark shades that highlight, bronze, and contour your face with a satin finish. These highly blendable shades are extremely creamy and smooth to give you a long-lasting, flawlessly natural finish. The formula consists of premium quality ingredients that is suitable for all skin types.
Pros
Long-lasting
Satin finish
Blends easily
Great coverage
Affordable
Cruelty-free
Cons
None
Price at the time of publication: $6.95
The Pure Vie 15 Colors Cosmetics Cream Contour and Highlighting Makeup Kit is your best friend if you are looking for an all-in-one product. It uses an assortment of different colors that give you a natural and glossy finish and last all day. It contains 15 richly pigmented shades that include color correctors, contours, and highlighters. The light colors can be used to camouflage redness and acne, the medium color is great for under-eye circles, while the dark color provides a beautiful contour for your skin.
Pros
Multipurpose
Long-lasting
Richly pigmented
Easy to blend
Great shade range
Affordable
Cons
None
Price at the time of publication: $9.98
The Best Creamy Texture:NYX Professional Makeup Highlight & Contour Cream Pro Palette offers four highlighting and four contouring shades. These are richly pigmented with soft, creamy formulas. The shades are also ultra-blendable and can be used to achieve various makeup looks suitable for all skin tones.
Pros
Easy to blend
Richly pigmented
Suitable for all skin tones
Refillable
Cruelty-free
Cons
Price at the time of publication: $33.99
The Makeup Revolution London Ultra Cream Contour Palette contains four contouring and four highlighting shades. These shades offer buildable coverage with a satin finish and help you create various looks with ease. They are also easily blendable and guarantee smooth application. A quick tip – use the pearl white highlighting shade to highlight your cheekbones beautifully.
Pros
Easy to blend
Long-lasting
Buildable
Gluten-free
Vegan
Cons
Price at the time of publication: $10
Contouring can help you add definition to your face, but it's not all that easy to master. Learn how to use a cream contour palette in a few steps given below.
How To Use A Cream Contour Palette
Start with a foundation shade that matches your skin tone.
Suck in your cheeks to make the natural contour of your face visible.
Proceed with the desired contour shade on the angled brush and start buffing in the outlines with a soft back and forth motions.
Brush up around your hairline if you want to give the illusion of a smaller forehead.
Blend the product across the bridge of your nose if you want your nose to look smaller.
Slim your neck down while sharpening the jawline by brushing the contour along the length of your jaw on both sides and across your chin. Use swift motions to seamlessly blend the contour for a perfectly natural shadow.
If you are using a palette that contains a highlighter, take the product on a fan brush and apply it on top of your cheekbones, nose tip, and cupid's bow.
That's it, your perfect makeup look is ready to rumble!
When it comes to cream contour palettes, no two options are the same and it is tough to find out exactly what your skin craves. Let's take a look at some factors that you should consider when looking for the best cream contour palettes for your skin.
How To Choose The Best Cream Contour Palette
Shade Range: Your skin tone will decide the color or shade you should go for. For contours, pick a shade that is two shades darker than your foundation. If you are fair-skinned, avoid orange-toned products and choose neutral taupes. People with medium skin tones can go for bronze hues, while those with deeper skin tones can go for deep shades with a balance of blue and red undertones.
Blush: If you don't already own a blush, it is best to find a cream contour palette that contains a blush as well. This is a great way to uplift your makeup and help your contour appear more natural.
Contour Brush: Most contour palettes do not include brushes, so invest in a high-quality brush that will help you blend your contour seamlessly.
Cost: Cream contour palettes are available in both drugstore and high-end brands. Affordable products do not necessarily compromise on quality nor do expensive ones guarantee a higher quality. So, while it is ideal to go for affordable options as a beginner, you can choose high-end products if you are a pro.
Why Trust StyleCraze?
Baishali Bhattacharya, who penned this article, is a certified image consultant and makeup expert. Contour palettes are an essential part of makeup kits as they enhance your features. Baishali recommends using these cream contour palettes to sharpen your facial features. She perused through many contour palettes available on the market and read through their reviews on multiple forums to bring you this hand-picked list. These palettes have been selected based on their color payoff and blendability.
Frequently Asked Questions
Is cream contour better than powder?
It depends on the look you are going for. Cream contours provide a more natural finish as opposed to powder contours that are used for more defined and dramatic looks.
Do you apply cream contour before or after foundation?
The cream contour should be layered after your foundation to give you contoured face shape..
Do you put powder over the contour?
If you are using pressed powder, it is best to apply the contour after. However, you can put a light amount of loose translucent powder on top of your contour to help set it in place.
Can you use bronzer to contour?
Both bronzer and contour serve different purposes when it comes to makeup. However, using a bronzer as a contour may work if done correctly.
Does contouring make you look older?
When it comes to contouring, striking the right balance is imperative to nail the technique. While contouring can make your face appear younger, using too much may make you look older.
Recommended Articles