15 Best Cream Eyeshadows For A Crease-Free Look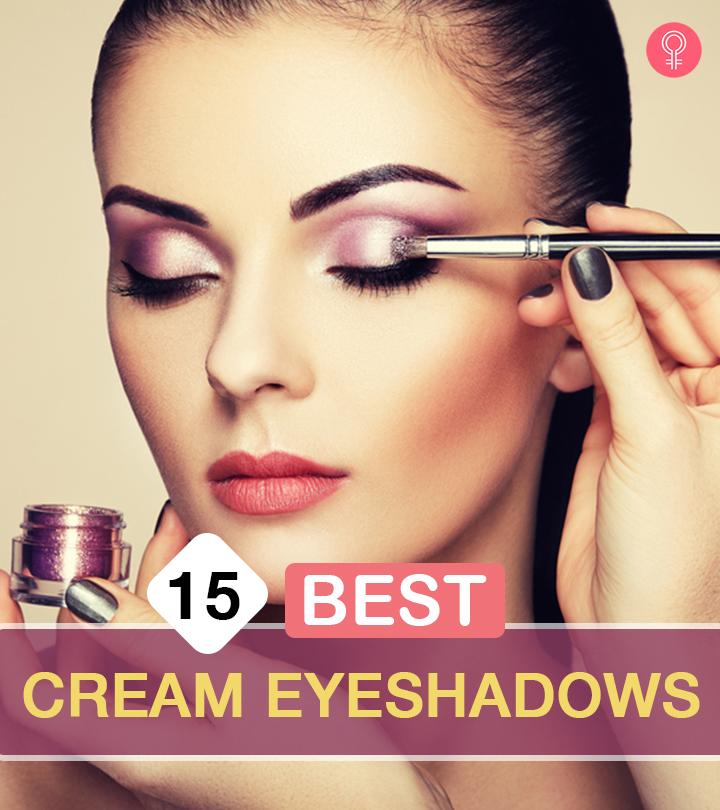 Bright eyes with popping colors give a bold look. Whether you are a newbie or a pro, using an illuminating cream eyeshadow makes you more attractive by defining your eyelids.
A cream eyeshadow is rich in texture. It has a creamy base and easily blends onto your eyelids. It can be used alone or asa base for a powder shade. While the market has several cream eyeshadows, we have listed the best here. Check the fifteen best cream eyeshadows for a crease-free look!
15 Best Cream Eyeshadows
This unique, long-lasting, illuminating cream eyeshadow by Bobbi Brown is a budge-proof formula. This long-wear eyeshadow stays for at least eighthours. It softly blends with the skin and gives a crease-free appearance. The water-resistant and tug-free eyeshadow glides easily on the lids and leaves a smoky look. The eye-popping shades further define your eyes.
Pros
Water-resistant
Long-day wear
Lasts for at least 8 hours
Easily glides on eyelids
Crease-free
Tug-free
Water-resistant
Does not fade away easily
Comfortable to wear
Available in different shades
Cons
None
The Palladio Crushed Metallic Eyeshadow is a highly reflective formula thatprovides a high-pigment finish without any fading or creasing. It is infused with aloe lead extract, tea leaf extract, sunflower seed oil, ginkgo biloba extract, and ginseng root extract. The infused vitamins offer a flawless finish while hydrating the eyelids. The soft, creamy formula is pressed with pigments for a highly reflective foil finish.
Pros
Paraben-free
Cruelty-free
Infused with hydrating ingredients
Crease-free
Budge-free
Packed with pigments
Protects the skin
Delays signs of aging
Available in different vibrant shades
Suitable for all skin types
Cons
The Mary Kay Cream Eye Color is a soft, creamy, long-wearing formula that glides easily over your eyelids and leaves you with gorgeous eyes. This crease-free, waterproof eyeshadow lasts for up to 10 hours. It retains a lightweight feel. It dries quickly and does not create any stains on the clothes. This is a clinically-tested and ophthalmologist-approved cream eyeshadow. It is hypoallergenic and suitable for sensitive skin and eyes.
Pros
Lightweight
Crease-free
Fade-free
Long-lasting eye color
Dries quickly
Oil-free
Free from fragrances
Clinically-tested
Ophthalmologist-approved
Hypoallergenic
Suitable for sensitive eyes
A powerful eye primer
Cons
None
If glitz or glitters are not your choices, pick the bare Minerals 5-in-1 BB Advanced Performance Cream Eyeshadow for a nude finish. This creamy, long-wearing, nude eyeshadow is infused with skin-loving and nourishing ingredients that smoothen the appearance of fine lines. The eyeshadow leaves a gorgeous matte finish. It contains broad spectrum SPF 15 to protect your eyelids from sun damage. You can enjoy the crease-free experience for up to 12 hours.
Pros
Long-wearing
Infused with natural ingredients
Crease-free
Fades away fine lines
Gives a matte finish
Broadspectrum SPF 15
Available in skin-flattering shades
Easy to apply
Cons
None
The Clinique Lid Pop cream eyeshadow delivers an instant burst of colors for a powder less, gorgeous look. This is a modern, silky eyeshadow that glides easily over your eyelids and gives a matte finish. This smooth eyeshadow builds and blends easily to the desired color intensity.
Pros
Creamy texture
Blends easily
Buildable
Available in gorgeous shades
Gives a powderless look
Cons
None
The Maybelline New York ColorTattoo Eyeshadow is waterproof, long-lasting, and bold. It lasts for 24 hours. This gel-formula easily glides over the eyelids without fading or leaving any crease. The Maybelline New York Color Tattoo's ink technology creates a supersaturated shadow that melts easily onto the lids in a single slide. It is available in pop-up colors for a defined finish.
Pros
Long-lasting
Waterproof
Gel-based formula
Crease-free
Does not fade away
Glides easily
Cons
Dry texture
Not suitable for sensitive skin and eyes
3INA's long-lasting, cream eyeshadow is waterproof and long-lasting. It gives an all-day gorgeous and defined look. It is a 100% vegan and ophthalmologist-tested formula that offers a satin finish. It is infused with traces of essential oils that nurture and hydrate the skin. Its creamy texture is derived from the best quality vegetable wax.
Pros
Paraben-free
Cruelty-free
100% vegan formula
Ophthalmologist-tested
Waterproof
Easy to apply
Blends with natural oils
Hydrates the skin
Long-lasting
Crease-free
Available in vibrant, glittery shades
Cons
None
The L'Oreal Paris Color Riche Eyeshadow is a multicolor, pocket-sized palette. The palette contains colors ranging from shimmery to matte finish. The eyeshadow easily blends with the skin tone and the infused pigments offer a vibrant, gorgeous look. The cream eyeshadow is crease-resistant. It lasts an entire day and leaves a budge-free look.
Pros
Pocket-friendly
Multi-colored palette
Multi-finish eyeshadow
A soft and subtle look
Crease-resistant
Budge-free
Does not fade away
All-day wear
Cons
None
The Almay Velvet Foil Cream Eyeshadow comes with a highly pigmented metallic cream that adds a glimmer to your gaze. The high-intensity creamy shadow is infused with vitamin E and other natural botanical extracts. These nurture the skin and leave a hydrating glow. The crease-free, smudge-free, and fade-proof illuminating cream eyeshadow defines your eyelids for as long as 24 hours.
Pros
Hypoallergenic
Crease-free
Smudge-free
Fade-proof
All-day wear for 24 hours
Ophthalmologist-tested
Suitable for sensitive eyes (and those wearing contact lenses)
Easy to apply
Available in 12 shades
Cons
The Lauren Brooke Cosmetiques Natural Cream Eyeshadow is made of 100% natural vitamins, minerals, and pigments that nourish and revitalize the skin around your eyes. This ultra-nourishing, protecting, and hydrating eyeshadow contains she a butter, rose hip oil, vitamin E oil, and jojoba seed oil. This powder less shimmer shade is ideal for dry skin. The rich, vibrating color shades contour your eyes with a cheerful and energized look.
Pros
100% natural ingredients
Cruelty-free
European-certified
Gluten-free
Non-GMO
Made with biodegradable ingredients
Paraben-free
Natural, organic fragrances
Nurtures the skin
Long-lasting
Available in vibrant colors
Cons
Texture could be too creamy
The RMS Beauty Cream Eyeshadow is subtle and glossy and has a light-reflective finish. It is made with raw food-grade organic ingredients that nourish and hydrate the skin. It is infused with buriti oil, jojoba oil, rosemary extract, and coconut oil that offer a flawless finish. The invigorating blend of natural extracts fades away fine lines, blemishes, and other signs of aging. This shadow works excellently well for dry, tired, and aging eyes by restoring their glow.
Pros
Infused with organic ingredients
Nourishes and hydrates the skin
Reduces fine lines and wrinkles
Suitable for dry, aging eyes
Crease-free
Gluten-free
Non-GMO
Soy-free
Cruelty-free
Cons
None
By Terry Paris Cream Eyeshadow Pen is a 3-in-1 solution for energized, luminous eyes. It acts as an eyeliner, eyeshadow, and illuminator. It offers a stunning gleam and a dazzling finish. It is infused with Tahitian black pearl extracts, which are a powerful anti-aging, light-reflecting ingredient that blur fine lines and wrinkles. It also is fortified with calcium and anti-aging proteins that take care of the eye area. The light-reflecting property of the eyeshadow delivers a subtle sheen that makes eyes wider and brighter. This is a travel-friendly and ultra-creamy eyeshadow pen.
Pros
Long-lasting effect
Light-reflecting property
Best anti-aging formula
Fades fine lines and wrinkles
Infused with calcium
Quick to apply
Travel-friendly
Cons
None
The Mommy Makeup Eyeshadow is a perfect, long-lasting eye contouring cream for busy women who also are beauty freaks. This multitasking, cream-to-powder product can be used as an eyeshadow, or as a lip or cheek color. It glides perfectly to give a smudge-proof finish when you have no time for touch-ups. It is available in 12 different matte shades and gives an iridescent effect.
Pros
Can be used aseye, lip, or cheek color
Smudge-proof
Waterproof
Budge-proof
Crease-proof
Cruelty-free
Cream-to-powder finish
Oil-free
Paraben-free
Infused with vitamins A and E
Long-wear cream shadow
Blends easily onto eyelids
Cons
The Jillian Dempsey Lid Tiny Cream Eyeshadow gives an instant pop and glow to the eyes with just one swipe of your finger. This 100% vegan natural cream eyeshadow is infused with skin-hydrating and nourishing ingredients like sunflower seed oil, coconut oil, and shea butter. These antioxidant-rich hydrating ingredients protect your eyes from aggressors. They also blur the signs of aging for a youthful glow.
Pros
Loaded with organic ingredients
Can be worn alone
Mistake-proof
Easy to blend
Gives glossy dimensions
Antioxidant-rich
Vegan
Paraben-free
Phthalate-free
Free from petrochemicals
Sulfate-free
Non-GMO
Free from artificial fragrances
Cons
The NARS Duo Cream Eyeshadow intensifies your look with just one swipe. This is a trendy and innovative cream eyeshadow that electrifies your looks. A veil of sheer metallic hues with a blend of glittering metallics give this unique eyeshadow a glowing, light-reflective finish. Its lightweight texture provides long-day wear. It is smudge-proof.
Pros
Available in dual shades and tones
Blends easily
Gives a soft, subtle texture
Infused with pure pigments
Provides a high-impact color
Cons
These are the fifteenbest cream eyeshadows that can be purchased online. In the following section, we have discussed how you can wear a cream eyeshadow.
How To Wear A Cream Eyeshadow
Take a sufficient amount of the cream eyeshadow (as per the intensity you desire) and blend it with an eyeshadow stick smoothly and softly. Do not use your fingertips to blend the shadow as it may degrade the quality of your eye polish.
Adjust the warmth and intensity of the color by giving one or more lines.
As a final touch, pat some powder on the top to create a long-lasting effect.
Picking the right eyeshadow is key. The following section can help you in this regard.
How To Choose The Right Product
Select a long-day wear eyeshadow that lasts for hours. It must have smudge-proof, budge-proof, and fade-proof effects.
Your eyeshadowshould be infused with hydrating and nourishing ingredients like shea butter, coconut oil, and almond oil. These will nurture your eye skin.
An antioxidant-rich cream eyeshadow protects your eyes from aggressors and blurs the signs of aging.
Your eyeshadow must be chemical-free to protect your skin and eyes.
Picking the right cream eyeshadow not only brightens your eyes, but is also safe for them. We believe this post has given you enough options to choose from! Pick your favorite cream eyeshadow today and start flaunting your pearly eyes.
Expert's Answers for Readers Questions
Are cream eyeshadows better than powder eyeshadows?
Yes, cream eyeshadows are always better than powder eyeshadows. A powder eyeshadow can easily fade away. It also is not smudge-proof, and can easily stain the cloth.
Is a cream eyeshadow better for mature skin?
Yes, a cream eyeshadow is a better option for mature skin. But it is suitable for any skin type.
How can I make my eyeshadow creamier?
You may blend your eyeshadow with a shadow stick to retain its creamy texture or may it creamier.
Recommended Articles:
The following two tabs change content below.