15 Best Creams For Psoriasis That Soothe & Treat Your Skin (2023)
Treat your itchy skin and prevent scaly patches with these hypoallergenic creams. Like any other irritable skin condition, chronic and auto-immune skin concerns such as psoriasis are equally annoying. But with the best cream for psoriasis in place, you can say goodbye to the troubles that come along with it. The symptoms of this condition show up from an overactive immune system and can be triggered by stress as well. It can cause immense discomfort, and among other symptoms of this skin condition are red, itchy, scaly, and raised patches formed on the skin surface. It usually occurs on the knees, scalp, and elbows. But not all creams are effective as some may contain strong chemical fragrances or dyes and elements that can further aggravate the situation. But don't worry. We are here to help. Below, we have listed the 15 best creams for this condition that are worth trying. So, give this piece a read and find the one that suits your skin best. Come on!
15 Best Creams For Psoriasis According To Dermatologists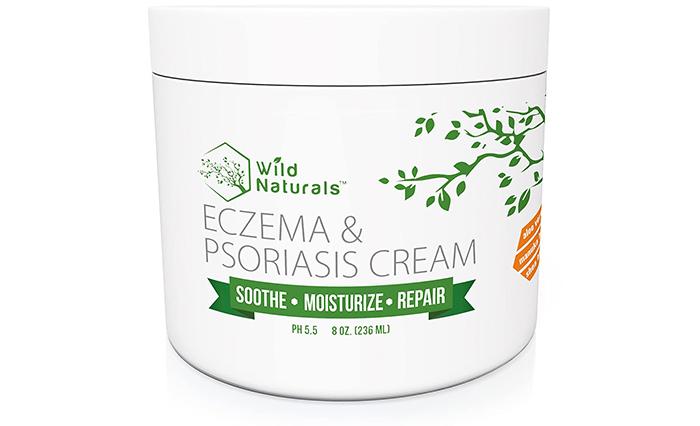 If you're struggling with dry or irritated skin and are looking for an itch-relief formula that promotes healing and calms redness and rashes on your skin, look no further than this one. The Wild Naturals Eczema and Psoriasis cream is a non-fragrant and chemical-free cream that contains natural ingredients like organic aloe vera, cocoa seed butter, cehami flower extract, coconut oil, and shea butter along with essential oils like hemp seed oil, olive oil, and vitamins A, C, E, B2, and B5, making this an excellent topical treatment for psoriasis. Additionally, manuka honey which acts as a natural moisturizer helps protect damaged skin with a unique blend of vitamins, minerals, and amino acids. It also effectively reduces itching and redness. You can apply the cream as often as required and it will not clog your pores, making it the perfect ph-balanced and steroid-free formula that your skin needs! No animal testing was involved in the making of this product.
Pros
Non-medicated
Hypoallergenic
Steroid-free
Cruelty-free
No alcohols or dyes
Non-greasy
Long-lasting
Cons
The cream feels more watery than creamy.
Price at the time of publication: $39.95
Looking for a glycerin cream for psoriasis? Try this one. Developed by a team of qualified dermatologists, the CeraVe Psoriasis Moisturizing Cream with salicylic acid and urea treats psoriatic skin irritations and relieves dry and itchy skin. Using the MVE technology, this fragrance-free formula continuously moisturizes and repairs the skin by removing scaly and dead skin cells, while helping to prevent the recurrence of psoriasis symptoms. With 2% salicylic acid as its active ingredient and lactic acid for mild exfoliation, this skin moisturizer along with niacinamide soothes inflamed skin and relieves other symptoms associated with psoriasis, like itching, redness, and flaking. Formulated with 3 essential ceramides that help restore and maintain the skin's natural protective barrier, this cream hydrates and softens with shea butter, glycerin, and dimethicone.
Pros
Non-comedogenic
Fragrance-free
Developed with dermatologists
Non-irritating
Hypoallergenic
Cons
Sunburn alert: This product contains an alpha hydroxy acid that may increase skin sensitivity to the sun.
Price at the time of publication: $19.79
The MG217 Medicated Multi-symptom Ointment treats itching, scaling, and flaking due to skin conditions like psoriasis and seborrheic dermatitis.  The salicylic acid in the ointment lifts, softens, and removes psoriasis scales and drying skin while allowing topical medication to penetrate the affected area and the coal tar slows the overgrowth of skin cells while reducing the inflammation and itching. This ointment is a multi-symptom medicated seborrheic dermatitis ointment that retains your skin's moisture and restores your skin's healthy appearance. As a psoriasis treatment, the intensive strength formula with vitamins A, D, and E
As a psoriasis treatment, the ointment base locks in the skin's natural moisture and even prevents overnight itching
Pros
Non-staining
Provides moisturizing multi-symptom relief
Contains coal tar and salicylic acid
Recognized by the National Psoriasis Foundation
Fortified with vitamins A, D, and E
Cons
This medication may make you more sensitive to the sun. Be sure to completely wash off the ointment before exposure to sunlight or as directed by your doctor.
Price at the time of publication: $10.49
By providing relief to psoriasis symptoms like itching, scaling and irritated skin, the Gold Bond psoriasis cream is a safe spend. You can achieve a soothing, temporary relief from the discomfort caused by psoriasis and seborrheic dermatitis. The maximum strength formula with 3% salicylic acid as its active ingredient functions as a multi-symptom psoriasis relief and prevents the recurrence of symptoms. Not only does this cream fight the frustrating and discomforting symptoms of psoriasis, but it also helps hydrate your skin and keeps it smooth.
Pros
Maximum strength
Fragrance-free
Steroid free
It can be used up to 4 times a day.
Cons
The cream may have a thin consistency
Price at the time of publication: $29
Amélie Monnie's DermaCalm SOS Therapy is a clinically tested cream that can be used for psoriasis and other skin conditions like eczema and dermatitis. The lotion helps to relieve the symptoms of severely dry skin, scaly, and itchy skin with its enriching formula. You will definitely make peace with your skin as you notice visible skin differences like increasingly hydrated and moisturized skin, free from the rough, cracked patches and irritating itches. Avoid flare-ups and breakouts and go stress-free with this combination consisting of the moisturizing complex made of 8% urea, hyaluronic acid, and shea that works together with active yogurt probiotics, rose oil, and bisabolol to accelerate the healing process associated with psoriasis and other skin concerns.
Pros
Clinically tested
Can be used on face and body
Safe to use on children
Hypoallergenic
Paraben-free
Preservative and steroid-free
Cons
It may work better for milder skin symptoms
Price at the time of publication: $24.98
The Cortizone-10 Anti-itch Lotion for Psoriasis not only provides long-lasting relief from skin irritations but also helps with itching and irritation associated with it. The results-driven lotion contains maximum-strength hydrocortisone which is highly recommended by doctors to relieve your skin from minor skin irritations, inflammation, and rashes due to psoriasis. Containing 1% cortisone as it's active ingredient, along with moisturizers and vitamins including aloe leaf juice, shea butter extracts, oat kernel extracts, and ginger root extracts, this cream goes a long way in soothing your skin. The best part? The hydrocortisone treatment blocks enzymes and mediators triggered by skin irritation and reduces skin-related redness and swelling while being specially formulated for children, patients with diabetes, and eczema sufferers. This product is dermatologically tested and has proven efficacy in relieving itch quickly.
Pros
Formulated for diabetics, eczema sufferers & feminine relief
Contains natural ingredients
Can be used by children and those with sensitive skin
Water-resistant
Cons
One must air out their skin completely after applying this lotion.
Price at the time of publication: $8.77
The Kenkoderm Psoriasis Moisturizing Cream is a lightweight, non-irritating formula that uses natural ingredients to soothe and heal skin rashes. Its ingredients include a hydrating blend of shea butter, meadowfoam seed oil, and salicylic acid. These results-driven ingredients relieve the symptoms of psoriasis and help prevent recurrence by moisturizing the skin. It also prevents irritation and blocks the release of histamines. In addition, the moisturizing cream is fragrance-free to avoid allergic reactions and irritations, hypoallergenic, non-comedogenic, and easy to apply.
Pros
Hypoallergenic
Non-comedogenic
Fragrance-free
Color-free
Dermatologically-tested
Lightweight
Cons
May cause a mild burning sensation during application in rare cases.
Price at the time of publication: $24.99
The Maxasorb Vitamin D3 Cream from Vita Sciences is a real joy bringer for psoriatic sufferers. Enriched with Vitamin D, this cream can be used on the face, scalp, and whole body. The naturally formulated cream includes vitamin D3, vitamin E, and aloe vera to provide comfort from itchy, scaly, or flaky skin. While this is primarily a vitamin-based lotion, it also provides a great deal of comfort for psoriatic symptoms and is scientifically formulated to be safely used along with most other supplements.
Pros
Paraben-free
Maximum D3 absorption
Easy to use
Can be used on face and body
Cons
May alleviate only milder psoriatic symptoms
Price at the time of publication: $19.95
The best cream for psoriasis, helps you tackle all the uncomfortable symptoms that come along with it, and the Manuka Relief Ultra Soothing Cream does exactly that! Suitable for both adults and children alike, this formula is all-natural and free from parabens, artificial fragrances, or chemicals and helps you deal with dry, itchy, cracked,irritated, and stinging skin. It retains powerful ingredients like colloidal oatmeal, arnica Montana, flower extracts, and pure, organic, and medical-grade Manuka honey from New Zealand which has incredibly nourishing and unmatched healing properties to treat unhappy skin and give you a long-lasting sense of relief.
Pros
All-natural and plant-based formula
Child-friendly
No artificial fragrances
Suitable for sensitive skin
Promotes healthy skin
Cons
Some may find the consistency watery.
Price at the time of publication: $29.95
The Green Leaf Naturals Amazing Aloe Vera Eczema and Psoriasis Cream with Manuka Honey soothe and relieve skin issues faster than you would expect! This cream is formulated with organic aloe leaf juice, deionized water, organic sunflower oil, organic coconut oil, organic cocoa butter, beeswax, organic jojoba oil, manuka honey, shea butter, macadamia nut oil, kukui nut oil, avocado oil, flaxseed oil, evening primrose oil, along with Vitamin E and B5. The creamy solution is easily absorbed by your skin and deeply moisturizes and nourishes from within!
Pros
Cruelty-free
Paraben-free
Gluten-free
Balances pH
Good for all skin types
Cons
The consistency of the cream is rather thin and you may be required to use a generous amount each time.
Price at the time of publication: $24.99
No products found.

 
Ideal for treating psoriasis, eczema and other skin related irritations, Dr. Sayman's Wonder Cream absorbs easily by your skin and forms a hydrating barrier that protects you against irritating skin agents. With fast-acting relief from dry and itchy skin, its main ingredients include colloidal oatmeal which treats and prevents dry and itchy skin, hemp oil that quickly calms flare-ups, and manuka honey's antibacterial properties which easily control the bacteria present in skin infections. Dr. Sayman's Wonder line of products combines an effective, time-tested solution by combining science and nature, and this product is the perfect example of that!
Pros
Fast-acting relief
Can be used on face and body
Anti-inflammatory
Anti-bacterial
Contains organic ingredients
Cons
The cream may have a sticky feel and you may have to allow it more time to dry completely.
The Dermasolve Psoriasis and Seborrheic Dermatitis Cream helps you tackle symptoms associated with psoriasis and other drying and irritable skin conditions. Using the 1.8% salicylic acid as its active ingredient, the cream gently exfoliates dry skin and nourishes the skin with vitamins and minerals in the form of aloe leaf juice, glycerin, sweet almond oil, among others to eliminate red blotches and help it look healthy and normal. The extra strength in the medicated cream formula treats itchy and flaky skin and offers you a safe and effective method to treat psoriatic flare-ups and gives relief from psoriasis symptoms.
Pros
Doctor-recommended
FDA recognized ingredients
Steroid-free
Highly moisturizing properties
Cons
It may not work for all skin types
Price at the time of publication: $19.99
If you're looking for a product made with select natural botanicals that do not cause harmful side effects and are cruelty-free, then look no further! The TriDerma Psoriasis Control Face and Body cream not only visibly reduces white, scaly skin and helps relieve itching but also prevents the recurrence of these irritable symptoms. With 3% salicylic acid as its active ingredient, along with urea, oat protein, and vitamins B & E, this formula helps soothe and heal irritated skin. The non-greasy texture of the cream is an added bonus as it promotes fast-acting relief for extreme dryness and dead-skin cell build-up.
Pros
Contains mineral oil and petrolatum
Paraben-free
Does not contain cortisone or steroids
Cruelty-free
No added fragrance
Cons
May contain high amounts of beeswax
Price at the time of publication: $16.28
This analgesic cream from Base Laboratories contains lidocaine, menthol, aloe vera, hemp seed, tea tree, and coconut oil. The blend of these ingredients effectively targets shingles and reduces nerve pain, tingling, numbness, sensitivity, and itching. In addition, it soothes the pain and also provides relief from psoriasis, eczema, rashes, and burning sensations.
Pros
Fast relief
Easy absorbing formula
Water-based
Oil-free
Cons
Shingles take time to disappear
Price at the time of publication: $32.78
If you're looking for the best psoriasis cream that relieves itching, redness, dandruff, and dry skin, then you're looking in the right place! The Home Health Psoriasis Cream combines 2% salicylic acid with a soothing, moisturizing base of allantoin, jojoba oil, echinacea, lemongrass oil, rosehip seed oil, and vitamin E oil to smooth and soften your skin while relieving skin irritabilities associated with psoriasis, dandruff, and seborrheic dermatitis. What's more, it dries up quickly and provides instant comfort to your skin. 
Pros
Fast absorbing
Cruelty free
Non-greasy
Free from parabens and gluten
Vegan product
Cons
May take longer than expected to show results.
Price at the time of publication: $16.47
Since we've taken you on a well-informed journey through the list of the best creams for psoriasis, you can now make a personal choice to select a cream that best suits you. You can also go through the buying guide below to learn more about choosing the cream against psoriasis.
What To Keep In Mind While Treating Psoriasis: A Buying Guide
How To Use Cream Effectively To Treat Psoriasis?
Psoriasis appears in various forms and can manifest as raised, itchy and red patches on the skin. The affected areas may also have silvery scales, or plaques. This type commonly appears on the elbows, knees, and scalp but may also affect other places on the body, including the skin folds, genitals, hands, feet and nails. A neem cream for psoriasis is recommended for those who don't have an exaggerated condition.
Certain types of psoriasis can be more severe than others and these may result in more aggressive flare-ups. People with psoriasis commonly receive a diagnosis in their early teen years or even as young adults, but anyone can develop the condition irrespective of age. Psoriasis isn't curable, but there are many efficient ways to manage it.
Types of Active Ingredients Used In Creams:
Moisturizers and emollients: In general, thick, greasy lotions, creams, and ointments that trap moisture in your skin work best.
Salicylic acid: gets rid of scales easily from patches of psoriasis, with a proven track record in clinical settings and tests. It comes in lotions, creams, ointments, foams, gels, soaps, shampoos, liquids, cloth pads, and patches. It's especially helpful when it's used with other skin treatments.
Coal tar can help slow the growth of skin cells and make your skin look better. It also comes in many different forms, including shampoo to treat scalp psoriasis. But often coal tar doesn't smell good, and it can irritate your skin and stain your clothes.
Steroids (corticosteroids) help with inflammation and slow the growth of skin cells so they don't build up. They come in different strengths. Weaker formulas may work for sensitive areas like your face or neck or skinfold areas like your groin or armpit. You may need stronger ones for tough-to-treat places like your elbows and knees. You can also try a ketoconazole cream for psoriasis.
Vitamin D analogue topicals have man-made vitamin D in them. These ointments, gels, creams, lotions, foams, and solutions make your skin cells grow more slowly. Over the long-term, they may be safer for you than steroids, but they can irritate your skin. Along with creams with vitamin D, you can also try nystatin cream for psoriasis.
Some of these medications can make you sick if you ingest them, so keep them far away from children and pets. Opt for dermatologically approved ingredients that are clinically verified and have proven efficacy in addressing your skin concerns. Also, remember to do a patch test to check for allergies.
Why Trust StyleCraze?
The author, Krati Darak, has a deep passion for skin care. After perusing through many products, studying their reviews, and conducting extensive research on each product, she curated this list of creams for psoriasis. She shortlisted these products because they are dermatologist-recommended and can hydrate your skin.
Frequently Asked Questions
Can you use hydrocortisone cream for psoriasis?
Yes.
Can you use steroid cream for psoriasis?
No, it isn't recommended.
Does hemp cream a good cream for psoriasis?
Hemp oil hydrates the skin and gives it more oxygen which makes it a good treatment for eczema and dry, itchy skin which are symptoms of psoriasis.
What clears psoriasis fast?
You can use steroid creams or ointments to treat psoriasis faster.
Is Vaseline good for psoriasis?
Yes. Vaseline is an excellent option to treat psoriasis due to its excellent ability to retain moisture, protecting the skin from dryness.
What is the root cause of psoriasis?
Psoriasis is caused by irregularities in the immune system, genetic conditions, or environmental factors.
Recommended Articles: