15 Best Creams And Lotions For Tattoos – Protect & Heal The Skin
To heal and gently soothe any irritation or redness your newly inked skin faces.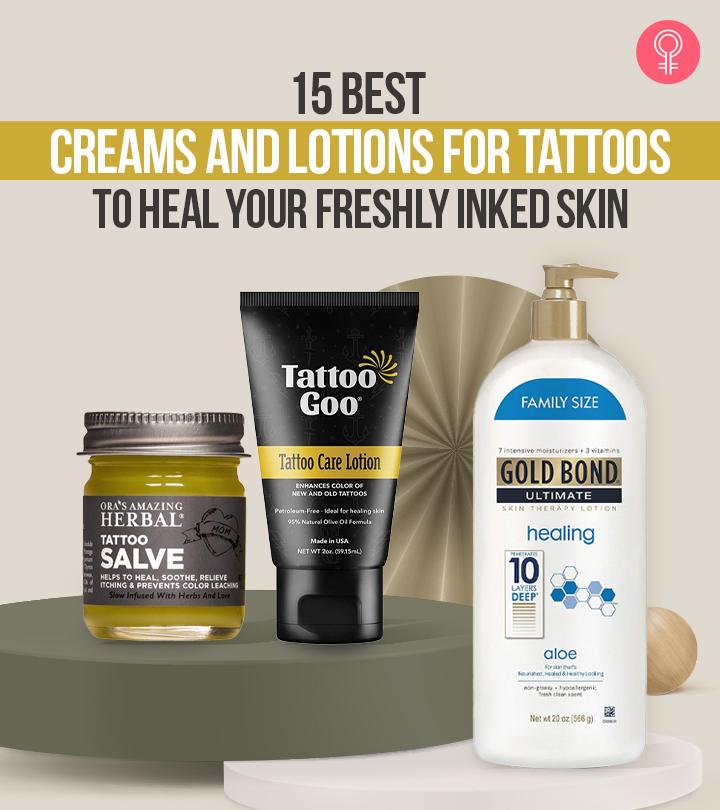 Tattoos help us express ourselves. So, while you may be all excited to flaunt your new tattoo, it is important first to use the best tattoo creams and lotions to take care of your punctured skin. These creams and lotions moisturize your skin and keep it infection-free.
If you are a tattoo artist and want the best for your clients, we suggest you stock up on some of these good-quality creams. While selecting a cream or lotion for your new tattoo, make sure you choose something with a skin-friendly and fragrance-free formula. We have compiled a list of the best tattoo creams and lotions in this article. Scroll down to take a quick look at them!
When Should You Apply Lotion To A New Tattoo?
The cream should be applied as soon as the tattoo starts drying. Start using a moisturizing lotion on your tattoo after 3 days to get the best results. Use it around 2 to 3 times a day to keep your skin moisturized and lubricated.
What Lotions Should You Avoid With Tattoos?
One must avoid fragranced lotions, A+D ointments, and white cream lotions. All of these produce a burning sensation when applied to the tattoo and can cause redness and itchiness.
Now, that you know when you should start using tattoo lotions and which ones you should avoid, let's check out the best creams and lotions for tattoos available in the market.
15 Best Creams And Lotions For Tattoos
Aquaphor Healing Ointment Advanced Therapy is a great on-the-go solution to protect and soothe extremely dry skin and minor irritation. Unlike other creams or lotions, this dermatologist-recommended tattoo ointment is frequently recommended by tattoo artists for aftercare. The 41% petrolatum restores healthy skin. It creates a protective barrier over the skin, allowing easy flow of oxygen and fluid.
Nichelle Temple, an esthetician, says, "A little goes a long way with Aquaphor. Start with a small amount and add more if needed."
Key Ingredients: Petrolatum
Pros
 Easy to spread
 Clinically proven
 Offers intense hydration
 Paraben-free
 Dye-free
 Fragrance-free
 Preservative-free
 Dermatologist-recommended
Cons
Hustle Butter Deluxe Luxury Tattoo Care & Maintenance Cream is a vegan alternative for the traditional tattoo lotions. It is as rich and luxurious as it sounds. This clinically tested and certified product lubricates the skin for faster tattoo scar healing. It is made of natural ingredients such as shea butter, sunflower oil, aloe vera, and mango butter. These ingredients hydrate and heal the skin, keeping it soft and smooth. It is a perfect replacement for petroleum-based products and makes your skin feel rejuvenated. This cream also allows your skin to breathe easily and helps in tattoo infection prevention. Moreover, the formula is not tested on animals, which makes it a reliable cruelty-free option.
Key Ingredient: Shea butter, Mango butter, Aloe vera, Coconut oil, Sunflower oil, Rice bran oil, Rosemary Green tea, Vitamin E, Mint oil, Papaya, and Coconut oil
Pros
 Prevents sun damage
 Hydrating formula
 Creamy texture
 Vegan
 Cruelty-free
 Clinically-tested
 Non-comedogenic
 Phthalate-free
 Paraben-free
 Easy to use
Cons
 Greasy
 Expensive
 Requires frequent reapplication
Eucerin Intensive Care Lotion is a 3-dimensional system that moisturizes, exfoliates, and smoothens dry and flaky skin. This dermatologist-recommended ointment is enriched with alpha hydroxy acid that gently exfoliates the skin and restores the skin radiance. The combination of Natural Moisturizing Factors (NMFs), hydrogenated castor oil, and dimethicone offers intense moisturization to the skin. It delivers 24-hour hydration and improves your skin.
Key Ingredients: Alpha hydroxy acid, Castor oil, Lactic acid, and Dimethicone
Pros
 24-hour hydration
 Fragrance-free
 Dye-free
 Paraben-free
 Affordable
 Dermatologist-recommended
Cons
 Sticky
 Difficult to apply
 Contains mineral oil
Viking Revolution Tattoo Balm is a vegan moisturizer with a non-greasy finish that you can easily add to your skincare routine. It contains no harsh chemicals and, hence, is 100% safe to apply. The gentle natural ingredients in this tattoo care balm not just soothe and moisturize the sore skin but also speed up the healing process. It is specially made for tattoos and is used to keep them looking vibrant for years. Its gentle and chemical-free formula does not clog the pores and, thus, nourishes the skin.
Key Ingredients: Shea butter and Hemp seed oil
Pros
 Easy to spread
 Pleasant fragrance
 Dermatologist-recommended
 Value for money
 Works on older tattoos
 Chemical-free
 Non-greasy
 Vegan
Cons
Infused with organic herbs, Ora's Amazing Herbal Tattoo Salve is an ideal choice for tattoo swelling reduction and aftercare. It offers relief from itchiness and redness and reduces the risk of infection. This results-driven product is mildly scented with cedar leaf, tea tree, and rosemary to keep any odor away. Apply a thin layer of Ora's Amazing Herbal Salve to your new tattoo and keep it lubricated without clogging pores or leaching color. All the ingredients in this salve are carefully selected to expedite the healing process.
Key Ingredients: Grapeseed oil, Organic coconut oil, Beeswax, Vitamin E, Rosemary essential oil, Thuja oil, and Tea tree oil
Pros
 Lanolin-free
 Aloe-free
 Paraben-free
 Mineral oil-free
 Synthetic fragrance-free
 Gluten-free
 Dye-free
 Suitable for sensitive skin
 Easy to use
 Natural ingredients
 Herbal fragrance
Cons
Made from all-natural ingredients, the Mad Rabbit Tattoo Aid works great for all skin types and ink styles. It not just moisturizes the skin but maintains the vibrant color of the tattoo for many years. This UV protection balm keeps your skin cells healthy and adds life to dull and faded tattoos. What makes it worth trying is its texture. This petroleum-free tattoo aftercare cream spreads like butter on the skin and rejuvenates it in no time.
Key Ingredients: Shea butter, Beeswax, Cocoa butter, Calendula oil, Frankincense, Lavender, Sweet almond oil
Pros
 Brightens the tattoo
 Prevents ink discoloration
 Revives and refreshes old tattoos
 Eliminates dryness
 Vegan
 Natural ingredients
 Paraben-free
 Sulfate-free
 Cruelty-free
Cons
After Inked Tattoo Moisturizer And Aftercare Lotion is an ideal choice to preserve the color of your tattoos. This vegan product for tattoo ink preservation is enriched with natural ingredients that offer deep nourishment to the skin and elevate the healing process. It is clinically tested to ensure that the quality of the product meets the stringent standards that exceed your expectations. In addition to tattoo aftercare, this lotion can be used on any permanent makeup procedure on your brows and lips. Many reviewers on e-commerce websites have mentioned that the moisturizer makes the tattoo look new and the skin feel refreshed.
Key Ingredients: Grapeseed oil
Pros
 Non-allergenic
 Dermatologist-tested
 Non-irritant
 Cruelty-free
 Vegan
 Petroleum-free
 Paraben-free
 Fragrance-free
 Gluten-free
Cons
If you are budget-savvy and looking for an affordable option, then Aveeno Daily Moisturizing Lotion might be a great choice for you. This lotion keeps your skin moisturized and lubricated the entire day. The formula is infused with the highly nourishing colloidal oatmeal that helps in calming inflammation and redness. Its gentle redness relief formula helps improve the skin condition in 2 weeks.
Key Ingredients: Colloidal oats and Dimethicone
Pros
 Non-greasy
 Non-comedogenic
 Gets absorbed quickly
 Dermatologist-recommended
 Fragrance-free
Cons
Searching for a long-lasting moisturizer? Look no more! Add Gold Bond Ultimate Healing Skin Therapy Lotion to your collection and keep your skin nourished all day long. Its quick-absorbing formula comes with a fresh, clean scent and is specially formulated for your skin care needs. This lotion penetrates deep into your skin to deliver intense hydration that lasts up to 24 hours. It contains a triple vitamin blend that heals the skin, shields it from environmental aggressors, and improves the skin texture.
Key Ingredients: Aloe, Vitamin A, Vitamin E, and Vitamin C
Pros
 Non-greasy
 Dermatologist-tested
 Hypoallergenic
 Non-comedogenic
 Pleasant fragrance
Cons
None
Lubriderm Dermatologist Developed Daily Moisture Lotion is an unscented formula that replenishes and moisturizes normal to dry skin. Its clinically proven formula is enriched with moisturizers that heal and nourish the skin. Plus, it improves the skin's moisture barrier and offers a pleasant, soft, smooth, and clean feel to the skin. It gets absorbed in seconds and nourishes your skin for hours. Apply a thin layer of Lubriderm Daily Moisture Lotion and revive your tattooed skin within no time while keeping it clean.
Key Ingredients: Vitamin B5
Pros
 Non-greasy
 Fragrance-free
 Fast-absorbing formula
 Easy to spread
 Light fragrance
 Lanolin-free
 Affordable
Cons
Tattoo Goo Tattoo Aftercare Lotion is a natural tattoo aftercare product that is mainly developed for sensitive skin. It is formulated with a unique combination of skin-loving ingredients that moisturize dry, freshly inked skin. This lotion gets absorbed quickly into the skin without clogging the pores. Its unique water-based formula restores the skin's natural moisture balance, speeds up healing, and protects the ink from fading. This lotion is free of alcohol and mineral oil, and it provides long-lasting protection against dryness.
Key Ingredients: Panthenol and Olive oil
Pros
 Non-greasy
 Gets absorbed quickly
 Dermatologist-approved
 Does not clog pores
 Vegan
 Cruelty-free
 Petroleum-free
 Lanolin-free
Cons
Formulated with premium hemp seed oil, CannaSmack Hemp Infused Ink Guard SPF 30 provides much-needed hydration and nourishment to your skin. Its water-resistant formula with a unique photostable UVB shield, SPF 30, and vitamin E protect your tattoo from fading. The help seed oil helps in healing inked skin, while aloe vera aids in taming inflammation and redness. Plus, the combination of beeswax, coconut oil, and sunflower oil keeps the skin hydrated. This mess-free formula for tattoo ink longevity spreads evenly on the skin. CannaSmack comes in a half-ounce chunky balm stick that prolongs the vibrancy of the ink in the tattoos.
Key Ingredients: Hemp seed oil, Aloe vera leaf extract, Beeswax, Coconut oil, Sunflower oil, and Vitamin E
Pros
 Non-comedogenic
 Water-resistant
 Easy to apply
 SPF 30
 Paraben-free
 Gluten-free
 Sulfate-free
 Color-free
 Fragrance-free
 Cruelty-free
 Petroleum-free
Cons
MARLOWE Sensitive Skin Body Lotion is a fragrance-free moisturizer that softens and soothes sensitive skin to reduce itchiness. This tattoo aftercare lotion contains natural and organic ingredients that aid in skin restoration and moisture. It is rich in antioxidants that fuel skin cell repair and protection. MARLOWE body lotion is an ideal choice to reduce inflammation. It does not clog pores and makes the skin feel breathable. Lightly coat your skin with a thin layer of this lotion to accelerate the healing process.
Key Ingredients: Deep-sea algae extract, Green tea extract, Willow bark extract, Passion flower extract
Pros
 Non-greasy
 Paraben-free
 Phthalate-free
 Cruelty-free
 No harsh ingredients
 Affordable
Cons
Dr. Tatty Premium Tattoo Numbing Cream is the ideal numbing cream to heal the skin from tattoos, piercing, microblading, or hair removal. The cream contains 4% lidocaine, which effectively numbs the skin for painful prickling and burning. The cream absorbs into the skin quickly, and its effect stays on for a long time providing maximum comfort during the skin procedure sessions. It has arnica montana flower extract that soothes the skin, and vitamin E aids in fast healing. It is a water-based, non-comedogenic cream that prevents sweating on the area of the skin going under the needle.
Key Ingredients: Lidocaine, Amica montana flower extract, Vitamin E, Emu oil, and Tea tree oil.
Pros
Fast absorbing
Long-lasting results
Quick healing
Non-comedogenic
Non-greasy
Cons
Searching for a vegan, skin-friendly lotion for restoring color at a cheap price? If yes, this all-natural tattoo aftercare cream from H2Ocean might be the right choice. This water-based lotion comes in the form of gel and can be applied easily on the skin. It works great for all skin types and deeply nourishes the same. This product is designed to speed up the tattoo healing timeline and limit the damage to ink color. It is paraben-free and ensures a great tattoo healing experience with tattoo color retention.
Key Ingredients: Aloe vera gel, Cetyl alcohol, Rosehip seed oil, Purified water, Sea salt, Coconut oil, and Glycerin
Pros
 Easy to use
 Petroleum-free
 Unscented
 Gets absorbed quickly
Cons
 May cause a burning sensation
*The prices provided in this article are based on the latest available information. However, they may vary due to changes in pricing by the seller and/or promotional offers.
Tattoos are a way to express yourself but at the cost of damaging your skin. Lotions and creams are essential for healing and moisturizing your tattooed skin. They restore your skin's elasticity and heal your skin's ruptures. Therefore, invest in a tattoo-safe lotion if you plan to get inked soon. Since the market is filled with uncountable tattoo-safe lotions, choosing one for tattoo fading prevention is a task. So, we have curated some factors you should keep in mind when buying a cream or a lotion for your tattoos.
Things To Look For In A Cream And Lotion For Tattoo
1.  Tattoo Specific: Look for a formula specifically designed for tattoo care. They are infused with anti-inflammatory properties that help alleviate pain or discomfort caused by tattoos and avoid reactions.
Must-Have Ingredients: Read the ingredients list carefully before purchasing a cream or lotion. Look for hypoallergenic, moisturizing ingredients that maintain the health of your tattooed skin. Pick lotions that contain any one or most of the following ingredients.
Aloe Vera Gel: It soothes and moisturizes irritated skin.
Shea Butter: It nourishes both dry and oily skin while healing the tattoos.
Beeswax: It keeps the skin soft and helps prevent irritation or inflammation.
Castor Oil: It is infused with anti-inflammatory properties that help reduce redness and swelling.
2. Allergy-Tested: Make sure to purchase dermatologist-recommended creams or lotions that have been tested for toxicity. Opt for lotions containing only clean ingredients to reduce the risk of tattoo ink allergies.
3. Sun Protection: Choose a sun protection lotion containing SPF 30 or more to protect your tattoos from getting triggered and faded by sun rays. Additionally, look for a broad-spectrum lotion to protect your skin from UVA and UVB radiation.
4. Fragrance-Free: Go for unscented lotions to prevent irritating your skin. Steer clear of products containing synthetic fragrances as they irritate the skin and delay the healing process of the tattoos.
5. Packaging: Opt for a tube or pump bottle to prevent dipping your fingers repetitively into the lotion. It is a hygienic and safe option for new tattoos.
Now that you know all the best tattoo creams and lotions available right now, here are some important pointers that will help you find the best lotion for your freshly inked skin.
What Should You Look For In A Tattoo Lotion?
1. Packaging: While choosing a tattoo aftercare lotion, the packaging of the product plays an integral role. Go for a tube or a pump dispenser as it prevents dipping your hand repeatedly into the product. However, if you choose a salve or a balm that comes in a pot, then make sure to wash your hands before using the same to avoid infection and contamination.
2. Fragrance-Free: Avoid products that contain artificial fragrances as they cause irritation and delay the healing process. Always go for products that are marked 'unscented' or 'fragrance-free.'
3. Vegan Or Naturally Derived Ingredients: If you are concerned about your sensitive skin, opt for a product that is either vegan or contains natural ingredients. They tend to have anti-inflammatory properties and are much healthier for your skin than chemical-based products.
Why Trust StyleCraze?
Shiboli Chakraborti penned this article to recommend the best creams and lotions to moisturize your skin and keep it protected and infection-free. She is a certified skin care coach and has written over 100 articles showcasing her expertise on the subject. She recommends these products based on the ingredients, fragrances added, packaging, application, price, and how easily they absorb into the skin.
Frequently Asked Questions
Can I use Jergens lotion on my new tattoo?
Yes. Once the tattoo has dried, you can apply a thin layer of Jergens lotion to speed up the tattoo healing process. Just make sure you use the unscented variant.
Can I use A&D cream on my tattoo?
No. A&D creams are petroleum-based and, thus, block the airflow to your skin. They can clog your pores and delay the healing process.
Is cream or lotion better for tattoos?
Creams have an oil content that keeps your skin nourished for several hours, but leaves a greasy feeling over the tattoo. On the other hand, lotions have a thinner consistency that penetrates easily into your skin without leaving a greasy residue. Both have equal tattoo healing potential, so choose one according to your requirements.
Can I put lotion and ointment on my tattoo?
Put unscented tattoo lotion and ointment on your tattoo.
When can I start using lotion on my tattoo?
Use a lotion after 24 to 48 hours of getting a tattoo. Always follow the instructions by your tattoo artist to prevent skin infections.
Can I use Nivea cream on my tattoo?
Yes. Nivea cream is a safe and effective moisturizer. You may use it on your tattoo to heal and nourish the skin.
What happens if you over-moisturize a tattoo?
Over-moisturizing is harmful as it can clog the pores, cause inflammation, and lead to skin breakouts. In extreme cases, it may develop severe infections.
Can you use Vaseline on tattoos?
No. Vaseline traps microorganisms and moisture in the pores, causing severe infections. Therefore, do not use vaseline on tattoos.
Will a tattoo heal without cream?
No. Although tattoos can heal without cream, the skin grows dry and tighter. Dry skin develops itchy sensations and slowly fades the tattoo color.
Recommended Articles