12 Best Creams For Glowing Skin Available In India
Get the radiant, Gram-ready skin of your dreams with these products at hand.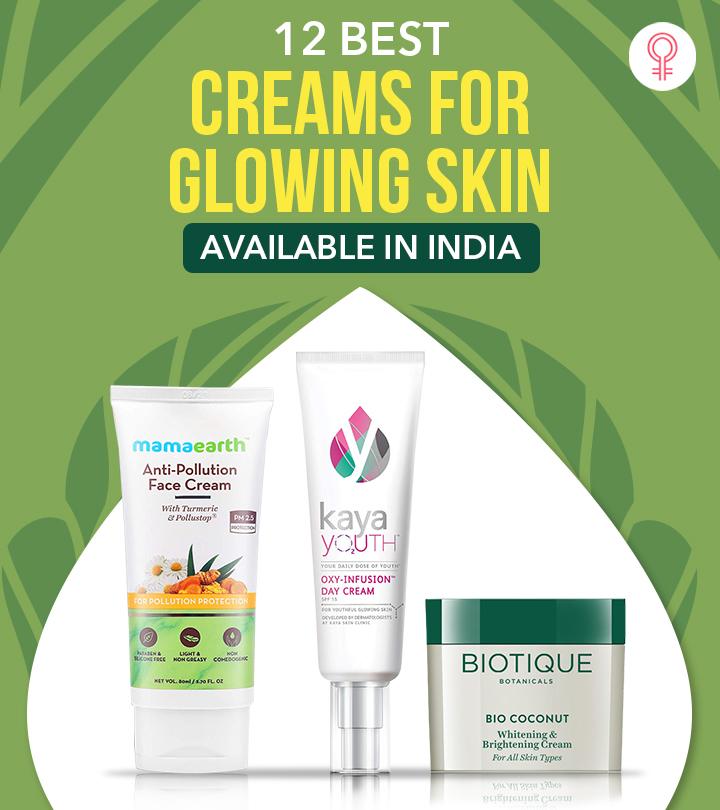 Is your skin becoming dull and losing its charm with time? Well, there are many reasons that contribute to it. A dull and lifeless complexion is a sign of damaged or dehydrated skin. Excessive use of chemicals on the skin, constant sun exposure, stress, lifestyle factors, and erratic eating habits can make your skin lose its glow and radiance.
There are scores of beauty products and creams on the market that promise to make your skin radiant. But not all of them are effective and safe. Worry not! We have done the research for you and compiled a list of the 12 best creams for glowing skin available in India. Scroll down to take a peek!
12 Best Creams For Glowing Skin In India
The Lakme Absolute Perfect Radiance Skin Brightening Day Creme imparts illuminating glow and radiance to your skin while protecting it from damaging UV rays. It contains skin-lightening vitamins and micro-crystals that brighten the skin. Glycerin moisturizes and plumps the skin, while vitamin B3 strengthens the skin barrier. The ultralight, moisture-rich formula makes your skin silky to the touch. It penetrates deep into the skin layers to prevent the production of excessive melanin that causes skin darkening.
This cream replenishes moisture and gently polishes the skin. It has SPF 30 to protect your skin from oxidative damage caused due to exposure to harmful sun rays. This cream also evens out the skin tone and enhances the skin texture by preventing breakouts, dark spots, and blemishes. It also treats skin concerns like oiliness and tanning if used consistently and as recommended. This product is suitable for all skin types.
Pros
Pleasant fragrance
Has SPF 30
Lightweight
Safe for daily use
Suitable for all skin types
Cons
May look patchy
Contains parabens
Price at the time of publication: ₹275
Pros
Non-greasy
No harmful chemicals
Preservative-free
Cons
Not suitable for oily skin
Price at the time of publication: ₹175
The Whitening & Brightening Creme from Lotus Professional features a tri-action formula containing lychee, amla, and punarnava root extracts. The AHA extracted from lychee works with vitamin C and antioxidants derived from amla to make your skin incredibly radiant and smooth skin while reducing melanin production. It also helps fade blemishes and dark spots and evens out the skin tone.
The punarnava root extracts make your complexion brighter and uniform. This cream has SPF 25 and PA+++ to protect your skin from damaging sun rays by forming a barrier. It feels incredibly soft on the skin and makes it youthful, glowing, and healthy.
Pros
Has SPF 25 PA+++
Preservative-free
No artificial fragrance or color
Blends well
Cons
Greasy
Not suitable for oily skin
Price at the time of publication: ₹521
The WHITEGLOW Skin Whitening & Brightening Nourishing Night Crème from LOTUS has an advanced formula to give you glowing, smooth, and healthy skin. It contains skin-whitening ingredients like milk enzymes, mulberry, grape, and Saxifraga extracts.
While milk enzymes hydrate the skin and impart glow, mulberry extracts have antioxidant and anti-aging properties and protect the skin from free radical damage. Saxifraga extracts have astringent and antioxidant properties that tone and brighten the skin and reduce dark spots and blemishes. The grape concentrate helps the skin shed dead skin cells overnight.
This lightweight, non-sticky cream hydrates the skin and protects it from the damaging UVA and UVB rays, which can lead to oxidative damage and cause problems like blemishes, fine lines, and wrinkles. It works at night by penetrating the skin layers to reduce pigmentation so that you wake up with nourished and bright skin. This product evens out the skin tone and texture. It is cruelty-free and suitable for all skin types.
Pros
Lightweight
Cruelty-free
Non-sticky
Evens out the skin tone
Provides sun protection
Cons
Price at the time of publication: ₹312
OlAY Natural White Light Instant Glowing Fairness cream offers seven benefits – it moisturizes, smoothens, lightens, and brightens the skin, evens out the skin tone, reduces the appearance of dark spots, and provides sun protection. It contains vitamins B3, E, and pro-vitamin B5 blended with powerful skin-whitening formulas that impart a natural glow to the skin.
This cream restores the skin's elasticity and regenerates the skin cells. It has a high concentration of amino-peptide complex, along with intercellular fortifier and marine proteins that sculpt the skin around the neck, eyes, and jawline to make it soft, smooth, and younger-looking.
Pros
Lightweight
Offers sun protection
Evens out the skin tone
Cons
Price at the time of publication: ₹182
The L'Oreal Paris White Perfect Night Cream has a non-greasy and lightweight formula that works overnight to boost radiance and provide glowing and brighter skin. This anti-pigmentation cream reduces melanin production, fades dark spots, and regenerates the skin cells to increase elasticity and hydration.
It contains active ingredients like vitamin E, which repairs skin damage, and tourmaline gemstone, which stimulates the skin's microcirculation to impart a glow. The advanced Melanin-Vanish technology reduces dark spots and brightens the skin tone. This cream also contains 0.3% salicylic acid that sloughs off the dead skin cells and reduces inflammation and acne.
Pros
Mild fragrance
Non-greasy
Lightweight
Cons
Not suitable for sensitive skin
Price at the time of publication: ₹415
This cream from GARNIER NATURALS contains a blend of ingredients like Japanese Yuzu lemon and vitamin C serum that brighten your skin. Yuzu lemon contains a high concentration of vitamin C that helps in exfoliating and brightening the skin due to its antioxidant properties. The 3X vitamin C serum penetrates the skin and leaves it bright and spot-free. This cream helps eliminate dark spots, UV spots, and acne spots and contains UV filters to safeguard the skin from sun damage.
Pros
Has UVA/UVB filters
Absorbed quickly
Lightweight
Non-greasy
Pleasant smell
Cons
Leaves a white cast
Not suitable for oily skin
Price at the time of publication: ₹179
The mamaearth Anti-Pollution Daily Face Cream is a lightweight, oil-free cream powered by Pollustop that forms an invisible shield on the skin to protect it from atmospheric pollution and sun damage. It contains turmeric, carrot, and daisy flower extracts to soothe and nourish your skin.
Turmeric contains curcumin with antiseptic, antibacterial, and antifungal properties that reduce free radical damage and keep acne and pimples at bay. The carrot root extract provides essential moisture and antioxidants to the skin and makes it soft, while the daisy flower extract has antibacterial and skin-brightening properties to eliminate bacteria on the skin's surface and prevent hyperpigmentation. This dermatologically tested cream is suitable for all skin types and does not contain artificial colors, parabens, and sulfates.
Pros
Lightweight
Oil-free
Paraben-free
Sulfate-free
Silicone-free
Petrolatum-free
Dye-free
Dermatologically tested
Cons
Not suitable for sensitive and oily skin types
This cream from Blue Nectar contains a healing blend of 14 Ayurvedic herbs that brighten the skin tone and prevent the appearance of the signs of aging. Saffron lightens blemishes, firms the skin, and imparts glow, while sandalwood soothes the skin and helps fade scars. Aloe vera hydrates and smoothens the skin and reduces the appearance of wrinkles and fine lines. Manjistha has astringent properties that tighten the skin.
This cream also helps in increasing the skin's elasticity to prevent sagging and puffiness due to the presence of antioxidants and natural astringents derived from manjistha. Regular use of this product will make your skin soft, supple, bright, and hydrated. This cream does not contain SLS, parabens, or mineral oil and is suitable for sensitive skin.
Pros
Paraben-free
SLS-free
Mineral oil-free
Non-greasy
Easily absorbed
Reduces the appearance of fine lines and wrinkles
Cons
Price at the time of publication: ₹815
This brightening night cream from St.Botanica has a smooth and creamy texture that feels light on the skin. It hydrates and firms the skin and makes it radiant. The cream contains a rich blend of oils like extra virgin olive oil, argan oil, and almond oil, along with shea butter, which helps in locking moisture and enhances skin texture by making it smooth, soft, and plump. It also contains brightening additives like aloe vera extracts, moringa extracts, and pure guarana extracts that illuminate the skin.
The cream contains a unique and stable form of vitamin C, firms the skin, protects it from sun damage, and fades fine lines and wrinkles. It neutralizes free radicals and promotes cell regeneration to revitalize your skin and make it radiant. This cruelty-free cream is dermatologically tested and does not contain parabens, sulfates, mineral oils, or silicones.
Pros
Vegan
Cruelty-free
Lightweight
Paraben-free
Sulfate-free
Silicone-free
Mineral oil-free
Dermatologically tested
Cons
Price at the time of publication: ₹639
Give a boost of hydration, glow, and oxygen to your skin with the Kaya yO2UTH Oxy-Infusion Day Cream. It has a micro-circulation complex that increases the oxygen supply to the skin cells to make your skin healthy and youthful. Over time, the decreased supply of oxygen to the skin cells leads to dullness and spots. Therefore, it is necessary to provide adequate oxygen supply to the cells to keep the skin glowing and healthy.
This cream contains Oxygen Boost Complex and adds a boost of oxygen and niacinamide, coconut oil, and evodia fruit extract that nourish the skin and reduce dark spots, pigmentation, dullness, and uneven skin tone. It also has SPF 15 to protect the skin from harmful sun rays that can cause premature aging and pigmentation. This lightweight, non-oily cream is developed by dermatologists and is suitable for all skin types.
Pros
Non-greasy
Lightweight
Developed by dermatologists
Has SPF 15
Cons
This day cream from Dot & Key is a smoothie for your face. It contains natural ingredients like green tea, kale, chia seeds, olive squalene, and avocado, and vitamins A, C, E, and K that enhance the skin texture. Chia seeds moisturize the skin, strengthen the skin barrier, soothe irritation and inflammation, and prevent premature aging due to sun damage. Kale contains vitamins and antioxidants that detoxify the skin, prevent oxidative damage, tighten pores, reduce dark circles, promote collagen production, and enhance cell turnover.
Avocado oil is rich in antioxidants, potassium, vitamin E, and fatty acids that deeply nourish and moisturize the skin. It also promotes collagen production and imparts a natural-looking glow to the skin. Olive squalene protects the skin from moisture loss, increases its elasticity, and fights acne. This cream also contains SPF 20 to protect your skin from harmful sun rays. The lightweight, non-greasy formula is gentle on the skin and does not contain harmful chemicals.
Pros
Mildly scented
Vegan
Cruelty-free
Lightweight
Non-greasy
Gentle
Dermatologically tested
Paraben-free
Sulfate-free
Phthalate-free
Alcohol-free
Cons
Now that you are familiar with the best creams to get glowing skin, check out the things to consider before buying any of them.
How To Choose The Best Cream For Glowing Skin
Go for a cream that is suitable for your skin type. If you have oily skin, look for a non-greasy formula that keeps the oil away and does not cause breakouts. If you have sensitive skin, make sure that the cream does not irritate your skin.
It is imperative to know what goes into the making of the cream that you are buying. Do a label check. Opt for products free of toxic additives like parabens, sulfates, phthalates, and alcohols as they might cause irritation. Instead, look for natural and moisturizing ingredients like essential oils, plant-based derivatives, and organic components rich in antioxidants and vitamins.
Look for a glowing skin cream that contains SPF protection for protection from UVA and UVB rays, which may cause oxidative damage and lead to premature aging of the skin.
The creams listed above have been specially picked, keeping various skin concerns in mind. They will not only brighten your skin but also protect it from the sun and make it soft and supple. Buy any of these creams and flaunt flawless and radiant skin.
Frequently Asked Questions
Are creams for glowing skin suitable for all ages?
Yes, creams for glowing skin are generally suitable for all ages unless mentioned otherwise on the product. However, it is essential to choose products that address your skin concerns and suit your skin type and age group.
Can creams for glowing skin be used under makeup?
Yes, there are many creams for glowing skin designed to be used as a base under makeup. They provide a radiant and smooth canvas for other makeup products, enhancing the overall glow of the skin.
How long does it take to see results from using creams for glowing skin?
The time to notice visible results varies depending how often you apply the product, your skin type and issues, seasonal and weather conditions, and the products you use along with it. Some creams may show immediate results in providing a radiant glow. Others may take a few weeks of consistent use to deliver long-term benefits and make your skin healthier.
Can creams for glowing skin replace a moisturizer?
Some glowing skin creams may have moisturizing properties and double up as a moisturizer. However, if you have specific skin concerns such as dry skin or a serious condition like eczema, it's best to use a separate moisturizer along with the glowing skin cream for optimal hydration and nourishment.
Can creams for glowing skin be used by individuals with sensitive skin?
Not all creams for glowing skin can be used on sensitive skin. Use only products labeled as suitable for sensitive skin or made with gentle and non-irritating ingredients. Patch test the cream on your forearm or back of the neck before buying it to check for any adverse reactions
Recommended Articles