7 Best Creams For Oily Skin Available In India – 2022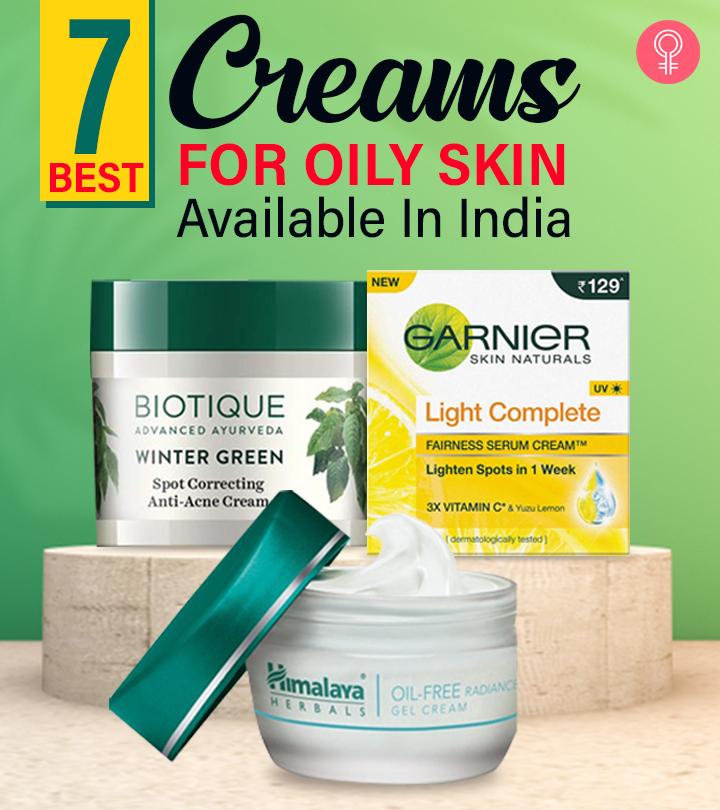 If you have oily skin, you know that you cannot use just any product. Oily skin is prone to develop pimples and acne and tends to look dull due to the excess production of sebum. If you are looking for a cream to get rid of that extra oil and shine on your face while fighting other related skin concerns, we have got you covered. This article lists 7 best face creams for oily skin. Scroll down to select the best match for you!
7 Best Face Creams For Oily Skin Available In India
The LAKME ABSOLUTE Perfect Radiance Creme provides extra care and nourishment to oily and dull skin. It contains micro-crystals and skin lightening vitamins that polish the skin and target dark spots, skin blemishes, oil, dullness, and tanning.
This cream penetrates deep into the skin layers to moisturize and nourish the cells. It also controls excess melanin that causes skin darkening. This ultralight cream contains glycerin to moisturize and plump the skin and vitamin B3 to strengthen the skin barrier. The SPF 30 protects the skin from the harmful sun rays.
Key Ingredients: Glycerin, Vitamin B3, and Titanium dioxide
Pros
Lightweight
Has SPF 30
Value for money
Floral fragrance
Lightens dark spots and blemishes
Cons
The plum Green Tea Renewed Clarity Night Gel is a perfect pick to provide balanced hydration and nourishment to oily skin. It has a light gel-like texture and is loaded with antioxidants from green tea, goji berry, and ginkgo, and plant extracts from aloe, licorice, and willow bark.
This gel contains argan oil, which is non-comedogenic. It balances hydration and makes the skin soft without clogging the pores. The green tea and licorice extracts work together to prevent acne and fade blemishes from the skin. This product moisturizes the skin without making it look greasy or dull. It is 100% vegan and cruelty-free and does not contain parabens, sulfates, phthalates, propylene glycol, DEA, and PABA.
Key Ingredients: Argan oil, Green tea, Licorice, and Organic aloe juice
Pros
Non-sticky
Easily absorbed
Vegan
Cruelty-free
SLS-free
Paraben-free
Phthalate-free
DEA-free
PABA-free
Propylene glycol-free
Cons
This spot-correcting anti-acne cream from BIOTIQUE contains winter green, which has anti-inflammatory, cooling, and healing properties. It soothes the skin, clears blemishes, and minimizes pores without flaking or dryness. The blend of herbal ingredients like neem oil, wintergreen oil, and burberry and euphorbia extracts controls acne and other related issues and improves skin texture. This advanced Ayurvedic cream is considered one of the best creams for oily skin in India.
Key Ingredients: Gandhpura (Gultheria fragrantissima), Neem (Melia azadirachta indica), Daru haldi (Berberis aristata), and Choti dudhi (Euphorbia thymifolia)
Pros
Vegan
Paraben-free
Contains organic ingredients
Quickly absorbed
Cons
The Light Complete Fairness Serum Cream from GARNIER is one of the best creams for oily face. This skin brightening cream contains vitamin C serum and Japanese Yuzu lemon that deeply penetrate the skin, brighten it, and impart a radiant glow. It targets three types of spots – dark spots, UV spots, and pimple spots. This cream also contains UV filters that protect the skin from the sun's rays. It is dermatologically tested and has long-lasting brightening effects on the skin.
Key Ingredients: Vitamin C serum and Japanese Yuz u lemon
Pros
Soothing fragrance
UV protection
Quickly absorbed
Lightweight
Non-greasy
Value for money
Cons
This face gel crème from BELLA VITA ORGANIC is an antiseptic gel packed with neem, tulsi, aloe, vera, and jojoba. Neem has antibacterial properties that fight and reduce acne and pimples. It also detoxifies the skin and lightens blemishes and pigmentation. Tulsi and tea tree oil reduce acne, pimples, and redness and lighten acne scars.
Aloe vera and jojoba oil rebalance sebum production, moisturize and hydrate the skin, stimulate cell renewal, and reduce acne and pimple scars. Aloe vera also contains salicylic acid that dissolves dead skin cells and buildup. This mild cream contains organic ingredients and is cruelty-free and free of parabens, sulfates, and harsh detergents.
Key Ingredients: Neem, Tulsi, Tea tree oil, Aloe vera, and Jojoba oil
Pros
Paraben-free
Sulfate-free
Cruelty-free
Mineral oil-free
Vegan
Contains organic ingredients
Cons
Does not get absorbed easily
The HIMALAYA HERBALS Oil-Free Radiance Gel Cream is a non-greasy, lightweight cream that gently hydrates the skin without making it look greasy or dull. It contains barbary fig extracts and winter melon that hydrate and soften the skin and impart a natural radiance. Barbary fig extracts contain polysaccharides that moisturize the skin, and winter melon has antioxidant properties that protect and rejuvenate the skin and keep it healthy. This cream is non-comedogenic, dermatologically tested, and does not contain parabens or mineral oils.
Key Ingredients: Barbary fig and Winter melon
Pros
Lightweight
Non-greasy
Non-comedogenic
Dermatologically tested
Paraben-free
Mineral oil-free
Cons
May cause makeup to look patchy
The Blue Nectar Brightening & Radiance Sandalwood Cream is a lightweight, non-greasy face cream that moisturizes the skin without making it look oily. It reduces uneven skin tone and imparts glow. The combination of 13 Ayurvedic herbs like turmeric, mulethi, sandalwood, manjistha, etc., adds glow and radiance to the skin.
Turmeric soothes dry skin and reduces the appearance of dark circles, mulethi is rich in minerals and acids that lighten the skin tone, while manjistha detoxifies the skin and enhances the complexion. Coconut oil helps in reducing inflammation and keeps the skin moisturized. This cream rejuvenates the skin and improves its overall health.
Key Ingredients: Sandalwood, Turmeric, Manjistha, Mulethi, and Coconut oil
Pros
Paraben-free
Sulfate-free
Cruelty-free
Absorbed easily
Brightens the skin tone
Cons
You can read the reviews carefully and choose the best one from the above-mentioned list of 7 best creams for oily skin. Now, let's move on to the factors to consider before buying one.
Things To Consider Before Buying A Cream For Oily Skin
Read The Labels: Look for words like 'oil-free', 'non-comedogenic', and 'non-acnegenic'. Avoid products that contain oils, cocoa butter, shea butter, and paraffin. Go for products that contain natural ingredients. As oily skin is prone to dullness, exfoliating ingredients like salicylic acid, lactic acid, and glycolic acid can help.
Texture: Go for gel-based creams as they are lightweight and will not suffocate your skin.
Sun Protection: Opt for a cream with SPF or UV filters to protect your skin from UV damage and photoaging.
That was our round-up of the 7 best creams for oily skin in India. Go through the points mentioned in the buying guide and pick the perfect match for your skin.

Recommended Articles
The following two tabs change content below.