7 Best Under Eye Concealers To Cover Up Creases Around Your Eyes
Create an even-toned, seamless base for eye makeup with these undereye concealers.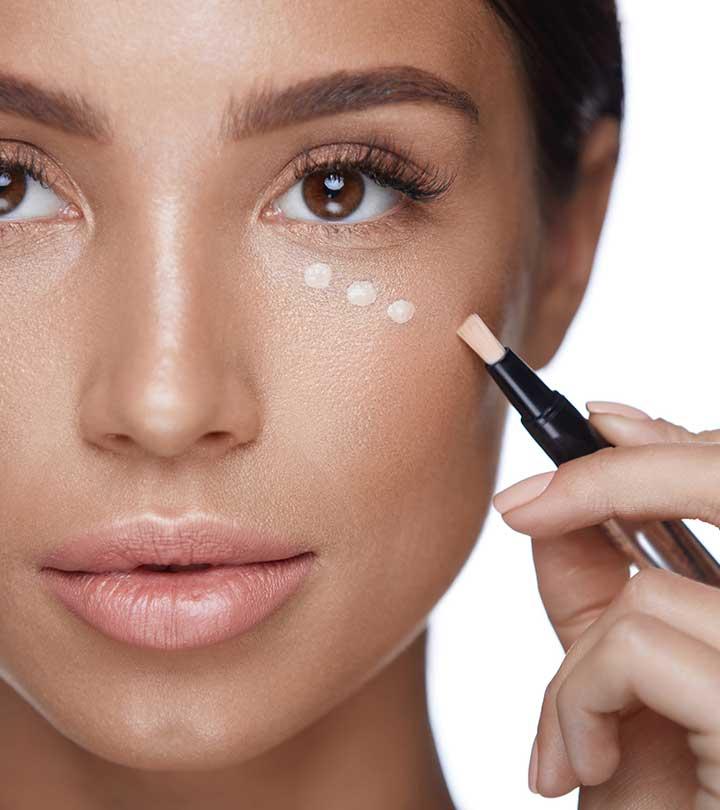 The skin under your eyes is thin and is prone to aging signs like crows' feet, dark circles, and wrinkles. To hide them and to make your undereye skin flawless, you need the best under-eye concealer. Under-eye concealers are specially formulated to hide all the imperfections around your eyes. They are built with a hydrating non-greasy formula. They provide full coverage, blend well, and make your eyes look youthful.
A special under-eye concealer is essential if you want your face and eye makeup to blend seamlessly. Otherwise, your face makeup may look perfect while your eye makeup looks patchy. In this article, you will find the 7 best under-eye concealers that will remove all creases from your eyes. Check them out below!
7 Best Under Eye Crease Concealers That  Do Not Crease
The I'M MEME I'M Tic Toc Concealer Air Light in 001 Fair is a lightweight and breathable concealer that is very creamy and long-wear. This no crease concealer is as light as air with an adhesive quality that makes the skin feel covered yet comfortable. Suitable for daily makeup, this liquid concealer is crease-resistant and brightens the under eyes without any visible lines and wrinkles. Botanical ingredients like chamomilla recutita flower extract help sensitive skin remain calm, rosa canina fruit extract reduces dullness while lavender flower water hydrates the skin and keeps it refreshed. One of the best creaseless concealers, the unique pen type stick with a sponge applicator makes it easy to apply without needing any other tool for application. The result is even coverage and no caking or creasing.
Pros
Buildable coverage
Lightweight, can be worn every day.
Long-stay concealer that lasts all-day long.
Blemishes and redness can be concealed easily.
Cons
One click results in a lot of the product coming out.
The Tarte Creaseless Under Eye Concealer in 20N light is a liquid, full-coverage creamy concealer and eye cream hybrid. It is a concealer that actually feels like eye cream. This non-crease concealer removes dark spots from under eyes and effortlessly color corrects dark circles with full coverage. It is infused with the goodness of encapsulated maracuja spheres that helps create a natural dewy look so that your under eyes look refreshed, and you look wide awake. Achieve a lifted appearance with bright and smooth skin for 16 hours of uninterrupted makeup with this concealer!
Pros
Vegan
Waterproof
Suitable for dry skin
Dermatologist-tested
Hydrates under eyes for 16 hours
Cons
The product may be a little heavy on the face.
Price at the time of publication: $14
The e.l.f. 16HR Camo Concealer in Rich Cocoa is a full-coverage, lightweight concealer with a formula that is highly pigmented and one that gets the work done. The concealer becomes matte when it dries yet does not show wrinkles, creases, or fine lines. The concealer comes with a doe-foot shaped applicator that lets you apply the product to the desired area after which you can blend with fingers, a brush, or a beauty sponge to achieve the level of coverage you desire. Without any creases under the eyes, you can put your best made-up face forward, feel confident and enjoy this holy grail of under eye concealers that do not settle in creases.
Pros
Vegan and cruelty-free
Suitable for all skin types
Can last up to 16 hours long
Parabens, phthalates, triclocarban, ethoxylates, hydroquinone, nonylphenol and triclosan-free
Cons
The concealer may be a little hard to take off after wearing it.
One of the best under eye concealers that do not crease, the Benefit Boi ing Airbrush concealer is your weapon against uneven skin tone, under eye dark circles, and fine lines. Break free from filtered Instagram photos and simply apply this airbrush concealer for a real-life retouch effect. A lightweight concealer with soft focus, this concealer covers up all imperfections so that you have a finish on your skin that is almost undetectable. Free of caking, dab this concealer simply with your fingers on your under eyes and other areas of your face where you need to fade imperfections instantly. Rich in moisture, it doesn't let any dryness show and lets you enjoy the instant airbrushed and flawless finish!
Pros
Waterproof formula
Lasts up to 10 hours
Lightweight, suitable for everyday wear.
Buildable coverage, from sheer to medium.
Cons
This concealer may not be able to conceal melasma spots.
Price at the time of publication: $59.99
The Pacifica Beauty Transcendent Concentrated Concealer provides full coverage and hides blemishes and imperfections. The creaseless formula is enriched with concentrated liquid minerals that help minimize dark circles. This concealer comes with a doe-foot applicator for smooth and easy application. It offers a natural and flawless finish without being cakey.
Pros
Vegan
Cruelty-free
Paraben-free
Phthalate-free
Mineral oil-free
Petroleum-free
Talc-free
Cons
Price at the time of publication: $14.6
The Urban Decay Naked Skin Weightless Complete Coverage Concealer in Fair Neutral is one of the best non-crease concealers out there. Complete coverage can be achieved easily with this no crease concealer and it doesn't matter even if you apply the extra product by mistake, the formula is absolutely blendable and does not cake or settle in fine lines at all. The ingredients used in this Naked Skin Concealer help achieve elastic skin with a youthful appearance. Infused with the goodness of Japanese green tea, this concealer revitalizes the skin and reduces fine lines. It also includes litchiderm™ which is derived from the lychee fruit and protects the skin against dehydration as a result of which the complexion becomes radiant and bright. Finally, sodium hyaluronate helps the skin attract moisture and retain it.
Pros
  100% cruelty-free
Buildable coverage
Includes matrixyl 3000 which contains anti-wrinkle peptides
Features a modern flocked applicator
Cons
If you apply too much product at once, it may curdle under your eyes.
Price at the time of publication: $44.99
The Nars Radiant Creamy Concealer in Custard is not only a concealer that doesn't crease but is also a coveted product by makeup artists around the world. The concealer has a luxurious texture and a finish that is absolutely luminous. This creamy concealer helps even your skin tone with its radiance and can be as lightweight or highly built, depending on how much coverage you wish to achieve. One of the best under eye concealers that doesn't crease, this Nars concealer can take your makeup to the next level with a natural finish that will result in others asking you for tips on how to make makeup not crease? This concealer is suitable for all skin tones, from dry to oily to combination skin, and works well in humid climatic conditions too.
Pros
Buildable coverage
Suitable for sensitive skin
Long-wearing concealer, ideal for wearing all-day long
Cons
Too much product application may result in cakiness.
Price at the time of publication: $25.43
Everyone should have concealer in their makeup kitty. A concealer is a miraculous tool that can hide many flaws, from dark under eyes to fine lines. However, there are some factors you should consider before getting a concealer. So, here is a buying guide to help you decide the best under-eye concealer to cover up creases around the eyes.
Things To Keep In Mind Before Purchasing A Concealer To Cover Eye Creases
You should first assess your skin type before buying a concealer. For example, if your skin is easily irritated, you should look for a concealer that can conceal the dark circles, soothe the skin, and not cause any irritation. Hence, you should look for hypoallergenic, fragrance-free, and dermatologist-tested concealers. If you have dry skin, opt for a hydrating concealer enriched with nourishing oils and hyaluronic acid. On the other hand, if you have oily skin, look for a matte concealer.
Avoid parabens, phthalates, ethoxylates, hydroquinone, triclocarban, nonylphenol, and triclosan in your concealers. Instead, choose products made from natural components wherever possible. Skip products containing petroleum, mineral oil, and talc.
Choose a product that promises long-lasting results if you intend to keep the concealer on for the day. Concealers in liquid form that dry to a matte finish are the best choice for people who have oily skin. Creamy and hydrating formulations are good options for women with dry skin. If you live in a humid area, sweat a lot, or frequently touch your face, you should always choose a concealer that is waterproof, sweat-proof, and resistant to transfer.
Price is an essential factor to consider before buying a concealer. Choose a concealer that your budget allows. If you have a high budget, opt for luxury and high-end brands. Although, drugstore brands do offer some excellent options as well.
After going through this list of the best under eye concealers that do not crease you may still find it hard to choose the best creaseless concealer for you. Keep in mind your skin tone, main skin problem, and the type of makeup look you want to go for before picking up a no crease concealer. Smooth, lightweight concealers that sink into your skin often offer the best makeup finish and let you enjoy a natural and creaseless under eye look.
Why Trust StyleCraze?
The author of this article, Chaitra Krishnan, is a makeup enthusiast. She keeps a continued check on various makeup products and thoroughly researches their ingredients. After extensive research and reading many customer reviews online from various trusted platforms, the list of best creaseless concealers is curated. She says that these non-greasy concealers are a valuable addition to your makeup regime, and they give you a complete makeup look.
Frequently Asked Questions
Should under eye concealers be lighter or darker?
Under-eye concealers should be a shade or two lighter than your foundation.
Do you put under-eye concealer on before or after a foundation?
You should always apply foundation first and then go for a concealer.
Recommended Articles