13 Best Cropped Leggings To Try In 2023 (With Reviews)
Create a chic outfit or look like the girl-next-door with these trendy pairs.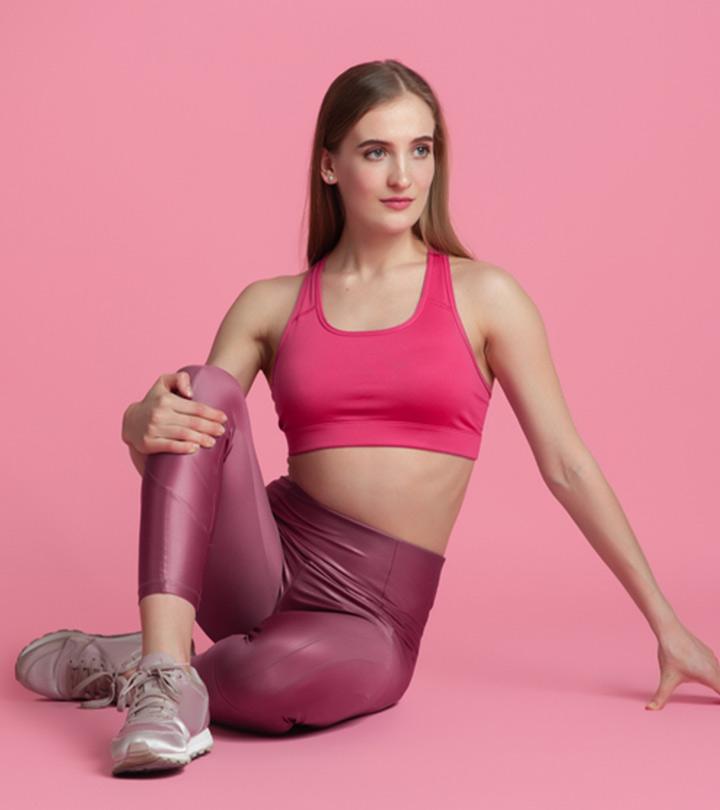 The best cropped leggings can become your ideal workout gear pretty quickly. We are sure that gym-goers who regularly use them are nodding in agreement right now. Not only are cropped leggings stylish, but they are comfortable and stretchable too! You must get your hands on a few of these fit-and-flare pairs to look effortless while sweating it out in the gym or elsewhere.
While investing in the best cropped leggings, ensure their material is moisture-wicking so that they absorb the sweat and keep you dry during workouts. They should definitely be soft and comfortable to wear to avoid any thigh chafing or rubbing against your skin. Most of these leggings come with extra features like pockets and elastic waistbands to make things more convenient for you. After an in-depth stylistic evaluation, we have curated a list of the bestselling options for cropped leggings with top reviews, especially for gym enthusiasts, yoga practitioners, and runners. Go ahead and choose your favorite from the list.
What Are Cropped Leggings?
Cropped leggings are just like traditional leggings but shorter. The length varies from knee to ankle, depending on the style. They are quite popular among women for comfort, design, and effortless styling. The materials used in the construction of cropped leggings are usually cotton, spandex, or a blend of both. You can style them with tunics, tops, or even t-shirts. Cropped leggings are preferred especially for workouts and activities that involve a considerable amount of movement because they don't hinder your legs and are more breathable than full-length leggings.
13 Best Cropped Leggings For Comfortable Workout Sessions
Every girl wants a stylish pair of trousers that can be teamed up with both activewear and casual outfits. This capri from Roman Originals is one such pair. Available in multiple colors, the trousers are a perfect addition to your wardrobe. You can wear them with contrast tops or T-shirts to look instantly chic no matter where you're headed. Made with premium-quality bengaline material, they are stretchable and can be pulled off easily — not that you'd want to because of how soft and comfortable they feel. The silky-smooth material is ideal for the gym or for yoga, cycling, jogging, bowling, and most casual occasions. You can even wear them while lounging, sleeping, or spending a chill day out. The trousers run a 3-quarter length with no fastening, which makes them just as easy to pull on.
Pros
Light and breezy
Completely opaque
4-way stretch
Wide range of sizes
Available in 30+ colors
Cons
Some may find the leggings a little long.
Few things in life are more infuriating than putting on uncomfortable pants and feeling self-conscious about it all day long. Designed with a blend of polyester, spandex, and heather, this pair of high-waisted yoga pants is not only comfortable, but it also helps you keep your belly tucked in with its stretchable fabric. The curved seam lines let these cropped workout tights flaunt your body shape while maintaining maximum coverage. These moisture-wicking leggings also feature deep pockets on both sides that provide enough space to stow away your phone and go hands-free. For women who keep comfort at the top of their priorities, these high-quality capri lounge pants are an ideal choice.
Pros
Skin-friendly
Wide waistband
Moisture-wicking fabric
Breathable material
Available in multiple colors
Cons
The fit might be slightly tight for some.
This high-waisted athletic wear is a must-have in your athleisure collection. It comes with a broad elastic waistband that latches onto your tummy quite comfortably and gives the booty a natural lift. The materials used to craft this pair are spandex and polyester, which feel light and support mesh ventilation while the flat seams reduce chafing. Some online reviews indicate that there is also a side pocket to hold your phone or other essentials, so nothing comes in the way of your workouts. If you're looking for proper body support with the right amount of compression, add these warmup leggings to your checkout cart.
Pros
Dries fast
Stretchable
Pull-on closure
Moisture-wicking Duo Dry+™ technology
Available in 9 colors
Cons
Might be slightly longer for some
Designed especially for low-impact workouts like yoga, biking, and running, these flared pants are super-comfortable with a trendy twist. Unlike stretchy-but-sheer yoga pants that can only be worn casually and during workouts, these can also be used for formal occasions. They offer the perfect blend of style and comfort, helping you feel free and look great. Made with nylon and spandex, the pants are breathable and serve as an ideal accessory for summers. The pair has pockets on both sides and comes with an adjustable waistband that doesn't slip over your belly. The flared structure of these trendy leggings prevents constriction around the calves and lets your skin breathe, making it suitable for exercise.
Pros
Lightweight fabric
Wide leg opening
4-way stretch
Interior drawcord
Available in 2 colors and multiple fits
Cons
The fabric has a matte finish that some may not like.
Are you a hardcore legging-lover who occasionally thinks about experimenting with capris but hasn't quite taken the plunge yet? If so, these patterned cropped leggings might just bring you over to their side permanently. Made with moisture-wicking materials, the pants absorb sweat and provide you with a wonderfully dry feel even after a strenuous workout. Reviewers like its Tech Flex fabric, which lends total support and coverage and makes it easier for you to stretch, bend, and squat without worrying about tightness or tears. Subtle, versatile prints on capri pants are a rare find, as are deep side pockets and an extra-wide waistband — this one brings it all. Whether you're running errands or headed to a yoga class, this vibrant legging will sort you out, especially since there's a range of designs and styles to choose from.
Pros
Versatile designs
Flat lock seams
Fade-resistant fabric
4-way stretch
Available in 13 patterns
Cons
Slightly see-through when stretched
The HUE Women's Wide Waistband Blackout Cotton Capri Leggings are one of the most comfortable and dynamic leggings that pair well with any outfit, be it a tunic or a t-shirt. It is made with a blend of cotton, polyester, and spandex, making it extremely durable. It is available in different colors, sizes, and lengths to cater to your every need. These leggings are cut in a way to fit your body shape perfectly, providing you with the confidence to wear them anywhere.
Pros
Mid-rise
Pull-on closure
Machine wash
True to size
Cons
If you are looking for an ultra-soft material that gently envelops you without chaffing your thighs, the HeyNuts Essentials High Waisted Yoga Capris is your best bet. It has a super stretchy, thick material that offers support, compression, and enhanced flexibility during your workout sessions. Furthermore, this stretchy legging's seamless, high-waisted waistband tucks in tummy fat, keeping you comfortable and confident in your body.
Pros
Breathable
Soft, lightweight material
Available in different colors
4-way stretch
Seamless waistband
Cons
These Tik-Tok-friendly gym capris can effortlessly take you through a wide range of activities from everyday athleisure and sportswear to casual outfits. Made with a blend of spandex and polyester, they pass the test for ultimate comfort and offer the right amount of compression to smooth over your curves. The material is breathable and dries fast. By teaming them up with a cropped T-shirt or top, you can pull off a truly chic, woke-up-like-this look. The mesh wings of these compression leggings on the sides pull a double-duty of making you feel sexy and keeping you cool through a sweaty workout, which is why the leggings are ideal for exercises like yoga, pilates, hiking, gymnastics, and running.
Pros
True to fit
Elegant mesh design
Super-stretchable
Side pockets
Available in 5 colors
Cons
The material is slightly silky.
What if we told you about a brand that exists to provide you with ultimate comfort in the form of supreme stretch? Designed for pregnant women and new moms, these maternity fitness bottoms will really come in handy when you want to exercise without dealing with pants that keep slipping or riding up. These performance leggings are available in multiple sizes and have been built to last you from the baby bump stage to the post-pregnancy tummy. Reviewers on Amazon rave about its high-quality material that is ridiculously soft and sheer enough to let the fabric breathe without being see-through. You can easily slide this fitness clothing on and use it for performing lower-impact physical activities like home workouts or yoga.
Pros
Relaxed fabric
Flattering fit
Non-see-through
Keeps you dry and comfy
Comes with a 19-inch inseam
Cons
The fabric in the belly area might ride a little high for some.
If style is your top priority, you'll definitely want to give these jetter capris a chance. Designed to give you a flattering silhouette, these cotton pants are also a lifesaver when it comes to dealing with irritation and sweat. The elastic cotton and spandex blend keeps you cool and comfy, while the thick waistband offers solid support to your stomach without compressing it too much. The side panels leave enough space at the bottom to ensure free movement. Adding a hint of chic is the faux zipper along the leg bottom, but you won't miss the real thing because these capri are a breeze to slip into.
Pros
Versatile design
Lightweight fabric
Flaunts your figure
Available in 12 colors
Cons
The pair rides slightly low.
Stretch Is Comfort Women's and Plus Size Knee Length and Ankle Length Leggings are a comfortable fit for you to layer under any outfit such as dresses or skirts. It is made with 95% cotton and 5% spandex, making it comfortable, stretchable, and breathable. It is available in multiple colors to mix and match with your outfits for a trendy and comfortable look. These durable leggings are extremely soft and easy to wear, which reduces any chance of irritation caused by the fabric.
Pros
Machine washable
1-inch elastic waistband
Four-way stretch fabric
Functional and stylish
Durable
Cons
Might shrink after a wash
Not only do these pants keep your body cool and comfortable in any situation, but they also shape your legs by accentuating every curve. Made with polyspan, the pair delicately hugs the skin and tightens up your belly, ensuring easy, effortless movements. It's composed of a quick-dry fabric that staves off excessive sweat during workout sessions, and the breathable material enhances blood circulation while reducing muscle fatigue. With these gym tights, you can nail all your athleisure looks without putting in too much effort.
Pros
Versatile use
Lightweight fabric
Moisture-wicking
Available in 9 colors
Cons
Some may not find it stretchable enough.
These are the perfect leggings to make long runs simpler and more comfortable. Made of lycra fiber, the mid-rise bottoms stretch effortlessly and give your legs the space they need to move and bend freely. You'll be well-ventilated while you work up a sweat, thanks to the mesh details that allow your skin to breathe. The pair comes with a 3-pocket waistband that lets you store multiple things and stay hands-free. Also, the leggings are moisture-wicking, which means you don't need to worry about irritation caused by sweat. Offering excellent support and smooth coverage, they are ideal for relaxed runs or hill sprints.
Pros
22-inch inseam
Smooth to touch
Incredibly supportive
Shape retention
Available in 3 colors
Cons
So, these are the best cropped leggings that are designed to enhance your body support and help you perform better during workout sessions. Before choosing a pair for yourself, here are a few points that might help you buy better.
How To Choose The Right Cropped Leggings
Materials like cotton or a blend of cotton and polyester are usually comfortable for workouts as they're able to strike a balance between softness and sweat absorption. It's also advisable for you to buy soft leggings that are moisture-wicking and rigorously tested to prevent irritation, itching, and bacterial allergies after long hours of intense activity.
It's essential to buy cropped leggings that fit you well. An uncomfortable pair can not only make your workouts uneasy but also affect your performance. Thus, choosing a comfortable legging with a wide elastic band and flexible fabric that hugs your legs wonderfully is the way to go. If you're looking for a pair that is equal parts comfy and sexy, you can opt for a ribbed, stretchable pair that specializes in butt-lifting. Also, be sure to go through the brand's size chart for an accurate fit assessment to find the right leggings for you.
Finding yourself a high-quality cropped legging with a versatile design — now that's the dream. While the definition of a good design varies from one wearer to another, it doesn't hurt to invest in a spectrum of hues and patterns that pair well with different kinds of tops and do away with the need to wear jeans all the time. However, make sure to prioritize features like softness and stretch right next to visual appeal.
The best thing about cropped leggings is that they're incredibly versatile. You can dress them up or down in so many different ways depending on the occasion. Here are a few outfit ideas you can use to put together looks that are equal parts chic and comfy.
What To Wear With Cropped Leggings
Cropped leggings and vibrant crop tops are a match made in fashion heaven. If you're feeling inspired to flaunt your shape without putting in too much effort, crop tops are your best bet. You can throw a denim jacket or even a duster on top and create a more structured look.
Tunics look all flowy and beautiful when teamed up for cropped legging outfits. These are especially great for new mommies who might be feeling a bit conscious about their bellies. In general, though, tunics with cropped leggings are ideal for anyone who wants to look simple yet stylish.
For those who want to wear cropped leggings for high-intensity workouts or at the gym, sports bras are the perfect companion. They don't restrict your movements in any way and come with moisture-wicking fabrics to regulate your body temperature. Not to mention they look timelessly chic with a sporty edge.
Tank tops, T-shirts, or sweatshirts
When you're simply lounging around the house or running errands, even a simple tank top or t-shirt can enhance your look because cropped leggings are inherently sleek. On breezy days when the goal is to feel cozy without compromising on style, throw on a cute sweatshirt and you're sorted.
Why Trust Stylecraze?
Srijani Roy Chowdhury, the author of this article, is a fashion enthusiast. She agrees that cropped leggings add a touch of oomph to your regular functional outfits. They are perfect for gym enthusiasts, yoga practitioners, runners, etc. She went through various trusted online platforms to check the reviews and researched to bring you the list of the best-cropped leggings. The leggings listed in the article ensure a comfortable workout session, while the skin-friendly materials ensure breathability, among other benefits.
Frequently Asked Questions
Are cropped leggings and capris the same?
Yes, cropped leggings and capris are the same.
What's the difference between tights and leggings?
Leggings are thicker, have no feet, and are frequently worn as pants. Tights are slightly sheer and they cover the foot. They are worn beneath the clothes.
Do cropped leggings make you look shorter?
Yes, cropped leggings offer the illusion of shorter legs. You can compensate for the same by wearing high heels.
What length of legging is the most flattering?
A pair of leggings with 7/8 the length of your legs that falls just above the ankle is considered the most flattering as per current trends.
Are cropped leggings in style?
Yes, cropped leggings are popular as they are comfortable, fashionable, and easy to style.
Is there a difference between cropped leggings and pedal pushers?
Yes, cropped leggings end at the ankle, and pedal pusher pants end mid-calf.
Recommended Articles