11 Best Crossbody Bags For Moms That Are Recommended By Fashion Stylist
Get yourself a compact, lightweight, and stylish bag to keep everything in place.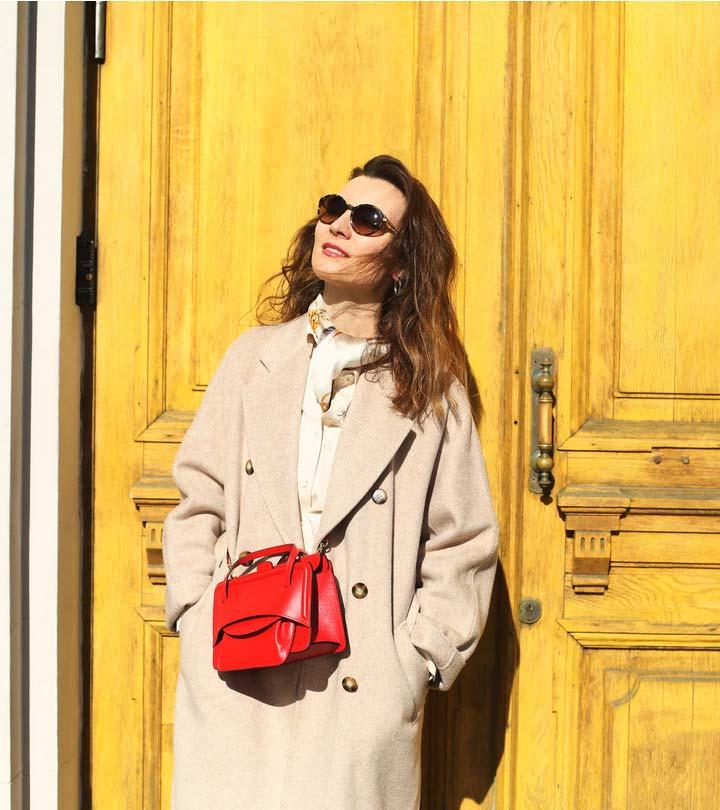 All you moms out there who step out with multiple bags and your child, here's some good news. You can now invest in the best crossbody bags for moms for a more convenient experience. Diaper bags, backpacks, or hand-held bags are all very functional, but in times of need, they do not allow instant access to all your smaller essentials. Hence, a spacious yet compact, lightweight crossbody bag is a must-have for busy moms. In this article, we have compiled a few of our favorites that are not just functional but extremely stylish too! Read on to find out more about these expert-approved options through our reviews.
Why Cross Body Bags Are Ideal For Moms?
Crossbody bags offer multipurpose convenient storage for mothers to carry their belongings while keeping you hands-free. The beauty of crossbody bags is that you can still access items in your bag instantly without stopping. You don't need to stop and look for a place to keep your bag to pull out items. This ease of access while keeping up with your style and fashion is what makes cross body bags ideal for moms. They also provide more freedom of movement with a compact bag hanging loose on your side. Plus, cross body bags are now available in a variety of functional designs that are cute and trendy and are sure to suit a mom.
11 Best Crossbody Bags For Moms (2023)
Made with high-quality anti-scratch PU Leather, this bag is one of the most popular crossbody purses. The bag features reinforced shoulder straps, improved zipper quality for durability, and a wipeable material that meets all your needs. The leather crossbody bag comes with 1 main zipper compartment large enough to carry all your essentials comfortably. It also consists of 6 interior pockets and 1 back pocket to securely store your cell phone, iPad, documents, cards, and water bottle. In addition to that, the bag also features 2 zippered pockets on either side to store smaller items that you can access in a jiffy. This reviewer-tested bag comes with a long, adjustable, and removable crossbody strap that can be fixed to use as a shoulder tote bag or a stylish crossbody bag for moms.
Pros
 Available in vibrant colors
 Additional short handle
 Tested for anti-shock and wear-resistant tests
 Strong zippers and high-quality hardware
Cons
Looking for a cute crossbody bag for moms that is stylish yet functional? You should not miss out on this one! This crossbody bag is made with high-quality vegan PU leather that is washed to make it ultra-soft and smooth. This shiny and easy-to-clean bag comes in 2 sizes for you to choose from. This compact purse is designed with plenty of pockets and 1 easy-to-access snap pocket in the front. The leather crossbody bag is structured carefully with pockets in the right places so that you can organize your items effortlessly. It has garnered many positive reviews for its main compartment with multiple inner pockets that can store all the valuables securely and keep them organized.
Pros
 Lightweight
 Available in small and medium compact size
 Wide range of vibrant colors
 Adjustable shoulder strap
Cons
 The strap is not removable
Experience luxury with these high-quality designer bags made with genuine leather. Crafted with 100% oil-rich genuine leather, the supreme leather quality of these bags feels smooth and soft. Made to last for ages, the designer crossbody bag is wear and tear-resistant, making it an ideal bag for everyday use. What makes this purse a practical crossbody bag is the ample space it offers for storing your everyday essentials. With 3 spacious exterior zip compartments, 1 interior zip compartment, 1 fully-lined large bill pocket, and a mobile holder, this trusted crossbody bag offers lots of space to organize your valuables with ease. Lined with high-quality cloth and fitting a strap buckle along with premium YKK zips, these bags are stitched with priceless precision and care to give you a luxurious experience.
Pros
 Made with 100% genuine leather
 Adjustable strap up to 26 inches
 Handcrafted
 Durable
 Available in 5 classic neutral colors
 No hassle money back guarantee
Cons
If you like your bags to have built-in security features, this would easily become your favorite cross-body bag. Designed to keep your worries away, this crossbody bag features a main compartment with an RFID pocket with zipper closure to store your credit cards and passports securely. The secure closure anti-theft feature in the bag will prevent hackers from reading your card by blocking away the radio signals. In addition to that, this bag also comes with lockable zippers for added security, making it a good crossbody bag for travel purposes. The reviewer-tested and trusted bag features thoughtfully designed interior and exterior pockets that offer ample storage space for storing books, clothing, cosmetics, and much more. Made with nylon, this functional crossbody bag is rugged, weather-resistant, water, and stain-resistant, and easy to clean.
Pros
High-quality material
Anti-theft pocket
Side pocket for water bottle
Back pocket with Velcro closure
1 slide-in pocket for ease of access
Padded adjustable strap
Cons
 Some may find the opening of the bag quite narrow
A small and elegant crossbody bag is perfect for you if you want a comfortable purse to carry your valuables to a brunch, party, or a casual outing with friends. Lightweight and easy to carry, these bags are made of PU leather, making them breathable, water and stain-resistant, and odor-free. The smooth leather purse features a chic structure with 2 zippered main pockets enclosed by a magnetic closure button flap. There is an additional zippered inner pocket to store smaller items, making them easier to access when required. This cute crossbody bag comes with a removable and adjustable single shoulder strap and can be used as a crossbody bag, single-shoulder bag, or a daily clutch that you can also use like a wallet.
Pros
 Smooth metal zippers
 Additional card slots
 Adjustable straps up to 22.5 inches
 Available in wide range of attractive colors
 Durable and water-resistant
Cons
 Might be small for large phones
If you are looking for a medium-sized lightweight crossbody purse with a simple design, this would be an ideal choice. Designed with a premium anti-scratch striped canvas and PU leather combination, this crossbody bag is purely hand-sewn for durability and long-lasting wear. The bag features 1 back pocket, 1 large main compartment, 1 front zipper pocket, and 2 interior open pockets. It also comes with an adjustable strap that can be freely adjusted to wear the bag as a single-shoulder bag or a cross-body bag.
Pros
 High-grade silver hardware
 Reinforced stitching
 Removable leather strap
 Convenient double tassel zipper pulls
Cons
 May emit a pungent odor initially
If you need large cross body bags for moms that can even accommodate a shrug or a light jacket, this over-the-shoulder style crossbody sling backpack is all you need. The ultra-chic and beautiful backpack is paired with an incredibly functional design which caters to your need of efficient but large storage space. Made with 100% nylon, the bag is lined with nylon fabric and features an adjustable shoulder strap that can be easily clipped on either side of the pack. The baby-friendly and mom-friendly bag has ample storage compartments including an interior zipper pouch to securely hold your keys or coins. It also houses a top flap where you can easily stow a light jacket with a convenient side release buckle. The thoughtful design of this bag makes it a perfect crossbody option for moms.
Pros
 Lightweight
 Padded shoulder strap
 Earbuds/headphone cord access
 Water-resistant
 Available in bright and vibrant colors
Cons
 Some may find the strap too wide
Amongst the best fabric crossbody bags, this lightweight and well-constructed purse is made of high-quality canvas material. Ideal for when you need only to carry a few small things, these crossbody bags for everyday wear can easily carry your cell phone, keys, wallet, and other personal items. With 2 main zip pockets and a 3rd zip front flap pocket, the bag offers sufficient space to accommodate everything you need for a walk or running errands. The bag also comes with an adjustable and removable shoulder strap that can be adjusted up to 27 inches. Furthermore, it has received several positive reviews for being spacious and convenient to carry.
Pros
 Removable crossbody strap
 Sturdy canvas material
 Durable
 Compatible with all phones with screen under 7 inches
Cons
Looking for affordable crossbody purses for moms with spacious external pockets? Take a look at this diaper tote bag that will become your favorite crossbody bag at first sight. Thoughtfully-designed to cater to a mother's needs, this bag can be used as a tote bag and also as a travel backpack or a crossbody bag. This is possible with completely adjustable and detachable backpack straps. Once detached, the straps can be stored in the hidden back pocket, which can also be used to hang the backpack on your luggage case. Made with 100% PU leather on the outside and 100% waterproof nylon fabric on the inside, this bag comes with padded shoulder straps for added comfort. The leather crossbody bag also has 4 insulated pockets to keep your baby's bottles warm along with 6 outer pockets and 7 inner pockets to easily organise everything you need on the go.
Pros
 Fixed key ring
 Padded laptop sleeve
 Luggage back pocket
 Faux leather
 Waterproof changing pad
 Large back pocket
 Insulated bottle holder pockets
Detachable straps
Travel-friendly
Cons
A sleek hip pack is the perfect option to carry all of mom's personal items while remaining hands-free to carry her little one. A stylish bag made of luxe vegan leather, the simple and streamlined design is perfect for running errands or a walk down the park. The leather crossbody bag features adjustable straps that can be worn as a chic hip pack, a crossbody bag, or a cute wristlet. Organize your cash, cards, keys, cell phones, lipsticks, and other personal items easily in the 2 interior pockets, 3 interior card slots, and a handy front slip pocket. The main compartment of this black leather bag opens wide enough for easy access and storage.
Pros
Sleek design
Available in 2 luxurious colors
 Easy to clean
 Durable
 Lightweight crossbody purse
Cons
 Some may find the strap slightly short
Trendy and fashionable, this stylish crossbody purse is made of high-quality vegan leather, which is sustainable, durable, and easy to clean. The bag offers versatile style with its removable strap feature that lets you adjust the long extendable strap into a crossbody bag or a shoulder bag. Designed to fit your every need, this reviewer-trusted crossbody style bag features soft velvet interior compartments, a magnetic clasp, and sturdy hardware in gold and silver for a sophisticated look.
Pros
Available in 5 color options
Deep front pocket
Printed pattern on removable strap
Spacious
Velvet interior
Versatile design
Cons
*The prices provided in this article are based on the latest available information. However, they may vary due to changes in pricing by the seller and/or promotional offers.
Our list of the best crossbody bags covers various styles, shapes, and price ranges that are sure to meet your requirements and prove to be practical and stylish crossbody bags for moms to carry. Bags are one of the most important accessories for women, more so for a mother. Let us look at few important features to look for while you buy a perfect crossbody bag-
What To Look For In A Cross Body Bag?
Before looking for the perfect bag, you should identify your requirements and specific needs that you need a bag for. For example, extra pockets and compartments for cords or phones, and enough space for a sipper. The bag should be durable but should also be stylish. It should be made with durable materials but should also fit into your budget. There is a wide range of bags available in crossbody style and the following features will help you to narrow down your search for the perfect bag.
It is important to select the right material and structure for your bag. The material and build of the bag is what contributes to its durability. Check the seams of the bag carefully and whether it can withstand some stretching. Look for materials that are waterproof or bags that have a waterproof inner lining. There are other fashion stylist-approved alternatives made of sustainable materials for you to choose from. You can also look for insulated compartments for baby bottles and food. Last but not least, check the wash and care instructions of the bag. Leather bags require meticulous maintenance synthetic or polyester materials are easier to clean and are also available in more colors.
It is crucial to select the right length of the crossbody bag. Check if the length is adjustable and to what extent. Look for straps that are comfortable to hold on your shoulder. The straps should not be too narrow or too wide. They should comfortably rest on your shoulder and should not slide in on your neck.
A good crossbody bag should have enough pockets to organize your belongings. Look for bags with a couple of zipping and flap pockets to secure your items. Also, smaller pockets on the outside are great to store your keys or phone. You can look for a modern ergonomic design with adjustable compartments for comfort and optimum utilization of space.
There are bags available in different price ranges that meet your style and needs. In our list, we have included bags from every price range – both luxury as well as affordable that do not compromise on quality and design. We hope our list will be helpful to find the bag of your liking.
Why Trust StyleCraze?
The author Priyam Gupta has a keen interest in fashion. She has done in-depth research, went through many products, and curated the list of best crossbody bags for moms. She considered factors like quality, functionality, and style before shortlisting the products. The bags included in the list are spacious, lightweight, and come with multiple compartments for easy storage.
Frequently Asked Questions
How do I clean my bag?
Read your crossbody bag's instructions for care and wash. Most bags can only be spot cleaned but some fabrics allow machine wash.
For bags with polyester lining or synthetic material, spot clean using mild soap, water and a soft cloth. Gently scrub any stains and then rinse with a clean damp cloth. For leather bags, use only damp cloth or a leather specific cleaner for hard stains.
Are crossbody bags safe?
Some crossbody bags today are made with anti-slash properties where the fabric is impossible to cut or tear. There are also bags with concealed zippers and strong straps to avoid theft. With advanced technologies, there are bags with theft deterrent features like RFID Protection. The bags have special RFID-blocking slots to store your credit cards to prevent thieves from accessing or cloning your card by using radio signals. The pocket blocks the radio signals from the reader device and secures access to your cards.
What is the difference between a sling bag and a crossbody bag?
Crossbody bags have thick straps primarily worn across the torso. They are spacious and functional. On the other hand, sling bags are worn the same way but feature straps of different widths. They are usually not very spacious and suitable for quick errands or parties.
What should I put in my crossbody bag?
Crossbody bags are spacious enough to accommodate your daily essentials and keep them organized.
Are crossbody bags in style in 2023?
Yes. Crossbody bags are convenient and functional. They are lightweight and give off a sporty vibe. Many Hollywood celebrities are often seen carrying their crossbody on the streets and at events.
Are crossbody or shoulder bags better?
The straps of the shoulder bags put much pressure on your shoulders and hurt your hands. In contrast, crossbody bags have dynamic straps that do not hurt your shoulders. Also, crossbody bags are usually lightweight compared to shoulder bags. Therefore crossbody bags are better.
Why are crossbody bags so popular?
Crossbody bags are stylish, lightweight, and practical. They feature multiple compartments that help arrange your essential items better. Also, crossbody bags radiate a sporty vibe and complete your look.
Which brand is the best for crossbody bags?
The Mominside Diaper Tote Bag is the best crossbody bag. It features adjustable and detachable backpack straps that help you carry the bag on your back. The padded shoulder straps add to its comfort level, and the waterproof bag is equipped with several insulated pockets to keep all the essentials in place.
Recommended Articles