13 Best Crossbody Bags For Teenagers – 2023 Update
Up your fashion game and charm all your close friends without spending too much.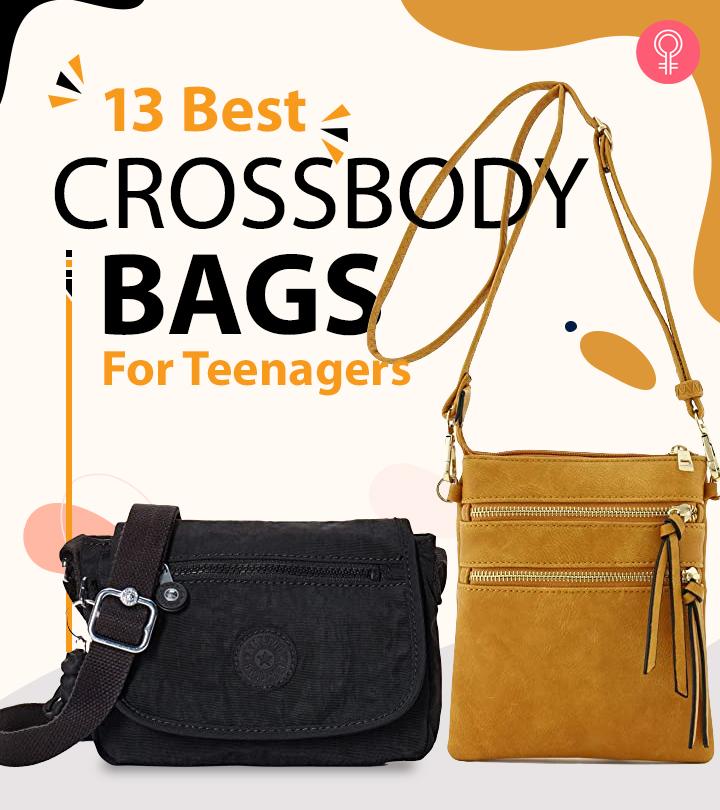 Teenagers are very choosy and fashion-conscious, especially when it comes to picking bags. This is where the best crossbody bags come into the picture. These unique storage options are great for travelling and charm every fashion enthusiast. These bags are small, easy to carry, and have multiple pockets that allow easy access to your belongings. Crossbody bags in attractive colors and designs let teenagers complement their fashionable outfits. With so many options available, we have curated a list of the 13 top-rated crossbody bags for teenagers. Scroll down to have a look at crossbody bags in teenage fashion.
13 Best Crossbody Bags For Teenagers – 2023 Update
Adidas Crossbody Bag is made from 100% polyester material that has moisture-wicking qualities. The zipper closure system allows easy access. Its main compartment is zippered, keeping your items safe. The bag and its shoulder strap have branded webbings that look fashionable. In addition, it has a screen-printed logo that looks stylish and does not fade. Its nylon zippers are strong and reliable. Its back slit pocket and zippered front pocket give room for your necessary items.
Specifications
Color: Black/White
Material: 100% Polyester
Pockets: 3
Pros
Durable
Adjustable straps
Trendy prints
Spacious
Easy to clean
Secure
Cons
Price at the time of publication: $23.71
The designer Isabelle Crossbody Bag is made using soft faux leather. It comes with an adjustable shoulder strap that has a 24-inch drop, suitable for tall and short teenagers. It measures 7 x 8 x 0.5 inches and has one main compartment divided into two sections. The two outside zippers are spacious enough to hold all the travel essentials. The inner compartment has one zipper pocket and one open pocket for your credit cards and keys. You can carry your phone, keys, and other belongings easily for all occasions.
Specifications
Color: Mustard
Material: Faux leather
Pockets: 5
Pros
Lightweight
Multiple colorful options
Durable
Adjustable zippers
Cons
Price at the time of publication: $16.99
The cute Kipling's Sabian Mini Crossbody Purse is made from water-resistant crinkle nylon that's easy to clean. It's lightweight, portable, and perfect for teenagers. It has a flap closure design with a magnetic snap and adjustable strap to secure your items. Its front zipper pocket is ideal for keeping everyday essentials. This purse has one compact compartment that can fit a small wallet and your phone. It also has one inner zipper pocket to secure your valuables. Its strap is broad for convenient handling with silver hardware. It also has a key clasp to store the key secretly. You can sling this bag over your shoulder and step out in style.
Specifications
Color: Black Noir
Material: Crinkled nylon
Pockets: 3
Pros
Lightweight
Durable
Waterproof
Versatile
Includes key clasp
Strong weaving
Easy to clean
Cons
Price at the time of publication: $25
Meisee Crossbody Bag is handmade with canvas and fabric featuring exquisite patterns. The edge closure design on its bottom and sides allows easy access and provides extra security. Its zippers are stable, durable, and smooth; neither do they fade nor rust. This crossbody bag for teens offers three main pockets, which are spacious, one exterior quick access pouch, and one zipped pocket. The spacious bag can easily carry items like mobile, sunglasses, lipsticks, credit cards, keys, etc., and has an adjustable woven shoulder strap.
Specifications
Color: Gray
Material: Canvas and fabric
Pockets: 5
Pros
Spacious
Multiple pockets
Durable
Lightweight
Handwoven
Magnetic closure
Smooth hardware
Cons
Price at the time of publication: $11.99
This stylish Kemy's Crossbody Purse is made with a lightweight canvas, thick foam padding, and a solid zipper. It has two open pockets, one back zipper pocket, one inside zipper pocket, and one main compartment for an iPad mini or an EReader. Its front zipper pockets serve as multifunctional pockets. Overall the bag has a good storage capacity. The soft shoulder strap is broader, easy to carry, and includes a small coin purse.
Specifications
Color: Pink
Material: Canvas
Pockets: 7
Pros
Multiple storage units
Color options
Lightweight
Adjustable strap
Customizable option
Easy to maintain
Cons
Price at the time of publication: $18.99
This colourful Leaper Crossbody Bag is created with high-quality and durable canvas material. The unique geometric Navajo-inspired embroidery on the bag looks attractive and exquisite. It has one main zippered compartment with two slip-in pockets to keep your mobile, pens, and wallet. It has three zipper pockets in the front, back, and main compartment to carry your valuables and keep them safe. This bag comes with a matching coin purse which is more suitable for teenagers. It also features an adjustable strap for use as over-the-shoulder or crossbody bags. It can be a good choice as a gift for occasions like Christmas, Valentine, birthdays, etc.
Specifications
Color: Water Blue
Material: Canvas
Pockets: 6
Pros
Spacious
Stylish embellishments
Safe
Multi-colored
Adjustable strap
Cons
Price at the time of publication: $19.99
The Weilan Crossbody Bag is a smartly designed anti-theft bag.  It is made using soft PU leather with a clear touch screen window pocket at back, which allows convenient use of cell phone. It can fit a cell phone up to 6.5 inches. It is enabled with RFID blocking technology that prevents RFID signals which keep your credit cards and IDs safe and protected.  It offers four card slots, one front pocket, one phone pocket, one photo slot, and one compartment pocket. Its zipper closure design protects you from pickpockets. Its polyester lining is long-lasting and smooth, while golden hardware is eye-catching and durable. Its strap is adjustable and removable, which could be carried as a handheld, handbag, or shoulder bag.
Specifications
Color: Navy Blue
Material: Polyester lining and PU Leather
Pockets: 8
Pros
Lightweight
Flexible
Ideal for cell phones
Has RFID protection for security
Enabled with touch screen pocket
Long-lasting
Spacious
Durable hardware
Easy access
Adjustable and removable strap
Cons
No fingerprint recognition
Price at the time of publication: $19.99
Choco Mocha Crossbody Bag is another stylish choice for teenage girls. It has a front zipper pocket, zippered main compartment, and one inner zippered pocket. The steady and quality stitching extends the life of this crossbody bag. Its soft polyester lining prevents scratches to your credit cards, IDs, and other essential items. The strap is wide and adjustable and can be worn as a crossbody purse or over-the-shoulder bag.
Specifications
Color: Multi-color
Material: Polyester
Pockets: 3
Pros
Secure inner compartments
Soft lining
Lightweight
Long-lasting
Cons
Not eco-friendly polyester
Price at the time of publication: $23.39
This travel-friendly Baggallini Crossbody Bag is water-resistant and comes with RFID-enabled technology that helps prevent theft of your credit cards, shopping cards, and IDs. It has ergonomically-designed, easily accessible pockets that hold your essentials in place. It has 3 zipper compartments: the main compartment is big enough to carry basic essentials, and the interior zippered compartment is deep and wide. Its 5 credit card slots are convenient, and a zipping interior pocket keeps your traveling essentials handy. It's designed with 100% nylon and polyester, lining which is durable and soft. This crossbody bag is machine washable, and it will be easy to maintain. It has a 52-inch adjustable and removable strap that lets you customize your comfort.
Specifications
Color: Charcoal
Material: Nylon and Polyester
Pockets: 3 with 5 credit card slots
Pros
Multiple pockets
Wider strap
Water-resistant
Lightweight
Machine washable
Removable strap
Multiple compartments and pockets
Cons
Price at the time of publication: $33.43
Gladdon Crossbody Bag is made from top-notch PU leather material that's soft and eco-friendly. This bag measures 8×2.8×6.7 inches and comes with one compartment, spacious enough for your essentials. Its strap is adjustable, making you comfortable all day. It's cute cat face-shape design looks attractive and fashionable for teens. Its high-quality silver-tone zipper is ideal for casual daily usage. The flip-on design with a magnetic flap allows easy access. This purse can easily hold a phone, keys, wallet, headphones, passport, tickets, and other small personal items so it can easily be carried to school, for travel, or for everyday use.
Specifications
Color: Black and Pink
Material: PU leather
Pockets: 1
Pros
Lightweight
Spacious
Durable hardware
Magnetic closure
Cons
None
Price at the time of publication: $16.99
Aocina Crossbody Bag is made from high quality, sturdy and durable denim. It measures 5.75x1x8 inches. It is spacious enough for your items like iPhone and Samsung Galaxy Note. Its design and style will protect your devices from scratches. Its main zippered pocket is suitable for lipsticks, keys, tickets, and mobile phones, among others. It can be easily carried when you're out for sports activities or casual outings. Its shoulder strap is adjustable and detachable with a long drop of 25 inches. In addition, it can be used as a single shoulder or crossbody.
Specifications
Color: Blue
Material: Denim
Pockets: 1
Pros
Eco-friendly material
Detachable strap
Sleek design
Long-lasting
Detachable strap for versatility
Cons
The high-quality canvas material of Vaschy Crossbody Bag is long-lasting and stylish. Its design features a geometric color-blocked canvas with an adorable look. Its SBS zippers slide smoothly while protecting your stuff. It has a main compartment, ideal for your books, while the inside pocket holds small items like keys and phones. There is also an elastic pocket, two slip pockets, and a pen slot. It also has an anti-theft pocket at the back and an inner bottle carrier with a wider bottom for easy standing.
Specifications
Color: Turquoise
Material: Canvas
Pockets: 5
Pros
Lightweight
Durable
Inner bottle pocket
Wide bottom
Long lasting zippers
Organized inner compartment
Cons
Price at the time of publication: $20.99
The Jstrive Crossbody Bag comes with a feather-light nylon quilted design with a cute pink pompom on the side for a girlish appearance. It has one compartment with two zippers that are spacious enough to carry your cell phone, wallet, sunglasses, etc.  Its silver-tone hardware with a quilted flap and a turn-lock closure make it secure. Its 22-inch silver-tone chain strap is long enough for over-the-shoulder or crossbody uses.
Specifications
Color: Black
Material: Nylon
Pockets: 5
Pros
Durable
Strong hardware
Stylish design
Secure turn-lock closure
Cons
Crossbody bags are not only stylish but also spacious and safe to carry important documents and other essentials during travel. However, here are a few points you should consider to ensure best buy.
What To Look Before Buying The Best Crossbody Bags For Teenagers
● Price
Crossbody bags for travel can be costly, especially if you don't do your homework well. However, there are still brands that sell cheap and luxury crossbody bags. Therefore, you should define your budget, then search for a product within your budget. However, keep in mind ha Leather crossbody bags designer is normally costly compared to their counterparts (faux-leather or polyester)
● Material
The reason why you should consider the material of crossbody bags is durability and ease of use. So, if you need long-lasting crossbody bags, please, find canvas, suede, or leather materials.
● Capacity
Crossbody bags are known to be small in size when compared to backpacks. However, find out what you'll be keeping in the crossbody bags and buy large crossbody bags that will fit all your items.
● Pockets
Which type of crossbody bags do you want to buy? How many pockets should it include? Will you be able to access the contents of the bag without removing everything? Well, these are the main questions you should ask when choosing crossbody bags. The basic crossbody bags design only has one interior and one exterior pocket. However, the best luxury crossbody bags have hidden compartments for your credit cards, keys, pens, phones, etc.
Why Trust StyleCraze?
The writer of this article, Srijani Roy Chowdhury, is a fashion enthusiast. She has carefully researched the products and browsed through several online reviews to pick the best ones for her readers. She has considered various factors like material, safety, capacity, and space before shortlisting the crossbody bags for teenagers. These bags are made of high-quality materials look stylish, and are long-lasting.
Frequently Asked Questions
What kind of purses do teenagers use?
Teenagers carry a crossbody bag to keep their belongings safe and close to them.
What is a crossbody bag called?
Cross-body bags are usually known as sling bags.
What are crossbody bags good for?
Cross-body bags are excellent for carrying essentials, such as a small diary, a pen, some makeup, lip balm, sunscreen, money, and anything else you know you would need on the go.
Are cross-body bags on trend?
Yes, crossbody bags are very much in trend these days among teenagers. They are not only a style statement but they also serve a utility purpose.
Are crossbody bags safe from pickpockets?
One of the greatest strategies to avoid pickpocketing is to carry a crossbody bag, which enables you to keep a close eye on your belongings.
How big should a crossbody bag be?
The perfect crossbody bag should not fall below your hips so that it is close to your body and does not fall off easily.