17 Best Crossbody Bags Of 2022 That You Need In Your Wardrobe
Carry all your essentials safely on every trip inside these stylish crossbody bags.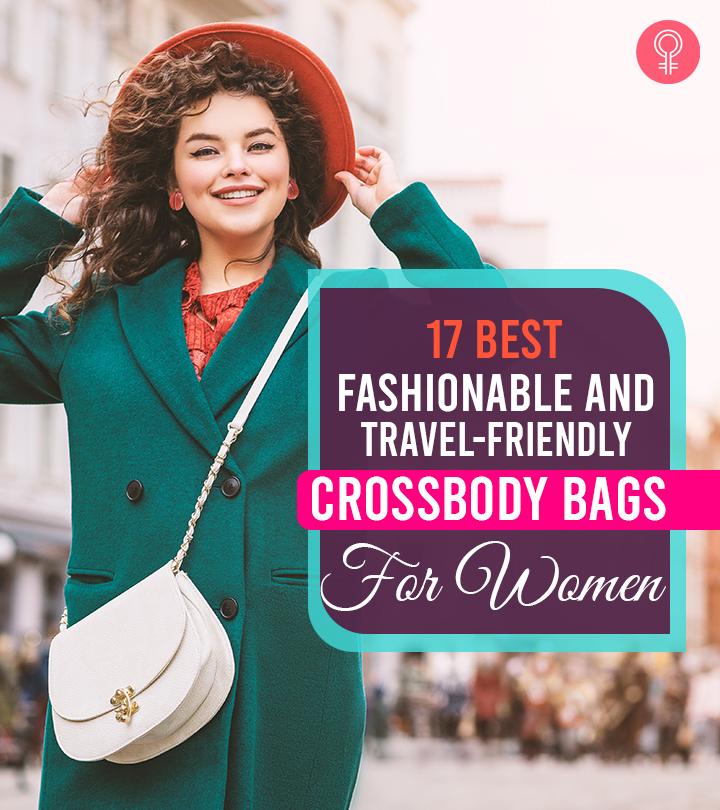 Crossbody bags are a must-have accessory in every woman's wardrobe. Our list of the best crossbody bags serves as the perfect combination of comfort, function, and style. They are spacious and distribute the weight evenly across your entire body. In addition, they allow you to go hands-free while traveling, hiking, or commuting to the college or workplace.
If you are having a hard time getting on your hands on the suitable crossbody back, you have landed on the right page. We have put together a list of the best-rated crossbody bags that are sturdy and durable. Their versatile designs make them ideal for regular use. Swipe up to read more details.
Things To Consider Before Buying A Crossbody Bag?
A crossbody bag can be a lifesaver when you are traveling and need to be hands-free for carrying your essentials and baggage. These bags are fashionable and functional and come with multiple pockets to hold your knick-knacks. Here are few pointers on how to choose the best  crossbody bag:
Material: Crossbody bags are made of various materials, like leather, faux leather, polyester, canvas, and suede. If you see yourself using these bags often, choose one made of a durable and easy-to-maintain material, like canvas or faux leather.
Capacity/Size: Once you know your purpose for using a crossbody bag, you can focus on the size. If you need it just for daily essentials like your mobile and wallet, then a small one will suffice. But if you plan to use it to carry your laptop or as a diaper bag, you will need one that is spacious and roomy.
Pockets: Generally, crossbody bags are designed to have just one exterior pocket and one interior pocket. But if you are carrying several things, then go for one with multiple pockets or an expandable design to help you stay more organized.
Security: If security is a priority and you will be carrying valuables in your bag, then picking up a bag with slash-proof straps and sturdy zippers is recommended.
Budget: The price of a crossbody bag depends on its materials and brand. With leather bags being are the most expensive, while ones made of polyester and or canvas are more reasonably priced. You can buy a bag that is in your budget.
Keeping these points in mind, let us look at the most happening crossbody bags available online. Scroll through our list of the 17 most fashionable crossbody bags for women to discover your new all-time favorite.
 17 Best Crossbody Bags For Women
The tasseled Deluxity Medium Crossbody Bag is a high-fashion bag with an eye-catching beige exterior. It is spacious enough to accommodate all your essentials like a phone, wallet, keys, and sunglasses without losing its shape. It features a soft inner lining, two pockets inside (one open and one with a zipper), and a wide mouth to organize and reach items. This 10" x 9" bag also has a sizable front compartment for easy on-the-go access. It is crafted from faux leather and comes with an extra-long adjustable shoulder strap of 25.5" length.
Pros
Easy to maintain
Lightweight
Adjustable strap
Retains shape
Spacious
Cons
None
The compact Crossbody Bag from myfriday has a convertible, multifunctional design. It is crafted from premium-quality synthetic leather that is soft and smooth to touch. The 7.4" x 4.7" x 2.5" bag has a flat base that prevents it from toppling over. It has three compartments for storing essentials like your phone, makeup, tissues, cards, cash, and keys. The smooth zippers go all the way around the bag to the base for easy access and organization.
Pros
Multipurpose
Durable
Adjustable and removable strap
Spacious
Smooth and sturdy zippers
Multiple pockets
Cons
Credit card slots are tight
The Medium Dome Crossbody Bag from SG SUGU is crafted from durable, easy-to-clean vegan PU leather. This lightweight bag measures 8" x 10.5" x 4" inches and is fitted with a long adjustable shoulder strap and feet to protect the base. It features multiple compartments for convenient organization in the front and back. The top pocket has one slip pocket and one zipper pocket inside to keep your essentials in place. The soft striped lining lets you store your essentials with ease, while the gold-tone zippers and front tassels add a touch of elegance to the bag.
Pros
Lightweight
Easy to maintain
Vegan leather
Adjustable strap
Smooth zippers
Bottom feet
Multiple pockets
Cons
The roomy interior and convenient pockets of the Alyssa Triple Zip Pocket Crossbody Bag make it an ideal option for office and everyday wear. This faux leather bag measures 10.5" x 11" x 2.75" and has a soft luxurious feel. It is fitted with a 24" adjustable strap to offer a convenient carrying experience to women of all heights. The three zippered compartments provide convenient storage for everyday essentials like your phone, wallet, keys, and makeup. The base has outer piping to protect it from wear and tear, while the gold detailing on the hardware gives it a chic finish.
Pros
Lightweight
Adjustable strap
Smooth zipper
Easy to maintain
Cons
This super simple yet trendy crossbody bag from fashionpuzzle is crafted from soft faux leather that gives it a high-end luxurious feel. It has three zippered compartments, including two outer pockets and one central pocket. The central pocket features one open pocket and one zippered pocket for convenient storage of everyday essentials. This versatile bag measures 8.5" x 5.5" x 2.75" and has durable gold-tone hardware. The extra-long adjustable shoulder strap has a 26" drop that makes this bag suitable for women of all heights.
Pros
Easy to maintain
Adjustable strap
Smooth zipper
Sturdy hardware
Lightweight
Cons
The multifunctional NOTAG Crossbody Bag is made of nylon oxford fabric with a polyester lining to make it water-resistant and scratch-proof. It comes in two sizes – the large one measures 12.2" x 4.3" x 9.4" and the small one is 10.2" x 3.5" x 8.6" – to offer options for everyday use or travel purposes. The multiple pockets include two elasticized side pockets, three front zippered pockets, one back pocket, and a spacious central pocket with two zippered and two open pockets. These pockets allow ease of packing to accommodate large amounts of paperwork, travel documents, a wallet, phone, charger, and even baby essentials like diapers and bottles.
Pros
Multipurpose
Multiple compartments
Lightweight
Smooth zippers
Available in two sizes
Water-resistant
Scratch-resistant
90-day refund policy
Cons
Strap slides through the buckle
The broad shoulder strap on the VOLGANIK ROCK Crossbody Bag is reinforced with cotton on the inner side to give a soft padded finish that is comfortable on the shoulder for long durations while traveling. This lightweight bag is crafted from water- and stain-resistant oxford nylon that is easy to clean by hand or in the washing machine. The standard version measures 11.25" x 4.3" x 9", while the large version is 14" x 5.5" x 12". It features a tear-resistant lining with multiple outer and inner pockets to offer slots for all travel accessories like passports, documents, currency, maps, and daily essentials. It is also equipped with RFID blocking technology to keep your cards safe.
Pros
Water-resistant
Stain-resistant
Adjustable strap
Lightweight
Multiple compartments
RFID blocking technology
Versatile
Cons
Flimsy zippers
Loose stitching
The contrasting colors on the printed Small Crossbody Bag from Minicat make a style statement while being the ideal size to fit a smartphone along with essentials like credit cards, keys, cash, makeup, and passport. This compact bag measures 5" x 1.2" x 7.5" and features a divider in the main zippered compartment for easy organization of essentials. Its additional zippered pocket on the back is perfect for storing cards or cash. The extra-long adjustable strap is 27" long, while the soft inner lining prevents scratches and friction to your phone screen.
Pros
Adjustable strap
Compact size
Spacious
Easy to maintain
Cons
The innovative proprietary blocking material used in the S-ZONE Crossbody Cell Phone Bag ensures your credit cards, licenses, and ID cards are protected from RFID signals and unauthorized scans. Its strong magnetic snap closure button in the front keeps your phone safe and secure. The PU leather used to craft this clutch wallet-cum-phone bag is soft and durable. The smooth zipper on the back compartment gives quick access to cards, cash, passports, tickets, and four slip pockets for other small items. It has a long adjustable shoulder strap that is detachable as well.
Pros
Easy to maintain
RFID blocking function
Versatile
Durable fittings
Magnetic clasp
One-year warranty
Cons
Small interior
Poor stitching
The luxurious pebble leather body gives this Befen Small Crossbody Bag a classic, timeless appeal, making it ideal for casual or smart dressing. This bag features a full-length main compartment with six card slots, one open pocket, and one zippered pocket for coins. The outer pocket is large enough to accommodate most big-screen smartphones. It comes with two removable straps – a 7.5" wrist strap to convert it into a wristlet and an adjustable shoulder strap that is 28.5" long.
Pros
Removable straps
Multipurpose
Lightweight
Smooth zippers
Long-lasting
Cons
Flimsy zipper
Congested interiors
The nuoku Small Crossbody Bag doubles up as a wristlet and a clutch wallet. This versatile bag comes with two removable straps, one 7.87" wristlet strap, and one adjustable shoulder strap that extends from 13" to 24". It is crafted from superior-quality synthetic leather with a soft striped lining inside. Additionally, it comes with RFID blocker technology that keeps your cards safe from unauthorized readings. This compact bag measures 6.89" x 1.57" x 4.52" and can be paired with casual and smart clothing for a fashionable retro look.
Pros
Waterproof
Scratch-proof
Easy to maintain
RFID blocking technology
Spacious
Lightweight
Compact
Multipurpose
Cons
The four-in-one KUKOO Small Crossbody Bag has a lightweight structure and is constructed from superior-quality faux leather that is easy to maintain. The front pouch has a strong magnetic closure and can accommodate any smartphone up to 6.6". It has one main zippered compartment with ample capacity and sections to store cards, cash, and ID cards. The convenient zipper pocket on the back gives quick access to coins. Plus, its reinforced stitching along the edges, strong metal hooks, and sturdy zippers make it long-lasting. This compact bag measures 7.1" x 4.3" x 1.4" and comes with two detachable straps to offer multiple wearing options.
Pros
Versatile
Sturdy hardware
Adjustable strap
Lightweight
Spacious
Cons
The roomy lola mae Quilted Crossbody Bag is spacious enough to carry everyday essentials yet compact enough to be stylish. It is crafted from high-quality faux leather that is easy to clean with a damp cloth. The tassel embellished zipper and a half-chain adjustable strap give this bag a chic look. You can convert the bag into a cute clutch by removing the strap.
Pros
Easy to maintain
Versatile
Spacious
Smooth zippers
Detachable and adjustable strap
Cons
Chain strap is not rust-resistant
The classic shape of the fashionpuzzle Chevron Quilted Medium Crossbody Bag makes it easy to pair with smart or casual clothing for any occasion. This premium-quality faux leather bag is fitted with gold-tone hardware, while the quilted finish and tassel-embellished zipper on this bag give it a chic look. The adjustable shoulder strap sits comfortably on the shoulder and goes down 23.5", making it a perfect crossbody bag.
Pros
Easy to maintain
Smooth zipper
Lightweight
Adjustable strap
Cons
This fashionable Crossbody Bag from Dasein is crafted from premium vegan leather with a buffalo skin finish. This dual-tone bag measures 10.25" x 7.5" x 4" and is fitted with an adjustable strap. It has two main zippered compartments and an additional central pocket with a magnetic clasp for storing essentials or knick-knacks. The decorative tassels on the outer pocket zipper give it a trendy look, while the gold-tone hardware adds elegance.
Pros
Vegan leather
Easy to maintain
Cruelty-free
Multiple pockets
Adjustable shoulder strap
Protective bottom studs
Cons
The Sivim Small Crossbody Bag is fitted with a stylish gold-tone twist clasp to give it a designer look. This waterproof bag is crafted from superior-quality PU leather with quilted diamond stitching and gold-tone hardware. It comes with three compartments – a main compartment with an inner open pocket and a zipper pocket to store valuables. The adjustable shoulder strap is 23.62" long.
Pros
Waterproof
Scratch-proof
Smooth zippers
Adjustable strap
Easy to maintain
Spacious
Cons
The premium-quality materials used to make the Roulens Small Crossbody Bag ensure it is odor-free and durable. This compact bag is spacious enough to fit daily essentials like your mobile phone, makeup, coins, cash, and tissues. It has multiple zippered pockets along with a strong magnetic snap closure on the front flap. This lightweight bag measures 7.6" x 4.8" x 2" and comes with an adjustable shoulder strap that can be detached to convert the bag into a stylish clutch.
Pros
Lightweight
Smooth zippers
Odor-free
Compact
Breathable material
Adjustable and detachable strap
Cons
Why Trust StyleCraze?
The author of this article, Baishali Bhattacharya, is a certified image consultant who likes to explore and review new trends and styles. According to her, crossbody bags are a must-have accessory. Therefore, she has reviewed and filtered the best crossbody bags for women based on unbiased reviews from trusted online platforms. These bags are trendy, stylish, and functional.
Frequently Asked Questions
Are crossbody bags in style in 2022?
The bag style trends in 2022 show a rise in the desire to keep your hands free. Busy lifestyles and hectic schedules demand that our hands are free to take calls while on the move or to manage kids as well. That is why crossbody bags are totally in right now.
How can you tell a bag is waterproof?
Bags crafted from polyester or nylon with a water-resistant coating and laminated with a polyurethane layer on the inside will do an excellent job of repelling water and moisture.
Recommended Articles