12 Best Cruelty-Free BB Creams
Get evenly textured skin and flaunt a flawless base with the right makeup essentials.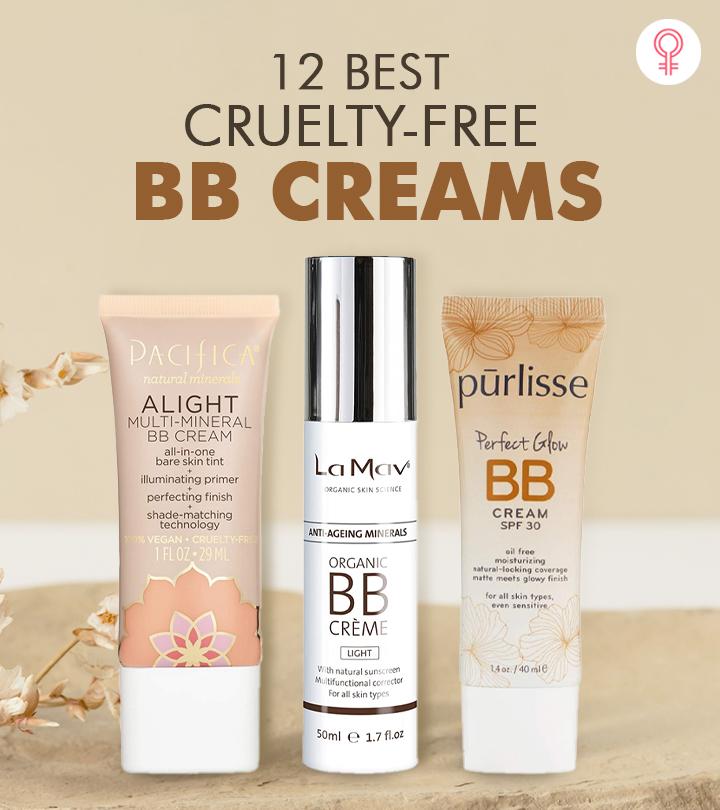 Usage of cruelty-free makeup products is practiced by animal-lovers and earth-lovers alike. The best cruelty-free BB cream best will fit perfectly in your lifestyle. It gives you a perfect look. BB creams, also termed as blemish balm or beauty balm, maximize the time span of your makeup and make it very easy. These cruelty-free creams are a perfect fit for you if you are a conscious buyer. In this article, we have listed the 12 best BB creams that are cruelty-free.
12 Best Cruelty-Free BB Creams
This BB cream from COVERGIRL provides 10 skin benefits in a single formula. It keeps the skin hydrated all day and imparts a natural-looking radiance. The broad-spectrum SPF 21 shields the skin from harmful UV rays. This BB cream improves skin elasticity, making the skin appear smooth and silky with a tinge of sheer coverage. It is non-comedogenic and available in three shades suitable for all light to deep skin tones.
Pros
Non-comedogenic
Long-lasting
Blends well
Lightweight
Fragrance-free
Has SPF 21
Cons
Price at the time of publication: $6.97
The purlisse Perfect Glow BB Cream is powered with broad-spectrum SPF 30 and gives natural-looking coverage. It smoothens the skin texture and evens out the skin tone by covering blemishes and dark spots. The non-comedogenic formula is made with natural ingredients like artemisia and chamomile that prevent aging signs, and sugar maple that restores a radiant glow. This oil-free BB cream is available in a range of shades to suit every skin tone.
Pros
Lightweight
Long-lasting
Oil-free
Non-comedogenic
Has SPF 30
Paraben-free
Petrochemical-free
Propylene glycol-free
Phthalate-free
Vegan
Cons
Price at the time of publication: $36.0
The NYX BB Cream provides a perfect 'no makeup' look. The beauty balm is lightweight and infused with antioxidant minerals that hydrate the skin and even out the skin tone. It gives a primer effect to the face under a foundation and smoothens the skin. Using this professional BB cream with skincare benefits on its own imparts a light tint of color to the skin, which covers marks and blemishes. It helps in color-correction and coverage. This mineral-based BB cream is available in multiple shades and provides versatile benefits in one tube. Check out this YouTuber's review of the product if you require more details.
Pros
Lightweight
Non-greasy
Matte finish
Vegan
Oil-free
Cons
Price at the time of publication: $24.99
The Pacific Beauty BB Cream is enriched with minerals and gives the skin a natural luminosity. The multipurpose cream can be used as a primer, moisturizer, and skin smoother. It also works as a good BB cream for acne-prone skin. The mineral pigments adjust to the natural skin shade with shade-matching technology, and hence, one color works for all skin tones.
This BB cream with color correcting abilities formula is infused with sweet iris leaf, jojoba esters, Damascus rose leaf extracts, kelp, coconut water, and hyaluronic acid. These ingredients work in tandem to keep the skin hydrated and even-toned. This BB cream can be used individually for a sheer moisturized tint and can be built up for perfect coverage. It helps reduce the appearance of blemishes, acne, and pimple marks and gives the skin a natural radiance.
Pros
Lightweight
Has skin brightening effects
Smells good
Paraben-free
Phthalate-free
Silicone-free
Mineral oil-free
Petroleum-free
Talc-free
Vegan
Cons
Price at the time of publication: $16.0
The Australian Gold Botanical SPF 50 Tinted Face Mineral Lotion is great for protecting skin from the sun and providing hydration. The non-chemical sunscreen formula easily blends into the skin. This tinted BB cream is available in a range of shades to suit medium to tan skin tones and is infused with vitamins and antioxidants from native Australian botanical ingredients that protect you from both UVA and UVB rays, leaving you with a powdery-clean feel.
Pros
Doesn't clog pores
Has anti-aging properties
Fragrance-free
Designed for sensitive
Water-resistant
Hydrating
Cons
None
Price at the time of publication: $13.99
The La Mav Organic BB Cream is a multifunctional product that serves as a foundation, moisturizer, and natural sunscreen. The nutrient-rich formula uses potent bioactive ingredients like rosehip oil, hyaluronic acid, and pure vitamin C. The powerful blend moisturizes, hydrates, and nourishes the skin, preventing premature aging. It conceals imperfections, promotes cell renewal, improves skin elasticity, and evens out the skin tone to offer a naturally radiant-looking finish. The long-lasting semi-matte coverage is perfect for light skin tones.
Pros
Blends well
Non-greasy
Non-drying
Long-lasting
Matte finish
All-natural ingredients
Vegan
Cons
Price at the time of publication: $23.95
This full coverage BB cream from BEAUTIFIC is a lightweight cream that provides ultra-hydration and enhances the skin's natural glow. The blend of hyaluronic acid and marula makes the skin healthier and appear retouched. This nude perfect or offers light to medium coverage with a matte finish that blurs wrinkles, freckles, blemishes, imperfections, and pores. It revitalizes the skin and makes it fresh, supple, and soft. The essential oils regulate sebum production and sweaty shine, allowing the skin to breathe with minimum makeup and touch-ups.
Pros
Non-comedogenic
Silicone-free
Paraben-free Vegan
Cons
Price at the time of publication: $27.49
3ina Makeup Tinted Moisturizer is one product that works as a moisturizer, sunscreen, and BB cream. It comes with SPF 30 and ingredients like hyaluronic acid that protect and nourish your skin. It is ideal for when you are aiming for the no-makeup makeup look. The product provides light-to-medium coverage and can cover minor blemishes. The product is available in 5 different shades so, you choose the right shade.
Pros
Infused with SPF
Hydrating on the skin
Vegan
Dewy finish
Minimizes the appearance of pores
Cons
May feel greasy after some time
Price at the time of publication: $21.95
With a unique matte-perfecting formula, the Rimmel Match Perfection BB cream helps you achieve flawless skin. The product helps in minimizing pores, which results in a shine-free, smooth complexion. It is quite tinted to cover light scars, blemishes, and dark circles. It offers sun protection with its SPF 15. The product feels lightweight and doesn't clog your pores.
Pros
Easy to use
Super blendable
Matte finish
Non-comedogenic
Covers minor scars
Cons
Not available in many shades
Price at the time of publication: $6.74
The 100% Pure BB Cream is a multipurpose formula that acts as a primer, concealer, and foundation, providing a smooth, shiny texture to the skin. The tinted moisturizer provides buildable coverage and has antioxidant-rich fruit oils like raspberry seed oil and cherry oil that moisturize and protect the skin. The liquid formula is easy to blend and provides a flake-free finish. It also contains shea butter that keeps the skin smooth and mica that gives the cream a dewy, shimmery, and luminescent finish.
Pros
Dewy finish
Blends well
Vegan
Gluten-free
Synthetic preservative-free
Artificial fragrance-free
Synthetic chemical-free
Cons
Price at the time of publication: $33.0
The TROIAREUKE BB Cream is an H+ formula offering 99% skincare and 1% makeup. This Korean formula with SPF 40 PA++ fights harmful sun damage and breakouts making it a good BB cream for combination skin. It contains chia extracts that are rich in nutrients and antioxidants that repair damaged skin cells. Chameleon plant extracts have antimicrobial and anti-allergic properties to soothe skin issues. Sepicontrol A5, a unique five-ingredient blend, controls excess sebum production, removes dead and dry skin cells, and improves skin immunity. Phyto G-tea tree leaf reduces adverse skin reactions. This product offers buildable coverage, a smooth texture, even skin tone, and a dewy finish.
Pros
Hypoallergenic
Has SPF 40
Lightweight
Long-lasting
Cons
Price at the time of publication: $38.0
Protect, replenish, and refresh your skin with the help of bareMinerals Complexion Rescue Tinted Hydrating Gel Cream. This BB cream is infused with marine botanicals and coconut-derived ingredients that help hydrate and nourish your skin while giving a healthy glow. It is also enriched with mineral electrolytes, calcium, potassium, and magnesium that replenish the skin. It provides sheer-to-medium coverage, making it excellent for daily use.
Pros
Non-comedogenic
Infused with SPF
Hypoallergenic
Dermatologist-tested
Paraben-free
Binder-free
Filler-free
Cons
Price at the time of publication: $22.5
Why Trust StyleCraze?
Shiboli Chakraborti is a certified skin care coach who is obsessed with all things beauty! She loves to review skin care products for her readers. She has extensive knowledge of BB creams and spent hours reading customer reviews to compile a list of the best vegan options available on the market. Her recommended BB creams are lightweight, non-greasy, and offer a flawless finish.
Frequently Asked Questions
Can we use cruelty-free BB cream daily?
Yes. You can use animal testing-free BB creams daily to impart a foundation-like radiance and keep the skin moisturized and nourished.
How many hours does cruelty-free BB cream last?
Cruelty-free BB cream usually lasts up to 8-10 hours.
What is the difference between CC Cream and BB cream?
BB cream is more hydrating, has a thicker texture, and provides light coverage with a satin finish and enhanced sun protection, whereas CC cream is lighter in coverage and aims to color-correct. CC cream is used beneath the foundation to fix redness, dark patches, or pale skin.
Does BB cream contain sunscreen?
Yes, most of the BB creams contain sunscreens. Look for BB creams with SPF 50+ for better sun protection.
Is BB cream good for sensitive skin?
Yes. Cruelty-free BB creams are good for sensitive skin as they contain non-irritating and soothing ingredients.
Is BB cream or foundation better for daily use?
Both foundation and bb creams are ideal for daily use. If you want light coverage, choose a bb cream; for fuller coverage, choose a foundation.
Recommended Articles