17 Best Cruelty-free Concealers You Need To Try This Year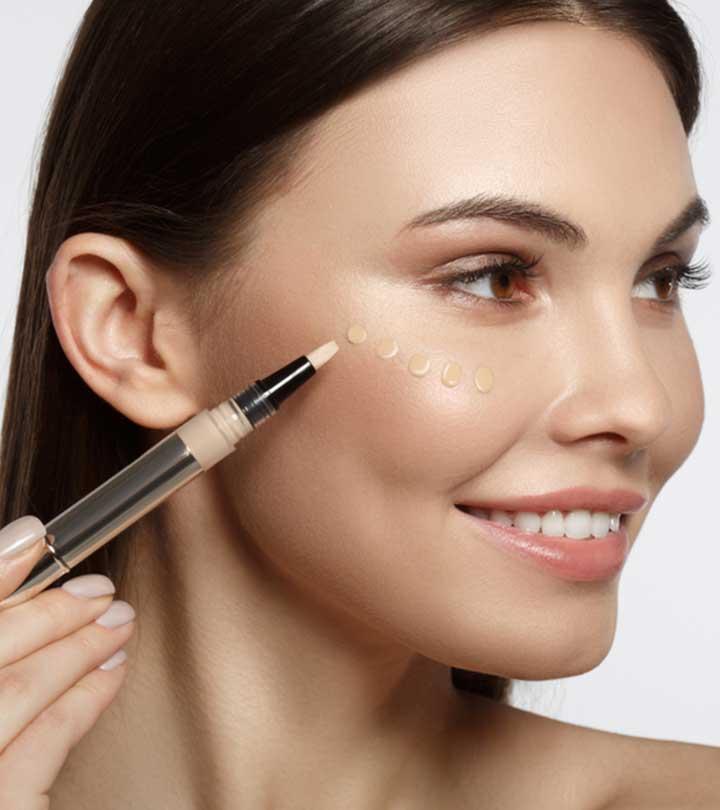 If you're an animal lover, you would definitely prefer your daily makeup essentials like concealers and foundations to be cruelty-free. The best cruelty-free concealers are the one that has not been tested on any animals. These days, a lot of concealers available in the market are cruelty-free, and hence, are a good choice for you. Concealers can help you hide your dark circles and spots, and hence are a crucial makeup product that you must have. These concealers can make your face look flawless and will help cover your blemishes in the best possible way.
If you ask which one's the best for you, we might let you decide, on the basis of the price range, availability, and coverage ability.
Check out this list of the best cruelty-free concealers that you can count on for flawless makeup.
Top 17 Best Cruelty-free Concealers Of 2022
Are you looking for a cruelty-free and vegan concealer? This makeup product will make you happy as it is vegan and has never been tested on animals. Its creamy formula keeps your skin moisturized while covering blemishes, skin discoloration, under-eye dark circles, redness, and other skin spots. This concealer blends onto your skin smoothly, delivering an undetectable finish and providing natural to medium coverage. Apply this concealer in dots using the included wand and blend it seamlessly with your fingertips or beauty blender for a spotless look. It is the best vegan concealer and can also be used asgood quality concealer a contour and highlighter. Take a look at this video to know more about the product.
Prosformula x cruelty free
Durable
Lightweight
Value for money
Non-comedogenic
Safe for all skin types
Cons
May not have a great odor 
Want a concealer to hide your fine lines and wrinkles? Get this cruelty-free concealer that will deliver a smooth, flawless look and help you hide any face spots. Also, it brightens up your face making your eyes appear lifted and covers dark circles making your under-eye smoother. Formulated with shea butter, licorice root, and mango butter, this travel-friendly concealer does not contain mineral oil, phthalates, paraben, SLS, gluten, and triclosan. While shea butter helps retain the elasticity of your skin, licorice root brightens your appearance and covers dark circles. Whereas, mango butter conditions and moisturizes your skin. Loaded with healthy and natural ingredients, this concealer can be applied directly onto your imperfections and blended properly. Plus, it can also be used as an eyeshadow primer.  You may check more about this product in this video.
Pros
Vegan
Waterproof
Non-comedogenic
16-hour wear
12-hour crease-proof
Dermatologist-tested
Cons
Are you looking for a waterproof concealer? Then get this cruelty-free concealer that is waterproof and has staying power of 12 hours. This twist-up stick concealer helps cover imperfections, including redness, blemishes, dark circles, and other spots on your face. Formulated with Amazonian clay and vitamins A and E, this buildable concealer nourishes and moisturizes your skin while delivering a velvet matte finish. It also contains a non-greasy ingredient called squalane, mineral pigments that soothe and soften skin, and hyaluronic acid that provides firmness, moisture, and suppleness to the skin. Just twist-up the stick and apply it in dots on your skin imperfections, then blend it gently with your fingertips until full coverage is achieved. This creamy formula does not include SLS, gluten, parabens, phthalates, synthetic fragrances, and mineral oil.
Pros
Oil-free
Talc-free
Hypoallergenic
Crease-resistant
Dermatologist-tested
Cons
May not be ideal for mature skin
Achieve radiant skin with this multitasking makeup product that works as a concealer and foundation. You can cover dark circles, redness, blemishes, and other skin imperfections with this cruelty-free concealer. With this rich, creamy formula, you can attain a bold satin matte finish when evenly applied to conceal skin flaws. It delivers medium to full coverage to brighten and even your skin tone. Apply this lightweight formula on clean, moisturized skin and blend it well in a circular motion using your fingertips, beauty blender, or a foundation brush to get a silky smooth and flawless look. It is the best cruelty free concealer. Check out this video to learn more.
Pros
Oil-free
Smells good
Long-wearing
Water-resistant
Crease-resistant
Cons
May not be transfer-resistant
Looking for a crease-resistant concealer? Well, this cruelty-free concealer does not crease and delivers opaque coverage that hides under-eye dark circles, blemishes, and skin imperfections. It also minimizes fine lines and wrinkles, providing a natural and spotless appearance. Suitable for most skin types, including sensitive and mature skin, the application of this creamy formula equipped with a soft tip brush is easy and blendable. Here's a pro-tip: You would have to set it with loose powder if you have slightly oily skin.
Pros
Buildable
Lightweight
High-quality
Long-wearing
Provides even skin tone
Can be used for highlighting and contouring
Cons
May not be suitable for lighter skin tones
Say goodbye to dark circles, bags, blemishes, and other skin flaws with this cruelty-free concealer that helps brighten and define your face beautifully. Its smooth velvety formula delivers a matte finish look with easy and even application using the fluffy doe applicator. It can also be used to color correct, contour, and highlight. Apply the product on your clean, moisturized face, especially on your T-zone, under your eyes, and down the center of your nose, then blend it using your fingertips or a beauty blender. 
Pros
Vegan
Buildable
No caking
Lightweight
Long-wearing
Full coverage
Cons
May not be suitable for extremely dry skin
Want a concealer that covers acne? Then you should try this concealer that provides excellent coverage and hides your acne well. This cruelty-free concealer is formulated with opaque pigments and salicylic acid, which not only help blur your blemishes but also prevent any new acne breakouts. This concealer blends so smoothly onto your skin that you will not be able to detect any spots, and nobody can tell you have applied concealer. Though it is a creamy formula, you will achieve a matte finish look after application. This anti-blemish concealer also contains chamomile and aloe vera that provide nourishment.
Pros
Oil-free
Hypoallergenic
Fragrance-free
Non-comedogenic
Dermatologist-tested
Cons
May not be long-wearing
May not have a pleasant smell
Having a tough time finding a long-lasting concealer stick? Then grab this cruelty-free concealer that will provide 16 hours of full coverage, giving you a spotless natural-looking skin. This works best as an under-eye concealer, and it glides on smoothly with no creasing. This ultra-creamy stick helps improve your skin by covering blemishes and redness on your face. It provides a soft matte finish, brightens up your skin with ease, and can also be used as color corrector and contour. It is formulated with antioxidant-rich botanicals like blackcurrant seed oil, raspberry seed oil, and sea lavender that hydrate and nourish your skin and protect your complexion from pollution and other environmental factors. This waterproof concealer also includes kaolin clay that absorbs excess oil and bamboo stem extract that smoothens the appearance of fine lines and pores. This sweat-proof and humidity-resistant concealer does not contain artificial fragrance, paraben, gluten, and talc.
Pros
Vegan
Sweat-proof
Humidity-resistant
Highly pigmented
Transfer-resistant
Dermatologist-tested
Cons
May not be suitable for lighter skin tones
Get this all-natural cruelty-free concealer that helps cover spots or blemishes on your face. It comes with SPF 15 protection, so rest assured, it will protect your skin from harmful UV rays. Meanwhile, you can achieve medium to full coverage with this mineral loose powder concealer. Also, it will leave your skin feeling plushy soft, thanks to the mineral pigments that are grounded to the smoothest texture. It is easy to apply — just dip your powder brush into the product, remove the excess powder from the brush, and apply and blend in a circular motion on your blemishes. This concealer can also be used as a foundation, setting powder, and finishing powder.
Pros
Vegan
Oil-free
Non-toxic
Paraben-free
Long-wearing
Hypoallergenic
Cons
Looking for an anti-aging concealer? This non-toxic and cruelty-free concealer stick is perfect for you. It is formulated with anti-aging peptides and hyaluronic acid that work together to hydrate and brighten your complexion. This water-based formula blurs dark spots, blemishes, and redness while evening your skin tone. This self-setting concealer is easy to apply without over-dispensing the product, so apply directly on the imperfections and blend properly for an undetectable smooth finish. This leak-proof stick can also be used as a corrector and highlighter. It is suitable for all skin types and is free of oil, fragrance, sulfate, paraben, and glycol.
Pros
Vegan
Non-irritating
Hypoallergenic
Non-comedogenic
Medium buildable coverage
Dermatologist and ophthalmologist-tested
Cons
Cover your dark circles, blemishes, redness, and hyperpigmentation with this concealer that also helps brighten your complexion. This creamy formula provides medium to full coverage with a smooth finish without creasing, flaking, or caking. This cruelty-free concealer is enriched with argan oil and vitamin E that help lighten your complexion, slow aging, eliminate free radicals, and blur skin imperfections. It can easily be applied with the applicator wand that helps you achieve precise and natural finish with no wastage of product. This blendable concealer is free of paraben and gluten.
Pros
Vegan
Long-lasting
Lightweight
Breathable
Suitable for sensitive skin
Cons
May not be waterproof
May not be suitable for dry skin
Get this fruit-pigmented compact concealer that lasts all day long without caking or creasing. This oil and sweat-resistant concealer features a creamy opaque texture that provides full coverage and satin finish. Besides being pigmented with antioxidant-rich fruits and vegetables, this sweat-proof concealer is also infused with natural ingredients such as lavender, shea butter, chamomile, rosehip seed oil, green coffee, and goldenseal. These ingredients help fight acne and inflammation, reduce scars and dark spots, soothe skin breakouts, and boost blood circulation. All you have to do is put dots of the concealer directly onto your imperfections and dark spots, pat gently, and blend it flawlessly using clean fingertips or a beauty blender.
Pros
Vegan
Non-irritant
Breathable
Gluten-free
Water-resistant
Suitable for sensitive skin
Cons
Want to own an award-winning concealer that also suits your skin? Then get this concealer that protects and brightens your skin. This creamy concealer features a silky, serum-like texture that blends flawlessly into your skin to reveal a light hue with peachy neutral undertones. Formulated with albizia julibrissin bark extract and vitamin C, this concealer soothes and provides nourishment and firmness to the skin, while protecting your skin from environmental damage and free radicals. Also, it contains mastic, a resin derived from a tree on the Greek island of Chios, that refines and mattifies your skin. It instantly minimizes the appearance of discoloration and under-eye dark circles, leaving you with flawless skin. This concealer does not contain talc, gluten, paraben, phthalate, sulfate, and GMO.
Pros
Buildable formula
Lightweight
Medium coverage
Crease-resistant
Lasts all day long
Suitable for all skin types
Cons
Conceal imperfections and treat your skin right with this cruelty-free concealer that features skin-healing botanicals. This natural and non-inflammatory concealer improves skin health and provides protection against environmental damage, inflammation, and free radicals. It also conceals several skin imperfections, from blemishes and dark circles to scarring and rosacea. This full-coverage concealer contains calming plant-based enzymes that can treat any skin condition while also increasing oxygen in your skin to keep your face hydrated. Recognized by dermatologists, this non-toxic concealer reduces fine lines, diminishes excess shine, and evens skin tone.
Pros
Vegan
Gluten-free
Waterproof
Paraben-free
Non-chemical sunscreen
No synthetic fragrance
Cons
On the hunt for a concealer that provides sun protection? This cruelty-free concealer is the one for you! It protects your skin from harmful UV rays and provides full buildable coverage. With a rich, creamy texture, this concealer lends a velvety sheer finish while blurring imperfections, blemishes, dark circles, hyperpigmentation, and correcting uneven skin tone. Suitable for all skin types, this concealer stick ensures an easy and hassle-free application and blending process. Apply it gently on your chin, forehead, under your eyes, and down the center of your nose and blend it seamlessly using your fingertips, brush, or sponge. Also, this concealer works great as a foundation stick.
Pros
Vegan
Long-wearing
Paraben-free
Hypoallergenic
Water-resistant
Glides on smoothly
Cons
May not be sweat-resistant
Achieve powerful antioxidant protection with this concealer that is ideal for deep medium skin with neutral undertones. This cruelty-free concealer moisturizes your skin while covering blemishes and imperfections. It is formulated with vitamins C, E, and F that protect your skin against free radicals, phytosphingosine that reduces redness and restores the natural barrier of your skin, and squalane that works as a natural antioxidant and locks in moisture. This oil-free concealer does not contain sulfate, phthalate, talc, paraben, gluten, mineral oil, and fragrance.
Pros
Vegan
Long-wearing
Lightweight
Offers full coverage
Crease-resistant
Cons
May not be suitable for extremely oily skin
Get rid of your dark circles, redness, and skin irregularities with this concealer that provides optimal coverage and improves your skin. This ultra-lightweight liquid formula glides on smoothly on your skin and blends seamlessly to deliver an undetectable spotless finish. This cruelty-free concealer is equipped with a precise practical flock applicator that makes the application super easy and helps you achieve even coverage. After applying and blending it flawlessly onto your skin, you do not require to put on a setting powder as this highly-pigmented concealer is effective on its own.
Pros
Oil-free
Waterproof
Long-lasting
Non-transfer formula
Paraben-free
Cons
If you are confused about choosing a cruelty-free concealer, take a look at the below points to clear your doubts.
How To Choose A Cruelty-free Concealer
To pick the right cruelty-free concealer, you should follow these guidelines:
The concealer should not be tested on animals at any step of production.
Check whether the brand sells its products to countries that practice animal testing.
The company should not be ordering any ingredients or materials from a third vendor who tests on animals.
Pick a concealer from brands not owned by a parent company that doesn't make cruelty-free products.
Check if the brand has third parties that might test products on animals on their behalf.
Also, keep a few additional points in mind, such as the right cruelty-free concealer could be vegan, organic, and non-toxic. And read the ingredients of these concealers carefully before purchasing one.
Why Trust Stylecraze
Chaitra Krishnan is a skilled writer and editor whose keen interest lies in reviewing makeup and fashion products. In this article, she analyzes numerous brands before listing the best cruelty-free concealers for a flawless look. She also considers factors such as ingredients and formulas before giving a detailed description of each product and listing out their benefits and drawbacks.
Frequently Asked Questions
Why choose cruelty-free cosmetics?
Choosing cruelty-free cosmetics will save innocent animals because torturing rodents and other such creatures for makeup products is immoral.
How to tell if a product is cruelty-free?
To check whether the product is cruelty-free or not, look for a certified bunny logo on the packaging. Most of the brands that make cruelty-free products will have this logo mentioned on their websites as well. That logo means the products are not tested on animals.
Recommended Articles