9 Best Cruelty-Free Eyeliners You Should Get Your Hands On (2022)
Elevate the beauty of your eyes with a smudge-free and long-lasting eye makeup look.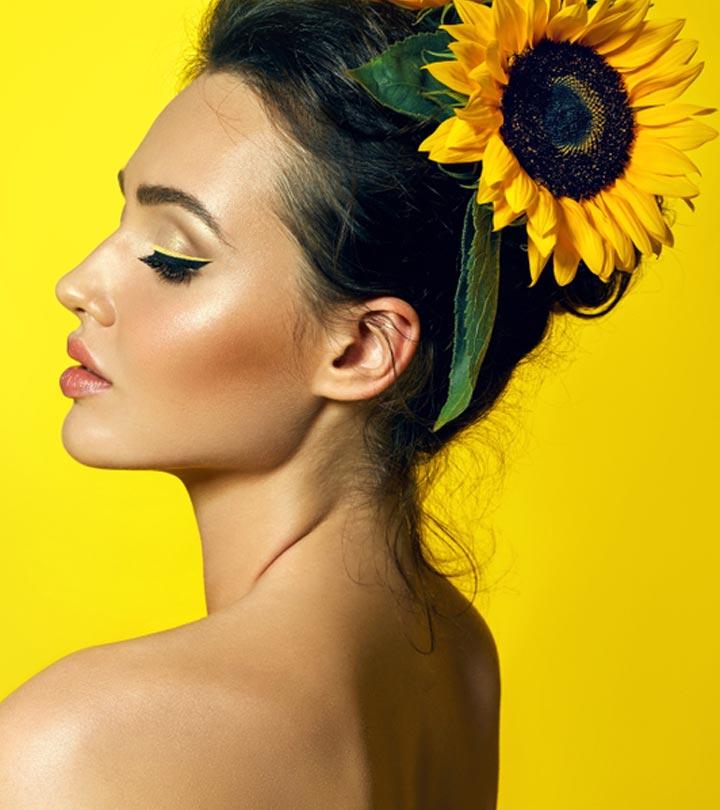 Eyeliners are an ideal way to express your eyes. And, if you are an advocate for green earth and animal safety, you can try the best cruelty-free eyeliner to help you achieve smoky eyes, cat's eye flick, and winged lines smoothly. Although many brands claim they are not animal tested or cruelty-free, they may still have beeswax, carmine, and stearic acid in their ingredients list. So, check for a stamp from PETA or Leaping Bunny before you make a purchase.
The eyeliners in our list are smudge-free, long-lasting, and hypoallergenic. They are available in the form of gel eyeliners, liquid eyeliners, and pencil eyeliners that are easy to use. Furthermore, the cruelty-free eyeliners are formulated with plant-derived ingredients and contain no harmful chemicals that irritate your eyes. This article is a list of the 9 best cruelty-free eyeliners that make your eyes appealing.
Top 9 Best Cruelty-Free Eyeliners Of 2022
Suppose you struggle to perfect the winged look or any eyeliner style for that matter. Ideal for beginners and professionals alike, Honest Beauty Liquid Eyeliner comes with a long and flexible tip that can make application easy to practice and master. You can create thick or thin, bold or mellow precision lines with the fantastic tip of this vegan liquid eyeliner. It is packed with all the properties that anyone would look for in a perfect eyeliner — no flaking, no smudging, long-lasting, hypoallergenic, and ophthalmologist-tested. None of the nasty ingredients like parabens, silicones, petrochemicals, or carbon black make it to this product, which rightfully earns the brand its name — Honest Beauty Eyeliner.
Pros
Long-lasting
Does not smudge or flake
Satin finish
8-hour wear
Easy to wash off
Quick-drying
Ultra-pigmented
Suitable for sensitive skin
Cons
It may be difficult to apply if you have greasy or excessively oily skin.
Price at the time of publication: $12.99
Zuzu Luxe all-natural cruelty-free liquid eyeliner is a quick-drying formula enriched with the goodness of jojoba oil for better hydration. In addition to jojoba oil, it is packed with ingredients like aloe barbadensis leaf juice that make it soothing without compromising its creamy consistency. This eyeliner is popular for being a clean product sans parabens, gluten, and GMO, making it one of the best organic alternatives. The calligraphy tip aids in a smooth application and all you need is a few seconds for the eyeliner to dry so that you can move on to your lipstick and blush without wasting precious time. Click here to check out a detailed personal review of this product.
Pros
Skin-loving natural ingredients
Budge-free brush
Non-flaky
Available in many shades
Cons
It is water-resistant, not waterproof.
Price at the time of publication: $15.6
This eyeliner is a gel-based crayon eyeliner with a creamy texture for smooth application. If you find it hard to work with an eyeliner brush, this is the best kohl eyeliner that can replace your liquid eyeliner and make your life easier. It contains vitamin E, making it a nourishing and conditioning eyeliner. If you like to experiment with smokey-eye looks, the Beauty For Real eyeliner won't disappoint you. While it is easy to smudge the eyeliner for a smokey eye, you can also conveniently use it for well-defined strokes.
Pros
Waterproof
Long-lasting
Richly pigmented
Twist-open mechanism
It can also be used on the waterline.
Cons
It may not be smear-resistant.
Price at the time of publication: $16.0
Make your eye makeup pop with the Kokie Retractable Liquid Eyeliner. This eyeliner comes with a pointed tip and offers an intense carbon black color. The eyeliner extends to full size upon opening and collapses upon closing, making it a travel-friendly choice. It provides smooth gliding, smudge-free, and prevents clumps.
Pros
Water-proof
Long-lasting
Travel-friendly
Does not bleed
Lightweight
Suitable for all skin types
Cons
None
Price at the time of publication: $8.99
When you apply eyeliner, water-lining completes the look, and there are no two ways about it. But finding the right waterline eyeliner that's safe for the eyes and does not transfer to the lower waterline, unless you decide to fill it, can be a struggle. Vasanti Kajal Waterline Eyeliner can solve this problem. It is ophthalmologically tested, incredibly pigmented, and  stays intact for hours. You can also apply it to both the waterlines for a bold look or to define your lashes. It is paraben and gluten-free, making it suitable for sensitive eyes.
Pros
Long-lasting
Easy to apply
Dermatologist-tested
Transfer-proof
It is safe to use for contact lens wearers.
Cons
Slightly expensive
It is non-retractable (you can't slide it back in if you over twist it).
Price at the time of publication: $19.0
Milani Infinite Liquid Eyeliner is famous for its waterproof formula, among other exceptional qualities. If you're out to watch an emotional movie at the theatre, you'd still walk out of it looking fabulous, even after a good cry. Many users also call it "cry-proof", making it the ideal choice if you live in a humid place, are a swimmer, a sportsperson, or take a crowded bus to your workplace on a sultry day. This non-toxic, liquid eyeliner is quite pigmented, and it is a PETA-certified cruelty-free eyeliner. To understand the nuances of the product in detail, you can check out this review.
Pros
Fade-proof
Smear-proof
24-hour wear
The brush does not fray.
Cons
Some may find the application brush too stiff.
Price at the time of publication: $6.14
If you're a fan of pencil eyeliners, Honeybee Gardens Eyeliner is the best natural eyeliner on a budget. A truly black eyeliner may sometimes be the center of attention and overshadows the rest of the makeup. If you're hunting for a fix for this, choosing a neutral color like Belgian Chocolate can solve your problem. This shade is ideal for an elegant and subtle finish without going over the top. It is free of synthetic fragrances, phthalates, SLS, and parabens, bringing a clean and toxin-free pencil eyeliner to your makeup bag. Check out this YouTuber's review of this product.
Pros
Glides on easily
Long-lasting
Available in other shades
Works well on dry skin without pulling the lids.
Cons
As it is softer than regular eyeliner formula, one needs to be careful while sharpening it.
Price at the time of publication: $8.79
If you're strictly on the lookout for natural, waterproof eyeliners with a matte finish, the 3INA matte pen eyeliner is tailor-made for you. Many influencers vouch for 3INA products, and it's serving serious competition to many cruelty-free drugstore eyeliners. It stays intact for hours as the day progresses from morning to evening. The pen is sleek and easy to hold, helping you maneuver them better. It doesn't bleed, crease, or smudge, and the fact that it is free of harmful toxins and is a certified vegan eyeliner makes it worth a try.
Pros
Waterproof
Smudge-proof
24-hour wear
Flexible precision tip
Cons
The pen may run out of ink sooner than expected.
Product Link:
Price at the time of publication: $10.85
This organic gel eyeliner can be your eyelids' best friend as it is infused with numerous nourishing and soothing ingredients. You'll find castor oil, coconut oil, grape seed oil, and thyme extract on the list of ingredients, to name a few. You can experiment with many styles with this vegan gel eyeliner, right from a cat-eyed look to a smokey and smudged look. This is one of the clear benefits of using a gel-based eyeliner. Although it boasts of super blendable quality, it stays put once dry.
Pros
Creamy texture
Long-lasting
Blends well
Gluten-free
75% organic
Cons
It may melt when stored incorrectly during hot summer days.
Price at the time of publication: $19.0
Cruelty-free eyeliners are gentle on your eyes and the environment. However, picking the best cruelty-free eyeliner can be difficult with the various options available. With this buying guide, we will help you decide what type of eyeliner is best for you. Here are some things to consider before you buy.
What To Consider When Buying Cruelty-Free Eyeliner – Buying Guide
Decide what type of eyeliner you need. Various options are available. Liquid eyeliners are long-lasting and have various finishes; however, they may be difficult to apply. Therefore, if you're a beginner, sketch eyeliners are best suited.
Choose an eyeliner that stays on all day long. Look for an eyeliner that won't smudge or fade easily in the heat and humidity. Therefore, if you like your eyeliner to last, consider choosing a waterproof one. Moreover, waterproof eyeliner is ideal for you if you have watery eyes.
The best cruelty-free eyeliners will have a smooth glide that does not tug on your skin or be patchy to apply. If you have sensitive skin, it's best to go for a pencil or gel eyeliner with nourishing oils. It will help your eyeliner glide smoothly on the lid without tugging at the skin.
Before you buy eyeliner, it's best to determine if it's safe to use. Cosmetics with mineral pigments are usually safer because they do not contain harmful chemicals. Avoid eyeliners with talc, BHA (butylated hydroxyanisole), urea, sulfates, and phthalates.
Why Trust StyleCraze?
The author of this article, Chaitra Krishnan, is a fashion and makeup aficionado who advocated cruelty-free products and keeps studying new products in this range. Her strong knowledge of makeup trends and products help her curate this well-researched list of the best cruelty-free eyeliners for her readers. These products pamper your skin as they are plant-derived and contain no harmful chemicals.
Frequently Asked Questions
How do you know if an eyeliner is cruelty-free?
PETA is the most reliable website that can help determine if the eyeliner that you plan on purchasing is cruelty-free. All you have to do is go to their website and type the name of the brand on the search bar. If the brand shows up, the cruelty-free eyeliner is what it claims to be. You can also check the bunny logo and see if it matches PETA's official bunny logo or the leaping bunny logos on the website.
Are cruelty-free eyeliners safe to use?
As per the FDA, most brands that are completely cruelty-free use extensive scientific literature and research papers with conclusive evidence, and credible studies to narrow down safe ingredients. Human trials upon informed consent are conducted to ensure that the different types of eyeliners, including other products, are safe.
Are L'Oréal and Maybelline cruelty-free?
Many websites claim that L'Oréal and Maybelline products are cruelty-free; however, they're not. One of the easier ways to tell if a brand from any part of the world is cruelty-free is to see if they sell in Mainland China. Any product that is made or sold in Mainland China has to pass through the mandatory animal-testing procedure. L'Oréal products are sold in Mainland China, so its products are not cruelty-free. And L'Oréal is the parent company of Maybelline, which means most Maybelline products are animal-tested as well.
What's the difference between vegan eyeliners and cruelty-free eyeliners?
Both these terms are used interchangeably, which creates a lot of confusion. Vegan cosmetics contain no animal by-products but can still be animal-tested. Cruelty-free products are not tested on animals — neither the product in itself nor the individual ingredients used for preparing the product. However, they can still contain animal by-products like beeswax, honey, yogurt, etc. So, when buying a product, you have to be clear about what you want it to be; vegan, cruelty-free, or both, and look for precise specifications as per that.
Recommended Articles