13 Best Cruelty-Free Face Washes To Keep your Skin Soft & Hydrated
Gently nourish and nurture your skin without affecting the well-being of the animal kingdom.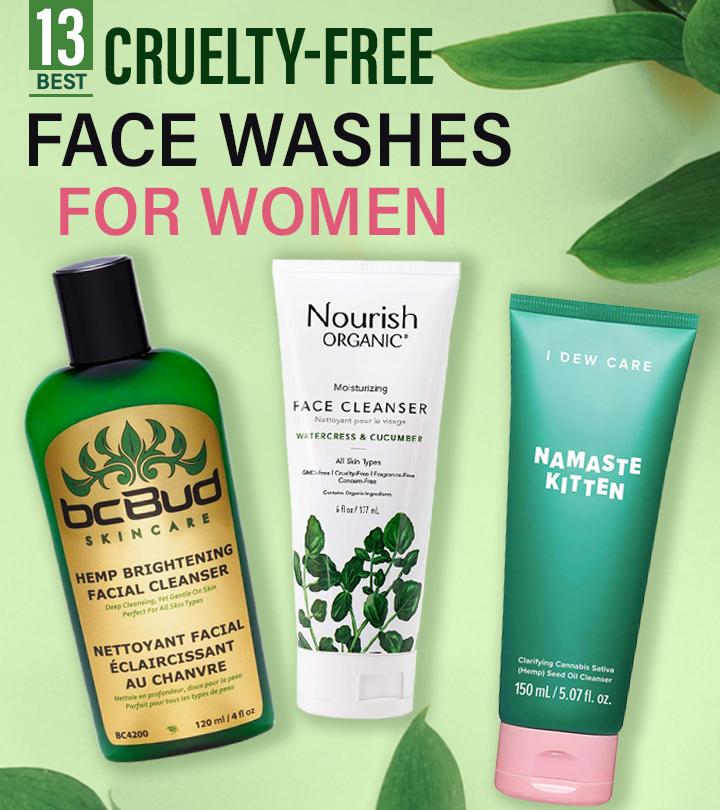 If you have decided to take the cruelty-free route, you may want to start by getting your hands on the best cruelty-free face wash! While it may seem like a small change, opting to go cruelty-free with a product you use frequently would make a significant difference to your skin as well as precious animals! To help you pick the best one, we have enlisted the 13 options for you to get started!
13 Best Recommended Cruelty-Free Face Washes For Women
The bliss Rose Gold Rescue is a gentle foaming cleanser for sensitive skin. It gently removes dirt, makeup, and excess oil from your skin without drying it out. It awakens the senses with its rose fragrance and makes you smell fresh and feel clean all day.
This non-irritating cleanser contains skin-brightening colloidal gold that fights free radicals and rose water that acts as a natural astringent to maintain the skin's natural pH and support its moisture barrier. The willow bark extract gently exfoliates the dead cells and makes your skin look fresh and radiant. This cruelty-free face wash is free of parabens, phthalates, and sulfates.
Key Ingredients: Rose flower water, Colloidal gold, Willow bark extract, and Rose gold shimmer
Pros
Pleasant fragrance
Lathers well
SLS-free
Paraben-free
Phthalate-free
Dermatologist-tested
Cons
The S.W. BASICS Cleanser is a non-foaming cleansing water designed for everyday use and all skin types. This100% natural face wash made with organic rosewater, vegetable glycerin, and organic tea tree oil. The tea tree oil cleanses and heals problematic or acne-prone skin, while the antibacterial and anti-inflammatory properties of rose water reduce redness and enhance your complexion.
Key Ingredients: Vegetable glycerin, Organic rosewater, and Organic tea tree oil
Pros
Mild fragrance
Gentle
Sulfate-free
Phthalate-free
Artificial fragrance-free
Paraben-free
Suitable for sensitive skin
Cons
The HONEST BEAUTY Clearing Cleanser clears spots and reduces the appearance of big pores. It is enriched with plant-derived ingredients like alpha hydroxy acids and wintergreen-derived salicylic acid that cleanse and refine the pores and treat and prevent breakouts, respectively. This super-effective gel-based acne cleanser also removes makeup and is free of synthetic dyes and fragrances, mineral oil, PEGs, and BHT.
Key Ingredients: Alpha Hydroxy Acids, 0.5% Wintergreen-Derived Salicylic Acid
Pros
Mineral oil-free
Synthetic fragrance-free
Dye-free
BHT-free
PEG-free
Polysorbate-free
Lightweight
Cons
The AC Collection Calming Foam Cleanser from COSRX treats acne, repairs damage, and revitalizes the skin. It contains salicylic acid that exfoliates the dead skin cells and clear the pores.
The COSRX Centella AC-Rx Complex is made of three healing ingredients – Madecassic, Asiatico side, and Asiatic acids. Madecassicacid soothes skin irritation and forms a protective barrier, asiatico side acid clears the skin, and asiatic acid strengthens the skin barrier and helps maintain its balance. This cruelty-free face wash is suitable for oily and acne-prone skin types.
Key Ingredients: Salicylic acid and Centell AC-Rx Complex 
Pros
Dermatologically tested
Hypoallergenic
Paraben-free
Cons
The bc BudHemp Brightening Facial Cleanser's natural formula has a creamy texture with a mild foaming action that gently cleanses away skin impurities without drying out your skin. It contains hemp oil that moisturizes and softens the skin, soothes it, and protects it against environmental damages. This cruelty-free face wash soothes, tightens, and brightens the skin with a blend of aloe vera, chamomile, cucumber, and Japanese green tea extract. The natural healing properties also prevent skin irritation, redness, and breakouts.
Key Ingredients: Hemp oil, Aloe vera, Chamomile, Cucumber, and Japanese green tea extract 
Pros
Paraben-free
SLS-free
Alcohol-free
No harsh chemicals
Non-greasy
Pleasant fragrance
Cons
The natural outcome Oily Skin Cleanser remove sun wanted pore-clogging oils, cleans dirt, and prevents acne. It also clarifies blackheads and impurities to clear your complexion. The antioxidant-rich tropical citrus combination of grapefruit, orange, and lime works as a natural antiseptic to exfoliate impurities. These natural ingredients are loaded with vitamins C and E and AHAs to prevent aging and clarify acne.
Key Ingredients: Grapefruit, Orange, Lime, and Grapeseed 
Pros
Sulfate-free
Paraben-free
Synthetic dye-free
Pleasant fragrance
Suitable for sensitive skin 
Cons
May not keep oil away for long.
The Nourish ORGANIC Moisturizing Face Cleanser gently cleanses your skin without drying or irritating it. It deeply penetrates the skin and dissolves dirt, oil, and makeup. It also minimizes the pores to makes your skin feel refreshingly clean and radiant. This cruelty-free face wash contains aloe vera, cucumber, and watercress extract that soothe, hydrate, and soften your skin. It is rich in organic plant oils and active superfoods that help detoxify, hydrate, and protect the skin.
Key Ingredients: Water cress extract, Aloe vera, and Cucumber
Pros
Paraben-free
Silicone-free
Phthalate-free
Sulfate-free
Mineral oil-free
GMO-free
Fragrance-free
PEG-free
Lightweight
Cons
The Ursa Major Fantastic Face Wash has a built-in AHA exfoliating complex. It does not strip your skin of moisture or mess with its pH balance, making it ideal for normal, combination, oily, and acne-prone skin types. This brightening face wash is formulated with naturally-derived ingredients, such as aloe that soothes the skin, sugarcane that brightens the skin, rice seed that moisturizers the skin, and coconut-derived surfactants that gently cleanse the skin. This cruelty-free face wash has a woodsy aroma with notes of cedar, black spruce, spearmint, lemon, lime, owyhee, rosemary, vetiver, and lavender.
Key Ingredients: Aloe vera, Sugarcane, Rice seed, and Coconut-based surfactants 
Pros
Sulfate-free
Paraben-free
Artificial dye-free
Fragrance-free
Pleasant fragrance
Mild
Cons
The poppy austin Vitamin C Cleanser is packed with skin-loving antioxidants perfect for an anti-aging regimen. This cleanser brightens, refines, firms, and deep cleanses the pores without causing dryness or buildup. The fresh botanical extracts cleanse oily and acne-prone skin. The vitamin-rich emollients of aloe, rosehip, and tea tree moisturize even the driest and most sensitive areas of your face. This product is perfect for women and men of all ages.
Key Ingredients: Organic aloevera, Rosehip, Tea tree oil 
Pros
Paraben-free
Sulfate-free
Artificial color-free
Fragrance-free
Vegan
Cons
The I DEW CARE Namaste Kitten Cleanser removes base makeup and helps clarify blemish-prone skin without stripping it of its natural oils. This cruelty-free face wash contains cannabis sativa (hemp) seed oil and heartleaf extract. The hemp seed oil nourishes the skin, thanks to its fatty acids and antioxidant-rich properties, while heartleaf extract clarifies and calms irritated skin. The maritime pine bark hydrates the skin and enhances its appearance.
Key Ingredients: Cannabis sativa (hemp) seed oil and Heartleaf extract 
Pros
Vegan
Gluten-free
Paraben-free
Sulfate-free
Lathers well
Suitable for all skin types 
Cons
The boscia Purifying Cleansing Gel uses a blend of natural and nourishing botanicals that deeply cleanse the skin andfight free radical damage. The botanical amino acids remove dirt, oil, and impurities without drying or stripping the skin's natural pH balance. The hydrangea leaf  minimizes pores, while the antioxidant green tea soothes the skin. This gentle and hydrating facial cleanser leaves the complexion looking healthy and refined.
Key Ingredients: (Jojoba) Leaf extract, Willowherb extract, Green tea, Botanical amino acids, and Hydrangea leaf
Pros
Gluten-free
Artificial color-free
Fragrance-free
Pleasant scent 
Cons
The Beauty Without Cruelty Facial Cleanser is a light-foaming, soap-free cleanser that removes dead surface skin cells, daily impurities, and excess oil. Select botanicals and alpha hydroxy acids (AHAs) actively clarify the skin without disturbing its natural balance. The pure, aroma therapeutic essential oils tone, condition, and calm the skin and leave it clean, clear, and refreshed.
Key Ingredients: Alpha hydroxy acids, Cucumber extract, Lavender extract, and Chamomile extract 
Pros
Paraben-free
pH-balanced
Soap-free
Synthetic fragrance-free
Suitable for sensitive skin
Vegan
Cons
The SeboCalm Facial Cleansing Soap for Sensitive Skin removes dirt and reduces blemishes without irritating the skin. This water-based, non-oily product is formulated with skin-friendly ingredients. Cornmeal and coconut offer gentle cleansing, seaweed conditions the skin and preserve its elasticity, while the concentrated chamomile extract soothes the skin.
Key Ingredients: Cornmeal, Coconut, Seaweed, and Chamomile extract 
Pros
Paraben-free
SLS-free
Alcohol-free
Dermatologically tested
Hypoallergenic
Non-comedogenic
Lathers well
Suitable for sensitive skin 
Cons
Cruelty-free products adhere to higher standards of ethical and sustainable beauty practices. Do your part in making the environment a better place! Go through the above list and find the perfect cruelty-free face wash for your skin type.
Why Trust StyleCraze?
Shiboli Chakraborti is a certified skin care coach who loves experimenting with skin care products. Her list of the best cruelty-free face washes is for those who like going guilt-free with their skin care products. She has reviewed these products carefully, spent hours researching, and checked user feedback on trusted platforms and brand websites to curate this list.
Recommended Articles