The 11 Best Cruelty-Free Makeup Brushes Of 2022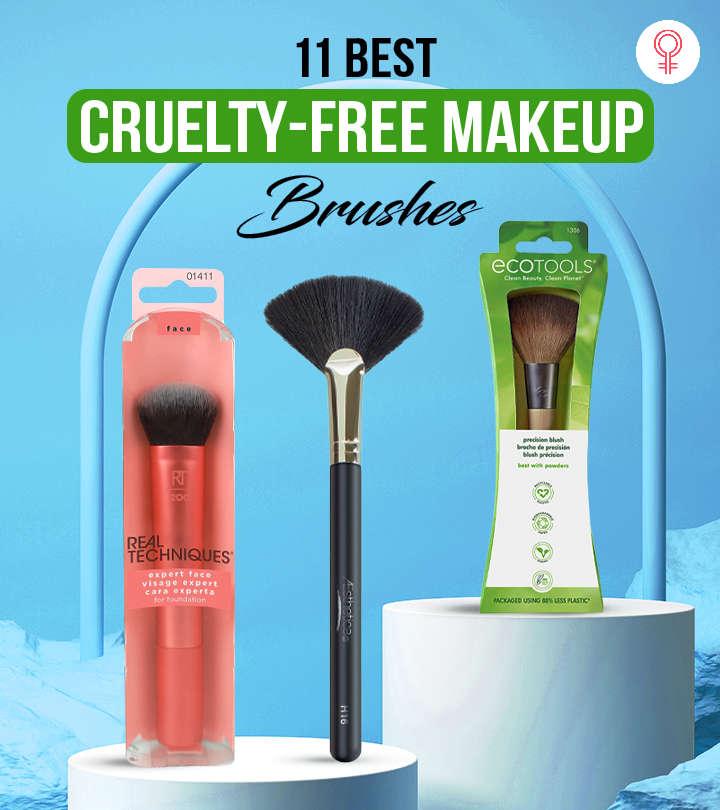 Makeup is something we all indulge in, and be it compact powder or a whole set of products; you need to make sure the product is safe for you and the environment. If you are a person who vouches for animal safety, finding a cruelty-free makeup brush is a must to start with. Earlier, the concept of cruelty-free products was vague, and hence brushes made from animal hair were popularized as the better choice to make your makeup blend perfectly. However, people have come up with synthetic alternatives as good as any other materials and give your makeup a professional finish. Go through our list and find 11 makeup brushes that you can use guilt-free!
Best Cruelty-Free Makeup Brushes
For those seeking a brush that offers precise application, a Wet n Wild Brush is a great option. The tiny cruelty-free brush has curved round bristles to give you the correct amount of product and is perfect for precise application. The bristles are fluffy and soft, and you can use them to apply loose or pressed powder, eyeshadow, eyeliner, blush, etc.
Pros
 Easy to clean
 Easy to hold
 Vegan
 Gluten-free
Cons
None
The Real Techniques Expert Face For Foundation comes with ultra-plush synthetic bristles. It helps you to apply liquid foundation or cream-based foundation in a jiffy. This brush has a plush head with dense bristles. The fluffy brush buffs out the foundation to give a seamless finish. Its firm bristles allow effortless blending. Use the brush in a circular direction with a tapping motion for effective results. It is wash-friendly and does not shed.
Pros
 Effortless blending
 Firm bristles
Cons
 The rubbery grip may wear off over time
The e.l.f. Flawless Face Brush is the best cruelty-free natural makeup brush that gives a soft natural touch to your clear skin. It has a slightly sharp tip that gives precise contouring. The brush comes with two sides, allowing you to apply powder with the flat side and the thinner side is for blush and bronzer. Dip the brush into powder and swap over the face in broad strokes for even coverage.
Pros
 Vegan
 Synthetic fibers
 Durable
 Washable
 Ergonomically designed
Cons
None
If you want a professional makeup finish, the Ecotools Precision Blush brush is the correct pick for you. This vegan makeup brush works best for powder and cream blushes with its square-cut top. Its handle and top allow you to completely control the brush to create smooth contour with a flawless finish. It is an eco-friendly makeup brush as it has been manufactured with recycled aluminum and plastic using 20% cotton and 80% bamboo fibers. Its handle is sleek, and the bristles are hand-cut, soft, and fluffy.
Pros
 Easy application
 Environment friendly
 Washable
 Sleek handle
 Soft bristles
 Sturdy
 Ideal for contouring
Cons
None
Your makeup is incomplete without the Eigshow Angled Eyeliner that creates smudge-free and sharp-lined eye makeup with its high-quality synthetic bristles. Its angled tip reaches hard-to-reach areas of your eyes, ensuring precise application. Thanks to the small head with a tapered design, you can create dramatic eye makeup, including cat-eye, dropping eyes, winged liner, and hooded eyes. The brush gives excellent attention to detail and is easy to control. In addition, this cruelty-free eye makeup brush is handmade with fine wood materials.
Pros
 Vegan
 Precise application
 Easy to use
 Suitable for both powder or gel liner
 Easy to clean
Cons
IT Cosmetics Heavenly Luxe Flat Top Bluffing Foundation Brush has densely packed bristles that blend liquid or powder foundation evenly on the skin. Its precision-cut head and ultra-plush synthetic hair give an airbrushed finish by covering pores, lines, and wrinkles. This foundation brush contains over 88,000 high-quality strands, which blur all imperfections. In addition, its soft-touch handle provides a controlled hold and ensures flawless makeup.
Pros
 Suitable for liquid and powder foundation
 Flat top
 Easy to clean
 Dense bristles
 Durable
 Value for money
Cons
If you are looking for a brush that conceals the smallest area of your face, then this premium Energy Concealer Brush is the right choice for you. It has dense bristles with a flat top that gives complete coverage. Its small head is perfect for hard-to-reach face areas like eyes and nose. Its soft and silky bristles glide effortlessly on the sensitive under-eye region. In addition, its exquisite small size fits in any hand easily so that you can roll it over the face smoothly. Besides, these products go well for defining brows, applying eye primer, eyeshadow, glitter, etc.
Pros
 Soft bristles
 Durable
 Lightweight
 Wooden handle
 Dense bristles
 Vegan
 Easy to clean
Cons
The Milani All Over Blending brush is a must-have in your makeup vanity. It is made of high-quality synthetic bristles, which ensures a flawless blending. Its round tip smoothly buffs your face and provides an excellent flawless base every single time. The unique and high-quality bristles of the brush allow you to apply blush, highlighter, and illuminating powder. Its handle is long, sleek, and durable, which gives you a good grip during makeup application. This brush is ideal for blending, and highlighting.
Pros
 Ideal for powder makeup
 Easy to clean
 Gentle
Cons
 Not for liquid products
 Expensive
The Matto Makeup Brush Set is affordable and comes with ten brushes for different makeup needs. Its bristles are made of high-quality material, which gives an airbrushed look. The collection includes powder brush for broad coverage, blush brush for highlighting cheekbone, forehead, and jaw, flat kabuki brush provides an excellent foundation coverage. In addition, the set includes an eyeshadow brush, angled eyeshadow brush, blending brush, eyeliner brush, and concealer brush.
Pros
 Good for mineral makeup
 Super smooth
 No shedding
Cons
 Not all are plush bristles
This Sigma High Cheek Bone Highlighter F03 makeup brush helps to highlight your features like nose, chin, and cheekbones. It is the first love of professionals and renowned influencers because of its multi-functional features. Its top is small and firm with a fluffy head that gives you natural coverage leaving a perfect finish. Additionally, its extra soft and high-quality Sigmax fibers add more value to the product. Its durable handle is made of polymer for lifelong functionality.
Pros
 Does not absorb product
 Quick blending
 Easy hold
 Patented ferrules
 Vegan
 Hypoallergenic
 Durable handle
 Easy to clean
Cons
None
The Aesthetica Deluxe Fan Brush has a fan-like head that makes it unique and capable of subtle coverage. Its loosely packed bristles clean off excess product easily and work amazingly for powder contouring. The brush is manufactured with reinforced steel rods that do not slip off your hand and give good control while applying makeup. This brush is ideal for building and blending makeup directly on your face.
Pros
 Seamless application
 Easy gliding
 Maximum control
 Vegan
 Lightweight
 Durable
 Easy to wash
Cons
Buying good makeup brushes is an essential beauty investment. So, you need to keep few points in mind before making that purchase. So here is everything to take care of.
How To Choose The Best Cruelty-Free Makeup Brush
The type of brush you should choose depends on the products you apply. If you can, go for a complete set or select a brush that does the job of more than one brush. For example, a large and dome-shaped brush is suitable for putting bronzer without much effort. For doing eyeshadow, you require a short and curved head brush with dense bristles. Also, it must be soft so that they do not poke your eyes. The thin and angled brush is suitable for defining lines. If you are more into the thick liquid-based foundation, choose a dense, flat-top brush with densely packed bristles; otherwise, you may end up looking cakey.
A brush should not only make your application easy, but it should feel good on your skin. So first, check the sturdiness of the handle along with the softness of the bristles. Both are the driving factors of the quality and durability of the brush. To check the quality, rub it at the back of your hand to see if the bristles feel soft or scratchy. Also, while rubbing, do check if you find any strands falling out.
Recommended Articles