Refresh Your Skin Daily With The 13 Best Cruelty-free Sheet Masks Of 2023
Your skin is in for a treat if it gets hold of these beneficial skin care products.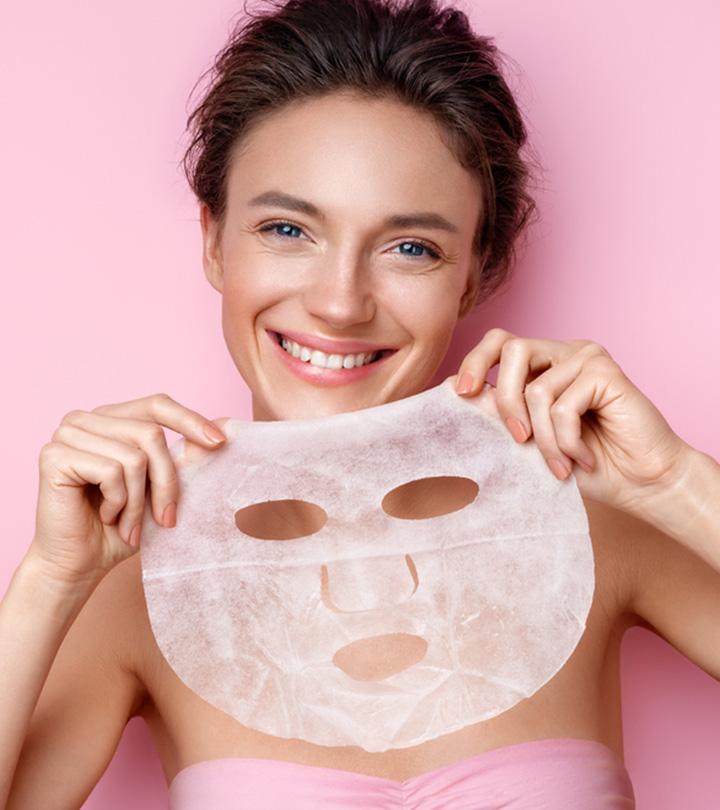 Amidst your hectic days, you need a good face mask for a quick fix to all your skin woes and to make it feel instantly reinvigorated and rejuvenated. In this article, we talk about the best cruelty-free sheet masks. You must make sure that no matter what skin care products you use, they should not be tested on animals.
The sheet masks mentioned in this article are comforting and ultra-pampering, and once you use them, you will feel only good about your skin. They are packed with nourishing ingredients that penetrate deep into the skin and offer multiple skin care benefits. If you are a fan of Korean skin care, you must be aware of the host of K-beauty sheet masks available on the market. So, are you ready to stock up your vanity with the best cruelty-free sheet masks? If yes, take a look at our curated list and order your best pick now. Keep scrolling!
Top 13 Best Cruelty-Free Sheet Masks To Re-Energize Tired Skin
Pamper your skin with all-natural juices in this set of 12 sheet masks! Regardless of your skin concerns, these sheet masks will soothe, moisturize, firm, and refresh your skin to leave a healthy glow. Like recharging your skin after a long tiring day, the sheets are cruelty-free, hypoallergenic, and free of harsh chemicals. It does not contain talc, silicone, paraben, BHT, synthetic color, sulfates, and more. They combat acne and tighten pores too! And about the 12 flavors, your skin can relish the goodness of aloe vera, shea butter, acai berry, tea tree, avocado, pomegranate, oatmeal, peppermint, Japanese rice, lemon, green tea, and tomato. To get a better understanding of the product, you can check out this video on YouTube.
Pros
Ultra-hydrating
Super adhesive
High-quality sheets
Uplifts from face after evaporating
Suitable for all skin types
Cons
Price at the time of publication: $11.99
Like your body, your skin deserves some "greens" to stay healthy and youthful! Which is why these plant-based sheet masks are ideal for intense moisturizing and hydration. Super-healthy and packed with natural ingredients such as tomato, aloe vera, purslane extracts, edelweiss, hyaluronic acid, vitamin E, and C, experience softer and smoother skin with every use. Besides this, it has ascorbic acid and chamomile extracts to reduce blemishes, acne, and redness. And it doesn't stop there; the biodegradable microfiber mask also has anti-aging benefits! It contains peptides and collagen (extracted from seaweed) to stimulate skin cell regeneration and firm skin for a youthful appearance. Non-irritating and designed to fit all face sizes, the cruelty-free masks are also cGMP-certified. Check out the review of this product for more information.
Pros
Vegan
Oil-free
Healthy skin
Alcohol-free
Hypoallergenic
Suitable for all skin types
Cons
May feel a slight tingling sensation
Not suitable for very sensitive skin
Price at the time of publication: $31.99
Let your skin radiate all day, every day! Celavi Facial Masks will quench your skin's thirst for nourishment with powerful antioxidants and botanical ingredients. With options to detoxify, calm, refresh, purify, moisturize, and more, you'd never feel the need to visit a salon anymore. Balancing your skin's moisture levels, the collagen and ginseng masks will reduce fine lines, wrinkles and improve skin's elasticity too. This mask set also has honey, cucumber, aloe vera, avocado, seaweed, and pomegranate to moisturize, rejuvenate, and enhance your skin's natural glow. Besides this, you can enjoy the benefits of charcoal, vitamin C, acai berry, and tea tree for instant refreshment after a long tiring day.
Pros
Cruelty-free
Tones skin
Improves firmness
Suitable for sensitive, dry, oily, and irritated skin
Cons
Some may find the masks small
Price at the time of publication: $11.99
Stock up your beauty arsenal for up to 3 months with this set of fruity and plant-based healthy sheet masks. A go-to for instant refreshment, your skin will never have a dull moment with these pampering sheets in your collection. And they are also sensitive-skin-friendly! Made of eco-friendly eucalyptus tree extracts, they will not cause friction on your skin. Call them the best natural sheet masks for glowing skin if you want, for they are ultra-hydrating, nourishing, firming, cooling, brightening, and will improve skin elasticity too. So, indulge and enjoy the enriching bliss of pomegranate, blueberry, vitamin C, aloe vera, charcoal, green tea, charcoal, avocado, tea tree, and green tea with this facial mask set.
Pros
Cruelty-free
Toxin-free
Paraben-free
Pore minimizer
Pigment balancing
Skin tightening
Cons
Price at the time of publication: $58.99
Fresh from the farms, these fruits and vegetable juices will boost your skin's health instantly! Staying true to its name, this cruelty-free face mask protects, soothes, nourishes, and moisturizes skin intensely in just 20 minutes! Made of eucalyptus tree extracts and cotton, the Tencel Cupra S-Pattern sheet is soft and will adhere to your skin optimally. With revitalizing, refreshing, pore-cleansing, and ultra-nourishing benefits, the facial masks contain juices of carrot, avocado, blueberry, cucumber, mango, grape, honey, orange, cranberry, fig, mangosteen, and tomato. And to make the experience more worthwhile, it is free from toxic chemicals such as talc, SLS, paraben, alcohol, and artificial color. If you want to know more about the benefits of this product, check out this quick review on YouTube.
Pros
Cruelty-free
cGMP-certified
Mild formula
Skin-purifying
Skin-plumping
Restores damaged skin
Cons
Price at the time of publication: $16.9
Dry skin can be a nightmare to deal with, which is why you need these thirst-quenchers ASAP. Quit hiding the dry lines that may quicken the onset of aging signs. Instead, hydrate your skin with these facial masks infused with a concentrated serum of hyaluronic acid and botanical ingredients such as pineapple, orange, rose, sweet almond, grapefruit, anise, and bergamot. Made of natural bamboo fibers for a silky-soft experience, these sheets also contain hydrolyzed collagen to improve skin elasticity. Pampering and refreshing your skin and mood with a pleasing scent, the sheet is also free from toxins such as phthalates, sulfates, artificial dyes, silicones, mineral oil, synthetic fragrances, parabens, and more.
Pros
Vegan
Cruelty-free
Dewy glow
Skin-hugging technology
Suitable for all skin types
Cons
Some may find the serum slightly slimy
Price at the time of publication: $14.99
Besides being from one of the quirkiest brands to make you feel good about your beauty routine, it's also incredibly pampering. Whether you have dull, dry, or tired skin, these 14 sheets will nourish, brighten, calm, hydrate, firm, and tighten pores with care and comfort. What are the key ingredients? Mugwort leaf, citrus lime, tea tree, lotus flower, olive, and acai berry. Leaving your skin moisturized and dewy fresh, the facial masks are made of eucalyptus fibers and are safe for the skin. They are also free from toxins such as parabens, sulfates, coal tar, triclosan, oxybenzone, phthalates, formaldehyde, and more.
Pros
Vegan
Cruelty-free
Intensive skincare
Biodegradable sheets
Suitable for dry, normal, and combination skin
Cons
Not suitable for acne-prone skin
Price at the time of publication: $25
Too many late nights, parties, or long weeks can be stressful for the skin unless you have this rehab-worthy facial mask in your skincare arsenal. Regardless of your skin type, it de-stresses, moisturizes, de-puffs, and hydrates skin in less than 15 minutes! A boon in disguise for workaholics and party lovers, the vegan sheet mask is infused with green tea, coconut, turmeric, and chamomile to comfort and care intensely. It also contains caffeine to instantly refresh tired and dull skin (just like coffee!). Made of 100% cotton for a skin-friendly experience, try this caffeine and coconut blend to de-stress and refresh instantly!
Pros
Cruelty-free
Paraben-free
Phthalates-free
Reduces redness
Skin-loving ingredients
Cons
It may sting slightly on applying.
Price at the time of publication: $3.99
If you haven't heard already, snail mucin is great for stimulating collagen, hydrating, and filling up skin with nutrients and minerals to look healthy and radiant. This cruelty-free face sheet mask packs an anti-aging and deep moisturizing experience for you. The infused formula contains snail mucin (10,000 ppm), marine collagen, and vitamin E to repair damaged, dry, and flaky skin. Besides this, it also contains moisturizing ingredients such as ceramides, hyaluronic acid, vitamin C, allantoin, aloe vera, chamomile, and pomegranate. And that's not all; it nourishes intensely with anise, Japanese pepper, Gotu kola, lichen, and Korean pasque flower too. Made of 100% natural eucalyptus and bamboo extracts, the mask is free from toxins such as parabens, dyes, artificial fragrances, and phenoxyethanol.
Pros
Vegan
Unscented
Lightweight
Oil-free
Alcohol-free
Maximum absorption
Cons
Slightly sticky
May leave a film on the skin
Price at the time of publication: $52
If you have sensitive, super sensitive skin or sun-damaged skin, these facial sheet masks might suit your liking. They are free from the 8 most toxic ingredients such as parabens, mineral oil, alcohol, artificial pigment, benzophenone, synthetic fragrances, phenoxyethanol, and triethanolamine. Infused with natural juices of aloe vera, honey, pomegranate, and green tea, it moisturizes, soothes, nourishes, rejuvenates, and smoothes skin for a natural glow.  It also contains collagen to repair damaged skin and combat fine lines and wrinkles.
Pros
Less sticky
Ultra-hydrating
Cruelty-free
Improves elasticity
Long-lasting moisture
100% cotton sheet masks
Cons
Some may find the mask small
Price at the time of publication: $8.99
These super cute sheet masks will bring out the child in you, not kidding! A great option for gifting teen girls, or if you want to add a quirky twist to your slumber parties, these adorable animal-printed facial masks are ultra-pampering too. And every animal offers a unique skin-loving benefit such as hydrating, moisturizing, firming, and nourishing. Also, don't blame us if you can't help but giggle out loud every time you use them. De-stressing your skin and your mood instantly, these facial sheet masks are infused with essential oils, grapefruit extracts, and honeysuckle for intense nourishment.
Pros
Pore-refining
Skin-purifying
Instant refreshing
Silky-soft sheets
Cruelty-free
Cons
Price at the time of publication: $35.88
Are you still looking for the right mask for your sensitive skin? Try To Do List's Honey Glow Masks, especially if you have psoriasis or redness-prone skin. Gentle, soothing, and ultra-calming, this 30-in-1 mask set will be a savior on tired and dull days. The key ingredients include honey for recharging, softening, and replenishing, hyaluronic acid for intense hydration, and propolis to cleanse clogged pores. A lush blend offering a therapeutic detox with every use, the cruelty-free brand also claims naturally glowing and radiant skin in 30 days.
Pros
Paraben-free
Sulfate-free
Alcohol-free
Fragrance-free
Eco-friendly packaging
Cons
May leave a film on the skin
Price at the time of publication: $88
Be it age spots, dark spots, acne marks, or sun damage, watch them reduce with these ultra-soothing sheet masks! Drenched in vitamin C, sodium hyaluronate, hyaluronic acid, rosehip extract, panthenol, and arbutin, it targets and reduces spots, redness, and fine lines too. A fantastic choice if your skin needs a hydration boost, this sheet mask moisturizes intensely, cures dryness, and evens skin tone. It also contains milk essence, peptides, and active yeast to give your skin a plump, fresh, and glossy look. Pregnancy-safe and suitable for sensitive skin, the cruelty-free brand is also dermatologist-recommended.
Pros
Travel-friendly
Paraben-free
Pore-refining
Skin-repairing
No-rinse sheet masks
Suitable for all skin types
Cons
Price at the time of publication: $16.99
No more guilt trips every time you pamper your skin! Stock up your skincare arsenal with one of these 13 best cruelty-free sheet masks for you. And if you are not sure about how to pick the right one, we have some tips for you in our buying guide below.
How To Choose The Best Cruelty-Free Sheet Mask For Your Skin?
Look out for the following features in the sheet mask before buying:
Inspect ingredients and if they are suitable for your skin type. Choose a gentle and dermatologist-tested brand if you have sensitive skin to prevent redness and itchiness. If you have oily or dry skin, choose a sheet mask with hyaluronic acid, aloe vera, and other plant-based ingredients for hydrating and nourishing benefits. For oily, acne-prone, and combination skin, oil-free and alcohol-free masks are ideal.
Unless you want the mask to end up above your chin or below your forehead, you must figure out if the sheet mask is the suitable size for you. Check the comments or read reviews before buying to avoid inconvenience.
Pick a brand that is not only cruelty-free but also free from harsh chemicals. The formula should not have toxins such as parabens, sulfates, phthalates, mineral oils, alcohol, SLS, and more that can trigger redness or other skin conditions.
Regardless of your skin type and condition, choose a sheet mask made of skin-friendly and safe material. Ideally, sheets made of cotton or eucalyptus extracts are eco-friendly and skin-friendly and will not cause friction on your skin.
Why Trust StyleCraze?
Vaishnavi Kothuri is a product writer who is keenly interested in skincare and loves writing about and reviewing different skincare products. After researching the highest-rated products on several websites, she compiled this list of the finest cruelty-free sheet masks. She has also included each product's specifications, a shopping guide, and answers to some queries to assist you in selecting the ideal product for you.
Frequently Asked Questions
Do sheet masks really work?
Absolutely! Sheet masks are incredibly nourishing and will refresh your skin instantly. Some sheet masks also have anti-aging benefits and will reduce dark spots and age spots too.
Are sheet masks bad for your skin?
An unsuitable sheet mask may cause irritation and redness, which is why it is necessary to choose a sheet mask that is suitable for your skin for maximum benefits.
Can I reuse a sheet mask?
Ideally, you must avoid reusing a sheet mask. The reason being, it is unhygienic and will reintroduce the dirt and bacteria onto your skin again.
Are sheet masks environmentally friendly?
Yes, there are sheet masks on the market that are environmentally friendly too. If you are looking for some, U-NEED Facial Masks and To Do List Honey Glow Masks are eco-friendly.
Recommended Articles