11 Best Cruelty-Free Tinted Moisturizers For Flawless Skin In 2023
Cover any imperfections while keeping your skin hydrated with these vegan creams.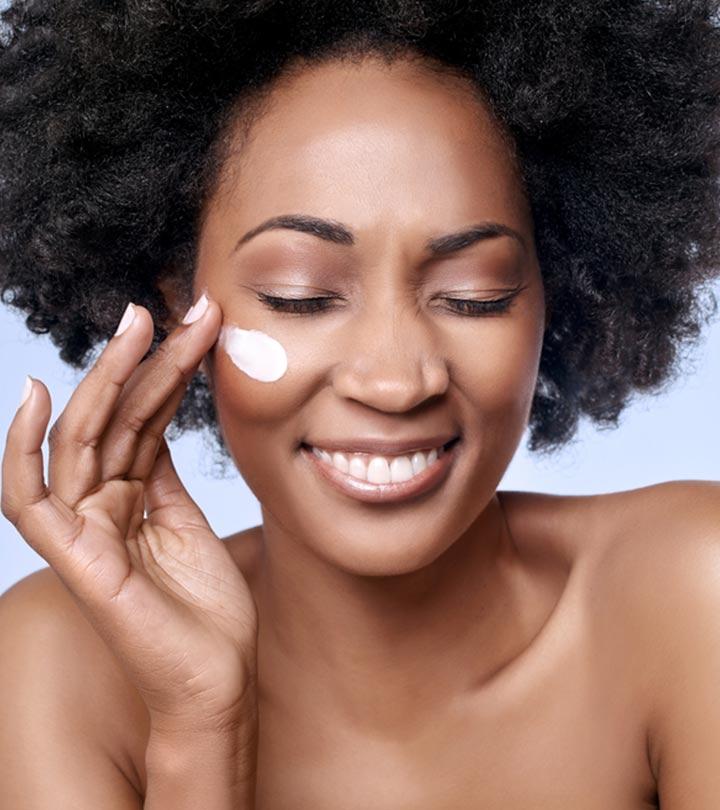 Tinted moisturizers are a new trend for flawless-looking skin, but the icing on the cake would be the ones that are cruelty-free and vegan. Yes, we are talking about cruelty-free tinted moisturizers. You do not need to purchase perfumed moisturizers with strong chemicals harmful to your skin.
These products are infused with active ingredients, such as niacinamide, vitamins, green tea, and aloe vera, that work the best on dry and rough skin and help restore the stripped moisture. They help cover any skin imperfections that you are not comfortable with flaunting. So, scroll down to check out our list of top 11 tinted moisturizers for flawless skin.
Top 11 Cruelty-Free And Vegan Tinted Moisturizers To Try In 2023
Are you looking for a BB cream that offers flawless and hydrated skin? Try this cruelty-free tinted moisturizer cream from Purlisse. Enriched with soothing ingredients like Asian herb extracts, chamomile, and sugar maple, this vegan tinted moisturizer with SPF 30 protects the skin from aging and adds a beautiful glow to dull skin. It also covers blemishes, evens out skin tone, and gives a luminous finish worth flaunting. Available in 11 different shades with natural coverage, it is free of harmful chemicals. Check this video to learn more about the product.
Pros
Vegan
Cruelty-free
Paraben-free
Hypoallergenic
Suitable for all skin types
Available in 11 different shades
Cons
Some may find the consistency of this product to be a bit too thick.
Price at the time of publication: $36.0
Are you tired of using foundations and BB creams that make your face look oily and cakey? Bella Terra Mineral cosmetics is here to offer you a solution. Their satin-touch cruelty-free BB cream glides over your skin effortlessly to eliminate any skin imperfections. The pure minerals in the moisturizer, such as zinc, mica, and magnesium, act as natural SPF to protect your skin from sagging and aging for skin that is firm, youthful, and radiant.
Pros
Sulfate-free
Cruelty-free
Alcohol-free
Paraben-free
Hypoallergenic
Non-oily formula
Suitable for mature and oily skin
Cons
It may leave behind a sticky residue.
Price at the time of publication: $49.99
This multi-purpose cruelty-free SPF moisturizer will stun you with its incredible benefits. Dry skin, acne scars, or fine lines — whatever may be the problem, this cream has the solution for it all. The antioxidants and resveratrol in this cream efficiently protect the skin from sun damage while offering sheer coverage for photoshopped skin. Its lightweight formula enriched with willow bark extracts, pomegranate, and zinc oxide hydrates the skin, calms irritation, alleviates redness, and fights skin aging signs. Trust this cream to balance your skin tone while lending your skin a dewy, healthy-looking glow. Take a look at this video to get more information on the product.
Pros
Vegan
Cruelty-free
Paraben-free
Fragrance-free
Offers SPF 30
Non-greasy formula
Suitable for oily and combination skin
Cons
May not be best suited for acne-prone skin
Price at the time of publication: $11.0
This smooth-blending vegan tinted moisturizer works like a charm on all skin types. Almond oil, sunflower seed oil, shea butter, and jojoba seed oil in this cream protects your skin from the sun's harmful UV rays while restoring lost moisture and hydration. The lightweight formula glides smoothly over the skin and minimizes appearance of fine lines and pores. It doesn't matter what your skin tone is, with this non-nano zinc oxide moisture available in 7 different shades, we are sure there is a fit for every skin tone and type. This video offers a more detailed explanation of the product.
Pros
Oil-free
Talc-free
Cruelty-free
100% vegan
Offers sheer coverage
Suitable for all skin types
Reduces appearance of pores
Water-resistant for up to 80 minutes
Cons
Some might find the texture to be a bit watered-down.
Price at the time of publication: $46.0
Who wouldn't love an organic moisturizer with sunscreen that is 100% safe on the skin? This fragrance-free tinted moisturizer made from natural ingredients offers nourishment and hydration all day long. Its universal tint is compatible with all skin tones and types, making this product one you cannot miss. Certified natural and safe, it contains sunflower oil, green tea, and cocoa butter to exfoliate the skin, eliminate dead cells, and restore your skin's natural glow.
Pros
Reef-safe
Unscented
Cruelty-free
Offers SPF 30+
Reusable packaging
No synthetic chemicals
Offers medium coverage
Soy, gluten, and nut-free
Cons
May not contain ingredients that are non-comedogenic
Price at the time of publication: $31.98
First Aid Beauty introduced the world to the best cruelty-free moisturizer for sensitive skin, and we cannot be more thankful. Their tinted moisturizer hydrates your skin with skin-boosting ingredients like vitamin E, hyaluronic acid, colloidal oatmeal, and micro-pearls. It effectively reduces redness, dryness, fine lines, and wrinkles on the skin. This moisturizer with SPF 30 is clinically proven to keep your skin hydrated for 12 hours and protects it from harmful sun rays. Bring home this fantastic product and give your face the luminous glow you've always wanted.
Pros
Nut-free
Unscented
Cruelty-free
Gluten-free
Sulfate-free
Alcohol-free
Paraben-free
Non-comedogenic
Idea for sensitive skin
Cons
Some may feel the texture may be a bit greasy
Price at the time of publication: $27.89
Are uneven complexion and dry skin pushing you into a world of worry? Ditch the stress and check out this fantastic product from BalmShelter. Their silky-smooth moisturizing cream offers buildable coverage and is the best moisturizer you will find in the market. Enriched with glycols, glycerine, and octinoxate, this cream efficiently prevents skin damage due to the harmful sun rays and maintains the skin moisture barrier from environmental damage. This moisturizer dramatically improves skin tone and texture for skin that is soft and supple.
Pros
Oil-free
Lightweight
Cruelty-free
No fragrance
Offers SPF 18
Suitable for all skin types
Cons
Might not deliver an intense tint
Price at the time of publication: $23.61
With thousands of people flaunting their glass skin on Instagram, who wouldn't wish for clear, flawless skin? This cruelty-free BB cream delivers the Insta-ready skin you've always desired by blurring imperfections and visibly brightening skin tone. It contains mushroom extracts and castor oil to strengthen your skin, hold moisture, and protect it from the sun's UV rays. Available in 2 shades, it is hypoallergenic and cruelty-free.
Pros
Cruelty-free
Long-lasting
Hypoallergenic
Offers SPF 30
Suitable for sensitive skin
Reduces appearance of pores
Cons
Some may feel that the color of the tint is too pigmented.
Price at the time of publication: $40.0
Don't miss out on this all-in-one primer, foundation, moisturizer, and sunscreen, which comes with multiple skin benefits! Powered with potent ingredients such as aloe leaf extract, retinol, sodium hyaluronate, and ceretin complex, it rejuvenates the skin without causing any irritation. While it leaves a soothing effect on the skin after every application and delivers a smooth and dewy finish. With the SPF 20, it also protects your skin from sunburns and damage.
Pros
BPA-free
Gluten-free
Cruelty-free
Free of parabens
Enhances skin tone
Cons
Some may find the scent of this product unsettling.
Price at the time of publication: $35.0
This oil-free, vegan tinted moisturizer offers broad-spectrum protection of SPF 20. The formula is enriched with Amazonian clay, Vitamin A, C, E, and chamomile extract that reduce the appearance of fine lines and wrinkles and blur imperfections to give you a clear, nourished complexion. The moisturizer offers light to medium buildable coverage. It retains the skin's moisture, keeping it healthy and fresh at all times.
Pros
Dermatologist-tested
Lightweight
SPF 20
Buildable formula
Cons
None
Price at the time of publication: $6899.09
Check out this paraben-free tinted moisturizer, which possesses excellent anti-aging properties! It not only facilitates a mild coverage to conceal blemishes and imperfections, but also delivers an even finish after each application. Crafted with pomegranate, white tea extracts, and antioxidants such as vitamins A and E, it repairs, renews, and nourishes your skin effectively.
Pros
Gluten-free
Cruelty-free
Locks in moisture
Non-comedogenic
No toxic chemicals
UVA/UVB protection
Cons
Might not be best suited for skin with cystic acne
Price at the time of publication: $16.99
Now that you've taken a look at our list, learn more about how to select the right one with the help of our buying guide.
How To Choose The Best Cruelty-Free Tinted Moisturizer For Your Skin
Always remember to choose a tinted moisturizer best suited to your skin type. Products containing retinol, hyaluronic acid, and salicylic acid control sebum and avoid greasiness. This works best for oily skin. For sensitive skin, go for formulas with green tea, honey, aloe, calendula, cocoa butter, and shea butter extracts. This will ensure that skin is nourished without irritating it. If you have dry or combination skin, opt for ingredients such as peptides, ceramides, and niacinamide to lock in ample moisture to the skin.
While choosing a tinted moisturizer, always look for a lightweight formula. This is to avoid a greasy, cakey, and uneven finish. Depending on your coverage preferences, you can pick a moisturizer. If you wish to conceal all your imperfections and don't mind a rich pigment, full coverage tinted moisturizers are your best bet. If you prefer a subtle glow, opt for products that offer minimal coverage. If you want to start with a low coverage and wish to add more product as you go, try moisturizers with buildable coverage.
Tinted moisturizers with SPF can be an added benefit! It protects your skin against the sun's UV rays to prevent sunburns and marks. Hence, we suggest that you opt for a moisturizer with SPF 30 to protect your skin and minimize skin cancer risk.
While the search for the best cruelty-free tinted moisturizer might be challenging, it is not impossible. They nourish and hydrate your skin and contain anti-aging components to minimize the appearance of fine lines, wrinkles, dark spots, and discoloration. While choosing such a tinted moisturizer for your skin, choose the one that is free of toxic chemicals such as sulfates, silicones, parabens, and phthalates to ensure your skin's health. Now that you know the various benefits of adding a cruelty-free tinted moisturizer to your skin care and makeup regime, nothing can stop you from picking out the right one from our list of the 11 best cruelty-free tinted moisturizers.
Why Trust StyleCraze?
Kirtana Divakar is passionate about skin care and majorly prefers choosing products that do not come at the cost of our furry friends. This list of the best cruelty-free tinted moisturizers has been put together after careful consideration of multiple reviews and user feedback. These are enriched with skin-nourishing active ingredients that keep your skin well hydrated and supple throughout the day.
Frequently Asked Questions
Are BB creams cruelty-free?
Not all BB creams are cruelty-free. Be sure to look at the ingredients list of a tinted moisturizer to verify if it is cruelty-free.
Is a tinted moisturizer the same as a foundation?
No, the quantity of pigment in tinted moisturizers is less than that of a foundation. While the former adds color to deliver an even skin tone, the latter conceals dark circles, blemishes, and spots. Generally, the coverage offered by tinted moisturizers are more subtle than that of a foundation.
Can you wear tinted moisturizer under foundation?
Yes, moisturizing your skin before makeup is a must! It helps you to apply foundation more smoothly. Wearing a tinted moisturizer before foundation also offers better and enhanced coverage.
What is the difference between a tinted moisturizer, BB cream and CC cream?
A BB cream (beauty or blemish balm) conceals blemishes, acne, and spots along with providing a boost of hydration to your skin. A CC (color correcting) cream is effective in correcting the redness, discoloration, and hyperpigmentation. A tinted moisturizer is a moisturizing formula which comes with a slight tint. It provides mild coverage to give you an even finish.
When should you use tinted moisturizer?
A tinted moisturizer is best suited for daytime use. You can also use it for casual events in the evenings and nights.
How do you remove tinted moisturizer?
Remove your tinted moisturizer using cotton balls and micellar water, makeup remover, cleansing balm and oil, or a facial cleanser.
Recommended Articles