The 10 Best Cruelty-Free And Vegan Shampoos To Buy In 2023
Make conscious choices and stand up to animal cruelty with these eco-friendly products.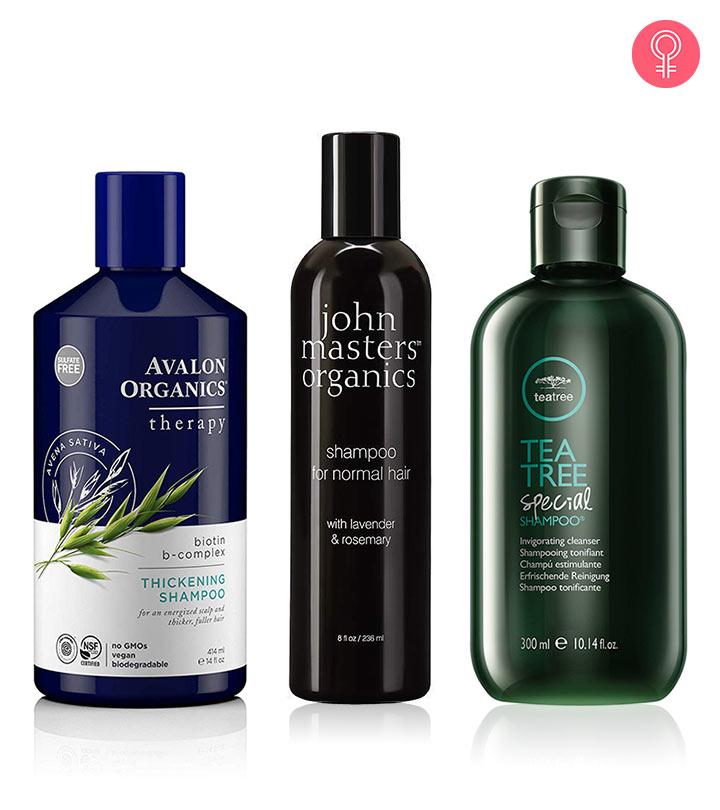 Nowadays, people are becoming more and more aware and making conscious choices regarding their skin and hair care products. People are standing up against animal cruelty and switching to vegan and cruelty-free products. If you want to start a clean hair care routine, we have rounded up the best cruelty-free vegan shampoos. Vegan shampoos are completely free from animal-derived ingredients.
Since many brands are coming up with vegan shampoos, picking one that perfectly suits your hair type and texture might be overwhelming. We have got you covered as we have found out the best cruelty-free shampoos available in the market. These shampoos will help battle dryness and support healthy and shiny hair. Keep scrolling to know more!
Top Picks
Top 10 Cruelty-Free And Vegan Shampoos Available In The Market
Pros
Organic ingredients
Promotes healthy hair growth
Suitable for all hair types
Quick results
Cons
None

Price at the time of publication: $29.58
Pros
Cleanses scalp well
Moisturizes your hair
Pleasant fragrance
Suitable for all hair types
Cons
Price at the time of publication: $13.99
Pros
Improves scalp health
Makes your hair look glossy
Paraben-free
Cons
Price at the time of publication: $14.03
Pros
Strengthens hair from the roots
Cleanses and nourishes hair gently
Contains organic ingredients
Increases hair volume
Approved by trichologists and hairstyle experts
Cons
Price at the time of publication: $9.99
Acure Mega Moisture Argan Oil & Pumpkin Shampoo contains organic argan oil, sea buckthorn oil, pumpkin seed oil, and CoQ10 that provide long-lasting moisture to your locks and soothe damaged hair. It claims to give you healthy, glossy, and manageable hair. This intense hydrating formula leaves your hair looking soft, silky, and shiny.
Pros
Great for dry and damaged hair
Safe for lightened hair
Adds luster to your locks
Cons
Not suitable for oily hair
Price at the time of publication: $12.44
Pros
Strengthens hair follicles
Adds fragrance
A little product goes a long way
Lathers well
Cons
None
Price at the time of publication: $20.0
With extracts of peppermint, tea tree, and eucalyptus, Trader Joe's Tea Tree Tingle Shampoo claims to rejuvenate dry and dull hair. It moisturizes and conditions your hair with its protein-rich ingredients. It cleanses your scalp and hair well and intensely moisturizes each strand. This shampoo is suitable for almost all hair types.
Pros
Lathers well
Contains certified organic ingredients
Rejuvenates your hair
Suitable for dry scalp
Cons
Price at the time of publication: $13.25
Pros
No harmful chemicals
Great for sensitive scalp
Suitable for all hair types
Cons
None
Price at the time of publication: $22.97
Pros
Natural and bio-degradable
Sulfate-free formula
Created and approved by chemists
Makes your hair stronger and healthier
Eliminates frizz and static
Protects your scalp
Hydrates your hair
Cons
Price at the time of publication: $29.95
Pros
Locks in moisture
Balances oil production
Rosemary oil purifies your hair and adds luster
Lathers well
Cons
Price at the time of publication: $19.0
There are a lot of reasons to switch to cruelty-free and vegan shampoos. For one, they are better for the environment and do not harm our furry friends. When it comes to finding the best cruelty-free and vegan shampoos, there are a few things you should look for. Here are a few tips to help you find the best options.
Things To Look For In Cruelty-Free And Vegan Shampoos
Ingredients
Look for shampoos that contain moisturizing and hydrating ingredients like natural plant-based oils including coconut oil, avocado oil, jojoba oil, almond oil, and castor oil which are great for nourishing, protecting, and hydrating your hair and scalp. Plant-based surfactants are essential for removing dirt, oils, and other impurities from your hair. Look for plant-based surfactants like decyl glucoside, lauryl glucoside, and cocamidopropyl betaine.
Natural extracts like chamomile, lavender, rosemary, and aloe vera can help soothe and nourish your scalp and hair. Herbal extracts like nettle, horsetail, and rosemary can help promote healthy hair growth and prevent hair loss. Vitamins and minerals like vitamin E, biotin, and zinc can help nourish and strengthen your hair. Essential oils like lavender, rosemary, and tea tree can help balance your scalp's natural oils, stimulate hair growth, and protect your tresses against environmental damage.
Chemical-Free
Many conventional shampoos contain harsh chemicals that can cause irritation, especially for those with sensitive skin. Look for shampoos that are free of harsh chemicals such as sulfates, parabens, phthalates, and artificial fragrances.
Sulfates are surfactants that act as a cleanser in shampoo. They are known for causing scalp irritation, dryness, and stripping away natural oils. Parabens are preservatives that can disrupt the natural balance of hormones in the body. In addition, they can cause allergic reactions and skin irritation. Phthalates are plasticizers used to make fragrances last longer. They can be absorbed through the skin and disrupt hormones. Avoid artificial fragrances as they are synthetic compounds used to make shampoo smell good. They can cause skin irritation and allergies. The side effects of these irritants can include itching, burning, redness, dryness, flaking, and irritation.
Certification
Once you have confirmed that the ingredients are all vegan-friendly, take a look at the packaging to see if it bears either the Leaping Bunny or Vegan Society logo. These logos indicate that the product has been certified as being free from animal testing throughout its development and production process.
Background Checks
Of course, even if a product ticks all of these boxes, it is always worth doing some additional research on the company behind it. While some companies are fully committed to producing only cruelty-free and vegan products, others may still be engaged in animal testing elsewhere in their business. By taking the time to read up on a company's ethical policies before making a purchase, you can be sure that what you are ordering is absolutely vegan and cruelty-free.
Price
Compare prices from different stores and online retailers. Don't forget to look for any coupons or discounts that may be available. You may also want to consider buying in bulk if you plan on purchasing multiple items.
Why Trust StyleCraze?
The author, Pooja Karkala, is a hair care enthusiast who has curated this list featuring several cruelty-free and vegan shampoos. She has browsed through customer reviews online to create this list for her readers who are willing to make conscious choices regarding their skin and hair care products. These shampoos are made with organic ingredients and are also suitable for every hair type.
Frequently Asked Questions
Is vegan shampoo good for your hair?
Yes, vegan hair products are enriched with natural oils and minerals that help nourish the scalp, promote hair growth, and reverse hair damage.
Does vegan shampoo mean cruelty-free?
No, not all vegan shampoos are cruelty-free. Vegan products do not contain animal byproducts but they may be tested on animals, which makes them not cruelty-free.
Is cruelty-free and vegan shampoo organic?
Not necessarily. Both cruelty-free and vegan shampoos may have synthetic ingredients or natural ingredients that have been farmed with pesticides.
Are all cruelty-free shampoos vegan?
Not all cruelty-free shampoos are vegan, as they may still contain animal products in their formulas.
Is cruelty-free, vegan shampoo good for fine blonde hair?
Yes, for example, the Avalon Organics Biotin B-Complex Thickening Shampoo is good for fine blonde hair. It promotes healthy hair growth without affecting the natural tone of blonde hair.