The 10 Best Cruelty-Free And Vegan Shampoos To Buy In 2022
Make conscious choices and stand up to animal cruelty with these eco-friendly products.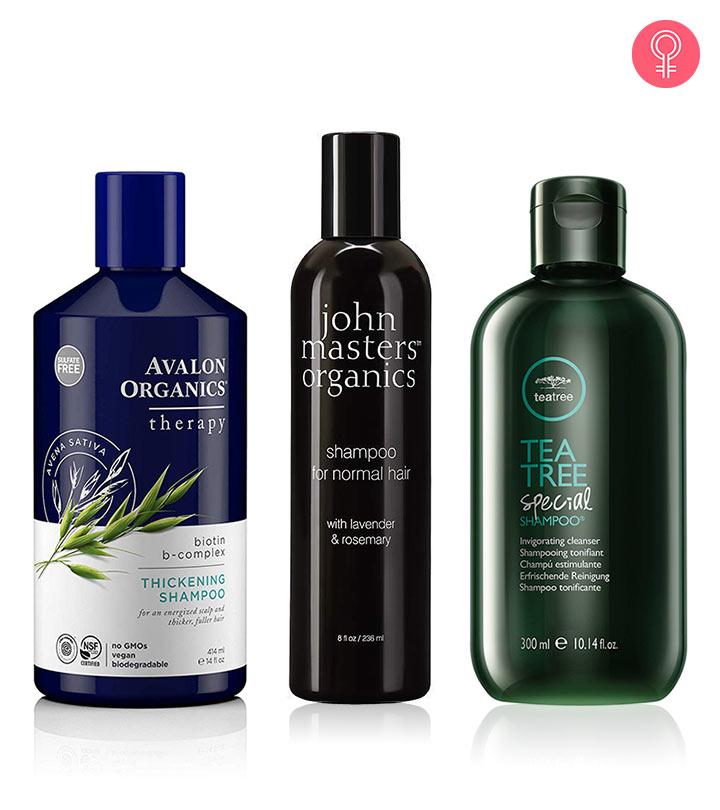 Nowadays, people are becoming more and more aware and making conscious choices regarding their skin and hair care products. People are standing up against animal cruelty and switching to vegan and cruelty-free products. If you want to start a clean hair care routine, we have rounded up the best cruelty-free vegan shampoos. Vegan shampoos are completely free from animal-derived ingredients.
Since many brands are coming up with vegan shampoos, picking one that perfectly suits your hair type and texture might be overwhelming. We have got you covered as we have found out the best cruelty-free shampoos available in the market. These shampoos will help battle dryness and support healthy and shiny hair. Keep scrolling to know more!
Top 10 Cruelty-Free And Vegan Shampoos Available In The Market
This cruelty-free shampoo contains a blend of peppermint oil, safflower oil, and tea tree oil. These ingredients increase the blood circulation in your scalp to renew and rejuvenate it. It strengthens your hair follicles and alleviates dry and flaky scalp. It also contains rosemary and eucalyptus oils that condition your hair and remove impure residues.
Pros
Organic ingredients
Promotes healthy hair growth
Suitable for all hair types
Quick results
Cons
None
This mild shampoo nourishes your hair and removes dirt and impurities from your scalp. It is enriched with natural ingredients like Jamaican castor oil and organic raw shea butter that hydrate dry and brittle hair and protect it from breakage. This protein-rich shampoo has rejuvenating properties that promote healthy hair growth.
Pros
Cleanses scalp well
Moisturizes your hair
Pleasant fragrance
Suitable for all hair types
Cons
This gentle cleanser contains tea tree oil and peppermint oil that soothe your scalp while leaving each strand refreshingly clean and healthy. It revitalizes and replenishes your hair without weighing it down. It balances the oil production on your scalp while keeping the moisture levels intact. It contains the natural essence of tea tree oil, peppermint oil, and lavender that leave your hair smelling great. This video will give you more insights into the product.
Pros
Improves scalp health
Makes your hair look glossy
Paraben-free
Cons
This shampoo has won awards for its eco-friendly and all-natural ingredients such as biotin, saw palmetto, quinoa protein, and vitamin E. These ingredients help build body in fine and thinning hair. It stimulates the scalp to promote healthy hair growth. This volumizing shampoo cleanses, nourishes, and strengthens each hair strand. To make an informed decision before buying, you can check out this video.
Pros
Strengthens hair from the roots
Cleanses and nourishes hair gently
Contains organic ingredients
Increases hair volume
Approved by trichologists and hairstyle experts
Cons
Acure Mega Moisture Argan Oil & Pumpkin Shampoo contains organic argan oil, sea buckthorn oil, pumpkin seed oil, and CoQ10 that provide long-lasting moisture to your locks and soothe damaged hair. It claims to give you healthy, glossy, and manageable hair. This intense hydrating formula leaves your hair looking soft, silky, and shiny.
Pros
Great for dry and damaged hair
Safe for lightened hair
Adds luster to your locks
Cons
Not suitable for oily hair
This shampoo gently cleanses and nourishes your hair. It contains Morikue protein, which is extracted from Brazil nuts, and wheat, making it ideal for colored hair. Besides cleansing and strengthening your locks, this shampoo also leaves your hair smelling wonderful. Click here to check out this YouTuber's unbiased review.
Pros
Strengthens hair follicles
Adds fragrance
A little product goes a long way
Lathers well
Cons
None
With extracts of peppermint, tea tree, and eucalyptus, Trader Joe's Tea Tree Tingle Shampoo claims to rejuvenate dry and dull hair. It moisturizes and conditions your hair with its protein-rich ingredients. It cleanses your scalp and hair well and intensely moisturizes each strand. This shampoo is suitable for almost all hair types.
Pros
Lathers well
Contains certified organic ingredients
Rejuvenates your hair
Suitable for dry scalp
Cons
Christina Moss Naturals Organic Shampoo washes and nourishes your hair gently without stripping away its natural oils. It is made of organic and natural ingredients that suit almost all hair types. This clarifying shampoo improves the condition of your hair and scalp. It is a great shampoo for people with a sensitive scalp. It is also environment-friendly.
Pros
No harmful chemicals
Great for sensitive scalp
Suitable for all hair types
Cons
None
Puracy Natural Daily Shampoo increases the moisture levels in your hair by imparting protein-rich ingredients to the roots. It protects your scalp, nourishes your locks, and leaves your hair feeling healthy and refreshed. It does not contain any harmful ingredients and is suitable for all hair types. This chemical-free shampoo stimulates blood circulation and promotes healthy hair growth.
Pros
Natural and bio-degradable
Sulfate-free formula
Created and approved by chemists
Makes your hair stronger and healthier
Eliminates frizz and static
Protects your scalp
Hydrates your hair
Cons
In search of a natural, sulfate-free, and aromatic shampoo? Then, John Masters Organics Shampoo for Normal Hair is the perfect product for you. It contains naturally derived surfactants that provide a pleasurable washing experience. Besides balancing the oil on your scalp and revitalizing your hair, this shampoo makes your hair look super glossy.
Pros
Locks in moisture
Balances oil production
Rosemary oil purifies your hair and adds luster
Lathers well
Cons
Why Trust StyleCraze?
The author, Pooja Karkala, is a hair care enthusiast who has curated this list featuring several cruelty-free and vegan shampoos. She has browsed through customer reviews online to create this list for her readers who are willing to make conscious choices regarding their skin and hair care products. These shampoos are made with organic ingredients and are also suitable for every hair type.
Frequently Asked Questions
Is vegan shampoo good for your hair?
Yes, vegan hair products are enriched with natural oils and minerals that help nourish the scalp, promote hair growth, and reverse hair damage.
Does vegan shampoo mean cruelty-free?
No, not all vegan shampoos are cruelty-free. Vegan products do not contain animal byproducts but they may be tested on animals, which makes them not cruelty-free.
Is cruelty-free and vegan shampoo organic?
Not necessarily. Both cruelty-free and vegan shampoos may have synthetic ingredients or natural ingredients that have been farmed with pesticides.
Are all cruelty-free shampoos vegan?
Not all cruelty-free shampoos are vegan, as they may still contain animal products in their formulas.
Is cruelty-free, vegan shampoo good for fine blonde hair?
Yes, for example, the Avalon Organics Biotin B-Complex Thickening Shampoo is good for fine blonde hair. It promotes healthy hair growth without affecting the natural tone of blonde hair.
Recommended Articles