10 Best Crystals For Anxiety That Make You Relaxed & Stress-Free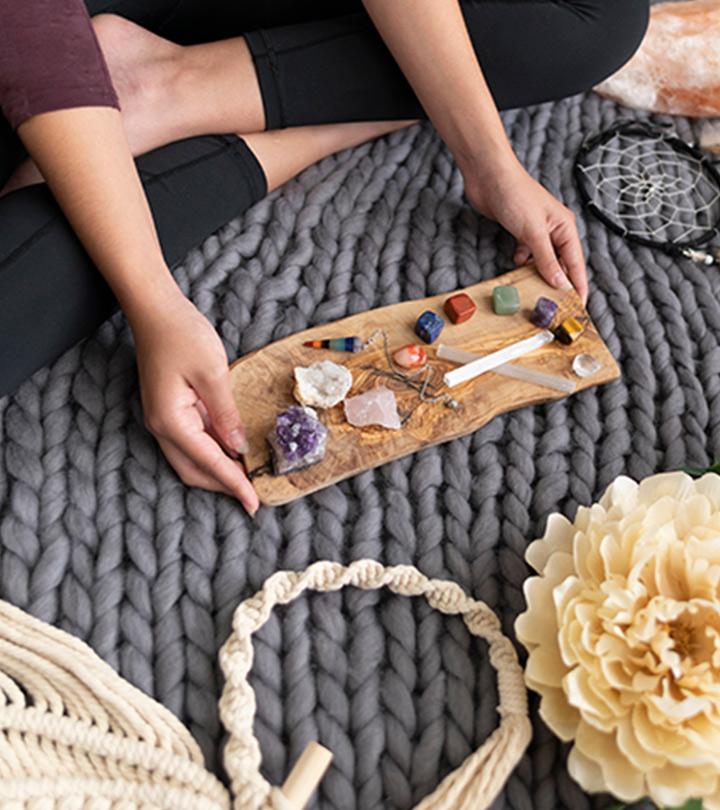 Anxiety and stress are the most common mental health concerns these days, and they hit us at the most difficult and unexpected times. They make us too feeble to cope with normal situations. This is why you need the best crystal for anxiety to make you relaxed and stress-free.
It is crucial to keep your mental health in check to live happily and experience a better quality of life. Experts suggest healing practices like grounding rituals, meditation, and listing gratitude as supplements and crystals are no different. These gemstones are packed with beneficial qualities, are aesthetically pleasing, and give you relief from anxiety and stress.
In this article, we have mentioned a list of the 10 best crystals for anxiety. Go ahead grab them and make your life more peaceful.
How Can Crystals Help Anxiety?
There isn't enough scientific research conducted to substantiate evidence that crystals can alleviate symptoms of mental health issues. However, as these stones are extracted from the earth, they are believed to have healing properties that mother nature blesses us with and millions of people swear by them. Crystals affect the energy of objects around us and they contain the energy of the elements from nature. Each crystal contains a vibration that interacts with our body chemistry to produce both physical and emotional changes. Healing crystals absorb light and work in that spectrum. When they refract, different colors known as wavelengths are seen, which are alternatively present as chakras in our bodies. Chakras are the centers of energy that create and transform its flow through the body. So, when certain crystals are exposed near us, we can find relief from the symptoms of anxiety and stress.
To help you narrow down the best crystals for anxiety, we have this carefully curated list below.
10 Best Crystals For Anxiety In 2022 For Mindful Healing
Mina Heal's set of crystals that help with anxiety is natural and offers soothing properties. As each stone is small enough to be pocketed, it makes for a great anxiety or stress reliever, no matter where you may be. The set includes a clear and rose quartz, an amethyst, a tiger's eye, a jasper, an aventurine, a black obsidian, and a lapis lazuli. Filled with potent energies, these healing stones absorb negative energies and enhance positive ones. Additionally, these crystals help with meditation, healing body aura, and promotes sound sleep. If you're new to the world of healing with powerful stones, this would be a great place to start.
Pros
Pocket-sized crystals
Absorbs negative energy
Enhances positive energy
Can be used to heal full-body aura
Can aid meditation and sleep cycles
Natural stress and anxiety relief
Crystal for sleep
Cons
Package doesn't include a description or guide
Don't you hate it when you're waiting for the results of your exams or interviews but your palms are sweaty and your heart won't stop beating frantically? For moments like these, an amethyst is the best stone for anxiety that you can use. Lucky for you, CrystalTears has designed this healing stone with a groove to accommodate the contours of your thumb. As it is tiny enough to sit in your pocket or purse, you can depend on it to release pent-up negative energy and create an atmosphere that is void of stress. So, the next time you find yourself in an anxiety-inducing situation, just run your thumb over the amethyst gemstone and remember to take a deep breath and let the healing power of crystals guide you.
Pros
Smooth and polished
Easy to clean
Pocket-sized
Absorbs stress and anxiety
Promotes healthy sleep
Cons
If you're on the lookout for stones that help with anxiety, this blue sodalite crystal comes with a thumb indentation for quick healing. It uses reflexology or nerve pressure that gives off a sense of calm when rubbed with your thumb in stressful situations. 100% natural, this pretty blue stone can be carried with you and you can use it to relax your mind during stressful situations.
Pros
100% natural
Relieves tension
Calming effect
Soothing energy
Pocket-sized
Can be used during meditation
Cons
Might not be scratch-proof
Labradorite is a natural anxiety reliever that casts an iridescent play of colors and can also be a great addition to your side table aesthetic. This palm stone is ideal for anyone that can't stop fidgeting in stressful moments as it envelops the atmosphere with a positive and healing energy. The mere act of rubbing the crystal soothes your system and clears your mind by making you feel grounded. Add the labradorite stone to your daily meditation session or stash it in your bag for some quick-access healing.
Pros
Can be used for aesthetic purposes
Ideal for fidgeters
Clears the mind
Natural gemstone
Spreads positive energy
Portable
Cons
Might not be very well polished
Whether you're big on getting in touch with your metaphysical energies or you're just a rookie — these healing stones for anxiety will serve you well. AtPerry's Bali Box makes for an excellent gift to a loved one or to help you self-soothe in trying times. This set features 8 natural crystals that team up to relax your mind and help you let go of everything that's bothering you. You will find rose quartz, amethyst, selenite, black tourmaline, tiger's eye, citrine, lapis lazuli, and smoky quartz in this bunch. All of these crystals have been found to stimulate the mind to focus on positivity and balance your system. Add them to your healing ritual before bed and trust us, they make pretty off-duty decorative pieces as well.
Pros
Set of 8 natural gemstones
Suitable for both beginner and advanced levels
Easy to clean calming crystals
Aids mental healing
Reduce stress and anxiety
Cons
Some stones are large and not ideal for carrying everywhere
This set of 4 crystals for anxiety and stress is like a button you can press any time you feel a wave of negative emotions wash over you. Including an amethyst, a rose and clear quartz, and a black obsidian, these polished stones will instantly make you feel relaxed. Ideally used for healing, you can also incorporate these crystals into your reiki, meditation, or massage therapy sessions.
Pros
Set of 4 natural crystals
Pocket-sized
Reduce stress and anxiety
Help calm the mind
Can be used for reiki, meditation, or massage therapy
Cons
Might be slippery owing to the polished finish
Rose quartz brings your focus back to yourself, so you can feel more present and grounded in your surroundings. If you've been wanting to grab some good crystals for anxiety, a rose quartz worry stone with a thumb imprint will definitely instill a sense of peace in your being. Its small size allows you to keep it close for when you get the sudden urge to fidget in stressful situations. By increasing positive vibrations around you, this natural gemstone will fill you with a sense of calm. Rose quartz also has the power to increase the love in your personal relationships, thereby improving their quality.
Pros
Easy to carry
Easy to clean
Enhances positive vibrations
Increases sense of peace
Ideal for fidgeters
Can improve quality of personal relationships
Cons
Some may find the thumb indent to be subtle
Marrywindix's crystals for emotional strength can minimize anxiety comes in a set of 4. These naturally-polished gemstones are hand-carved for a smooth oval shape with a thumb groove to help you relieve stress wherever you may be. A rose quartz tiger's eye, amethyst, and lapis lazuli are included for healing, energy refocusing, and mental balance. Keep the stones close to you to help restore mind and spirit for overall mental well-being.
Pros
Set of 4 natural stones
Hand-carved for a smooth finish
Pocket-sized
Helps relieve stress and anxiety
Helps maintain overall mental well-being
Cons
For those on the hunt for gemstones to grow their collection, this set of 12 rough crystals is a godsend. In this collection, you will find an amethyst, a rose quartz, geode, sodalite, calcite, kyanite, serpentine, blue and orange aragonites, bornite, carbide, orange calcite, and green fluorite. These crystals can be used for healing anxiety and depression by aligning your chakras and strengthening your mind. It also helps that they're quite pretty, so you can use them as decor or paperweights while obtaining positive benefits.
Pros
Set of 12 rough gemstones
Strengthen the mind
Can be used to align chakras
Can be used as decor pieces
Increases positive energy
Cons
Might be difficult for beginners as there is no guide
The aquamarine pyramid is one of the best crystals for depression and anxiety as it works to completely transform a negative mindset to a positive one. With this stone, stress is replaced by relaxation and the surrounding energy is filled with confidence and positivity. As there is a copper coil in the center, all negative energies around you are completely blocked. When used as part of your meditation rituals, the aquamarine crystal can build spiritual awareness to help the mind focus on what's truly important.
Pros
Copper coil blocks negative energy
Builds spiritual awareness
Promotes a positive atmosphere
Can be used to treat anxiety and depression
Cons
Some may find the stone to be too small
Now that we've looked at the best crystals for anxiety, let's take a look at how you can choose the best one for your needs.
How To Choose The Best Crystal For Anxiety
Crystals come in various forms and the kind you choose depends on your lifestyle or how you want to incorporate this stone into your life. Bigger and chunkier pieces of crystals are rougher around the edges and can be used in spaces such as your home, car, or workspace. They are quite eye-catching, so if you're looking to be conspicuous about your healing practices, this size might not cut it. However, as they are quite pretty, you could even use them for decorative purposes and reap both benefits.
Smaller stones can often be placed in nooks and corners or even pocketed in your jackets or purse. Some people like to wear these as jewelry by making them into DIY necklaces, rings, or earrings. Thumb stones or worry stones are crystals that feature a groove or indent in the center where you can place your thumb. This type is ideal for people that can't stop fidgeting when they're under extreme stress. As the act of massaging the stone with the thumb diverts your mind, it can help relieve some tension in your system. Thumb stones are small enough to fit in your pocket or wallet and are a great way to use crystals.
Expert crystal healers claim that a person's intuition often guides them to choose the stone that is exactly right for them. You can play around with a few stones when shopping and notice how your body and mind react to each one. Something that you know in your gut to be right and peace-inducing would be a helpful indicator. If you're looking for crystals online, read up on each and how it can help your specific worries to identify whether a gemstone will be beneficial for you or not.
Qualities of crystals that can help beginners
Some crystals have intrinsic qualities that can ease the symptoms of anxiety and help you cope better. If you're just starting out with crystal healing, keep an eye out for these gemstones below:
Amethyst is a good choice for releasing the negative energy around you by minimizing stress and an irritable nature. It helps increase inner peace levels and spiritual awareness.
Selenite is ideal for those that face sleep difficulties owing to their anxious nature. You can place it near your bed to calm your nerves and sleep better.
A tiger's eye is quite popular among those that heal with crystals for its transformative powers. Anxiety-induced-fear can be turned into courage with reduced negativity upon constant exposure to this gemstone.
Sapphire promotes mental well-being by inducing peace. It can also help you sleep better.
Rose quartz ushers in calmness by healing heartaches that can come from personal relationships. If you find any of your interpersonal relationships to be filled with tension, trauma, or pain which manifests itself as anxiety, this crystal will be beneficial.
After you've gotten your hands on crystals that can help your anxiety, let's learn about the various ways you can use them for healing purposes.
How You Can Use Crystals For Relief From Anxiety
 If you're new to healing with crystals, approach the practice with an open mind. Since these stones carry a lot of energy in them, your mind plays a vital role. Trust that the stones will be able to heal your worries and instill some calm.
As every person is different with varied lifestyles, a non-obtrusive way of using crystals is to subtly incorporate them into your everyday life. There is no need to set aside a time or place for them in such a way that you're constantly stressing about them instead!
If you're a fidgeter and fancy a small stone, worry or thumb stones will be ideal for you. You can just keep them in your pocket or purse and whip them out in a stressful situation. You could even keep one on your work desk next to the computer.
As it is recommended to keep the crystals on or around your person as much as possible, an easy way to do this is to wear them in the form of necklaces, bracelets, or even earrings.
It's easier to use a stone at the comfort of your own home, so you can keep it at your bedside for peaceful sleep.
Additionally, crystals can be used during your daily meditation ritual. Simply hold your gemstone of choice during your practice as it will come in contact with your skin and body and create a healing aura.
Some experts also recommend keeping a crystal in a glass of water, and later consuming it for full body healing. Alternatively, you could also invest in crystal water bottles.
If you're just a beginner to this kind of healing, just keep in mind to place the crystals at places you happen to frequent throughout the day. You could stash it near your toothbrush, in your car, or even keep one in your kitchen. The more contact you have with your gemstone, the more powerful the healing properties.
Why Trust StyleCraze?
To curate this list of the best crystals for anxiety, we have thoroughly researched numerous options that are available online. We have considered user experiences with these products as revealed in user reviews and closely looked at the make, design, and quality of the crystals before shortlisting the best. The products listed are high-quality gemstones that can help people overcome anxiety and stress.