11 Best Curl Activators To Buy Online In 2022
For some great hair days where your curls stay lively and bouncy all day long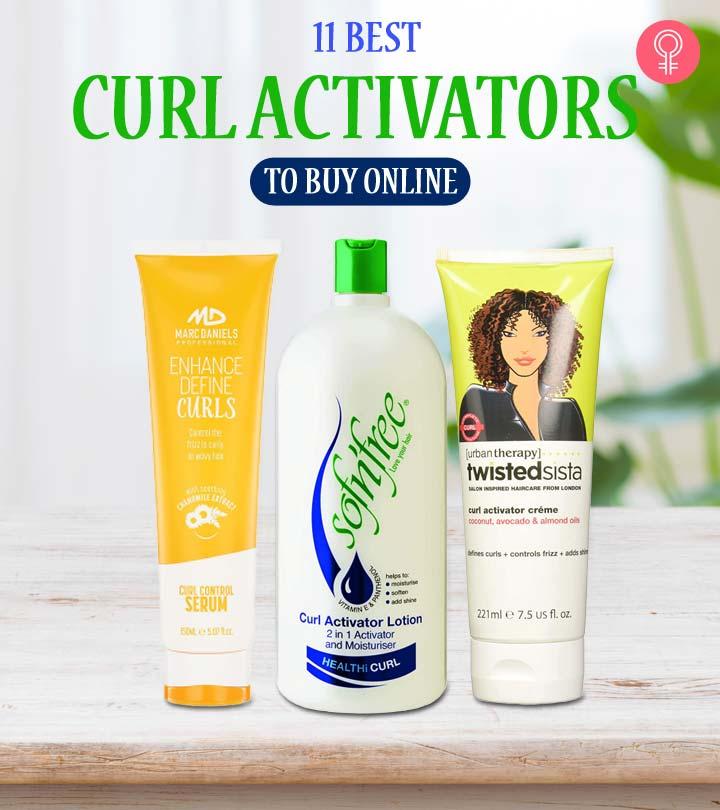 Thick curly hair can go from fab to drab in a matter of minutes, depending on various environmental stressors. That's precisely why you need to get your hands on the best curl activators available in the market. While naturally curly hair can get dry easily, a curl activator helps balance the moisture, tame the frizz, and add bounce and shine back to your curls. It also rejuvenates and revitalizes your hair making it easier to detangle and style. If you are keen to know more about them but wondering where to start, we got you covered with the 11 best curl activators shortlisted and reviewed for you to choose from.
11 Best Curl Activators To Check Out
Cantu Shea Butter Moisturizing Curl Activator Cream is the most affordable curl activator cream. It is formulated with shea butter that smoothens your hair and enhances its natural curl pattern. This curl activator cream activates frizz-free curls, increases volume, and imparts bounce to your amazing curls. It defines, moisturizes, and restores your soft and natural curls. This curl activator works to tackle dandruff and remove the excess oil on the scalp. You can also check this YouTuber's detailed review to know more about the results after using this product.
Pros
Affordable
Reduces frizz
Enhances the natural curl pattern
Increases volume
Adds definition
Moisturizesthe hair
No mineral oil
Sulfate-free
Paraben-free
Gluten-free
Cons
Smooth 'N Shine Polishing Curl Activator Gel is ideal for extra dry hair. It is enriched with aloe vera and glycerin that help define and smoothen your curls. Aloe vera helps hydrate brittle locks while conditioning and softening dry and damaged hair. The added proteins help strengthen and repair extra-dry hair. For a thorough review of the product, have a look at this YouTuber's video.
Pros
Alcohol-free
Softens the hair
Hydrates the hair
Does not flake
Cons
Sofn'Free Curl Activator Lotion is the best curl enhancer for all hair types. It is enriched with glycerin for softness and sheen, vitamin E to promote healthy hair, and panthenol to condition and restore moisture. This 2-in-1 moisturizer and activator moisturize your hair for healthier and thicker curls. This curl-enhancing cream leaves your hair soft while maintaining its natural bounce. It forms and enhances soft curls and controls frizz. This curl activator is infused with a fresh botanical fragrance. Check out this YouTuber's review of the product if you require more details.
Pros
l Moisturizes the hair
l Controls frizz
l Imparts shine
l Fresh botanical fragrance
l Easy to apply
l Easy to use
l Suitable for all hair types
Cons
SoftSheen-Carson Care Free Curl is the best curl activator for natural-looking styles and waves. This curl activator rejuvenates your curls. It locks the moisture in your strands without leaving your hair looking oily. The built-in conditioners maintain the proper moisture-oil balance necessary for soft, healthy, and moist curls. It also helps repair split ends, revitalizes lip curls, and conditions your hair. SoftSheen-Carson Care Free is formulated for protecting your hair from dryness and keeping it curly.
Pros
Repairs split ends
Maintainsmoisture balance
Conditions the hair
Enhances the natural curl pattern
Revitalizes the curls
Suitable for all types of curls
Pleasant fragrance
Cons
Lustrasilk Curl Max Curl Activator Moisturizer is the best smoothening product for normal, thick, and coarse curls. It is infused with argan oil that creates a silky soft texture and repairs split ends. This curl moisturizer nourishes and hydrates your tresses and restores their elasticity. It controls frizz, prevents flyaways, and imparts bounce to curls. It gives a natural shape, control, and definition to your curls.
Pros
Revitalize the curls
Quick penetrating formula
Controls frizz
Prevents stubborn flyaways
Moisturizesthe hair
Alcohol-free
Non-greasy
No build-up
Suitable for all types of curls
Cons
May make your hair dry and crunchy
Worlds Of Curls Curl Activator is the best split-end and damage repair hair care product for extra-dry curly hair. It prevents stubborn flyaways and frizz and adds shape, control, and definition to your curls. This curl activator works instantly and is specially formulated to moisturize and condition your hair. It also promotes hair growth. This instant curl activator stimulates and locks your hair into lustrous curls. Worlds Of Curls Curl Activator leaves your hair tangle-free, soft, and curly with a healthy sheen.
Pros
Works instantly
Non-sticky
Moisturizesthe hair
Prevents split ends
Minimizes breakage
Controls frizz
Provides curl definition
Suitable for extra-dry hair
Cons
None
Urban Therapy Twisted Sista Curl Activator Creme is a salon-inspired hair care product for complete curl hydration. It is infused with avocado, coconut, and almond oils that deliver volume, bounce, and definition to your curls. Coconut oil imparts moisture, avocado oil strengthens the curls and controls frizz, and almond oil imparts shine. This curl-defining creme is perfect for thick curls. It provides soft hold without making your hair sticky. Also, it breathes life into tired and saggy curls.
Pros
Controls frizz
Moisturizesthe hair
Strengthensthe curls
Imparts shine
Adds curl definition
Adds volume
Suitable for thick hair
Cons
Creme Of Nature With Argan Oil Curl Activator Creme is a high-quality curl activator for natural hair. The creamy formula of this curl activator defines and smoothens your curls while leaving them springy. It offers a soft and flexible hold for defined curls. This curl-defining creme controls frizz and rehydrates your hair to give you defined and bouncy curls with an exotic shine.
Pros
Reduces frizz
Good for detangling the hair
Revives dry curls
Sulfate-free
Silicone-free
No mineral oil
No petrolatum
Cons
Thick formula
Difficult to use
Luster's S-Curl "No Drip" Curl Activator is a great curl moisturizer. This coily curl activator is infused with vitamin B5 and glycerine that eliminate breakage and keep your curls soft with a healthy sheen. It is suitable for curly, wavy, and natural hair. The S-Curl Activator is formulated with the special No Drip Formula that allows you to use it without fear of residue.
Pros
Reduces frizz
Eliminates breakage
Imparts long-lasting shine
Paraben-free
No mineral oil
Cons
Joico ISO Bouncy Spray Curl Activator is a lightweight curl reactivator. This curl enhancer contains a rich blend of polymers that provide weightless curl revival. It offers a medium hold for healthy curls. This long-lasting hairspray is suitable for natural hair and textured tresses. It leaves them looking smooth and shiny.
Pros
l Lightweight
l Provides medium hold
l Imparts bouncy spiral curls
l Softens and smoothens the hair
l Cruelty-free
l Suitable for all hair types
Cons
Sticky formula
Maymake your hair crunchy
Not suitable fine, wavy hair
Marc Daniels Professional Enhance Define Curls Curl Control Serum is a great styling product for curly and wavy hair. It is infused with chamomile extract that hydrates and repairs dry, frizzy hair. It locks in moisture, leaving your curly hair soft, healthy, and manageable. The pro-vitamin B5 in it promotes scalp health and encourages hair growth. This ultra-rich curl control serum infuses moisture into your hair. It also strengthens each strand and goes deep into the hair cuticle to reduce frizz without weighing your hair down. The added UV protection agents protect your hair from UV rays and free radicals.
Pros
l Eliminatesfrizz
l Hydratesthe hair
l Restores curl definition
l Detangles the hair
l UV protection
l Vegan
l Cruelty-free
l Suitable for all hair types
Cons
None
Why Trust StyleCraze?
The author of this article, Oyendrila Kanjilal, has a keen interest in hair care. She loves to explore various hair care products and says that one should invest in the best hair care products for shiny and lustrous hair. The list of best curl activators is compiled by her after thorough research and after reading many customer reviews online. These curl activators are a great way to keep frizz dryness at bay and add a bouncy moisturized look to your tresses.