10 Best Curling Irons For Curly Hair
Add definition to your curls, tame frizz, and get the best styling experience.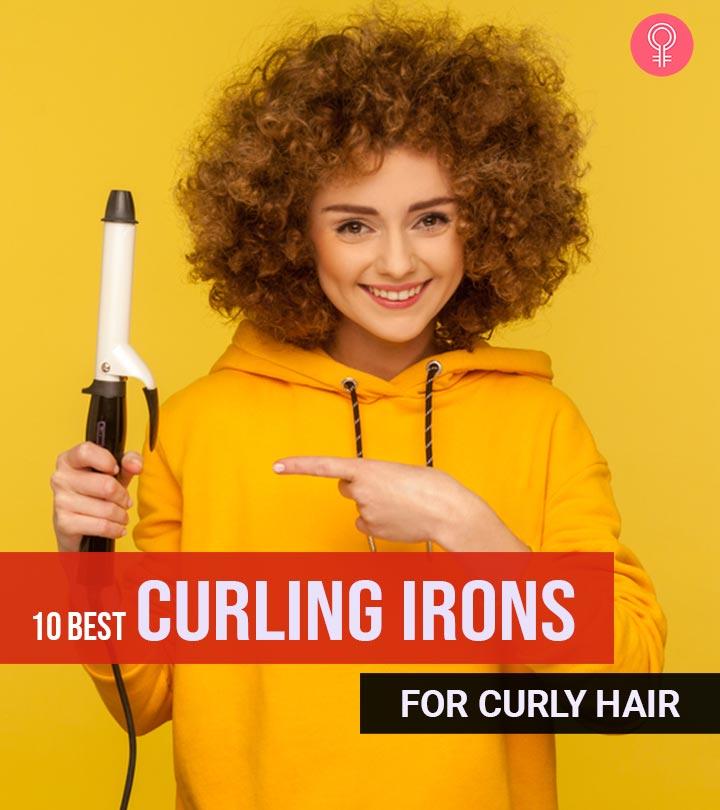 Do your curls look unruly and untamed? Maybe they need just a bit of touch-up by the best curling iron for curly hair! These irons can define the curl patterns and increase the volume of your curly hair. An excellent curling iron doesn't weigh down your hair down and makes them look crafted and stylish instead. A curling iron also saves your time as they are very easy to use. This article contains a list of the 10 best curling irons which you can use to groom your hair to give it a salon-finish look. Keep reading!
10 Best Curling Irons For Curly Hair
The Teflon Wand by Herstyler is a 9mm tight curling iron that gives you long-lasting and tight cascading curls. The ceramic-coated barrel prevents heat damage and releases negative ions to make the hair shiny. The ½-inch curling wand distributes heat evenly to give you tight ringlets in a few minutes. It is suitable for all hair types and heats up to 400°F. This wand is lightweight and portable and minimizes frizz to give you smooth curls.
Specifications
Dimensions: 12 x 4 x 2.2 inches
Weight: 1.1 lbs
Key Features
Negative ion technology
Dual voltage
Clip-less barrel
360° swivel cord
Heats up to 400° F
Pros
Lightweight
Portable
Tapered barrel
Cons
The xtava Curling Wand by Ctava is a professional hair curler suitable for color-treated, dry, and damaged hair. It has an oval-shaped and clipless design and comes with a heat-resistant glove and a travel case.
The 1-inch ceramic-tourmaline wand heats up quickly and reaches up to 410°F. The cool tip prevents scalding, while the ionic technology offers shiny and smooth results while minimizing damage. The 60-minute automatic shutoff feature makes it safe to use. This device has 22 temperature control settings to suit the needs of all hair types.
Specifications
Dimensions: 13.4 x 1.5 x 1.8 inches
Weight: 1.7 lbs
Key Features
60-minute auto-shutoff
LCD display
Dual voltage
Ionic technology
22 temperature settings
Clip-less wand
Pros
Money-back guarantee
2-year warranty
Includes heat-resistant gloves
Cons
The PRO MiraCurl Professional Curl Machine by BaByliss has a nano titanium curl chamber to give you smooth, glossy, and well-defined curls. It comes with three different heat settings – 450°F, 410°F, and 375°F – and is suitable for all hair types.
This product is developed with Energy-Saving Technology that automatically shuts off the curler, preventing accidental burns and saving energy. It also has a sleep mode and a motion sensor. The three-direction curl control feature allows you to move it in three directions to create uniform and free-flowing curls. This machine gives both tight and loose curls and allows precision curling control. This video takes you through this product's details.
Specifications
Dimensions: 10.5 x 3.25 x 13.6 inches
Weight: 1 lb
Key Features
4 timer settings
3-direction control – right, left, alternate
3 heat settings
MaxLife PRO brushless motor
Motion sensor
Pros
Instant heat up
Auto-shutoff
Sleep mode
Cons
The L'ange Hair Ondule Curling Wand is suitable for curly, dry, straight, and oily hair. It has a tourmaline-ceramic coated titanium barrel that reduces frizz, and the negative ion technology makes the hair shiny without causing heat damage. The 1.26-inch barrel is best for creating loose beachy waves and defining the natural curls.
The curling iron is developed with Infrared Heat Technology to seal the hair cuticle and give a frizz-free look. It heats up to 410°F quickly and ensures even heating to prevent damage. The product gives you long-lasting curls, is lightweight, has dual voltage compatibility, and a corrosion- and stain-proof barrel to repel residue. The wand handle has a rubber coating and is comfortable to hold. For a more detailed review of this product, here's a video.
Specifications
Dimensions: 13.75 x 4.5 x 2.25 inches
Weight: 0.7 lbs
Key Features
Far Infrared Technology
360° swivel cord
Dual voltage
Negative Ion Technology
Pros
100% titanium
Lightweight
Even heat distribution
Fast heating
Corrosion- and stain-resistant
Soft rubber handle
Cons
Non-adjustable temperature
The Remington C1523C Curling Iron has a 1 ½-inch ceramic plated barrel that heats in 30 seconds to give you well-defined, smooth, shiny, and lasting curls. It has 30 different heat settings and is adjustable up to 350°F. This instant curling automatically shuts off after 60 minutes to prevent any accidents. It is best for damaged and dry hair as it prevents heat damage. The iron comes with a two-year limited warranty.
Specifications
Dimensions: 13.13 x 1.88 x 2.88 inches
Weight: 0.8 lbs
Key Features
30 heat settings
30 seconds heat up
120V operation voltage
Pros
Auto-shutoff
Long swivel cord
Durable
Cons
Not suitable for thick hair
The Natalie Styx 7 in 1 Professional Curling Wand Set includes seven interchangeable curling iron barrels – four clipless barrels (0.35 – 0.98 inches), a 1-inch bubble wand, and two clipped barrels (1-1.5 inches). The clipless barrels are best for small and medium curls, while the bubble wand is for textured spiral waves, and the clipped barrels are for loose curls.
The curling iron is developed with tourmaline ceramic technology to reduce frizz and static, protect hair cuticles, and seal in moisture. The PTC heating components heat up in 30 seconds, and the heat can be adjusted between 140°F and 430°F. It has a 60-minute auto-shutoff feature, is dual voltage compatible, and comes with heat-resistant gloves, salon clips, and a travel bag for storage.
Specifications
Dimensions: 9.8 x 6 x 4.4 inches (package)
Weight: 3.1 lbs
Key Features
PTC Heating Technology
Temperature lock function
LCD screen
360° swivel cord
Dual voltage
Pros
Auto-shutoff
Adjustable temperature
Uniform heating
Cons
Buttons may get jammed
Not durable
No cool tip
Curl your hair by minimizing the frizz with the Conair Double Ceramic 1-Inch Curling Iron. It is designed with a double ceramic coating that offers even heat distribution, styles your hair quickly, and provides long-lasting curls. The device comes with a cool tip for safe and easy handling. In addition, the curling iron is equipped with 30 heat settings up to 400℉ to match different hair types and textures.
Specifications
Weight:82 lbs
Dimensions: 9 x 1.69 x 13.5 inches
Key Features
Dual voltage
Consistent heat
Different heat settings
Pros
Suitable for all hair types and textures
Auto-off feature
Long-lasting curls
Cons
None
The BlueTop Curling Iron is perfect for creating tight curls. Its rapid heating technology ensures fast and gorgeous curls within minutes. The adjustable temperature control helps you set the temperature between 176°F and 446°F. It has a cool tip to prevent scalding, and the automatic shutoff feature prevents any accidents. This product is lightweight, dual voltage compatible, and travel-friendly.
Specifications
Dimensions: 15.04 x 4.96 x 2.2 inches
Weight: 0.92 lbs
Key Features
Non-slippery design
360° swivel cord
Dual voltage
Power indicator
Rapid Heating Technology
Pros
Adjustable temperature
Lightweight
Cool tip
60 minutes auto-shutoff
Security bracket
Cons
The Digital Quad Curling Iron by Brilliance New York is a 4-in-1 clipless curling iron set. It includes four barrels of different sizes – a small 0.74 inches barrel, a medium 1-inch barrel, a large 1.2 inches barrel, and a reversed 1.25 – 1inch barrel.
It is developed with Far Infrared Technology that stimulates hair growth and prevents cuticle damage. The diamond barrel curling iron heats up fast and reaches 450°F in minutes. It is ideal for keratin-treated hair and a heat-resistant glove for a safe styling experience.
Specifications
Dimensions: 16.61 x 7 x 3.31 inches
Weight: 2.9 lbs
Key Features
LCD display
Far Infrared Technology
Pros
Interchangeable barrels
Affordable
Comes with heat-resistant gloves
Cons
Non-adjustable temperature
The Clipless Curling Iron by Brilliance New York has a ceramic and diamond-infused barrel that ensures even heat distribution for lasting curls. It is perfect for all hair types as it heats up quickly and reaches a maximum temperature of 450°F.
The curling iron uses Far Infrared Technology to stimulate hair growth and revives damaged hair. It has a 1-inch barrel that uses Ionic Technology to seal moisture and protect the curls from humidity. The iron ensures even heat distribution and is suitable for keratin-treated hair.
Specifications
Dimensions: 5 × 15.5 × 2.65 inches
Weight: 1.4 lbs
Key Features
Far Infrared Technology
Ionic Technology
Diamond-infused barrels
Pros
Fast heating
Even heat distribution
Includes heat-resistant gloves
Cons
The handle is hot to touch.
These are the best curling irons for curly hair that you can buy online. Before buying one, consider the following points.
Things To Consider Before Buying A Curling Iron
What are your hair goals? Do you want tight, loose, or big curls, or do you want to define your existing curls? Choose a product that suits your hair goals.
Not all curling irons give equal results on all hair types and textures. If you have thick and coarse hair, you will need an iron that has high heat settings. On the other hand, you will need an iron with a low heat setting for thinner and fine hair. Also, choose one that is suitable for chemically and color-treated hair.
Professional-grade curling irons will give you salon-quality results and have better features and improved settings. Budget-friendly products may not match the quality of professional-grade irons. Hence, focus on quality.
Look for the barrel coating type. It is better to use ceramic or tourmaline coated wands or barrels as they define the curls with minimal damage to your hair.
The curl size depends on the barrel size. If you want to style your hair in loose, beachy waves, a barrel size of 1-2 inches is perfect. For tighter curls, look for a barrel that has a diameter of less than an inch.
Why Trust StyleCraze?
The author of this article, Oyendrila Kanjilal, is a hair care enthusiast whose obsession lies in researching hair care tools. She has browsed through online reviews to curate the perfect list of curling irons for her readers with curly hair. Oyendrila's well-researched article ensures high-quality products, which are easy to use and will provide you with a salon-quality finish
Frequently Asked Questions
Can you use a curling iron on naturally curly hair?
Yes. Use a curling iron to enhance the look of your naturally curly hair and achieve voluminous coily tresses at home.
Is a curling wand or iron better for curly hair?
Curling irons have clamps to hold the hair tight and are effective in producing polished, voluminous, and uniform curls. On the other hand, curling wands lack a clamp and produce loose and flat curls. Curling irons are versatile, safer, and more effective.
What type of curling iron is the least damaging for curly hair?
Ceramic and titanium curling irons distribute heat evenly on the hair and are less damaging. However, titanium gets hot quickly, so use it on thick, coarse, curly hair, and if you have thin hair, opt for ceramic iron as they produce less heat.
How do I keep my curly hair curly all day?
•  Opt for a high-quality tool with adjustable heat settings and a smaller barrel size.
•  Wash your hair with a lightweight shampoo and nourishing conditioner. Apply a mousse and heat-protectant before using the heat tool.
•  Divide the hair into sections. Curl separate sections and pin them with silver clips on the top of the head. Unpin the hair after some time and achieve structured and voluminous curls.
•  Add a few spritzes of the hair spray to the curls and brush the hair. Skip-touching your hair repeatedly to retain the curls.
What product should I put in my hair before curling?
Use a mousse and heat protectant on the hair before curling it to protect the strands from heat damage.
Should I brush my curly hair after curling it?
Yes, wait for the curled hair to cool down, then comb the hair to achieve smooth, defined, and set curls. Do not brush your hair immediately after curling to prevent straightening the curls.
Recommended Articles