13 Best Curling Irons For Instant Styling In 2022
Achieve that perfectly tousled beachy waves look right at home easily.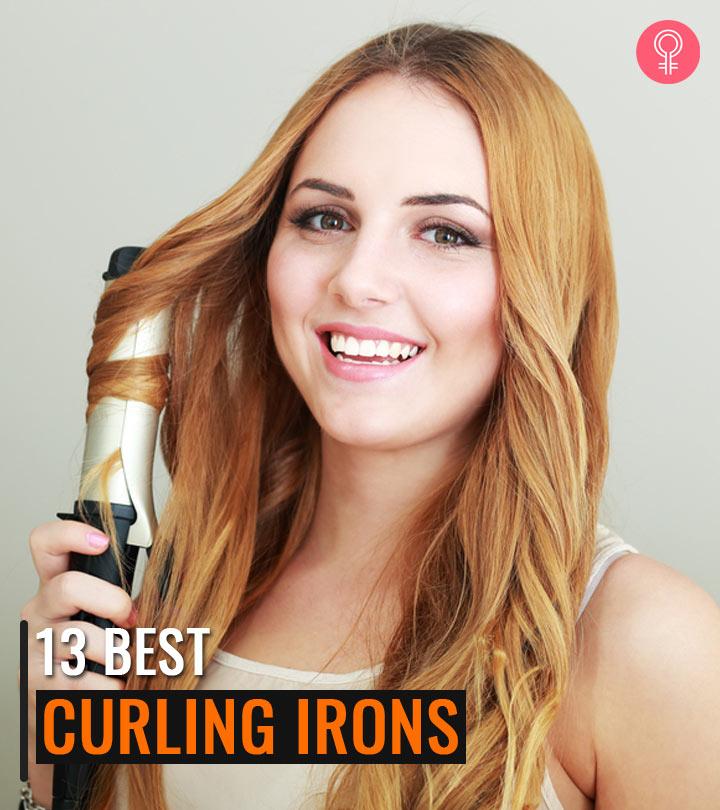 At one point or another, women with straight hair wonder how the best curling irons can enhance their look. Whether it's classic beachy waves or cascading crimps that turn heads, a good-quality curling iron helps lock up your dream style and get you party-ready at the drop of a hat. The options we've picked out for you here come highly recommended by beauty experts and stylists in terms of ease of use, portability, effectiveness, price, and a variety of other factors. Check out the top 13 curling irons with excellent reviews that are actually worth your money.
13 Best Curling Irons
The Conair InfiniPro Ceramic Curling Iron creates silky, defined curls that stay for long. The tool is made of a 1-inch coated barrel for even heat distribution. It's Tourmaline Ceramic nano-technology reduces hair frizz and dryness. It promotes a voluminous look. The curling iron has 5 heat settings that take the temperate up to 400oF for a long-lasting effect. The built-in 5 precision LED heat settings to indicate the desired temperature and eliminate hot spots to reduce heat-damage. The auto-off technology protects hair from damage. Each hair strand easily glides over the surface of the barrels without any snag. Check out this review for a detailed understanding about the product.
Pros
Temperature control system
Adds shine to hair
Even heat distribution to minimize damage
5 LED temperature settings
Protective heat shield
Auto-off system
Quick transition of temperature
Long-lasting curls
Reduces hair frizz and dryness
Cons
Tool is too long
Heat smells bad
The BaBylissPRO Nano Titanium Spring Curling Iron is made with nano titanium barrels that provide stable heat in ultra-high temperatures without damaging the hair. It uses far-infrared heat that heats hair from within the shaft. This versatile curling iron is available in different barrel sizes such as – 3/4″, 1″, 1-1/4″, & 1-1/2″ to give you your desired curls. It creates lustrous, lasting loose waves or defined curls with equal precision. This video review will help you understand more about the product.
Pros
Gives defined curls or loose waves
Available in different barrel sizes
Nano titanium barrel
Uses far-infrared heat
Protects hair from damage
Easy to use
Cons
The Hot Tools Professional Curling Iron comes with an 8 feet professional swivel cord that offers a free range of movement for variable styling. This gold barrel surface creates gorgeous curls and long-lasting, defined hairstyles. The iron'sunique pulse technology feature allows the system to maintain the heat and quickly identify heat loss and restore it to the surface. It has an extra-long 2-inch barrel size that helps create long, voluminous curls. The rotating handle allows you to wrap hair perfectly for defined curls. The curling iron heats up super-fast up to 430oF. It has ten heat settings with a rheostat control dial. The multiple heat settings enable different ways of styling. The curling iron works well on all types and textures of hair.
Pros
Styling surface distributes heat evenly
Easily glides on hair strands
Controlled heating-cooling system
Pulse technology keeps heating surface hot for long
Provides long curls
Cons
Heavy
Takes time to heat up
Not suitable for curling fine hair
Hoson ½ inch curling Professional Iron comes with a dual PTC heater that makes your curls last a day long. The ceramic glaze technology releases millions of negative ions that create soft, shiny, frizz-free hairstyles. The ceramic barrel locks the moisture and reduces the damage. The 360 degrees swivel cord helps to create the curls conveniently. It features a 60 min auto-shut-off facility and a clip holder for safe curling. The long barrels are ideal for both long and short hair.
Pros
Lightweight
Temperature control
Easy-to-use
Anti-skid handle
Cons
None
The CHI Ceramic Curling Iron utilizes the latest technology to give voluminous, healthy curls. It is made of Tourmaline Ceramic for even distribution of heat and a perfect style. It generates a high amount of negative ions and far-infrared that reduce static electricity and promote hair health. The curling iron is designed with a 1-hour auto shut-off system that makes it safer to use. Its non-stick ceramic surface glides through the hair perfectly and creates voluminous waves that last all day. It quickly heats up to 410o F and is suitable for all hair types. It comes with a 6.5 feet long rotating swivel cord that prevents pesky tangles and creates healthy, luxurious curls.
Pros
D voltage
1-hour auto shut-off system
Generates negative ions for healthy hair
Reduces frizz and static
Adds shine
Variable heat settings
Quick heat-cool set-up
Non-stick ceramic glides through hair effortlessly
Cons
None
The T3 SinglePass Professional Curling Iron uses innovative technology that maintains a consistent temperature. It smoothly glides through the hair to produce luxurious, shiny, healthy curls without too much effort. It features an internal microchip that controls temperature fluctuations and ensures even and optimal heat. It creates spirals, waves, and curls in just minutes! The curling iron is made with tourmaline and ceramic blend that emits negative ions. These seal hair cuticles and retain moisture for healthy, shiny locks. This curling iron offers lustrous curls. It ensures even heat for quick styling. It has five adjustable heat settings and can heat up to 410°F. The SmartTwist dial easily turns the tool on and off for efficient temperature regulation.
Pros
Lightweight design
Auto adjustment of temperature
Emits negative ions for healthy hair
Adjustable heat settings
Custom blend ceramic barrel for shiny results
Produces curls fast
Cons
May not produce long-lasting curls
The Revlon Salon Long-Lasting Curling Iron is built with Titanium technology that offers healthy, shiny, smooth, and voluminous curls. The 1-inch barrel size creates medium curls or beachy waves. The curling iron's fast heat-up system instantly gives you the desired results without damaging your locks. It reaches up to 425oF and is suitable for all kinds of hair texture. The easy-to-read LED digital display helps you with temperature control. The sleek, lightweight design with a professional swivel cord offers a comfortable and easy styling experience. Its dual voltage makes this curling iron suitable for travel.
Pros
Provides fast styling with less damage
Wraps hair easily around itsbarrel
Variable heat levels for different types of hair
Adjustable temperature buttons
Tangle-free swivel cord for easy styling
Auto shut-off system
Travel-friendly with auto dual voltage
A digital display system
Easy to use
Cons
None
 Get classic, covetable curls with this luxury brand curling iron. The ghd Curve Classic Curling Iron is one of the most popular choices among hairstylists. It comes with a 1.25-inch large barrel spring-activated ergonomic lever that helps you create consistent curls. The ultra-zoneTM technology monitors the temperature across the whole barrel and provides a healthy look to your locks. It also includes a professional-length cord for flexible styling and an automatic sleep mode after 30 minutes. The maximum heating temperature is 365°F, and this temperature is maintained across the world with its universal voltage feature.
Pros
Suitable for all hair types and lengths
Ultra-heat technology for even heat
Long-lasting curls
Minimizes heat damage
Protective cool tip
Automatic sleep-mode after 30-minutes of non-use
Universal voltage
Swivel cord for easy styling
Cons
The Paul Mitchell Pro Tools Express Curling Iron provides endless styling options. It has a 1-inch ceramic barrel that helps you create natural-looking curls, coils, and loose waves. It features an extra-long cool tip and an insulated thumb grip that ensures comfort and total control without causing any tangles. The gold-plated wand seals moisture prevents heat damage, and quickly heats up to 430o F. The curling iron is suitable for all hair types.
Pros
Extra-long cooling tip
Insulated thump grip
Gold-plated wands prevent moisture loss
Suitable for all hair types
Ergonomic design
Quickly heats up
Cons
None
Landot 2-in-1 Straight And Curl Flat Iron is a curler cum straightener that gives you professional hair looks. The flat iron has 10% glass fiber and 90 % PET, and the unique twisted plates give you the choice of styling your hair in different ways. The in-built ionic generator releases negative ions to give the hair a silky, smooth, and natural, lustrous look. The straightener reduces frizz, split ends, knotting, etc., adding shine to your hair. It comes with 11 temperature settings to suit different hair types and a digital LCD to show the reading.
Pros
Auto-shutoff
Temperature lock
LCD display
Rotating cord
Cons
Some hair may slip through the plates
The Tymo Wavy Rotating Curling Iron provides fast, long-lasting curls without damaging the locks. The wand is made of extra ionic coating to protect hair from split ends or heat-damage. The patented titanium barrel helps in the even distribution of heat for a gorgeous hairstyle. The nano titanium barrel is sprayed with nano particles to seal moisture and prevent hair breakage. The 7 heating modes regulate the temperature between 290o and 410o F. It is suitable for all types of hair. The universal voltage range makes this curling iron travel-friendly.
Pros
Ergonomic, non-slip grip
Anti-scald grip
Provides fast curls
Long-lasting styling
The ions repair damaged hair
Anti-stuck design
Seven different heating modes
Hascurl-inward and curl-outward switch
Cons
None
The Styleagal Professional Salon Hair Straightener Curling Iron is made of calcium carbide ceramic coating that can quickly heat up and cool down for a long-lasting hair design. It is designed with a unique twisted heating plate that can protect hair from heat damage. The temperature scanning system adjusts the heat range from 100o to 230o C. It is suitable for all hair types, textures, and lengths. The PTC rapid heating technology enables a rapid heat-cool system that gives you more control over styling. The unique LCD display enables total control of heat ranges. With the Tourmaline Ceramic Ion Technology, this 2-in-1 styling tool discharges negative ions to moisturize hair without any snagging, tugging or pulling. The curling iron has a security lock button for safety use.
Pros
2-in-1 hair styling tool
Quick adjustment of the heat-cool system
Adjustable temperature
Security lock button
Easy to carry
Unique twisting board design
Ceramic titanium glossy plate for even distribution of heat
Protects all types of hair
Cons
None
The Efflemour Infrared Ionic Curling Iron gives you long-lasting and tight curls with no damage to your locks. It is made of ceramic tourmaline that is an even conductor of heat and curls hair 40% more quickly than the regular curling irons. The PTC 2.0 heating system generates heat quickly and limits overheating to prevent hair damage due to heat. The latest negative ion and infrared double hair care technology seals moisture and nourishes the locks. It offers your hair a voluminous, healthy, and supple look. It has 6 heat settings ranging from 280°to 450°F that suits fine, normal, and thick hair. The curling iron also works for short and long hair.
Pros
Suitable for all hair types
Dual voltage coverage
Safety design
Plates heat up quickly
Anti-scalding design
360° rotatable power cord
Auto turn-off in 60 minutes
Cons
None
These are the 13 best curling irons that you can buy online. In the following section, we have discussed how you must use a curling iron.
How To Use A Curling Iron
A curling iron can be used to create different types of curls, including beach waves, tight coils, loose curls, formal curls, or bold waves. Each of these styles depends on the method of curling and the size of the iron. Here's a step-by-step procedure to curl your hair using a curling iron.
Heat the tool: Heat the curling iron to the right temperature that is the best fit for your hair type. If you have fine hair, heat the device to 320o Those with long, coarse, and thick hair can heat the iron to the maximum temperature. However, it is best to go for the lowest temperature to avoid any hair damage.
Brush hair: Brush your hair properly to release tangles or any frizziness.
Apply heat protectant spray: A heat protectant spray ensures the protection of each strand against heat damage.
Section your hair: Section your hair into two or three parts from the bottom to the crown of your head, one above your ears, and one below.
Start curling: Wrap your hair around the barrel in the inward direction. Ensure to curl in clockwise and anticlockwise directions for more natural-looking curls. Continue to curl until all the sections are covered.
Set your curls: Use a curling hairspray to set your curls. It will add shine to your locks and keeps them defined for hours.
You want to avoid certain common mistakes people make while styling their hair. Check the following section.
Common Mistakes To Avoid While Styling Your Hair
Using the wrong barrel size or the wrong type of curling iron.
Using the curling iron on high heat or letting it stay on your tresses for more time than required.
Curling your hair when it is wet.
Curling your hair randomly without sectioning it.
Curling your tresses without applying a heat protectant spray.
Wrapping your hair along with the curling iron in the wrong direction.
Pressing the ends of the curling iron too hard.
Brushing your curls immediately or scrunching them too hard.
Skipping hair spray or serum.
The following buying guide will tell you how you can choose the right curling iron.
Tips To Find The Right Curling Iron
Barrel Size: If you want short, wavy curls, select a curling iron with a 1- to 1.5-inch barrel for a tighter look. If you have long hair and want long, voluminous curls, pick a curling iron with a barrel size 2 inches or more for a more defined look. Also, remember that the barrel size is proportional to your hair length. For more information, click on A Guide To Finding The Perfect Curling Iron Size.
Barrel Material: Picking a curling iron with the right material is essential to protect your hair from heat damage. There are four common materials found in curling irons. While most curling irons are made of metal, they also come with a coating of one of the four materials.

Ceramic: It is the most common and the safest materials to use. It heats up quickly and produces consistent heat without damaging your tresses. It emits negative ions that smoothen your hair, making it appear soft and silky.
Titanium: Most professional curling irons are made of titanium. It is a perfect material to curl thick, coarse, and rough hair as it heats up faster than ceramic irons. Also, it protects your hair and helps you manage your wild tresses.
Tourmaline: Tourmaline is a gemstone/mineral that is crushed and coated onto the ceramic plate. Tourmaline also prevents the chances of your hair getting burnt or damaged and keeps your hair smooth and silky.
Gold: Gold is used to coat metal, titanium, or ceramic irons. It protects your hair from overheating and adds an excess of shine to it.

Adjustable Heat Settings: A curling iron with adjustable temperature settings works best. A lower temperature is great for fine hair, while higher temperatures are great for coarse or hard-to-curl hair.
Ideal Temperature: Most curling irons come with adjustable heat settings, and the temperature ranges from 300o to 430o Different hair types require different heat settings. Thick hair can accommodate higher temperatures, while thin and brittle hair needs a lower temperature. However, it is vital to check for the minimum and maximum temperatures that suit your hair type. This way, you can change the heat settings depending on your hair type.
Auto Shut-Off: An auto shut-off feature is important to save power and enhance the life of the tool.
Accessories: Check if your curling iron contains accessories like thermal styling gloves, an iron cleaner, and a carrying pouch.
Weight: The curling iron should be lightweight.
Why Trust StyleCraze?
The author, Oyendrila Kanjilal, loves experimenting with the latest hair styling products. According to her, salon-styled hair is an achievable dream right at the comfort of your home, with products like a good curling iron. After hours of research and reading through product reviews and user feedback on online forums, she compiled a comprehensive list of the top curling irons. The easy-to-use styling tool leaves hair evenly styled and frizz-free, without any damage or breakage caused by heat.
Frequently Asked Questions
Is curling iron good for hair?
Yes, curling irons with appropriate heat settings, safety options, and barrel designs are safe for hair styling.
Is a curling wand or a curling iron better?
Curling irons make classic, bouncy curls, while a curling wand can create various wave styles. Choose one according to the hairstyle you prefer.
What type of curling iron is the least damaging?
Ceramic curling irons are the least damaging since they evenly distribute the heat on the hair, leaving it lustrous.
How do I know what size curling iron I need?
Use barrel sizes of 1″ to 1.25″ for tight curls, 1.5″ for large, bouncy curls, and 1.25″ to 2″ for loose curls.
How often should you replace your curling iron?
Replace your curling iron after 2-3 years of frequent usage. Uzing the same curling iron for an extended period can affect hair texture, produce frizz, and cause split ends.
Is it OK to use a curling iron every day?
No, using a curling iron daily will damage your hair and make it frizzy. Daily heat exposure is not healthy for your hair.
Recommended Articles