13 Best Curling Mascaras For Brilliantly Contoured Lashes – 2023
With the finest formulation available, volumize and lengthen your lashes easily at home.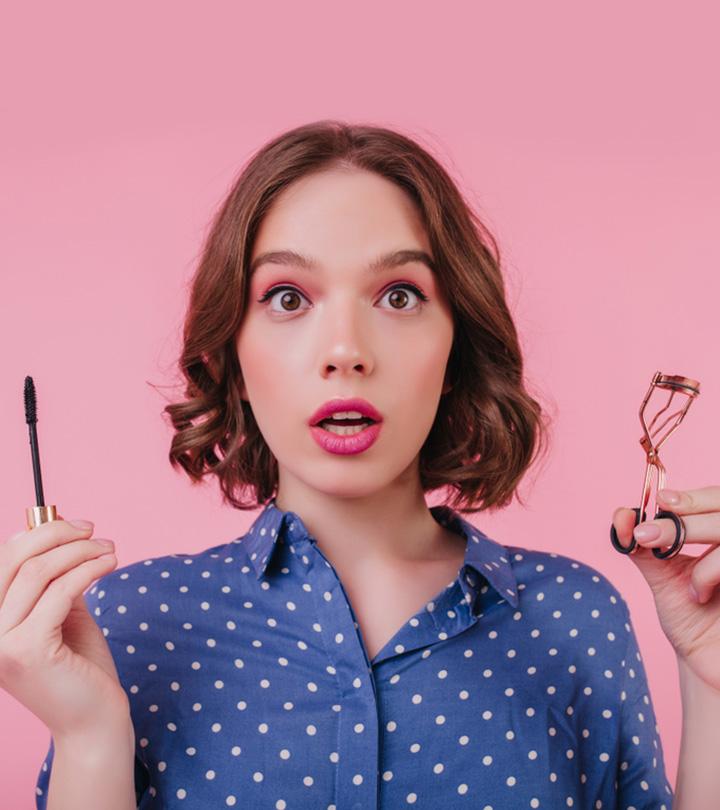 Your eye makeup is like that most-desired magic trick to give that extra oomph to your look. And if you have the best curling mascara in place, your makeup is going to look super effortless and chic! From a subdued look that is work-ready to a bold and sultry look fit for the evening party, you can do it all by using a good curling mascara. Here, we have discussed everything you need to know about curling mascaras and how to pick the right one.
A coat of curling mascara helps extend the lashes, making your eyes appear much bigger and brighter. Whether you prefer graphic eyes or the classic smokey eye look, all are incomplete without thick and curly lashes. Most of us use eyelash curlers or falsies to complete our eye makeup. However, you can bid them goodbye as curling mascaras can do the trick without hassle. If you need some help to get the best product for your gorgeous eyes, we have compiled a list of the 13 best curling mascaras for you. Scroll down to check it out.
13 Best Curling Mascaras For Thick And Natural Lashes
Bottled in a delicious-looking lime green tube, this one is popularly known as the best drugstore curling mascara by many makeup aficionados. You can expect up to 200% more volume with a single coat of this buildable mascara. It settles on each lash and separates it to reveal a voluminous and clump-free application. This mascara features a curved brush with straight bristle edges that follow the natural curve of the eyelashes. The brush is also double-sided and offers root-to-tip volume to make your eyelashes look curled up. As this mascara is free of toxic ingredients like mineral oils and sulfate, it is also suitable for sensitive eyes. Take a look at this video to know more about the product.
Pros
20x more volume
Clump-free
Double-sided brush
Vegan formula
Phthalate-free
Talc-free
Free of sulfates
Cons
Price at the time of publication: $7.59
If you are on the hunt for a mascara that curls your lashes instantly with minimal application, this one is the best mascara curling mascara for straight lashes. It offers buildable volume and makes your lashes look fuller by up to 5 times its natural thickness. It is specially formulated to fight clumping and contains ingredients like panthenol and ceramide-R, which work towards conditioning your lashes. It comes with a curved brush that lifts each eyelash to give it a curled appearance. For best results, do not dilute the mascara with any other substances, and start by applying the mascara to the base and sweep it up towards the tip.
Pros
Volume building mascara
5x thicker lashes
Unique curved brush
Conditions the eyelashes
Doesn't clump or flake
Easy to remove
Cons
Price at the time of publication: $8.98
If you are collecting must-have items for your everyday makeup pouch, don't forget to add this waterproof curling mascara to the list. It makes curling your eyelashes an effortless feat and helps you achieve incredible length and volume. It features a double-curved lifting brush that grabs on to each eyelash to make it look fuller and also offers an instant eyelash lift. Owing to its unique bristles, it catches hold of even the tiniest of lashes from the root, and the fiber-infused formula works towards thickening and extending the lashes. Nyssa Green, a makeup artist with 20 years of experience, says, "This brush is great for applying mascara to the bottom lashes evenly." This Maybelline curling mascara is also clump-free and provides long-lasting wear. You may check more about this product in this video.
Pros
Double-curved lifting brush
Waterproof mascara
Fiber-infused formula
Extends lashes
Clump-resistant
Ophthalmologist-tested
Cons
It may be hard to wipe off or remove.
Price at the time of publication: $7.99
If you have been looking for tips and tricks on how to keep eyelashes curled, this mascara will probably end your search, once and for all. You will immediately fall in love with the curved brush that follows the natural curve of the eye upon application. Its unique and evenly distributed bristles reach the root of the tiniest lashes, spreading the lashes like an open paper fan. This mascara curls your lashes like a pro, and its luxurious formula instantly defines your eyelashes, making them look thicker and more voluminous.
Pros
Highly-pigmented
Curved brush with unique bristles
Hypoallergenic
Ophthalmologist-tested
Suitable for sensitive eyes
Fragrance-free
Cons
Slightly expensive.
It contains parabens.
Price at the time of publication: $18.66
Probably the best mascara to curl lashes in one swift stroke, this gem by Benefit Cosmetics will be a handy addition to your makeup pouch. It isn't called a "roller for lashes" for any ordinary reason. It comes with a "Hook 'n' Roll" brush that grabs each eyelash, separates it, and curls it for the whole day. It is infused with provitamin B5 and serin, which conditions your eyelashes, keeping them healthy. Although this nourishing mascara is water-resistant, it is easy to remove. A recent consumer panel survey showed that 87% of the participants attested that it offers a long-lasting curl.
Pros
12-hr wear
Unique trademarked brush
Conditions the lashes
Water-resistant
Cons
Price at the time of publication: $25.03
This mascara warrants a spot in our list of the best curling mascara not only for its superior curling prowess but also for its highly-pigmented formula and long-lasting wear. No matter how short or sparse your eyelashes are, this mascara will instantly lift each eyelash, giving it a full body curl. When you apply it, you will immediately notice how the formula hugs your lashes to lengthen and magnify it. It is waterproof and stays on for 24 hours without flaking, clumping, or smudging.
Pros
24-hr wear
Jet black pigmented formula
Smudge-free
Waterproof
Quick-drying
Cons
Expensive
It may not be suitable for sensitive eyes.
Price at the time of publication: $33.0
Create dramatically voluminous and curled lashes that will make heads turn wherever you go. If the oil-free formula isn't enough to make you switch to this wonder product, perhaps the 4D natural silk fibers will do the trick. It is formulated with natural and non-toxic ingredients like pure silk fiber, pure plant extracts, and vitamin E, that condition and protect the lashes. It features a brush with thick yet separate bristles that will make your lashes look so lush, that it could be confused for a set of falsies. This sweat-proof formula is also suitable for people with sensitive eyes as it is hypoallergenic, and the natural silk fibers do not cause irritation.
Pros
Contains 4D natural silk fibers
Contains vitamin E
Sweat-proof
Waterproof
Hypoallergenic
Long-lasting
Suitable for contact lens wearers
Cons
This multitasking and award-winning mascara is one of the best curling mascaras for straight and flat lashes. Infused with vitamin E and licorice root extracts, this volumizing mascara offers 9 amazing benefits. It gives your lashes a fuller appearance, holds long-lasting curls, adds length to your lashes while strengthening it, and reduces breakage and fallout. It is also water-resistant, and the buildable formula glides smoothly. The mascara also features a curved brush that separates each lash and grabs on to it to provide a glossy coverage from root to tip. It is also an excellent choice for people with sensitive eyes as it is free of parabens and phthalates.
Pros
Deeply pigmented glossy finish
Water-resistant
Buildable coverage
Gluten-free
BPA-free
Does not contain mineral oils
Cons
Expensive
It may appear clumpy after many layers.
Price at the time of publication: $41.0
Ideal for date nights, business meetings, a brunch with your friends, or any other occasion for that matter, this curling mascara is pure magic. Formulated with a one-of-a-kind Korean technology that only uses pure pigments, it comes with a curved helix brush that hugs the lashes from root to tip and offers a clump-free application. It provides a long-lasting curl and adds length to the lashes to intensify your eye makeup. It also contains shea butter and keratin, which conditions your lashes, promotes their growth, and prevents them from falling out.
Pros
Squeezy tube for zero waste
Ultra-pigmented
Clump-free
Paraben-free
Contains shea butter
Cons
Slightly expensive for the quantity.
It is not waterproof.
Price at the time of publication: $24.0
Makeup trends come and go with every season, but few things never change. Without a thick set of curled eyelashes, any sort of eye makeup looks like it's missing something vital. If beauty icons like Cher and Cindy Crawford trust Kevyn Aucoin products, they must be doing something spectacularly right. This curling mascara adds lengths to your lashes, making it look more voluminous. It sticks to the lashes tightly, while gently curling them. It also contains proteins to keep your lashes protected and well-defined.
Pros
Smudge-resistant
Long-wearing formula
Easy to wash off
Highly-pigmented
Cons
It may irritate sensitive eyes.
Price at the time of publication: $30.0
Considered to be the best curling mascara for Asian eyes, this one can curl all stubborn and flat eyelashes in seconds. Whether you have thin, droopy, or straight eyelashes that you can't seem to curl up, this mascara will get the job done. It features a 'Curl 24HR Technology' that lifts your lashes instantly and keeps them curled throughout the day. This sweat and water-resistant mascara boasts of a marvelous 'C Brush' that gently lifts your lashes to reveal a clump-free application while adding length and volume.
Pros
Curved brush
Lasts for 24 hours
Water-resistant
Sweat-proof
Smudge-proof
Cons
It may be hard to remove.
Price at the time of publication: $15.0
Do you want to know why this eyelash curling mascara is an award-winning and crowd-pleasing one? In a recent study conducted by the brand with women in the 19-61 age category, 100% of the participants were thrilled that they saw a visible and significant change in their lashes after using it. It not just curls your lashes, making your eyes look brighter; it also adds volume and length. This curling formula also contains olive extracts, which keep the lashes nourished for long periods. It settles on the lashes without feeling heavy and is smudge-proof.
Pros
Lasts all day
Flake-free
Vegan
Cruelty-free
Lifts the eyelashes
Cons
It may get clumpy if applied incorrectly.
Price at the time of publication: $22.0
Let your eyelashes be curled as it has never been curled before with the help of this high-impact curling mascara. A single coat of this product can curl your eyelashes in an instant and make them look thicker and fuller. It is a deeply-pigmented and creamy formula that hugs your lashes from the root to make them appear extended and intensified. The curved brush allows every single lash to be swept upwards while holding the curl in place without pulling or tugging at it. If you want a mascara that won't let you down for 24 hours, you've found it!
Pros
Rich and pigmented formula
Curved brush
24-hr wear
Smudge-free
Flake-free
Ophthalmologist-tested
Cons
High-cost
It may be hard to wash off.
Price at the time of publication: $16.99
[ Also Try – Clinique High Impact Mascara ]
Now that we have seen these 13 amazing products, let us discuss some tips and tricks that can help you buy the best mascara for curling lashes.
Helpful Tips On How To Buy The Best Curling Mascara
Before purchasing mascaras that curl lashes, there are a few important things to consider:
Clump-free formula
Let's face it; a single coat of mascara may not do the trick or give you the desired level of curled eyelashes. Naturally, you may need to apply 2 or 3 coats. Look for clump-free mascara that curls and lengthens so that your lashes don't look heavy or artificial. 
Waterproof
Choose a curling mascara that is waterproof or at least water-resistant. Unlike with regular mascaras, curling eyelashes take a longer time. This is why reapplication may be quite a tedious task and a step you can avoid entirely.
Long-lasting wear
As mentioned above, most of us don't have the time or patience to curl our eyelashes with a mascara several times a day. The best way to go about this is to invest in a long-wear mascara.
Lengthening qualities
While some of us are blessed with naturally long lashes, some of us aren't as lucky. A lengthening mascara helps to reach the tiniest of eyelashes and add length to them before gently curling it upwards
Curved Brush
Choose a mascara with a curved brush with separated bristles. A brush like this separates each eyelash while coating it, giving it a fuller and thicker appearance.
Step 1: Ensure that your eyelashes are clean and dry.
Step 2: Dust off all residues of makeup products like an eyeshadow.
Step 3: Apply a coat of a mascara primer from the bottom of the lashes from root to tip.
Step 4: Once dry, apply a coat of curling mascara in a zigzag motion.
Step 5: Ensure that the primer is covered thoroughly.
Step 6: Apply a 2nd coat of mascara if you want your lashes to look thicker.
To remove the mascara, use a mild makeup remover or a soft cotton towel dipped in warm water.
Frequently Asked Questions
Do curling mascaras really work?
Curling mascaras are designed to push the lashes upwards while adding length and thickness. It makes your eyes look bigger. So, it is safe to say that curling mascaras work wonders for people with short lashes. 
Is it bad to curl eyelashes every day?
Whether it is bad to curl your lashes every day depends on you. If you practice safe hygiene, keep your tools clean, and use a mascara that doesn't contain toxic or harmful ingredients, it is safe to curl it every day.
What is curling mascara?
Curling mascaras come with curved wands. They coat your lashes with mousse-like formulas, hold them up, and provide them with a bounce. These mascaras make your eyes appear more prominent.
Can you train your eyelashes to curl?
Yes. You can add a slight curl to your lashes naturally. Follow these steps-
• Wiggle your lashes with a dry wand from side to side to loosen up the follicles.
• Gently squeeze the base of your lashes with your index finger and thumb for 30 seconds.
• Brush your lashes with clear mascara from the base to the tip for two to three minutes.
• Let the lashes air-dry.
• Repeat this process regularly to achieve naturally curly lashes.
How long do curled eyelashes last?
If you use eyelash perm, the curl effect will usually last for two to three months. But, if you naturally press and curl your lashes, the effect will go away after a few days.
Recommended Articles