40 Best Curly Hairstyles With Bangs For Women To Try
Curls and bangs equal unparalleled oomph, and here are the most inspiring results. Curly hair has its hassles. Most of my curly haired friends complain about how unmanageable their hair is. You try to clip it down – the clip doesn't stay on. Most hairstyles are not even meant to be done on curly hair! But on its good days, you can't deny that you love your curls. More often than not, we women underestimate the power and capacity of our hair. We search day in and day out for the perfect hair accessory, only to miss one that's been right in our face the entire time. Yes! I'm talking about bangs. Curls and bangs look amazing together. In this article, we present to you the best 20 curly hairstyles with bangs. Keep reading to know more about them.

Before You Get Started
If you have oily skin, you may need to wash your bangs often. Bangs get double the grease from scalp sebum as well as facial oil. Hence, they need more washes.
When bangs get washed more often, use hydrating serums when they are still damp. This ensures there is enough hydration.
The heavier your bangs, the more maintenance they need in terms of styling. They dry quicker after a wash and are prone to frizz or laying flat on the forehead. Use anti-frizz products to tame the frizz and dry texture sprays to keep the bangs bouncy.
For natural hair looks, tendrils of hair for bangs make for quite the seductive look. Keep an anti-frizz spray handy in humid conditions to ensure your style doesn't look unkempt.
How To Decide If You Want To Get Bangs?
You need to consider the following things before making the big decision of getting bangs for your hair.
They take time and effort to style each morning.
Need to be trimmed every 2-3 weeks.
Your hair texture plays a part in how your bangs turn out.
Blunt bangs are high maintenance.
The bangs need regular washing.
Different Types Of Bangs
Blunt Bangs
These are thick front bangs that are cut in one length. These bangs look the best on oval and oblong faces. The best length for these bangs is about eyebrow length.


Quick Tip
Wispy bangs are a softer version of blunt bangs and offer partial, feather-like coverage. They are easy to pull off and are best for textured and thick hair.
Tapered Bangs
These are bangs that vary in length. If you have front bangs, then they may be short at the center and gradually increase in length on the sides. They can also be choppy, like a mix of short and long.
Side-swept Bangs
Side-swept bangs are bangs that are swept from one side to the other side. They look amazing with short curly hair. If you are considering a pixie haircut, then try this hairstyle.
The side parting always takes weight from the side. If you have a round face or a heart-shaped face, then this is the style for you.
Side Bangs
These are bangs that loosely drop to the sides. They help in making the face appear slim. If you have a round face, then these are a good option for you.
Curly Bangs
While not many women go for curly bangs, they are incredible and the best way to show off curls. Curly bangs take the focus away from your face. If you have a broad forehead, or a round face, then consider these bangs. The coils make your face look slim and conceal the length of your forehead. These bangs look great on square faces as well.
How To Maintain Your Bangs
Having curly bangs means having to be climate prepared.
Use a tried and tested shampoo and conditioner that you know works well for you. Don't change shampoos in between. You can check with a hairstylist on which shampoo and conditioner to use.
Trim your bangs regularly.
Watch your bangs when you moisturize your face. Make sure you don't get any cream on your hair. The ingredients you use to moisturize your face might not be suitable for your hair.
How To Pick The Best Curly Hairstyles With Bangs
The best way to decide what bangs you need is to see if they work with your face shape. If you aren't sure what your face shape is, then here are a few pointers.
How To Measure Your Face
The first step towards selecting the right hairstyle is knowing your face shape. To know your face shape, measure the width of your jawline, cheeks, and forehead.
Using a scale, first check the width of your forehead. Find the widest point of your forehead. For most people, it should be in the middle of the hairline and eyebrows.
Then, check the width of your cheeks. It's an ear to ear measurement beginning and ending at the points where your ears touch your face. That should be the widest dimension of your cheeks.
Next, measure the widest points of your jawline.
Finally, take the longitudinal measurement of your face, beginning at your hairline and ending at the tip of your chin.
Square Face
A square face is one where the jawline is square rather pointy or angular. If you have a square face, then keep your bangs straight and just below the eyebrows. Straight bangs, feathered in the center, create an even look and keep your face not too accentuated. You can also try heavy bangs that are eyebrow grazing in length.
Round Face
You need to take away from the width of your face to give it a slimmer look. Focus on accentuating your features.
If you have a round face, then go for an arching straight full fringe just below the eyebrows to balance the softness of your facial structure. Deep side bangs also work. Tapering bangs with a slight parting at the center also look good on round faces.
Heart Shaped Face
A heart-shaped face is the widest at the forehead and gradually narrows down to the chin.
Side-swept bangs tapering on the same sides look amazing on heart-shaped faces. Consider feathered shaggy bangs as well. Wispy bangs look incredible on heart-shaped faces.
Oval Face
An oval face is angular at the jawline. If you have a pointed jawline, then you have a diamond face. The thing about an oval face is that all fringes look great on it. So, take your pick!
It also depends on whether you have a high or short forehead. The way to check that is to see if your forehead is smaller than or bigger than your nose.
Long Face
If you have a long face, then short bangs are a no-no as they will enhance your forehead. Try long bangs that are either full center or side-swept, and we promise it will look amazing.
Short Forehead
If you have a short forehead, then consider a sloped fringe that is longer on one side. It's a deep side-swept fringe that makes your forehead appear larger than it is.
High Foreheads
If you have a high forehead, then full side-swept bangs is the way to go. Let the bangs be near the eyebrow and taper as they reach the sides of your face.
How To Cut Your Bangs
Things To Keep In Mind
Curly hair should never be cut wet.
Re-wet the hair to let it dry.
Do not stretch your hair
Things You Will Need
A rat tail comb
A pair of scissor
Clips and Elastic bands
For Straight Bangs
If you want a full center bang, take the front portion of your hair, using a rat tail comb, in the shape of a triangle and cut it evenly. If you want your fringe tapered, then cut it just below your eyebrows and keep making it long as it reaches your ears.
For Straight Side Bangs
The way to take the side parting right is to make sure it's aligned with your eyebrow. That way when you cut your hair, it's appropriately cut and not messy and all over the place. Once you've made the parting, begin cutting the rest of the fringes a little longer, giving it a tapered look.
For Curly Bangs
Part off the section of hair that you will use to make your bangs and let it fall on your face. Clip off the rest of your hair. Comb the hair, making sure to remove any tangles. Keeping your eye as the reference, cut your hair upwards and outwards. You won't be able to cut your hair altogether so use the part that you cut as a reference for the rest.
So you see, bangs can be complicated. But with some caution, they can also result in drop-dead gorgeous looks for you. If the idea of chopping the front of your hair is intimidating, you can always try extensions first!
Professional hair stylist and founder of Just Bought It Hair, Laura Clark says, "I always tell my clients to try out extension bangs before fully committing! The bang extension can save you from a decision you may regret seconds later. They come in many shapes, forms and styles. You can add long layers, straight across bangs, curtain bangs or wispy bangs. My favorite look is wispy side bangs with a high ponytail. It looks very sleek and clean."
There! Now you know how to sample bangs for your hair before getting them. All that's left is finding some trending styles to try. Keep reading to check out our list of the best curly hairstyles to sport with bangs.
20 Most Incredible Curly Hairstyles With Bangs
1. Spiral Bangs With Highlighted Ends
If you want to experiment with your coily hair, then this is the latest hairstyle trend you need to try right now! This looks edgy and the contrasting colors bring you all the attention you deserve. This stylish curly hairstyle with bangs creates a downward focus that draws attention to your facial features like your jawline.
2. Gentle Curls With A Highlighted Fringe
If you have a large or wide forehead, these thick modern highlighted bangs are for you. They conceal most of your forehead, drawing attention to your stunning facial features. The highlight colors make your eyes pop, while the gentle curls add volume to your tresses.
3. Curly Bangs With A Messy  Bob
This bobbed hairstyle will give you that Parisian oomph factor that every woman craves. This hairstyle is chic, relaxed, and easygoing. Here's a tip, if you don't have natural curls to flaunt, then use foam hair rollers to give yourself polished smooth curls.
4. Wispy Bangs With Loosely Curled Ends
Another amazing center-parted hairstyle that's perfect if you are looking for a simple yet elegant hairstyle. The big curls at the end add volume to your hair and streamline your face shape, while the wispy bangs take away attention from a broad forehead.
5. Messy Ponytail With Curly Bangs
The beautiful thing about curls is that they look stunning even when messy. This trendy hairstyle is perfect for you if you need a quick-yet-chic hairdo. Tie up your hair in a ponytail letting the curls fall messily. Allow your bangs to fall naturally instead of styling them with gel.
5. Sombre Fringes With Soft Curls
This fashionable hairstyle is extremely impressive and easy to achieve. This hairstyle draws attention to your lower facial features like the jawline. The soft but big curls can make your jawline look slimmer. A sombre (subtle ombre) fringe is a great way to make your eyes, natural hair color, and regular makeup shades pop.
6. Bangs With Side Frames
Confused between face-framing bangs and a fringe? Why not try both? This hairstyle combines the best of both worlds for you. The thick bangs conceal a wide or large forehead, while the long ends help frame your face.
7. Wispy Curly Bangs With A Curly Shag
Wispy bangs are edgy, chic, and face-defining. They go amazingly well with curly hair, and if you are feeling experimental, add some highlights not only to your but to your bangs too.
8. Piece-y Curly Bangs
Looking for a casual, easy hair look? This one is as easy as they can get. Curly bangs are a nice classic touch to add to your curly tresses. It suits almost all face shapes.
9. Choppy Middle Parted Bangs With Shoulder Length Curls
This is another effortless yet impressive hairstyle with a Parisian touch. This hairstyle suits those with high or full cheekbones. The warm-toned ombre is the cherry on top for this one. Use a setting spray to keep your hair in place throughout the day.
10. Thick Bangs With Curls
This look defines the word "fierce". Perfect for those with thick or coarse hair, this hairstyle frames your entire face and brings attention to your eyes and nose.
11. Volume Bangs
This hairstyle is easygoing and relaxed. It suits angular faces and softens out the harsh lines. The full volume of the curly bob and bangs enhances your facial features, especially the jawline.
12. Blunt Bangs With A Curly Lob
Another edgy yet effortless look on the list. The layered curly bob is paired with thick bangs, which is a perfect combo! Turn your bangs inward using a round brush and a blow dryer.
13. Bronde Textured Curly Bangs
If you have coily hair, you better flaunt it. This casual yet lovely hairstyle is perfect for a "girl-next-door" look. All you need for this look is a scarf or a bandana and voila!
14. Curly Curtain Bangs
If you have a wide forehead, these curly curtain bangs are perfect for you! They cover the sides of your forehead to make it look smaller. They add a centralized focus to your face which enhances your nose and mouth.
15. Thick Side-Swept Bangs
One of the best ways to add volume to and enhance your layers is to curl them. Keep the hair at top and your bangs straight and curl your locks from midway down. This highlights your jawline making it look leaner.
16. Faux Side-Swept Bangs
If you have a short cut that just isn't working out, this is your get-out-of-jail-free card! Curl your hair with a curler and some mousse. Curl your hair at different angles so it adds an illusion of layers. Then style the front of your in faux side-swept bangs with the help of a blow dryer and a long sectioning clip!
17. Long Face-Framing Curly Bangs
This hairstyle suits oblong, diamond, and square faces. These soft loose curls blend into the volumized thick roll of curls. The coils allow light hair movement, which emphasizes hair volume.
18. Faux Braids
If you have layers, curl them! Then pin them in place to create this beautiful faux braid look. Contrast this romantic hairstyle with some thick blunt bangs to draw attention to your facial features.
19. Blow Dryer Curls With A Fringe
If you are a fan of evening gowns and pretty dresses, this is one hairstyle that is optimal for weddings and formal events. A fringe paired with a pouf and loose blow dried curls frames the face well. The loose curls add volume to your tresses and help streamline your jawline.
20. Side-Swept Bangs With Hollywood Curls
Smoothened side-swept bangs with Hollywood curls suit face shapes with wide foreheads or cheekbones. Add hair mousse to give your curls that eye-catching shine and keep them in place. This medium-length hairstyle enhances the elegance of your overall look effortlessly.
21. Straight Side Bangs With Curls
Straight side bangs look amazing with full curly hair. They add a soft touch to the face. If you have a square face, then these bangs will bring an angular look to your face.
22. Front Bangs With Big Curls
Multi-colored curly hair with a full frontal fringe. If you like edgy, then this is for you! Front fringes also hide a broad forehead.
23. Thin Curly Mohawk
This Mohawk hairdo is very cool. The front tuft of the Mohawk acts as front bangs. The thin curly bangs draw attention to the eyes. If you have an oval, diamond or long face, then this hairstyle can work wonders for you.
24. Frizzy Long Hair With Feathered Bangs
Frizzy hair looks amazing. The eye grazing bangs make the face look elongated. If you have a square or chubby round face, this hairstyle will make your face appear slimmer at the jawline and long. But frizzy hair is a big no-no for heart-shaped faces.
25. Side-swept Wavy Bangs
The side-swept wave looks impressive on short, wave-heavy hair. Curly layers add dimension to the face and bring attention to your facial features. This side-parted hairstyle will look good on all face shapes due to the layers.
26. Phone Cable Bangs
Full thin curly hair with bangs looks stunning on everyone. If you have a square or rectangular face, then whole curls will slim down your face and give it a soft round appearance.
27. Messy Waves With Side Bangs
Messy hair is in! Middle partings look great on triangle, oval, and diamond face shapes. The tousled waves along with the straight side-swept bangs get the focus on your facial features.
28. Thick Feathered Bangs
Bangs just below the eyebrows are a great way to frame your face. And those curls look incredible! The pink highlights at the bottom accentuate the waves even more.
29. Curls At The End
This curly hairdo is beautiful! The soft curls at the end add dimension to the face, giving your jawline a slimmer look.


Quick Tip
You can try curtain bangs for this look. Parting the bangs in the middle adds layers to the curls cascading downward and makes for a glamorous look.
30. Short Blunt Bangs With Curly Hair
If you have an oval shaped face, then try short blunt bangs. The voluminous curls make your face appear slim and long.


Quick Tip
If you have naturally kinky hair, maintaining baby blunt bangs will be too much of a hassle. These bangs will work well with wavy hair types.
31. Full Curls With Curly Bangs
Big full ringlets of curls soften the face, drawing attention to features like the eyes or cheekbones. The dark highlights help frame the face nicely.
32. Curls With A Halfway Fringe
Messy curls look gorgeous. Pair them with center bangs, and you've got a killer hairstyle. Bangs that come only till about halfway of your forehead won't look good on all face shapes. If you have a round face, then stay away from this. Oval faces can pull these bangs off easily. The subtle lowlights draw attention to her facial features.
33. Curly Lob
Curls add texture to a lob. A lob is a long bob. Supple waves add volume to the bob and make your face look slender. Add drama to your look by flaunting a few highlights.
34. Big Side Curls
Big curly side bangs look incredible! They soften the face. So if you have a square, rectangular face, then consider this hairdo.
35. Messy Short Curls
Messy and short curly hair automatically gives off a voluminous look. But if you have a heart-shaped or round face, then brush your bangs up and allow them to fall to the side. This will make your face look long.
36. Rain Curls
Slight side bangs look great on thin curly hair. Since the curls are thin, the bangs add a more voluminous feel to the hair. This look requires a good amount of mousse.
37. Waves To Curls
Big soft waves that lead to curls look so elegant. This hairstyle is beautiful! Perfect for any event! The soft waves and curls add height, which makes the jawline look angular and slimmer than before.
38. Afro Kinky Curls
Kinky hair! For a long time, a lot of African women were shying away from flaunting their incredible natural curls! But not anymore! It's lovely to see those kinky curls flaunted!
39. Colored Bangs
Colored curls! While a lot of women love to color their hair, they don't color their bangs. Coloring your bangs can help with enhancing your facial features.
40. Curled-in Hair
The best length for front and center bangs are near/at eyebrow length. Bangs that are just below or above the eyes work well with round faces. If you have a long face, then try this hairstyle. It will make your face look smaller.
Maintenance For Curly Hair
Curly hair needs more moisture. Your body secretes a natural oil from the scalp to help moisturize your hair. For straight hair, it is easy for the oil to spread all over the strands. But it's not the same for curly hair. Due to the shape of the coils, the ends of the hair don't get enough oil. The same goes for when you condition your hair.
Stop using heat styling methods. Heat will damage your hair. Also, if you keep straightening your hair, you will lose your curls eventually.
Use a leave-in conditioner from time to time. Organic leave-in conditioners moisturize the hair and keep it protected.
When cutting your hair, don't keep it wet, cut it dry and natural. Don't stretch your curls too much.
Apply gel on your hair if you have thick curly hair. The gel will spread better on your curls than a mousse.
Try curling your hair without heat. While using rollers, apply a curl defining or curl enhancing cream. They also act as a leave-in conditioner. Coat your hair thoroughly but apply a thin sheet of cream.
If you decide to style your hair using heat methods, then use heat protectants. Spray a good amount of heat protectant on your hair before you style it.
While using a towel, do not rub it across your hair. This leads to hair breakage. Pat dry your hair. Use microfiber or cotton towels preferably.
When blow drying your hair, use a diffuser. It spreads the hot air evenly through your head.
Infographic: Accessories For Curly Hair
It takes more preparedness and devotion to maintain curly hair than straight hair. Curly hair care routine often limits styling and accessorizing options. However, there are easy and fun ways to accessorize your hair that will not damage your curls and help accentuate them in all their glory. Check out the infographic below to know what accessories to use for your curly hair.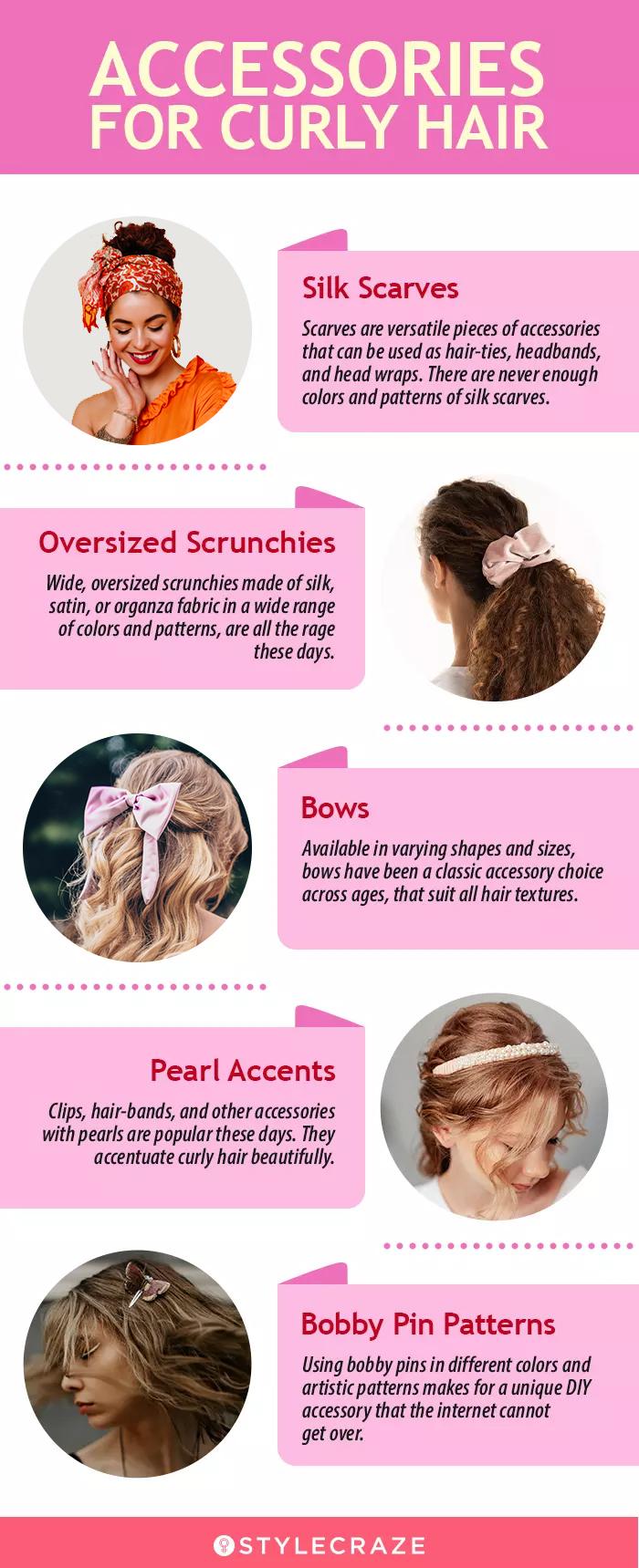 The amount of time and effort we require to invest in curly hairstyles with bangs is worth it. These hairstyles provide new life to your mane. You can experiment a lot with them and go all out with accessories. Just make sure to get the right bangs depending on the shape of your face, and you are good to go. And do not forget to take good care of your curls and bangs. Give them the love and care they deserve, and they will always listen to your instructions.
Frequently Asked Questions
Can curly hair have curtain bangs?
Curtain bangs (straight, wavy, or curly) look great on curly hair and accentuate the face shape, eyes, and cheekbones.
Should I get bangs if I have curly hair?
It depends on your face shape. You can find different bang styles to work on all the different face shapes. While bangs pair well with curly hair, they can make your face look smaller if you have a small forehead.
What face shape looks good with curly bangs?
Bangs soften the face shape, and different bang styles may suit different face shapes. The oval face shape is symmetric and can pull off any bang style. Side-swept bangs can help elongate the round face shape, heavy and choppy curly bangs can soften the angular features of a square face, and wispy curtain bangs or side-swept bangs can help balance out a heart-shaped face.
How do you sleep with curly bangs?
Curly hair can get easily tangled. You can use a silk scarf to tie a turban in front to prevent static and keep the bangs intact.
Are curly bangs hard to maintain?
As with any other bang style, curly bangs should also be trimmed every four to six weeks to maintain the style. You can use a microfiber towel to reduce frizz, avoid frequent heat styling and scrunch your curly bangs using a finger, reducing the usage of a hair brush.
Check out these 9 unique curly hairstyles in the following video for curly bangs or fringes that will make your naturally curly hair look fabulous.
The following two tabs change content below.