12 Best Cushioned Running Shoes For All Terrains
Be it rocks, marsh, concrete, or road, run free and easy without worrying about injuries.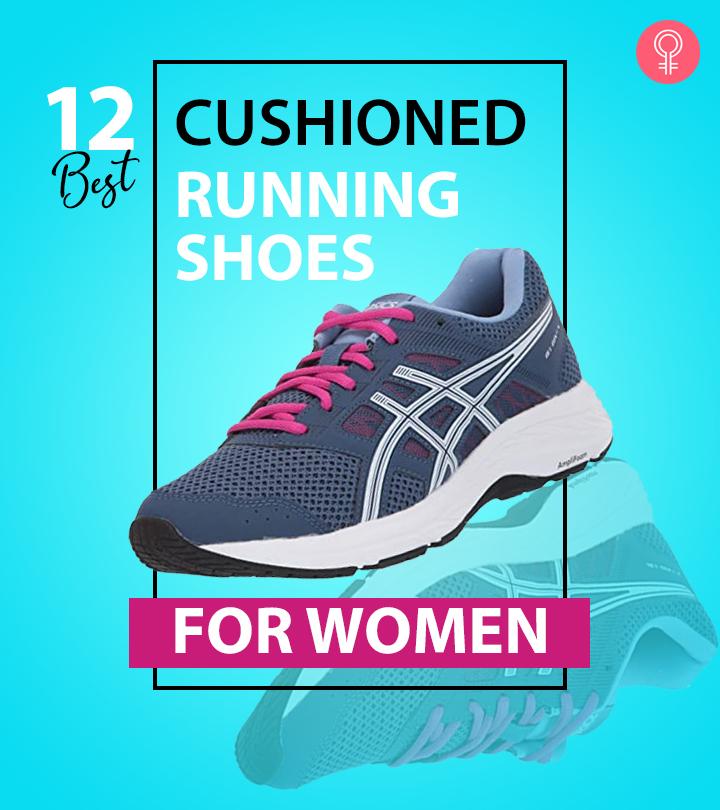 Of course, you will need the best cushioned running shoes for an impactful run. The plush cushioning makes you agile, prevents you from severe injuries while you're running on a fast track or even doing a casual walk on that hard concrete. Although all shoes come with some cushioning, the special ones can absorb shock and facilitate arch support for the feet.
Dr. Bruce Pinker, board-certified foot and ankle surgeon, says, "Saucony, Asics, New Balance, and Brooks are some of the best running shoe brands in terms of quality, durability, and support. For most running shoes, they should be replaced every 300 to 500 miles, as the midsole wears out. The midsole provides cushioning and shock absorption, which can help prevent injury, so sneakers should be replaced periodically."
Therefore, we have featured some must-have running shoes with cushioning for women. Comfort, overall performance, durability, aesthetics, everything's been checked.
12 Best Cushioned Running Shoes For Women
With Asics Gel-Contend 5 running shoes, you can run a marathon or sprint around your track with finesse and ease. These shoes offer cushioned support and stability to enhance your performance. Its Rearfoot Gel Technology and AmpliFoam midsole provide maximum cushioned support, while the Ortholite sock liner aids in managing moisture. The athletic mesh rubber makes the shoes breathable and keeps your feet fresh and odor-free. If you want a detailed review of the product, make sure to take a look at this video.
Pros
Flexible rubber sole
Arch support
Lightweight
Long-lasting
Secured fit
Removable sock liner
Breathable mesh
Keeps feet odor-free
Easy to clean
Cons
Price at the time of publication: $54.95
When style meets comfort, you get the super comfortable Adidas Questar Flow Shoes. These shoes offer all-around comfort and support your feet during lightweight running. The soft OrthoLite sock liner and Cloudfoam midsole cushion your feet, while the synthetic outsole with ridges provides stability. The full mesh design on the upper makes the shoes breathable – so no more stinky odor! The molded heel counter enhances stability, the lace-closure improves fit, and the pink pull tab ensures ease of wearing. You can also check this YouTuber's detailed review to know more about the results after using this product.
Pros
Lightweight
Breathable mesh upper
Provide stability
Fashionable
Secured fit
Durable
Cons
Lacks arch support
Expensive
Price at the time of publication: $104.84
Saucony Women's Cohesion 12 combines performance and style to create the perfect running shoes. It features a stylish breathable upper that keeps your feet dry and a durable rubber outsole that uses grid technology for a firm grip on a slippery slope. These shoes come with VersaRun cushioning insoles to reduce pressure on the feet, knees, and calves. Plus, the arch support assists in distributing pressure and preventing pain. For a thorough review of the product, have a look at this YouTuber's video.
Pros
Durable outsole
Flexible
Stylish
Wide interior
Non-skid outsoles
Comfortable
Suitable for people with planter fasciitis
Cons
Price at the time of publication: $44.95
These bouncy and light shoes, featuring the Fresh Foam midsoles, deliver soft cushioned support to your feet while running on a track or concrete. It's no-sew knit mesh upper allows smooth airflow and keeps your feet sweat-proof. Plus, the rubber outsole with ridges enhance your stability while running or walking and prevents accidents. The New Balance Arishi V2 offers premium underfoot comfort in an attractive design.
Pros
Athletic look
Long-lasting
Adjustable lace closure
Lightweight
Reduces pain
Stretchable material
Removable insoles
Breathable upper
Cons
None
Price at the time of publication: $99.51
Unlike running on grass trails, jogging or running on concrete or asphalt roads can increase your chances of injury. While running on artificial terrains, you need special running shoes to support and cushion your body on impact. The ultra-light Magnify 3 road running shoes from Topo Athletic feature 2-density midsoles and the Ortholite footbed to protect you from unwanted injuries. The stretchable rubber sole has a long toe sweep that runs through the metatarsal to allow full movement of your feet in a comfortable move while supporting the body in the gait cycle. Plus, its low-seam construction keeps blisters and scratches at bay.
Pros
Breathable
Secured fit
Neutral drop design
Ortholite insole
Protects throughout the gait cycle
Multi-density midsole
Lightweight shoes
Wide toe box
Cons
Price at the time of publication: $98.36
Premium Brooks Revel 4 is a high-performance shoe made to last long. Its responsive cushioning and springy outsole keep your feet protected from injuries while providing all-day comfort. The knitted upper has a fashionable and aesthetic look that looks perfect with casual wear and workout clothes. Brooks Revel 4 comes with its patented BioMoGo DNA cushioning that helps to reduce impact and adapts to your stride and speed. Its arrow pointed outsoles help you transition faster from toe to heel, enhancing your performance. This shoe features a pull tab for ease of wearing and cushioned collar to protect your heels. It uses heat-activated yarn that does not lose its shape even after constant use.
Pros
Responsive ride
Quick transition
Versatile style
Energized ride
Adds bounce
Breathable material
Enhances the speed
Cons
Price at the time of publication: $89.95
Lamincoa Air Running Shoes are constructed with soft cushioned support to relieve foot pressure for walking and running. Thanks to the elastic rubber blocks and phylon sole construction, these shoes are anti-skid, abrasion-resistant, and sweat-absorbing. Their mesh upper design keeps your feet cool and ventilated, while the air cushion supports your body and prevents impact while working out.
Pros
Comfortable
Sweat absorbing
Breathable upper
Anti-skid design
Removable insole
Shock-absorbing outsole
Anti-collision toecap
Cons
Price at the time of publication: $45.45
Under Armour Women's Charged Impulse Running Shoes are designed to offer flexibility, cushioning, balance, and support. These lightweight shoes are constructed with 100% synthetic breathable mesh upper for a ventilated and uninterrupted airflow. Their Dual-Layer Charged Cushioning midsoles adapt to your stride and weight, while the rubber soles provide flexibility and cover you on high-impact zones.  The bootie construction of these shoes allows a snug fit for a comfortable ride.
Pros
High-impact sole
Breathable mesh upper
Lightweight shoes
Flexible support
Easy to maintain
Good arch support
Cons
Price at the time of publication: $51.34
These lightweight running shoes featuring a breathable upper and cushioned sole help you maintain your stride and agility. The air cushioning on the heels relieves the pressure and allows free bounce while walking or running. Plus, its cushioned collar protects your feet from blisters. They have a mesh knitted design that protects your feet from getting overheated and gives cooling comfort. These shoes come with anti-skid groove soles that help you maintain your stride on the track.
Pros
Air-cushioned heels
Collar support
Anti-collision toe cap
Soft interior
Ergonomic sole
Flexible foam insole
Ventilated upper fabric
Cons
Price at the time of publication: $33.59
These running shoes from Maichal Trainer are made from mesh synthetic uppers that offer a sock-like snug fit. The high-quality memory foam insole with an integrated shock-absorbing technology allows smooth heel-to-toe movement, preventing unwanted injuries or sprains. With their anti-skid rubber sole and arch support, these shoes provide an excellent running experience.
Pros
Lightweight
Comfortable
Breathable
Snug fit
Memory foam insole
Slip-resistant
Good arch support
Cons
None
Price at the time of publication: $37.88
Constructed with the Mizuno Energy Technology and a dual compound U4ic midsole, these shoes provide a smooth and flexible fit. Mizuno Women's Wave Rider 24 shoes are designed for comfort and a secure fit with unwavering performance. The durable X10 carbon rubber outsole lasts very long. The Mizuno Wave plate offers optimal cushioned support that evenly distributes energy while you are running, preventing chances of injuries and discomfort. The engineered mesh upper is both ventilated and ensures durability for high-performance activities.
Pros
Shock-absorbing
Durable
Ventilated
Resilient to impact
Lightweight
Versatile application
Toe protection
Good grip
Cons
Price at the time of publication: $139.9
STQ Women's Running Shoes bring back the classic air-cushioned design that makes this sneaker great for running. These lightweight shoes feature unique shockproof air-cushioned outsoles and a non-slip design for the ultimate comfort and support. The 3D mesh uppers are incredibly breathable and offer a refined fit. Plus, the arch support in the sole absorbs shock from the heel, while the long-lasting EVA Outsole gives you a softer landing and smoother transition while running.
Pros
Flexible sole
Removable sock liner
Snug fit
Ventilated
Weightless
Air-cushioned for stability
High-quality fabric
Non-slip outsole
Cons
None
Price at the time of publication: $43.98
Features like flexibility, breathability, and style make a running shoe the best in its class. Here are some other features of running shoes that are worth mentioning.
How To Choose The Best Cushioned Running Shoes
Mesh Upper: The mesh upper fabric makes the shoe well-ventilated and provides breathability. It helps to keep your feet dry and odor-free. Preferably, choose a shoe that is stretchable, soft, and breathable.
Heel Counter: The heel counter in a shoe provides stability to the foot and aids in stable landing while running. Some shoes have heel counters concealed under the rear foot to support the heel, while others have external heel wraps.
Outsole: Rubber outsole provides traction and durability without adding excess weight or stiffness.
Midsole: Shoes that use memory foam insoles give well-cushioned support. Choose a material that uses the right midsole thickness that is neither too soft nor too firm.
Arch Support: While running, your feet need full flexibility. Arch support in the shoe gives you the right feel throughout your run, from touchdown to toe-off.
Reviews: It is always advisable to run through the reviews, pros, and cons of the brand you have chosen. This will help you in narrowing down your search.
Why Trust StyleCraze?
The author, Aditi Naskar, holds a diploma in health and wellness and is a fitness enthusiast. She shares tips for choosing cushioned running shoes and explains how to consider parameters such as the sole, arch support, and heel counter to reduce stress on the joints. In addition, she has carefully studied the product specifications and user reviews to create this list of the best ones. These products will enhance your performance without compromising your health.
Frequently Asked Questions
Why should you use cushioned shoes while running?
Cushioned shoes reduce the force created by your body's collision with the ground, relieving strain on your body. Furthermore, the cushioning in your running shoes reduces the adaption required to reach optimal comfort while utilizing the least energy.
Do cushioned running shoes slow you down?
No, cushioning provides support and increases speed.
Can cushioned shoes cause knee pain?
No, an optimal level of cushioning will not cause any knee pain. But running shoes with excessive padding may cause knee pain as the nervous system cannot sense surface hardness and give ideal foot strike action. Additionally, cushioning behind the heel induces overstriding, lowers foot placement awareness, and results in a higher force exchange, which causes knee pain.
Do heavier runners need more cushion?
Yes, heavier runners have more weight striking the ground with each foot strike, so they must require more shoe cushioning to absorb that increased impact.
How often should I replace running shoes?
If you run frequently, replace your running shoes every 4-6 months.
How many pairs of running shoes should I have?
You need at least 2 pairs of running shoes to use alternately if you run most days of the week.
Recommended Articles