13 Best Cuticle Nippers For Healthy Nails
Get as close to the nail bed and trim without issues with the right handy tools.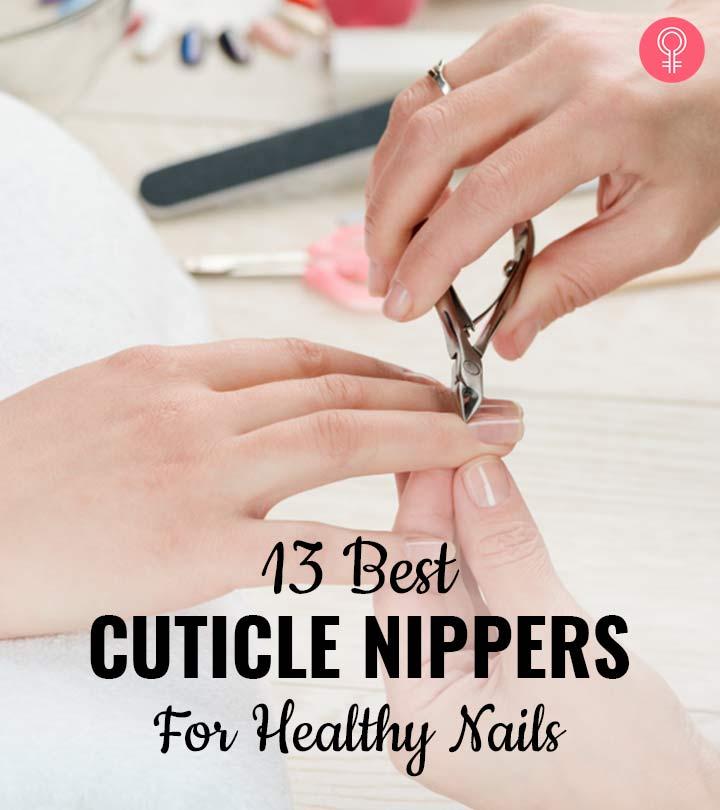 A cuticle nipper is an ideal pedicure and manicure tool that trims hangnails and cuticles. The best cuticle nipper helps buff away tough, cracked, and dry skin, giving your a smooth finish. The nipper also provides the desired shape to your fingernails and toenails. In addition, it assists in trimming ingrown nails. Often, these nippers are made of stainless steel material.
Finding the ideal cuticle nipper can be demanding. So, we have curated a list of the 13 best cuticle nippers for you in this article. Scroll down and grab the one you like the most!
13 Best Cuticle Nippers
The Ejiubas Cuticle Nipper is one of the most popular cuticle cutters with unbeatable features. It is made of 100% high-quality stainless steel for a long-lasting usage with a sharp cutting edge. The ergonomic handle with a non-slip rubber grip is easy to hold. The effective jaw design nips damaged nail cuticles cleanly without losing control. The jaw head snipper with sharped finished tips isolates the problem area easily and snips away cleanly. It helps to cut the hangnails, ragged, and thick cuticles. The dual end nail pusher with a curved flat end pushes back the skin for a perfect finish.
Pros
Rust-proof
Ergonomic design
Unique spring technology
Protective plastic tip
Skid-proof handle
Travel-friendly size
Easy to hold
Ideal use for home, spas, and salons
Easy to clean
High precision jaw design
Packaged with a plastic tip to prevent accidents
Cons
 The Opove X7 Cuticle Nipper, with its sturdy design, will surely surprise you. The high-performance blades make it easy to snip excess cuticles and buffs away dead cells. It is made of high-grade stainless steel and is durable enough for long-term use. The ergonomic design with a razor-sharp cutting edge offers a pain-free cutting experience. The easy-grip handle with premium quality titanium finish provides an easy performance. The protective coating is rust-resistant and increases tool-life and performance. It also reduces friction and enhances ease of use. The space grey finish imparts a professional look.
Pros
Titanium finish
Rust-resistant
Durable and sturdy design
Comfortable grip
Clean snip
Easy to sterilize
Ergonomic design
Suitable for home and professional use
Lifetime replacement warranty
Cons
Expensive
Not a gentle performance
The Harperton Nippit Cuticle Cutter with a full jaw nipper is a perfect cuticle trimming tool for salon-quality manicure and pedicure. It is a high-quality, comfortable, and neat performance tool to avoid nicks and cuts. It is made of extra-fine surgical-grade stainless steel that is rust-resistance and sturdy for an extended tool-life. The ergonomic design with specially designed handles and rubber grip assures a professional cuticle removal without the fear of losing control. The compact design measuring 2.5 x 5 inches is travel-friendly and fits easily into a pedicure-manicure kit.
Pros
Ergonomic design
Rust-resistant
Prevents painful nicks and cuts
Easy-to-grip rubber handles
Compact and portable
Ensures proper control while nipping cuticles
Cons
The Boxgrove Beauty is a salon-quality cuticle trimmer measuring 3.93 inches long and 2.4 inches wide, with a surgical-grade pair of cuticle clippers. The long-lasting sharp blades allow a clean cuticle nipping without fear of pulling, tugging, or painful cut. The cutting blade is 0.25 inches long, a perfect length that protects nails from damage. The durable, sturdy stainless steel body is lightweight and accommodates into a manicure-pedicure travel kit. The ergonomic handle is easy to grip and gives perfect control over each cut.
Pros
Lightweight
Ultra-thin design
Durable and sturdy
Hassle-free nail care
Long-lasting sharp blades
Integrated molding casting
Surgical-grade stainless steel
Easy to hold
Easy to clean
Cons
The Tweezerman Professional V-Cuticle Nipper is an effective nail care tool to cut cuticles and hangnails cleanly. It is sleek in design and made of stainless steel. The sharp edges finely remove dead cells without pulling the skin. The textured area near the tip provides a comfortable and controlled grip to cut the cuticles effortlessly. It is a travel-friendly tweezer and easy to clean.
Pros
Easily removes tiny skin tags
Comfortable to use
Designed with sharp, angled blades
Easy to clean
Cons
None
The Koyata Cuticle Trimmer reshapes nails and trims the dead skin effortlessly. The sharp-edged surgical-quality stainless steel tip with a sharp o.3-inches long blade can cut the tiniest cuticles and remove all skin tags without pulling or tugging the skin.  The strong, durable, double spring action with an ergonomic handle design is smooth in action and removes the cuticle easily without any accidental damage. The bonus cuticle pusher perfectly pushes back the cuticle after the entire nail care process. This cuticle cutter is easy to clean – just rub with alcohol, and it is ready for the next use.
Pros
Strong, durable spring action
Easily removes pesky hangnails
Perfect for salon-use
Surgical quality sharp blades
Easy to clean
Ergonomic handle design
Provides a protective sleeve
Cons
The Tweezerman Stainless Steel Cuticle Nipper is a sharp, durable, sturdy cuticle cutter with high-performance Rockhard stainless steel blades for easy and precise nail care. The design provides an optimum level of utility without the fear of nicks and cuts. If you are looking for painless cuticle clipping s, without snagging or tearing, the Tweezerman cuticle nipper is the perfect pick for you. The ergonomic shape gives you a perfect grip, and Rockhard construction makes it sturdy as well as long-lasting.
Pros
Ergonomic design
½ jaw-size
Pain-free clipping
Durable and sturdy
Easy to clean
Ultra-precise nipping
Great for home or salon-use
Cons
The Tweezerman Grip & Snip Spiral Spring Cuticle Nipper delivers ultimate style, comfort, and control for beauty lovers. This sleek modern-designed spiral grip nipper provides a strong and durable clipping without nicks and cuts. The spiral grip is comfortable to use and provides the right control required to remove the toughest cuticle. The looped handle maximizes precision with a no-slip grip. The ultra-sharp blades slough out extra dead skin, hangnails, and ragged cuticles without snagging or pulling out the skin.
Pros
Spiral grip nipper
Looped handle for great precision
No-slip grip
Great for those with arthritis or dexterity
Ultra-sharp blade
Easy to clean
Colorful looped handles
Smooth performance
Cons
The jaw does not open wide enough
The BlueOrchids Cuticle Trimmer is equipped with half-jaw blades that offer a clean and precise cut without pulling or tugging. The sharp blades cut even the tiniest cuticles easily. This cuticle trimmer is ergonomically designed to fit in your hands and provide a comfortable grip. The non-slip handle enables you to cut the cuticles even in small and thin areas. This cuticle trimmer is made of surgical-grade stainless steel material with a protective titanium coating that provides rust resistance.
Pros
Ergonomic design
Comfortable grip
Non-slip handle
Rust-resistant
1-year warranty
Comes with a cuticle pusher
Cons
The Got Glamour is a professional-grade cuticle nipper with the finest material and workmanship. It is made of superior-quality stainless steel with an ultra-sharp, surgical-quality blade to trim, peel, and remove the dry, tough cuticle. The pointed sharp blade cuts even the tiniest cuticle without snagging or plucking the skin. The ergonomic design with ½ jaw single spring and hand-molded grip is easy to hold. The superior performing, box lock hinge minimizes friction and provides superior comfort.
Pros
Handmade product
Ultra-sharp tip
Cuts the toughest part of the cuticle
Ergonomic design
Best for professional and salon-use
Cons
Not a sturdy nipper
Too sharp for home use
Super-hard steel, sharp-edged blade, and a unique beveled joint are the unique features of the GERmanikure Cuticle Nipper. This nail clipping tool is designed and handmade in Germany. The high carbon stainless steel with a manually sharpened blade cleanly cuts the cuticle with no leftover hangnails or ragged skin. The open joint design allows easy lubrication to eliminate dirt and moisture for increasing tool-life.
The friction-free double springs allow smooth, controllable cuts. The innovative beveled joint minimizes friction for easier cuts and reduced wear. The protective leather case prevents any accidental damage. 
Pros
Razor-sharp blade
Carbon stainless steel body
Open joint design
Rust-resistant
Friction-free double spring
Beveled joint
Comes with a leather case
Cons
The Rui Smiths is a professional 24K gold-plated carbon steel nipper with an ergonomic design and glossy finish to jazz up your cuticle tool kit. The solid build quality and expert craftsmanship produced durable, long-lasting, and reliable cuticle nippers. It is made with hard, high-carbon steel with a metal cuticle removing blades. The sharp-edged blade with the optimum quality finish ensures clean removal of tough, hard, dry, peeled cuticles without poking the skin. The gold-plated long handles with double spring help in the smooth movement of the nipper without disturbing nail care.
Pros
Made with carbon-quality stainless steel
Slim, sleek, curved handles for easy grip
Long-lasting
Durable and sturdy design
Glossy gold-plated finish
Easy to remove tough cuticles
No fear of cuts, nicks, or plucking up the skin
Easy to sterilize
Comes with a protective cap
Cons
The ECBASKET Cuticle Trimmer is made of premium-quality surgical-grade stainless steel to retain the sharpness for long use. The perfect ½ inch jaw design with 6 mm thickness removes the tiniest and toughest cuticles without plucking or pulling the skin. The ergonomic non-slip rubber-coated handle prevents slippage and is easy to hold while snipping cuticles. The dual-end cuticle pusher easily pushes back the cuticle and buffs away dead skin.
Pros
Sharp-edged blades
Rust-resistant
Easy to use
Comfortable grip
Wear-resistant
Easy to clean
Portable design
Cons
These are the 15 best cuticle nippers to buy online. Go through the following section; we have discussed how to use them effectively at home.
How To Use A Cuticle Nipper
Soak your hands and feet in lukewarm water. It will help to soften the nails and cuticles for painless removal.
With the in-built cuticle pusher, push back the cuticle into the nail bed. This helps to raise the cuticle slightly, making them easy to clip.
Face the tip of the blades towards your nails and make tiny snips across the cuticle.
Gently pull upward and remove the dead skin.
Apply moisturizer to soften your skin and hydrate further.
Before buying the right cuticle nipper, scan through the quality criteria for the best pick. The following tips might help you.
Tips To Choose The Right Cuticle Nipper
A lightweight, small cuticle nipper is best for the job.
The body should be made of stainless steel. It should be rust-resistant and long-lasting.
The blades should be sharp, ½ -inch jaw-sized, and made of surgical-grade stainless steel for easy snipping of cuticles. 
Why Trust Stylecraze
The author, Oyendrila Kanjilal, is a certified skin care coach devoted to finding sensible solutions for all your maintenance concerns like nail trimming. She understands that your nails need just as much maintenance as your skin and hair. Which is why she recommends the listed cuticle nippers to trim and buff your nails. These products and their reviews were extensively investigated and found to offer benefits like trimming ingrown nails, and made with durable materials.
Frequently Asked Questions
How to sharpen cuticle nippers?
You can sharpen the cuticle nippers by using tin aluminum foil or sandpaper.
How often should you push your cuticles back?
You can push your cuticles back at least once or twice a month.
Is it bad to cut your cuticles?
Keeping a cuticle healthy is essential to reduce fungal growth. Hence, it is important to cut cuticles for removing tough, dry skin.
Is it okay to push back cuticles?
Yes. Cuticles should be pushed back to avoid overgrowth. Excessive growth of cuticles can break them and allow the entry of dirt into the nail bed triggering irritations.
What is the difference between cuticle nippers and cuticle scissors?
Cuticle nippers have blunt blades that can cut and trim tough cuticles and hangnails with extra pressure. On the other hand, cuticle scissors have sharper blades and can cut the cuticles easily without much pressure. These scissors can also be used to cut fine nails.
Is cutting cuticles harmful?
No. Cutting the cuticles is beneficial. It will help in reducing the risk of developing ingrown nails. In addition, cutting or trimming cuticles will give your nails a smooth finish.
Why do nail salons remove cuticles?
Many nail salons cut the cuticles to ease the application of the polish. Cutting off the cuticle helps the polish to stay on your nails longer.
Recommended Articles