15 Best Cuticle Oils To Hydrate And Strengthen The Nails – 2023
Massage the tips of your nails thoroughly and benefit from the plant-infused formulas.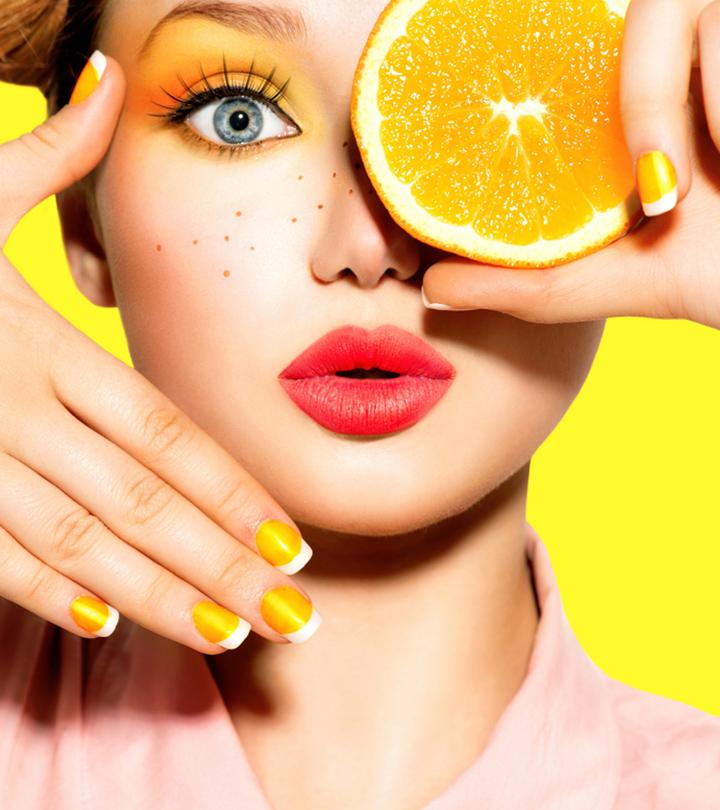 Have you started noticing lately that your nails look dry and withered? If yes, don't fret! Constantly washing hands, not keeping them moisturized, and ignoring skin health can lead to this oh-so-annoying problem. However, all you need is the best cuticle oil for nails to keep them happy and healthy. Cuticle oils keep your nails hydrated by imparting moisture and help promote overall nail longevity and growth. They are made from vegetable oils and sometimes even infused with vitamins and are applied with a cotton ball around the cuticles. They also strengthen your nails and keep chipped nails at bay. Now that we may have possibly convinced you of the benefits of cuticle oil, all you need to do is buy one! Take a look at our curated list of cuticle oils for nails to keep your nails happily singing! We're sure you will sport healthy, long nails that are unbreakable within no time.
What Is A Cuticle Oil?
Cuticle oils are nourishing and hydrating products designed to heal dry cuticles and brittle nails. Most cuticle oils consist of ingredients like argan oil, jojoba oil, vitamin E oil, shea butter, aloe vera gel, coconut oil, etc. These oils and ingredients are rich in omega fatty acid as well. These acids can soften the nails and cuticles within a few applications.
What Does A Cuticle Oil Do?
These oils are widely used to prevent infections and improve the health of nails and cuticles. Regular use of cuticle oils helps the nails grow thicker, longer, and healthier. These oils also work on nail enhancements and nails with polishes.
15 Best Cuticle Oils In 2023 For Tough And Glamorous Nails
Looking for a good cuticle oil? This revitalizing nail and cuticle oil is formulated with sunflower oil that is loaded with antioxidants and nutrients that improve nail health and keeps rough cuticles smooth and nourished. It is enriched with the goodness of milk, honey, and complex blends of vitamins B5, B, E, and essential oils. If you want healthy cuticles, all you need to do is use this natural oil to massage your nail bed to prevent breakage, peeling, and cracking. The lactic acid from milk stimulates the skin and promotes nail growth. Here's a video to help you know more about this product.
Pros
Mild scent
Makes the cuticles soft and healthy
Promotes nail growth
Cruelty-free
The oil relieves soreness from dried or damaged cuticles.
Cons
Some may find the fragrance overpowering.
Price at the time of publication: $13.61
Enriched with vitamin E, this miracle oil for nails and cuticles strengthens nails and keeps them moisturized. Vitamin E also prevents yellow nail syndrome and keeps the nails from being cracked. If you have dry and flaky nails and ragged cuticles, massage this oil regularly to keep your cuticles nourished. The oil also consists of other vital ingredients like aloe and apricot kernel for lasting results.
Pros
Loaded with the richness of wheat germ and natural essential oils
Conditions cuticles and increases nail flexibility
Fragrance-free formula
It works on tough and hard cuticles.
Cons
The oil does not offer quick results.
Price at the time of publication: $5.33
If you need an oil that quickly penetrates the nail bed and has great moisturizing properties, this is a great pick. Its superb penetrating formula works on the deeper layers of the skin and conditions the nails and cuticles. Plus, it features a blend of natural oils such as jojoba, vitamin E, and sweet almond oils. These oils are loaded with antioxidants that gently soften cuticles and make them strong. You will have no nail breakage and brittleness when you use this nail cuticle oil. This video takes you through this product's details.
Pros
Light and penetrative oil
Has a medium consistency
Has a delightful almond scent
Works on natural nails, enhancements, and nail enamel too
Cons
Must be used daily for quick results
Price at the time of publication: $8.5
Here is a one-of-a-kind cuticle and nail oil pen that will protect the delicate skin around your nails and cuticles from free radical damage and nourish the skin. If your nails are brittle and flaky, this pen helps repair peeling and brittle nails while decreasing the appearance of wrinkles. As a bonus, the nail treatment oil has antibacterial and antifungal properties that prevent your cuticles from getting infected or damaged. For a more detailed review of this product, here's a video.
Pros
Reduces hangnails within 5 days
Made using organic and non-toxic ingredients
Prevents nail enhancement and nail polish cracking
Easy-to-use applicator pen
Anti-microbial properties to keep your nails and cuticles free from infections
It is free from fillers, additives or solvents.
Cons
Runs out quickly and you need to apply it frequently.
Price at the time of publication: $6.79
This cuticle and nail oil replenishes layers of the nails and maintains the balance of natural oils around your nails and cuticles. The hydrating formula of this natural cuticle oil helps soften rigid cuticles and cracked nails with ease. The nail growth oil repairs the nails and promotes growth. It is made using tea tree oil to provide extra nourishment and heal hangnails. It also consists of lavender and lemon essential oils that'll leave your nails with an appealing, mild scent.
Pros
Does not use any harsh chemicals or toxins
Regenerates cells and provides nourishment to the nails
Comes with a convenient applicator brush
Features a fresh and creamy formula to keep the skin hydrated
Cons
May not work on extremely dried out nails
Give your cuticles what they need: a soothing spa! This is arguably the best cuticle oil for nail growth and provides a dose of moisturization and keeps your nails and cuticles hydrated. Formulated with grapeseed, kukui, sesame, and cupuaçu oils, this product has a fast-absorbing formula that penetrates the cuticle bed easily. All it takes for you to have healthier cuticles and your nails to look healthy and bright is a drop of this versatile and high-impact nourishing oil.
Pros
Has a mild scent
Convenient and travel-friendly bottle
Infused with moisturizing coconut and macadamia oils
Vitamin E and shea butter hydrates dry skin
Locks moisture in the cuticle beds and nail for up to 24 hours
Cons
Not suitable for damaged nails and cuticles
Price at the time of publication: $10.43
This nourishing cuticle oil by Cuccio is the best natural cuticle oil that features a blend of pomegranate and fig extracts with a convenient applicator and bottle. Its unique formula helps prevent breakage and turns rigid, stubborn skin softer. This cuticle serum does not cause a mess while using it as it comes with an easy-use applicator that enables it to penetrate the skin and heal cracked cuticles.
Pros
Has a mild and pleasant fragrance
Does not leave a greasy residue
Absorbs quickly into the nail beds
Prevents nail enamel flaking and cracking
Keeps the nail moisturized for up to 24 hours
Cons
Product leaks because of poor packaging
Price at the time of publication: $5.38
The essie's Apricot Nail and Cuticle Oil is a 97% natural formula infused with nourishing ingredients like jojoba oil, sunflower seed oil, and apricot kernel. The oil quickly absorbs into your nails and moisturizes your cuticles for healthier nail beds. Just a few drops of this nail oil treat brittle cuticles and restore your nails' strength.
Pros
Absorbs quickly
Long-lasting effect
Pleasant fragrance
Cruelty-free
Cons
Price at the time of publication: $9.99
This cuticle oil pen makes it easier than before to hydrate and nourish the cuticles and nail bed. It is packed with conditioning oils and works well on rigid, cracked nails and delicate cuticles. Within 3 days of regular use, it heals hangnails and reduces brittleness. Plus, the organic cuticle oil has antifungal and antibacterial properties to improve the health of nails and prevent infections.
Pros
Made with pure and organic ingredients
Paraben and cruelty-free
Encourages healthy nail growth
Eliminates fungus
Dermatologist-recommended
It is infused with vitamins A and E for added nourishment.
Cons
May not work on extremely dried out cuticles
Price at the time of publication: $15.94
The Super Nail Professional Cuticle Oil has a thin viscosity which ensures that the oil gets absorbed into your cuticles quickly. This oil is lightweight, non-greasy, and promotes nail growth. It has a subtle smell that does not interfere with other nail products. You can also warm it up and use it as a massage oil for your nails.
Pros
Quick absorbing
Lightweight
Value for money
Non-sticky
Cons
None
Price at the time of publication: $9.95
We all love those freshly manicured and polished nails, don't we? But maintaining nail health is not an easy task. Especially if you have thin and brittle nails, the manicures and polishes won't last long. Flaky and peeling nails can cause pain and look horrible, and to solve these problems, use this softening and hydrating cuticle oil from L'Occitane. This cuticle oil enriched with shea oil helps improve nail health and keep your cuticles moisturized. So what are you waiting for? This is the best oil for nail growth and you need to get it for yourself now.
Pros
Softens cuticles and strengthens nails
Formulated with ultra-hydrating shea oil
Shows results within the first week of use
Improves the condition of cracking, peeling, and dry nails
Does not leave an oily residue on nails
Cons
It takes time to get absorbed entirely in the skin and cuticles
Price at the time of publication: $20.0
Cuticle oils help relieve roughness, dryness of cuticles, and hangnails, and this cuticle oil does this like no other! Unlike thick creams and ointments, this oil easily gets absorbed in the dermis and nail bed and does a great job of healing your nails. The effects of the oil last long and lock moisture to keep the cuticles soft and nourished. This multi-purpose formulation features refined tamanu oil with fatty acids and has antibacterial benefits. Hemp seed oil and gamma-linolenic acid infused in it improve dry skin and soothe symptoms of eczema. The oil helps promote healthy nails and regenerates damaged skin.
Pros
Helps treat eczema
Moisture retention
Antibacterial effect
Infused with natural oils for better nail growth.
Cons
The oil has a slightly foul smell.
Price at the time of publication: $24.0
Big things come in small packages and this oil is the best example. The nail repairing gel is infused with vitamin E oil for the nails to become stronger and healthier. Packed in a compact blue tube, this product comes with an easy-to-use nozzle as an applicator and is perhaps the best oil for cuticles and nails. Formulated with jasmine and rose extracts, it helps repair ragged cuticles and nails, while keeping them smelling heavenly. You can see an overnight improvement in your nails when you use this oil.
Pros
Vitamin E infused
Made with natural jasmine and rose
Stay-on cuticle oil
The oil heals damaged nails overnight.
Cons
The consistency of this oil is very sticky and thick.
Price at the time of publication: $7.19
The Beauty By Earth Nail & Cuticle Oil is infused with vitamin E that prevents your nails from peeling, cracking, or getting yellowish. The jojoba oil in the formula hydrates your cuticles while the tea tree leaf oil promotes healthy nail growth. It also is enriched with lemon peel oil, olive fruit oil, apricot kernel oil, and sunflower seed oil that strengthen your nail beds and protect them against free radical damage. This vegan formula also is effective in extending the wear time of your polish.
Pros
USDA-certified organic
Absorbs quickly
Non-greasy
Vegan
Cons
None
Price at the time of publication: $14.99
This charming little bottle filled with renewing and skin-enriching oils is sure to keep your cuticles and nails conditioned. The spill-free glass droppers prevent mess and allow the oils to be absorbed quickly. Whenever you are busy, pickup this bottle and drop this oil filled with the goodness of vitamin E, coconut oil, and jojoba oil on your cuticles to fasten nail growth, it is that simple!
Pros
Provides hydration with each drop
Fast and easy absorption
Does not feel sticky
Features a convenient dropper
Cons
Not recommended for infected nails
Price at the time of publication: $18
We will now explore what ingredients you must look for while buying cuticle oils.
What Ingredients To Look For In A Cuticle Oil?
Here are a few ingredients that can help repair extensive cuticle damage and nourish the nails:
Vitamin E Oil
Vitamin E oil is rich in antioxidants and can heal torn and dehydrated skin quickly. If you have dry cuticles, this oil will soften your cuticles within a few uses.
Wheat Germ Oil
Wheat germ provides anti-aging benefits and is also rich in antioxidants. It reduces the appearance of wrinkles around the cuticles and does not clog pores and thus, protects the cuticles from free radical damage.
Aloe Vera Gel
Aloe vera gel is a soothing agent and offers loads of hydration. Thus, if you have inflamed, irritated, or dry cuticles, look out for a cuticle oil that is infused with aloe vera gel.
Coconut Oil
From broken nails to fungal infections, coconut oil is capable of healing many nail and cuticle related issues. It promotes nail growth, acts as a natural remedy for bacteria and fungus, and will help you get rid of dryness too.
Jojoba Oil
Jojoba oil is applied to cuticles for soothing irritated skin. It strengthens the nail bed and has antifungal properties. Thus, if you have fungus or athlete's foot, a jojoba cuticle oil will help prevent infections.
Sweet Almond Oil
For peeling, cracking, and brittle nails, almond oil will work as a protective agent. It will restore nail health and is loaded with essential vitamins like vitamins E, A, B1, B2, and B6 to strengthen the nails.
Apart from these ingredients, you can also choose oils with ingredients like shea butter, sesame oil, cocoa butter, avocado oil, grapeseed oil, etc. based on your requirements and condition.
What Are The Benefits Of A Cuticle Oil?
There are plenty of benefits of cuticle oil, and here are some of the prominent benefits they offer:
Protects nails from damage
Our nails are exposed to soapy water, harsh chemicals, and such environments that can weaken them and make them brittle. The prime benefit of cuticle oil is that these oils protect nails from peeling, breaking, and bruising. Issues like eczema and psoriasis can also be prevented by using a good cuticle oil.
Repairs nails
Damaged, brittle, or rough nails can be repaired using cuticle oil. These oils promote blood flow to the fingers and nails, which improves the healing abilities of the fingers. The nourishing and soothing oils can heal inflamed or irritated skin around the nails.
Moisturizes the cuticles and nails
Cuticle oils are packed with ingredients that can hydrate the skin and prevent dryness. When you notice cuticles growing and the nails getting brittle, applying cuticle oil prevents the skin from drying out.
How To Use Cuticle Oil
Applying cuticle oil is quite simple. Here's how you can use cuticle oil regularly for best results:
Start by cleaning your nails. Remove nail polish with a gentle nail polish remover. Some oils can be used over nail polishes while others cannot.
Once you remove the nail polish, rinse the nails with water and soap. You can also use a mild cleanser to clean the nails. Pat the nails dry.
Shake the bottle of cuticle oil before applying so the ingredients mix well.
Hold the dropper 5 cm above your finger and apply it to your nails. You can also use a brush to apply the oil on and around the nails.
Cover all the sides of your nails.
You can also massage the oil with your fingertips for a minute or two as it stimulates growth and promotes blood flow to the area.
Within 3-4 hours, the oil will get absorbed in the skin. You can reapply after a few hours or the next day.
How To Choose The Best Cuticle Oil And Cream
Here are the things you need to keep in mind while selecting a cuticle oil or cream:
Check the ingredients on the bottle before purchasing it. Ingredients like shea butter, vitamin E oil, jojoba oil, essential oils, aloe vera, etc. offer quick results.
The other thing that you need to keep in mind is the type of applicator or bottle. You can choose a container with a glass dropper that directly drops the oil on your cuticles and saves time. If you like using a brush to apply the oil, any bottle will work.
Absorption is the other thing you might want to consider. The oils that get absorbed too quickly need frequent reapplication, while those that do not get rapidly absorbed leave a sticky residue. Thus choose a moderately absorbent oil that penetrates the skin as needed.
Why Trust StyleCraze?
A makeup and manicure enthusiast, Vaishnavi Kothuri loves to share her tips and tricks for a contemporary manicure. She uses cuticle oils to protect her nails from looking shabby and hydrate them. Thorough research of every product review on the market helped her compile this comprehensive list of the best cuticle oils. The shortlisted oils nourish and extend the life of your nails by supplying them with ample moisture.
Frequently Asked Questions
When should you use cuticle oil?
As the cuticle oil protects nails against damage, it can be used when cuticles, nails, and surrounding skin become dry and damaged. If you have dry or cracked nails or if your cuticles feel rigid, you can massage cuticle oil around your nails and cuticles to condition and soften the surrounding areas.
What is the best product for dry cuticles?
A cuticle oil that features hydrating ingredients like vitamin E oil, essential oils, hydrating aloe, or antioxidants is excellent for treating dry cuticles. Cuticle oils are gentle on the skin and provide intense-hydration with quick absorption.
Is cuticle cream or oil better?
Cuticle creams may leave a thick and sticky residue on the nails and might not get absorbed in the skin. On the contrary, cuticle oils have a medium consistency and get easily absorbed in the skin and cuticles. Oils offer deep conditioning without leaving any greasy residue. Thus, if you want quick results and better absorption, cuticle oils are better.
How often should you apply cuticle oil?
Apply cuticle oil three times a day to strengthen your nails and boost their growth.
Is cuticle oil better than lotion?
Yes. Cuticle oils are lighter than lotions. They get absorbed easily without leaving a greasy residue on your nails, unlike the lotions.
How long should you leave cuticle oil on?
Let the cuticle oil sit for two minutes and continue working with your hands.
How do I use cuticle oil?
• Apply one drop of cuticle oil on the nails.
• Use a finger and massage the oil into the cuticle.
• Let the oil set in for a few minutes.
Recommended Articles: