The 10 Best Cuticle Removers Of 2023 – Our Top Picks
Groom your nails easily without the worry of irritation or pesky hangnails.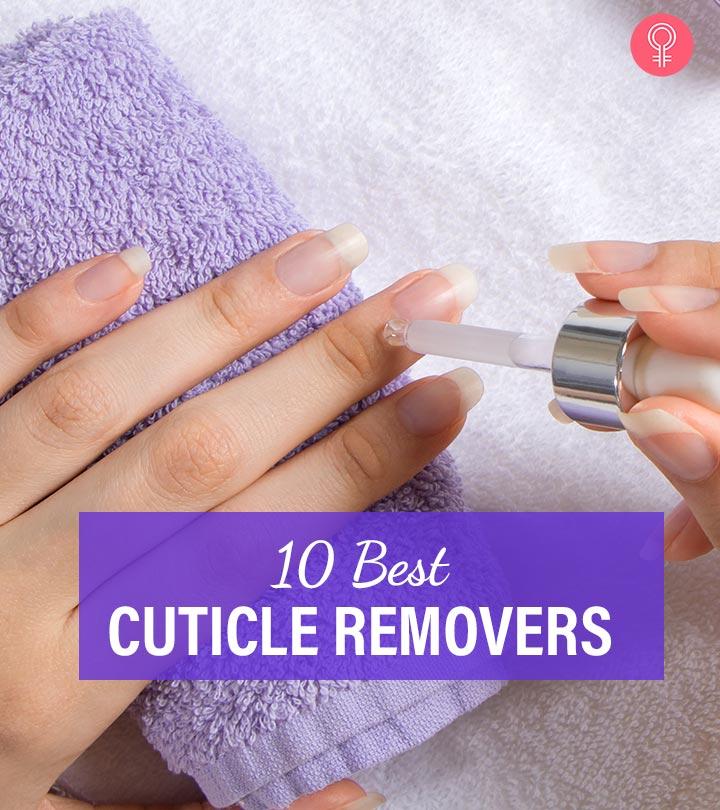 Removing cuticles can be a bit painful if done manually with clippers or nippers. They may cause injury, irritation, or even the risk of infection. To make this task easier, you can select from a range of the best cuticle removers we have compiled here.
Trimmed nails and pushed cuticles add an aesthetic look to the hands. But dull, dry, or damaged cuticles can make you look shabby and ungroomed. Cuticle removers work effectively in removing the dead skin layer from around the nails. And the active ingredients in them remove overgrown nails quite quickly. They also soften the cuticles and moisturize your nails.
In this article, we have listed the 10 best cuticle removers that smoothly remove dry skin and impart a neat look to your nails. Read on to know more about them and select the one which best suits you
Top 10 Cuticle Remover Products Available Right Now
Sally Hansen's Instant Cuticle Remover targets stubborn cuticles. Its revolutionary gel formula contains aloe vera and chamomile extracts that soothe and condition the skin. This intense cream works instantly to get rid of dead cuticles within 15 seconds. It is gentle on the skin and easy to use. It washes off quickly with soap and water. This video will help you make an informed decision about your purchase.
Pros
Eliminates cuticles
Gel formula
Works in 15 seconds
Easy to use
Removes calluses
Hydrates the cuticles
Soothes the skin
Cons
Price at the time of publication: $4.47
Blue Cross Cuticle Remover gently removes the accumulated dead skin cells and unwanted cuticles around the nails. This cuticle remover works quickly and does not dry out the skin. Its light consistency makes it easy to apply around the cuticle. This cuticle remover dissolves dead cuticle skin painlessly and without creating any ragged edges. Watch this video to get a detailed review of the product.
Pros
Easy to use
Works quickly
Affordable
Moisturizes the skin
Cons
Price at the time of publication: $5.49
Prolinc Cuticle Eliminator's fast-acting formula removes cuticles and hangnails within seconds. It softens the thick, overgrown cuticles and gently dissolves them. It shortens the time for manicure treatments and eliminates the need for nail clippers or nippers. It is safe to use on acrylics and nails with gel polish or nail polish. This lightweight product is easy to use and can even remove calluses. It is not tested on animals.
Pros
Removes cuticles in seconds
Safe to use on acrylics, gel polish, and nail polish
Cruelty-free
Easy to use
Removes calluses
Cruelty-free
Cons
Price at the time of publication: $9.69
This cuticle exfoliator by Butter London softens and removes cuticles. It works quickly, and its consistent use results in healthy cuticles. It gently removes dry, overgrown, and thick cuticles within minutes. It helps in clearing the cuticle area without any tearing or pain. This is one of the best cuticle treatments currently available. It does not contain harmful chemicals like formaldehyde, toluene, and xylene.
Pros
Works quickly
Provides softer and healthier-looking cuticles
No clipping required
Formaldehyde-free
Cons
Price at the time of publication: $18.0
Super Nail Cuticle Softener And Remover is gentle and works efficiently to remove cuticles, making home manicures easy and convenient. It softens and dissolves excess cuticles within minutes. Its gentle formula penetrates deep into the cuticles and moisturizes them, making them easy to remove. It also removes ink, hair dye, hair tint stains. This is one of the most effective cuticle removers for getting rid of dry and overgrown cuticles.
Pros
Gentle formula
Softens nail cuticles
Removes ink and dye stains
Cons
Contains a potential carcinogen (Cocomide DEA)
The Elavae Instant Cuticle Remover softens and removes cuticles within 30 seconds. The thick gel-like consistency is not runny like other cuticle remover oils or gels. This gel cream can be easily applied with an easy-to-squeeze bottle and applicator tip, offering a mess-free experience. The cruelty-free formula is suitable for sensitive skin as it soothes the cuticles, helps eliminate overgrown, thick, dry cuticles, and leaves a citrusy freshness. This product is suitable for toenails and fingernails and helps achieve spa-like manicured healthy, soft nails and cuticles at home.
Pros
Lanolin-free
Vegan
Thick gel formula
Cons
May cause a burning sensation.
Price at the time of publication: $9.49
Sally Hansen Salon Manicure Cuticle Eraser + Balm contains white tea and cucumber extracts. These soothing ingredients and antioxidants protect your skin. They also promote healthy skin and nails. This cuticle eraser works quickly to remove excess cuticles and hangnails while conditioning your nails and cuticles to improve their health.
Pros
Remove dry cuticles
Moisturizes the skin
Promotes healthy cuticles
Conditions the nails
Cons
Eveline Cosmetics Soft And Healthy Cuticles Professional Treatment removes dry, rough, and ragged cuticles without any causing any injury or irritation. It works effectively and quickly to eliminate excess the cuticles around your nails. The avocado oil in it hydrates and soothes the cuticles.
Pros
Hydrates the cuticles
Removers rigid cuticles quickly
Easy to use
Cons
Price at the time of publication: $3.4
The California Mango Cuticle Softener is made with aloe vera, acai, and mango extracts that quickly softens and breaks down hard, thick, and dried cuticles. It also locks in moisture and hydrates the skin. In addition, it gently exfoliates dead skin cells and reveals healthy new skin. It is gentle and soothing on your skin and easy to use.
Pros
Softens cuticles quickly
Exfoliates dead skin cells
Moisturizes the skin
Reveals healthy skin
Pleasant scent
Cons
None

Price at the time of publication: $4.95
The deborah lippmann Cuticle Remover offers quick exfoliating treatment for your cuticles. It contains lanolin that eliminates dry, dead skin around the cuticles without any damage. This cuticle remover helps soften dry cuticles and maintains healthy nails. The gel-based formula is an award-winning choice for no-soak manicures.
Pros
Easy to use
Travel-friendly
Gel-based formula
Cons
None
Price at the time of publication: $20.0
Why Trust StyleCraze?
The author, Shiboli Chakraborti, is a certified skin care coach and loves sharing her tips and tricks for a contemporary manicure. Cuticle removers keep our nails from looking shabby and give them an elegant shape. A thorough review of every product review on the market led Shiboli to compile a comprehensive list of the best products. A cuticle remover softens dry and overgrown cuticles and dissolves dead skin cells rapidly.
Frequently Asked Questions
Are cuticle removers safe to use?
Cuticle removers are safer to use than metal clippers or nippers that increase the chances of injury or infection. They do not contain harsh chemicals that can damage the skin.
What can I use cuticle remover for?
Cuticle removers can be used to remove the rough cuticles and dead skin around the nails in a safe and effective way. They soften the dry and overgrown cuticles and dissolve the dead skin cells quickly. They can be used to get rid of hard calluses or to remove stubborn stains from the cuticle area.
What are the benefits of cuticle removers?
Cuticle removers are gentle and safe to use. They can be used at home without any professional assistance. They eliminate dead skin cells, hangnails, and ragged cuticles around the nails by dissolving them and without using any mechanical tearing or pressure. They promote healthy cuticles.
Recommended Articles