10 Best Cuticle Removers – 2020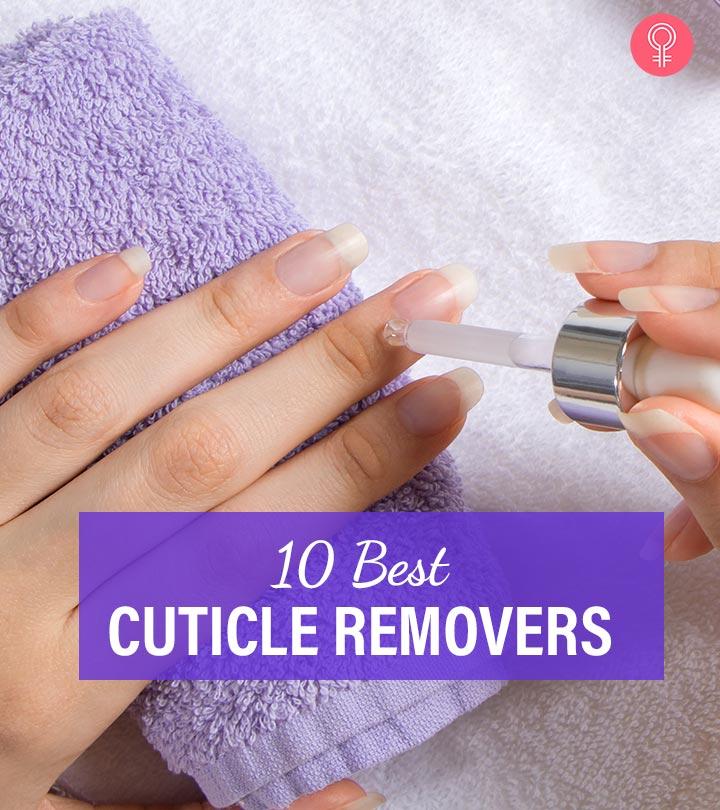 Pushed cuticles and neatly trimmed fingernails are good grooming practices. Damaged or overgrown cuticles give an unkempt appearance to your hands. They can also cause pain, irritation, and infections. You can remove cuticles manually by using sharp mechanical clippers, cuticle trimmers, or nippers. But, this could be a bit painful and comes with the risk of injury or infection from nail fungus.
Cuticle removers contain active ingredients that soften the cuticles and chemically exfoliate the layer of dead skin cells around your nails. They can also remove overgrown nails or hangnails within minutes. They are gentle on the skin and contain natural ingredients that soothe and moisturize the dry skin around the nails.
We have put together a list of the 10 best cuticle removers available right now. Check them out below!
Top 10 Cuticle Remover Products Available Right Now
Sally Hansen's Instant Cuticle Remover targets stubborn cuticles. Its revolutionary gel formula contains aloe vera and chamomile extracts that soothe and condition the skin. This intense cream works instantly to get rid of dead cuticles within 15 seconds. It is gentle on the skin and easy to use. It washes off quickly with soap and water.
Pros
Eliminates cuticles
Gel formula
Works in 15 seconds
Easy to use
Removes calluses
Hydrates the cuticles
Soothes the skin
Cons
Blue Cross Cuticle Remover gently removes the accumulated dead skin cells and unwanted cuticles around the nails. This cuticle remover works quickly and does not dry out the skin. Its light consistency makes it easy to apply around the cuticle. This cuticle remover dissolves dead cuticle skin painlessly and without creating any ragged edges.
Pros
Easy to use
Works quickly
Affordable
Moisturizes the skin
Cons
Prolinc Cuticle Eliminator's fast-acting formula removes cuticles and hangnails within seconds. It softens the thick, overgrown cuticles and gently dissolves them. It shortens the time for manicure treatments and eliminates the need for nail clippers or nippers. It is safe to use on acrylics and nails with gel polish or nail polish. This lightweight product is easy to use and can even remove calluses. It is not tested on animals.
Pros
Removes cuticles in seconds
Safe to use on acrylics, gel polish, and nail polish
Cruelty-free
Easy to use
Removes calluses
Cruelty-free
Cons
This cuticle exfoliator by Butter London softens and removes cuticles. It works quickly, and its consistent use results in healthy cuticles. It gently removes dry, overgrown, and thick cuticles within minutes. It helps in clearing the cuticle area without any tearing or pain. This is one of the best cuticle treatments currently available. It does not contain harmful chemicals like formaldehyde, toluene, and xylene.
Pros
Works quickly
Provides softer and healthier-looking cuticles
No clipping required
Formaldehyde-free
Cons
Super Nail Cuticle Softener And Remover is gentle and works efficiently to remove cuticles, making home manicures easy and convenient. It softens and dissolves excess cuticles within minutes. Its gentle formula penetrates deep into the cuticles and moisturizes them, making them easy to remove. It also removes ink, hair dye, hair tint stains. This is one of the most effective cuticle removers for getting rid of dry and overgrown cuticles.
Pros
Gentle formula
Softens nail cuticles
Removes ink and dye stains
Cons
Contains a potential carcinogen (Cocomide DEA)
The ProLinc Cuticle Eliminator softens the cuticles within 45 seconds, reducing your manicure and pedicure time. It helps maintain the shape of your toenails and fingernails. This cuticle remover gently eliminates stubborn dirt and dead skin cells of your cuticles. It protects your new nails from bacteria when they outgrow the nail root. This cuticle remover dissolves hangnails and thick, overgrown cuticles without any pain. It also gets rid of buildup under the free edge of your nails. This product can also be used on acrylic nails and gel nail polishes.
Pros
Easy to use
Cruelty-free
Value for money
Cons
Not suitable for sensitive skin types
Sally Hansen Salon Manicure Cuticle Eraser + Balm contains white tea and cucumber extracts. These soothing ingredients and antioxidants protect your skin. They also promote healthy skin and nails. This cuticle eraser works quickly to remove excess cuticles and hangnails while conditioning your nails and cuticles to improve their health.
Pros
Remove dry cuticles
Moisturizes the skin
Promotes healthy cuticles
Conditions the nails
Cons
Eveline Cosmetics Soft And Healthy Cuticles Professional Treatment removes dry, rough, and ragged cuticles without any causing any injury or irritation. It works effectively and quickly to eliminate excess the cuticles around your nails. The avocado oil in it hydrates and soothes the cuticles.
Pros
Hydrates the cuticles
Removers rigid cuticles quickly
Easy to use
Cons
Pacifica Clean Up Cuticle Remover softens and removes dried and rough cuticles quickly. It is formulated with natural ingredients like jojoba oil and glycerin (a natural humectant) that lock in moisture and hydrate the skin. It gently exfoliates the cuticles and helps in promoting healthy nails. It is 100 % vegan and cruelty-free.
Pros
Removes cuticles quickly
Moisturizes the cuticles
Vegan
Cruelty-free
Cons
None
The deborah lippmann Cuticle Remover offers quick exfoliating treatment for your cuticles. It contains lanolin that eliminates dry, dead skin around the cuticles without any damage. This cuticle remover helps soften dry cuticles and maintains healthy nails. The gel-based formula is an award-winning choice for no-soak manicures.
Pros
Easy to use
Travel-friendly
Gel-based formula
Cons
None
Cuticle removers gently remove cuticles in a safe and effective way. They contain ingredients that soften and moisturize the nails and cuticles. Try out one of the cuticle removers listed above to get neat and well-groomed nails.
Expert's Answers For Readers' Questions
Q. Are cuticle removers safe to use?
Cuticle removers are safer to use than metal clippers or nippers that increase the chances of injury or infection. They do not contain harsh chemicals that can damage the skin.
What can I use cuticle remover for?
Cuticle removers can be used to remove the rough cuticles and dead skin around the nails in a safe and effective way. They soften the dry and overgrown cuticles and dissolve the dead skin cells quickly. They can be used to get rid of hard calluses or to remove stubborn stains from the cuticle area.
What are the benefits of cuticle removers?
Cuticle removers are gentle and safe to use. They can be used at home without any professional assistance. They eliminate dead skin cells, hangnails, and ragged cuticles around the nails by dissolving them and without using any mechanical tearing or pressure. They promote healthy cuticles.
Recommended Articles
The following two tabs change content below.

Latest posts by Annie Jangam (see all)

Annie Jangam
Annie Jangam is a Molecular Biologist with 7 years of research experience in Rice Functional Genomics and Nutrient Signalling with International Publications in Abiotic stress, Nitrogen, and G-protein signaling. She specializes in writing on Health and Wellness. She has been an avid reader since childhood and is passionate about stories that help decipher life and its meaning. She believes in Human Rights for all and that one should "love others like we love ourselves."