11 Best Cutting Boards And Buying Guide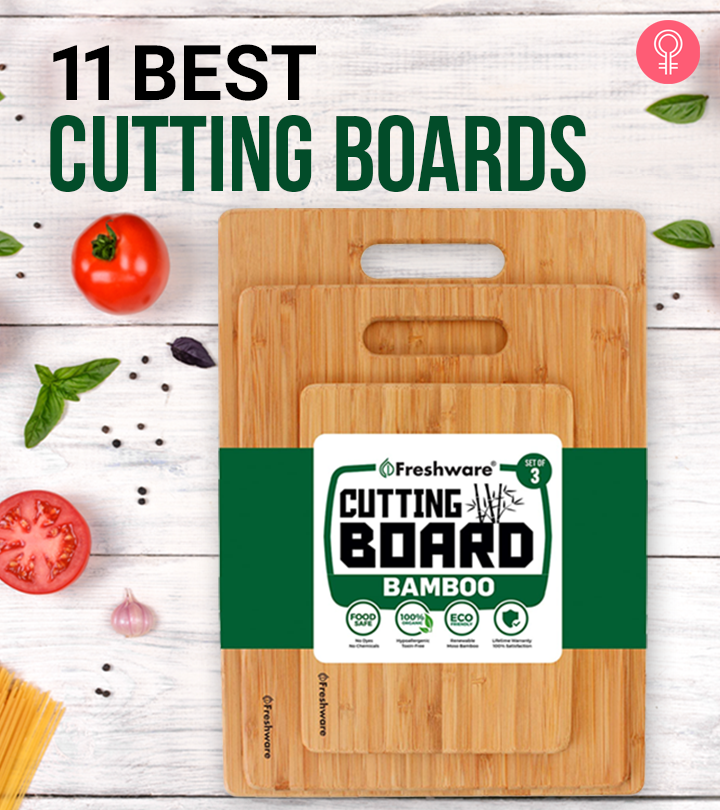 Cutting boards are indispensable culinary tools that can up any meal prep by several notches. Whether it is chopping, cutting, slicing, or dicing, you need a heavy-duty cutting board. A perfect cutting board will have ample space for chopping and carving. It should be easy to clean and store, sturdy, and able to withstand odors and stains. We have compiled a list of the 11 best-in-class, top-grade cutting boards. From wood to plastic – there's something for everyone. Scroll down to check them out!
11 Best Cutting Boards
The HOMWE 3-Piece Set Kitchen Cutting Board features a juice groove to catch sticky liquids from spilling out. It comes with a non-slip handle to block its movement during the work. It is manufactured with high-quality, durable, and thick plastic. This chopping board with a non-porous, robust cutting surface safeguards your counter from deep cuts. It is also BPA-free and 100% dishwasher-safe.
Features
Dimensions: 15.39 x 11.1 x 0.91 inches
Weight: 2.94 pounds
Material:  Plastic
Number Of Pieces: 3
Pros
Odor-free
Stain-free
Easy to clean
Dishwasher-safe
Non-porous
Non-slip handles
Built-in juice groves
BPA-free
Durable
Cons
Might warp
The handles are not long-lasting
The Royal Craft Wood Bamboo Cutting Board Set is made of organic bamboo woods and boosts the aesthetic appeal of your kitchen. This handcrafted cutting board has antimicrobial properties that prevent cross-contamination of food and bacteria buildup. It comes in three sizes – small, medium, and large – for multipurpose use. The inbuilt juice groove helps prevent the juice from vegetables, fruits, or meat spilling outside. This cutting board can bear the pressure of heavy slicing, chopping, and dicing without dulling the knives. It features a reversible design that can be used from both sides as a chopping board and as a serving tray. It is durable, odor-free, BPA-free, crack-resistant, and comes with side handles for easy carrying.
Features
Dimensions: 14.9 x 10 x 1.8 inches
Weight: 3.94 pounds
Material: Bamboo
Number Of Pieces: 3
Pros
2-in-1 reversible design
Bacteria-resistant
Easy to clean
Water-resistant
Non-toxic
Durable
Odor-resistant
BPA-free
Crack-resistant
Handcrafted
Cons
The Greener Chef Organic Bamboo Cutting Board is made of 100% Moso bamboo with antimicrobial properties. These bamboos are harvested in toxin-free tested and organic soil. It is a heavy-duty, robust cutting board that offers great safety to knife edges. This cutting board features a deep juice groove to prevent juice spillage. Its 7" depth accommodates big watermelons and a whole turkey. The cutting board eliminates worries of separating, splitting, cracking, or warping.
Features
Dimensions: 18 x 12.5 x 0.7 inches
Weight: 3.15 Pounds
Material: Moso Bamboo
Number Of Pieces: 3
Pros
Durable
Lightweight
Antibacterial
2-sided deep juice groove
Life time replacement warranty
Sustainable and earth-friendly
Chemical-free
Cons
The Gorilla Grip Cutting Board is dishwasher-safe, BPA-free, and non-porous, unlike bamboo or wood boards. Apart from being spacious and thick, it features deep grooves to collect juices. The set of three comes in large (16 x 11.2 inches), medium (13.8 x 9.6 inches), and small (11.8 x 8 inches) sizes. It helps to maintain a clean and hygienic countertop in your kitchen. This product is also cutlery and knife-friendly.
Features
Dimensions: 11.3 x 1.1 x 16.3 inches
Weight: 4.14 pounds
Material: Plastic
Number Of Pieces: 3
Pros
Ultra-durable
Slip-resistant
Non-toxic
Sleek design
Easy to clean
Cons
The Freshware Bamboo Cutting Board can handle vegetables, fruits, meat, crackers, and cheese slicing easily. It is available in three sizes – large (33 x 24.1 x 1 cm), medium (27.9 x 21.6 x 1 cm) and small (20.3 x 15.2 x 1 cm). This strong bamboo chopping board is moisture, warp, and crack-resistant, and comes in 100% natural color. You will also not experience staining or chemicals with this product. It features a 2-in-1 reversible design with rounded edges and handles for serving cheese, meats, fruits, and veggies. The 3-layer cross-section makes it durable, and it is also easy to clean and maintain.
Features
Dimensions: 11 x 8.5 x 0.4 inches
Weight: 1 pound
Material: Natural bamboo
Number Of Pieces: 3
Pros
Ergonomic grip
BPA-free
Anti-microbial
Easy to clean
2-in-1 reversible design
Dye-free
Chemical-free
Hypoallergenic
Toxin-free
Lifetime warranty
Crack-resistant
Moisture-resistant
Cons
Not dishwasher compatible
The Seville Classics Bamboo Cutting Board streamlines the meal preparation process with a high-quality bamboo cutting board and seven color-coded mats. It is compact, user-friendly, and features inbuilt mat storage. The seven cutting mats made of BPA-free plastic prevent cross-contamination of food. The cutting board fits each of the mats easily, ensuring safety. It comes with non-slip silicone feet to maintain stability during work.
Features
Dimensions: 16.5 x 13.4 x 1.2 inches
Weight: 5.8 pounds
Material: Bamboo
Number Of Pieces: 1
Pros
Easy to clean
Antimicrobial
User-friendly
Affordable
1-year warranty
Eliminates cross-contamination
Cons
None
The HHXRISE Large Organic Bamboo Cutting Board is a thick, spacious, and heavy-duty cutting board for preparing vegetables, fruits, and meat. It is made of 100% natural bamboo, with a polished, smooth surface. This chopping board is gentle on cutlery and knife, and does not dull them. It is easy to clean and comes with three built-in compartments to place different ingredients separately. This feature keeps your kitchen clean during meal preparation with less use of bowl and plate. The juice grooves prevent juice spillage on your kitchen counter. It also acts as a cheese and carving board, robust butcher block, and serving tray. The handle design hangs the board on the kitchen walls and enables easy carrying.
Features
Dimensions: 17 x 12.6 x 0.76 inches
Weight: 3.41 pounds
Material: Natural bamboo
Number Of Pieces: 1
Pros
BPA-free
Inbuilt compartments
Juice grooves
Knife-friendly
Cons
This double-sided and multipurpose cutting board features an angled cutting surface with easy-pour corners to drain juices easily. It helps to extract and retain juices while carving meat, and collect crumbs during bread slicing. One side of this cutting board exhibits a meat grip while the other side is smooth for common chopping tasks. It is dishwasher-safe and also has non-slip feet and soft-grip sides.
Features
Dimensions: 11.5 x 1 x 14.5 inches
Weight: 1.5 pounds
Material: Plastic
Number Of Pieces: 1
Pros
Dishwasher-safe
Non-slip feet
Angled cutting surface
Easy-pour corners
Cons
The Utopia Kitchen Natural Bamboo Cutting Board Set is a heavy-duty, high-quality, and durable set of cutting boards. It is made from pure ultra-thick bamboo that is eco-friendly, and break, bacteria, and crack-resistant. The set comes in the pack of three – large (12 x 16 inches), medium (9 x 13 inches), and small (9 x 11 inches) with a thickness of 0.8 inches each. The bamboo material does not dull knives and cutlery. It can be used to cut legumes, meat, bread, fruits, and even baked food without hacking or sawing. This product is easy to maintain and can be treated with oil to increase its longevity. It is ideal for home cooks as well as professional chefs.
Features
Dimensions: 15.79 x 11.81 x 2.09 inches
Weight: 6.9 pounds
Material: Natural bamboo
Number Of Pieces: 3
Pros
Antibacterial
Easy to maintain
Durable
Crack-resistant
Bacteria-resistant
Break-resistant
Eco-friendly
Cons
None
The OXO Good Grips Utility Cutting Board is plastic-made and double-sided with non-slip feet. It is gentle on knives and non-porous, which prevents unpleasant smell. The drip catcher, along with easy-pour corners, prevents liquid spills from affecting your kitchen counter. This cutting board comes with gentle, tapered edges and user-friendly handles.
Features
Dimensions: 7.3 x 10.85 x 1 inches
Weight: 1.53 pounds
Material: Plastic
No. Of Pieces: 1
Pros
Double-sided surface
Non-slip feet
Drip-catcher
Dishwasher-safe
Tapered edges
Easy pour corners
Cons
The Smirly Bamboo Cutting Board comes in a pack of four with a fruit, vegetable, fish, or cake icon to identify what it should be used for and six other utensils (a spoon, a flat spatula, a slotted spatula, a slotted spoon, a spatula, and a salad tosser). Its juice groove and carry handle boost convenience and utility. This non-slip cutting board also acts as a serving space for fruits, cheese, and crackers. It is lightweight yet heavy-duty and scratch and stain- resistant.
Features
Dimensions: 15.8 x 13 x 2.8 inches
Weight: 6.93 pounds
Material: Bamboo wood
Number Of Pieces: 4
Pros
Lightweight
Scratch-resistant
Stain-resistant
Includes 6 extra utensils
Cons
May have an unpleasant smell
Might splinter
Now, let's take a look at how to choose a suitable cutting board.
Things You Should Consider Before Buying The Best Cutting Board
Cutting boards are available in different sizes – small, medium, large, and extra-large. Choose a board that can accommodate even large-sized items. A suitable size is 15 inches long – it can fulfill all kinds of chopping requirements.
Cutting boards are made of materials, such as plastic, end grain wood, edge grain wood, High Density PolyEthylene (HDPE), bamboo, stone, rubber, and glass. Every material has its merits and demerits. Hence, choose a product as per your requirements.
Opt for a heavy-duty and robust cutting board that lasts long. However, it must also be gentle on knives and cutlery.
The cost of cutting boards depends on factors, such as the material, convenience, and other features. For instance, plastic cutting boards are budget-friendly. Estimate your budget and then shortlist your options.
Cutting boards are of different types. Check them out in the following section.
Types Of Cutting Boards
Simple Cutting Board: A simple cutting board is a basic chopping board with a strong surface. It is affordable and made of plastic, wood, and bamboo.
Carving Board: A carving board ensures mess-free chopping. It comes with an inbuilt juice trough at the edges, which helps in collecting the juice of meat, chicken, or turkey while chopping.
Bread Board: Bread boards are longer than the normal cutting boards. They are designed to accommodate long loaves of bread. They have inbuilt grooves that collect the bread crumbs, resulting in clean countertops and mess-free chopping.
Butcher Blocks: Butcher blocks have a firm base with better thickness and weight. The meat does not slip off and remains intact on the block while chopping.
Flexible Mat: A flexible mat offers a cutting surface with a funnel to slide off your chopped food easily into a pot without scraping. The mat can also be rolled into a tube. It is easy to maintain, clean, and use.
A vast range of options in terms of variety, size, material, and color of cutting boards are available online. The above-mentioned cutting boards offer a steady, reliable, and safe cutting experience at an affordable price. What are you waiting for? Order your favorite cutting board from our list and streamline your meal preparation task!
Expert's Answers For Readers' Questions
How to test whether a cutting board is good or bad?
A good cutting board is heavy-duty, durable, and gentle on knives and cutlery. It is easy to maintain and clean.
What is an ideal material for a cutting board?
It depends on your requirements. However, bamboo, wood, and plastic are great materials for a cutting board.
How to clean and maintain a cutting board?
Cutting boards come with different cleaning requirements. Some are easy to clean, whereas some need special care and maintenance. Check the instructions carefully for cleaning and maintaining your board. However, most cutting boards can be cleaned with warm water and dish soap. Bamboo cutting boards are maintained with frequent oil application.
Recommended Articles
The following two tabs change content below.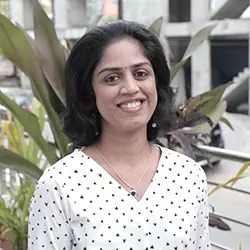 Harini Natarajan
As Chief Editor, Harini sets the tone and editorial direction for StyleCraze to deliver engaging, interesting, and authentic content revolving around women's health, wellness, and beauty. She has over 14 years of experience in content writing and editing for online media. She specializes in the areas of Beauty, Lifestyle, and Health & Wellness and is proficient in Medical Sciences (Biology, Human Anatomy and Physiology, and Biochemistry). Her background in Biomedical Engineering helps her decode and interpret the finer nuances of scientific research for her team. Harini is a certified bibliophile and a closet poet. She also loves dancing and traveling to offbeat destinations.