11 Best Dandruff Brushes For Healthy And Flake-Free Hair
Get rid of dandruff easily and flaunt a clean and clear scalp with confidence.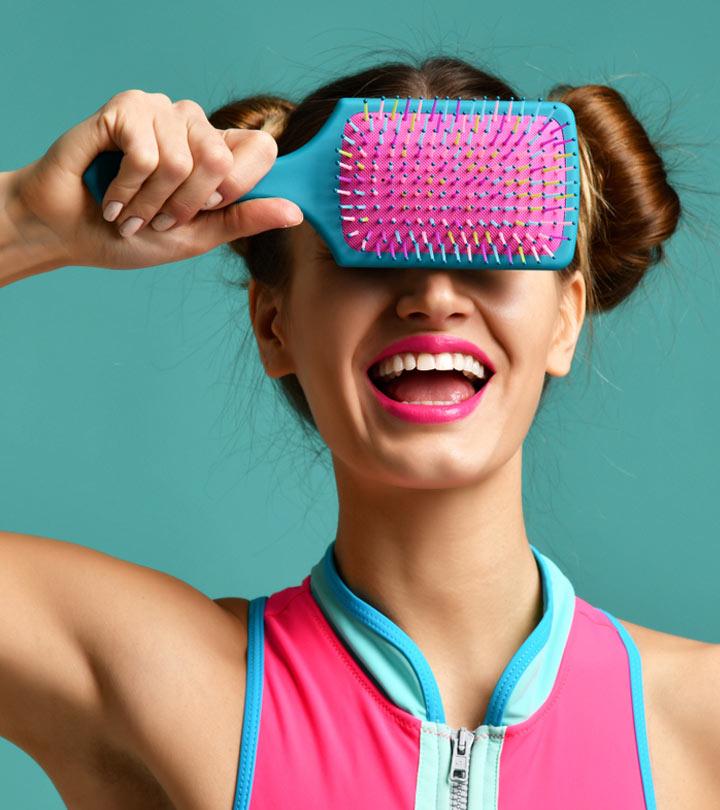 Dandruff is one of the most dreaded things that can happen to your hair. To beat it effectively, the thing you absolutely need is the best dandruff brush. People often go for intense shampooing and oiling, but those with recurring dandruff problems will know it will come back no matter what you try. The trick is to use a brush that will scrape off the flakes gently and give you a cleaner scalp that will be easier to clean further with a mild shampoo that does not strip oils off your scalp. Dandruff fighting brushes distribute sebum on the scalp and invigorate hair follicles to promote hair growth. They are also perfect tools for hair massage when you need relief on your scalp after a hectic day. Go through this list of hair brushes specially crafted to keep dandruff out of your scalp, and you will know which one is a perfect match for your hair.
11 Best Dandruff Brushes That You Should Get Your Hands On!
This shampoo brush from Scalpmaster cleanses the scalp by removing dead skin cells. This helps in regulating the growth of healthy cells as the bristles promote blood flow in the scalp. It stands at 8 cm, making this scalp brush for dandruff easy to hold. The finger hole secures it in place so that you can conveniently target specific areas of the scalp with excessive build-up. You can run this shampoo brush all over your scalp for a relaxing massage when shampooing your hair. Take a look at this video to know more about the product.
Pros
Features a finger hole
Long-lasting
Flexible bristles
Easy to use
Cons
May not be suitable for toddlers
Price at the time of publication: $3.55
The Denman Be-Bop massage brush is a dandruff removal tool that offers multiple perks. If your dandruff causes itching, you can use this brush on wet and dry hair to promote blood circulation to ease the itchiness. You can also use this dandruff removal comb to distribute the shampoo and conditioner evenly while washing your hair. The soft pins provide instant relief without scratching the scalp or causing you pain.
Pros
Soft pins
Suitable for wet and dry hair
Waterproof material
Ergonomic design
Cons
It may not be suitable for thick and coarse hair.
Price at the time of publication: $12.0
If you're looking for a dandruff brush that works well against thick build-up, this is the best hair brush for dandruff that you can lay your hands on. It boasts a unique design with 2 kinds of bristles— thick and thin pins that stimulate microcirculation. The bristles are also useful in exfoliating the scalp when you shampoo your hair. You can use it with cellulite oil or creams to reduce the appearance of cellulite. Since it is a hand-contoured design, you can expect an excellent grip to brush out dandruff.
Pros
Promotes microcirculation
Easy to grip
Helps reduce the appearance of cellulite
Offers deep cleansing
Cons
Some may find the bristles slightly hard
Price at the time of publication: $5.95
The BTYMS shampoo brush is an ideal brush for dandruff that is suitable for adults, kids, and even pets. It helps to cleanse the scalp and get rid of flakes, dirt, and hardened sebum. The bristles are made from silicone, are soft, and offer an incredible massage without hurting the scalp. You can use this anti-dandruff comb for all types of hair from dense, thick, coarse to curly hair. It also stimulates the scalp to promote natural hair growth when you use it regularly.
Pros
Soft brush
Handy
Can be used for kids and pets
Suitable for all hair types
Pack of 4
Cons
Some may find it slightly slippery.
Price at the time of publication: $6.99
This hair scalp brush is made from durable PE material and removes dry flakes, dandruff, and dirt from the scalp. It deeply cleanses the hair, promotes blood circulation, and stimulates scalp cells to make your hair stronger and reduces hair loss. The soft massage movement also relaxes muscles, releases stress, and promotes hair growth. The lightweight brush is suitable for all ages and its handheld design offers a comfortable grip for easy use.
Pros
 Ergonomic design
 Lightweight
 Suitable for all ages
 Can be used both dry and wet
Cons
Price at the time of publication: $6.99
This silicone dandruff hairbrush has a two-sided design, one that cleanses the scalp deeply and the other side activates meridians. The soft brush teeths gently massage the hair, deeply cleanse it to remove dirt and impurities, and relieve the scalp from itching. It also stimulates the cells and strengthens the hair roots, giving you healthy scalp and hair.
Pros
 Ergonomic design
 Lightweight
 Two-sided brush
 Soft tooth
 Multiple color choices
Cons
Price at the time of publication: $7.99
The Fuller scalp massaging brush offers relief from stress with its soft bristles that work their magic on the scalp for instant relaxation. It is made from high-quality plastic that doesn't crack or warp, and resists bacterial growth. You can use this dandruff brush to scrub your scalp while washing your hair for a cleaner, dandruff-free scalp. Since the bristles are elastic, they do not feel hard on the scalp. The overall length of the brush is 7 inches, and when you're done using the brush, you can give it a quick rinse and allow it to air dry to ensure that the brush is clean every time you use it.
Pros
Elastic bristles
Ergonomic design
Detangles
Durable
Cons
The handle may feel slippery.
Price at the time of publication: $19.99
This handheld scalp massager brush from EFISH is multipurpose. While the outer shell is made from hard plastic for durability, the bristles are made of silicone and are thick enough to get rid of dandruff. Massaging your scalp with this shampoo brush can help invigorate the hair follicles with improved blood circulation and distribute natural oils evenly. You can use this brush while shampooing as well as on a dry scalp.
Pros
Waterproof
Helps style hair
Stimulates blood flow
Soft yet firm bristles
Cons
The bristles may feel stiff for kids.
Price at the time of publication: $11.99
Using your nails to scratch your scalp can cause redness and even bleeding. For times like these, a thin-bristled dandruff brush such as this one from Mount Plus can help relieve itchiness without damaging your scalp. This brush spreads shampoos, oils, and conditioners evenly throughout the scalp. Since it has super soft bristles, it is suitable for kids and pets, and you can also use it for a complete body scrub. Keep your nails off your scalp and soothe those itch-monsters with this brush while you're watching TV or working.
Pros
Exfoliates
Gets rid of finer dandruff
Easy to grip
Works on all types of hair
Cons
Price at the time of publication: $11.99
When you finally reach home after a busy day, you need a massager like this one to sit back and give your scalp some relief. The Marvy shampoo brush works for all types of hair and removes dandruff and detangles hair as well. Made from vinyl, it is flexible and fits in the hand snuggly. While it has soft bristles, you can control the amount of pressure you exert if you're trying to get rid of thicker flakes.
Pros
Flexible
Suitable for fine hair
Ergonomic design
Durable
Cons
Price at the time of publication: $14.99
If you're trying to get rid of dirt, dandruff, and dead skin cells while also promoting blood circulation in your scalp for hair growth, the Easyinsmile hair wash brush is worth counting on. While it is designed keeping in mind the delicate scalp of babies, it works just as effectively for adults. It is made from high-quality food-grade silicone material, which makes it safe to be used for toddlers. It helps prevent dandruff on your baby's scalp and can also be used for scrubbing the face for adults.
Pros
Gentle on the scalp
Made from food-grade silicone
Suitable for toddlers
Flexible
Cons
It may not be effective for severe dandruff and flaking.
Price at the time of publication: $9.99
Getting rid of dandruff can be challenging, but not impossible! With the right hair care products, especially a durable hair brush, you can keep your tresses healthier than ever. Here are a few points to consider before buying the best dandruff brushes that cleanse the scalp and remove unwanted flakes.
Points To Consider Before Buying The Best Dandruff Brushes For Flake-Free Hair
It is important to choose a hair dandruff brush with premium-quality, soft, and flexible bristles. They must feel tender on your hair and glide effortlessly. Many hair brushes come with pinned bristles that stimulate blood circulation on the scalp. This helps in hair growth and increases the thickness of your strands.
Go for a dandruff brush that is lightweight, easy to hold, and flexible enough to bend as per your needs. The brush must be durable and work well on all hair types. It should help get rid of frizz and offer tangle-free tresses.
Your hairbrush should get rid of dandruff flakes, massage the hair, and ease scalp itchiness. It should glide softly through the scalp and even cleanse the hardened sebum flakes. The anti-dandruff hair comb should be suitable to use on all hair types like coarse, thin, curly, or dense. It must also work well for people of all ages from toddlers to the elderly. Finally, the brush must give long-lasting styling along with cleaning dirt and dandruff effectively.
For long hair, one must go for large brushes with flat shapes. Similarly, if your hair length is medium or short, it makes sense to use oval-shaped dandruff brushes. It is important to choose the right brush shape to ensure better hair coverage and dandruff cleanup from your scalp.
Go for cost-effective dandruff brushes with premium-quality outer material. The bristles should be made from good-quality nylon to ensure softness and elasticity. The brush must be easy to use and offer deep hair cleansing. Apart from clearing out dandruff and sebum, it should promote hair growth by improving blood circulation.
Since dandruff brushes clean the flakes and build-up on your scalp, they might need regular cleaning so that they don't accumulate dirt. Here's how you can keep your shampoo or dandruff brush clean if you've been using it for quite some time now.
How Do You Clean A Brush With Dandruff?
It is best to remove hair strands stuck in the bristles of the brush every day to ensure it does what it is supposed to do. All you have to do is hold the brush in one hand and dislodge the tangled hair. You can as well use a comb to remove finer hair strands.
Since our scalp secretes natural oils and sebum, your dandruff brush may collect the residual oil and sebum along with a certain amount of build-up. Rinsing your brush once in a month or 15 days will help keep it clean so that it doesn't end up transferring the dirt on the bristles to your hair while you comb.
Fill a bowl with some warm water and immerse your brush in it. Add a few drops of any shampoo to your brush and use a toothbrush to scrub off the dirt gently. Ensure that the toothbrush reaches the base of the brush that holds the bristles for intense cleaning.
After washing your brush, keep it on a dry towel and let it dry overnight. Let the brush face down over the towel so that all the water drips down.
Why Trust StyleCraze?
Haircare enthusiast Vaishnavi Kothuri loves to experiment with the latest hair styling products. According to her, salon-styled hair is an achievable dream with the right products like the dandruff hairbrush. After conducting extensive research and reviewing numerous online reviews, she compiled this list of the top products. Dandruff-fighting brushes prevent sebum buildup on the scalp and stimulate hair follicles, resulting in a healthy scalp.
Frequently Asked Questions
Does brushing help with dandruff?
A brush is more than an effective tool to keep dandruff off your scalp. It helps pick up dirt and dead skin from the scalp and evenly distribute the sebum. When you use a brush regularly, you can prevent the chances of your scalp from getting dandruff.
Does scratching dandruff make it worse?
While dandruff causes itchiness, which might incite you to give your scalp a good scratch, it may end up causing bleeding, redness, and blisters. You might also have dandruff all over your shoulders and the back of your T-shirt due to vigorous scratching.
Can a dirty hair brush cause dandruff?
If your hair brush has dirt that could promote yeast growth, bacteria, and dust mites, it can cause dandruff. Moreover, a dirty hair brush fails to do the job that it should; that is, keep your scalp and hair clean.
How do you treat severe scalp flaking?
If you witness severe flake flaking, it is wise to consult a dermatologist. Severe flaking is often one of the symptoms of scalp eczema. If you get your scalp checked, you can treat the symptoms with medicated topical creams and shampoos.
What are the benefits of using a dandruff brush?
Dandruff brushes scrape off the dry flakes from the scalp and eliminate dandruff. They distribute sebum all over the scalp and activate the hair follicles to grow healthy hair. In addition, they also improve the blood circulation in your scalp and remove the product buildup.
How often can you use a dandruff brush?
Use a dandruff brush three times a week and gently remove the dry flakes from the scalp.
Is a boar bristle brush good for dandruff?
Yes, boar bristle brushes massage the scalp and increase blood circulation, thus reducing the chances of developing dandruff.
How often should you replace the dandruff brush?
Replace your dandruff brush after 6 months of use. Using the same brush throughout the year increases the chances of hair infections. Also, with continuous use, the bristles loosen up and hurt the scalp.

Recommended Articles
Best Products For Dandruff
Best Scalp Massage Brushes
Best Paddle Hair Brushes You Can Buy
Best Elegant Hair Brushes For Women
Top Brushes For Thick Hair