15 Best Dandruff Shampoos In 2021 With Reviews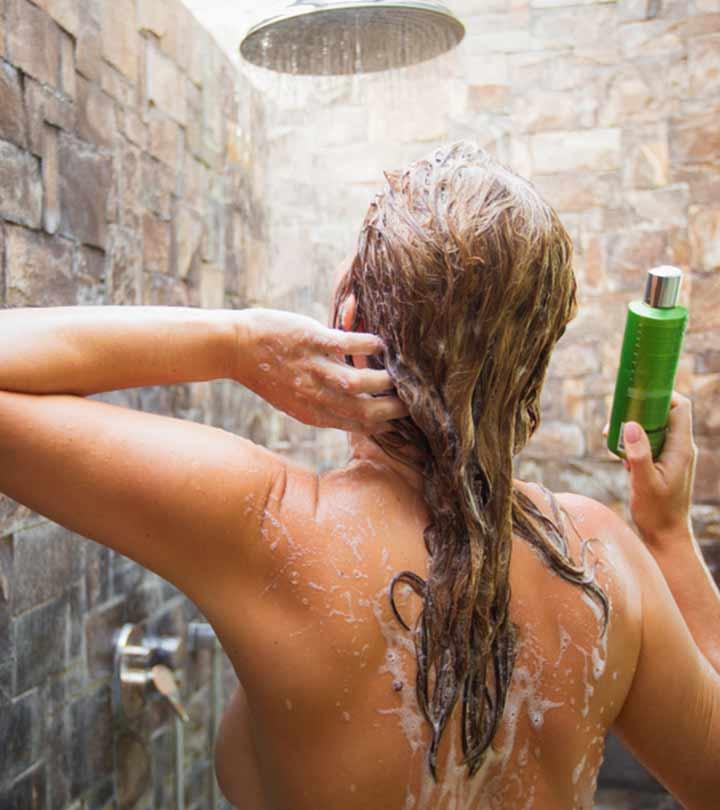 If you have a head full of hair it is possible that you have had dandruff at some point in your life or still do have it. If you do, don't worry! You are not the only one. According to research, about 50% of the world's population deal with dandruff problems. Dandruff is prone to occur on an oily scalp and is aggravated due to a variety of reasons such as an improper diet, stress, and irregular shampooing.
The best part is that dandruff can be treated with the help of the best anti-dandruff shampoos curated by us to keep your hair looking gorgeous. While it may feel embarrassing to have a shoulder full of flakes it is completely normal and can happen to anyone. So go ahead and browse through our list of the best anti-dandruff shampoos there are and drive dandruff away!
The Top 15 Dandruff Shampoos That Fight A Flaky Scalp
Maple Holistics Sage Shampoo is a wonderfully blended mixture of Jojoba oil, Botanical keratin, Peach kernel oil, and rosemary oil. The balancing properties of Sage help stimulate the scalp and add volume to your hair. This anti-dandruff shampoo gently cleanses the oily hair and helps relieve scalp itchiness. The keratin present in this special formula helps strengthen the brittle hair for better elasticity. The Tea Tree oil present in this shampoo is especially beneficial in fighting scalp dandruff and its antibacterial and antifungal properties help prevent the return of the oh-so unwanted dandruff.
Pros
Sulfate and paraben free product
Enhances all types of hair be it normal, oily, or even color-treated one
Works well for both men and women
Cons
Some users reported hair loss
The Nizoral A-D Dandruff Shampoo is specially made for those who are struggling to get rid of stubborn dandruff.  Made with Ketoconazole 1% this is an effective ingredient in controlling and fighting dandruff outbreaks. The Nizoral shampoo has proven to be more effective at fighting fungus, the root cause of dandruff. Besides eliminating dandruff, it also controls hair loss caused by dandruff. It has a rich lather that rinses clean leaving your hair looking and smelling fresh.
Pros
Works gently even on color-treated and gray hair
Salon-tested
Works well for men and women
Cons
Some users reported itchiness post use
No products found.
Neutrogena T/Gel Extra Strength Therapeutic Shampoo is a popular brand that provides redness and scalp itch relief to those who suffer from chronic scalp psoriasis and seborrheic dermatitis, besides pesky flakes. Recognized by The National Psoriasis Foundation, this scalp therapy has proven to give the extra strength due to the presence of 1% coal Tar formulated in it. This shampoo can be used daily and starts showing results in the first use itself giving relief from dandruff for the whole week.
Pros
Dermatologist-approved
When used with conditioners makes hair manageable and healthy
Cons
Some users reported smell issues
Head and Shoulders Shampoo is a well-known brand. Upon using it regularly, it balances and restores scalp health. With the presence of coconut oil, this Head and Shoulders Royal Oils Collection gives a luxurious scent that is long-lasting. The rich, creamy lather cleanses and hydrates your crowning glory and relieves you from the dry, itchy scalp. It provides long-lasting hydration to the scalp and hair. The entire Royal oils line includes scalp relief for kinky and coily hair besides natural hair as well.
Pros
Free from parabens and dyes
Suitable for all skin types
Smells like coconut
Lightweight moisturization 
Cons
Some users reported scalp dryness post use
Dove Dermacare Scalp Coconut & Hydration Dandruff Shampoo gives relief from the itchy and flaky scalp. Being formulated with Pyrithione Zinc, it hydrates hair from within and gives you healthy and luscious tresses. This pH-balanced formula helps reduce dandruff and soothe the itching and flaking caused by it.  It gives instant nourishment to the dry hair leaving them looking refreshed and nourished after a few washes. Formulated with coconut oil and sweet lime, it leaves your hair well-nourished along with the long-lasting sweet smell as well. 
Pros
Leaves your hair soft and nourished
Smells amazing
Lightweight moisturization and hydration
Cons
It may irritate sensitive skin.
Jason Dandruff Relief Treatment Shampoo as the name suggests helps treat seborrheic dermatitis. This liquid formula is a combination of sulfur and salicylic acid that helps treat mild psoriasis. Also the essential oils namely jojoba, rosemary, and olive are great healers that soothe, heal, and moisturize the scalp. The Jason Dandruff Relief Treatment Shampoo reduces flaking and itchiness caused by the onset of dandruff. 
Pros
Cruelty-free product
Controls recurrence of dandruff
Reduces flaking to quite an extent
Cons
Some users found the smell unappealing
L'Oreal Paris EverFresh Antidandruff Shampoo formulated with 1% pyrithione zinc restores scalp balance thereby reducing the itching and flakiness associated with dandruff. This clinically tested product is sulfate, salt, and surfactant-free and will help prevent dullness and damage of your precious locks. The aromatic fragrance and luxurious lather make it an even go-for shampoo. Combining this shampoo with EverFresh Micro-Exfoliating Scrub will give optimal results.
Pros
Budget-friendly
Refreshing fresh smell 
Cons
It may dry out your hair.
Free & Clear Medicated Dandruff Shampoo is a creamy formula with a strength of 2% pyrithione zinc having antifungal properties to control and reduce dandruff and seborrheic dermatitis. With absolutely no fragrance and completely free of dyes, this product tends to solve hair-related medical issues. This medicated shampoo is dermatologist recommended and is mild and gentle, free of common chemical irritants.
Pros
Gluten and sulfate-free product
No smell
This product is best for people with sensitive skin.
Cons
May cause excessive drying in some cases
The Biolage Scalpsync Dandruff  Shampoo is inspired by the anti-bacterial and calming properties of the mint leaf. The pyrithione zinc acts as a soldier targeting dandruff and controls the oh-so-visible flakes and reduces scalp irritation at the same time. Using it twice a week and massaging gently on wet hair helps greatly in reducing dandruff.
Pros
Can be used by both men and women
Mint cleanses and gives a cooling effect to the affected scalp
Relieves irritation
Cons
Solimo Therapeutic Dandruff Shampoo with a 5% coal tar topical solution helps control the itchy and flaky scalp caused by dandruff. This therapeutic shampoo helps control seborrheic dermatitis, dandruff, and psoriasis. The result is shiny and manageable hair that adds glory to your crown. Make sure you try this one!
Pros
A paraben-free product
Free from cruelty
Contains 5% coal tar topical solution
Cons
May cause irritation for some
Redken Scalp Relief Dandruff Control Shampoo is a specialized product to fight dandruff and keep it well under control. This specialized product cleanses and soothes the hair and scalp leaving your hair looking fresh and shiny. The Redken Scalp Relief Shampoo is dermatologically tested and safe for use by one and all.
Pros
Daily use doesn't cause harm
Fights itching and irritation
Soothes scalp
Cons
Botanic Hearth Tea Tree Shampoo is formulated with ingredients such as 100% pure tea Tree Oil, aloe vera, peppermint, and lavender oils making your hair and scalp healthy and strong. With the presence of tea tree oil, it soothes and deeply nourishes your hair and scalp. Without weighing your hair down it refreshes your hair to the tilt giving it that bouncy look and feel. 
Pros
Sulfate and paraben free product
Safe for all hair types
Lightweight on hair
Cons
Has a medicinal smell that some users don't like
Biotin Hair Loss and Dandruff Shampoo is a best-selling product made out of nature's powerful ingredients like herbs and oils like olive oil, rosemary extract, and green tea oil as well. The healing zinc anti-dandruff shampoo with mulberry root and rosemary extract gives relief from scaly flakes and greasy hair. The herbs harmoniously and gently cleanse and stimulate the hair giving a smooth and lustrous look.
Pros
Made ethically
Suitable for men and women of all ages
Non-GMO and GMP certified
Cons
It may take a while to show results.
Oribe Serene Scalp Anti-Dandruff Shampoo is a gentle cleanser and is formulated with salicylic acid. It eliminates dandruff while soothing the dry, itchy, and irritating scalp. The result is healthy, hydrated hair with zero flakes. It helps relieve dryness and helps refresh and rejuvenate the hair and scalp. It also maintains a healthy moisture balance for hair and scalp.
Pros
Safe for color-treated hair
Paraben and sulfate-free product
Dermatologically tested and approved
Cons
Kenra Dandruff Shampoo helps with skin and scalp conditions like dandruff, seborrhea, and also itchy, and dry scalp. It prevents the recurrence of dandruff and adds volume to the hair. This shampoo is good to detangle hair smoothly without losing excess hair. The shampoo consists of Zinc Pyrithione which is effective in healing the scalp. The addition of jasmine oil is simply therapeutic, especially after a long day at work!
Pros
Great cleanser
Offers lightweight conditioning
Gentle on hair
Smells amazing
Cons
How To Choose The Best Anti-Dandruff Shampoo- A Buying Guide 
The type of hair you have plays a major role in deciding which Anti-Dandruff Shampoo to purchase as many of these shampoos contain a few products that might cause drying and itching. Choosing a shampoo that has hydrating elements will prove useful to keep your hair soft and damage-free.
Always check the packaging of the shampoo and understand the ingredients that are present in it. There may be a wide variety of ingredients in the shampoo that will clear out your dandruff but end up damaging your hair. 
How To Use Anti-Dandruff Shampoo
The primary function of using anti-dandruff shampoo is to prevent the growth and removal of dandruff from the scalp. Rinsing your hair initially with warm water will open the cuticles so that the shampoo penetrates the scalp. Apply evenly all over the scalp, massage gently combing it right through your hair and leave it on for 3 to 5 minutes. Rinse off the shampoo with water thoroughly while combing with your fingers. Always dry your hair before brushing through it. 
Frequently Asked Questions
Is anti-dandruff shampoo good for your hair?
While the use of anti-dandruff shampoos should be restricted to when you have dandruff, it may not necessarily cause damage to your hair.
Does anti-dandruff shampoo cause hair loss?
Anti-dandruff shampoos contain ingredients that kill the fungus that causes dandruff on your scalp. This can also lead to damage to your hair roots which can cause hair loss.
Can I use anti-dandruff shampoo every day?
Anti-dandruff shampoos are designed to treat the fungus on your scalp and may contain chemicals that are not suitable for prolonged use.
Does hot water cause dandruff?
Yes, as hot water tends to strip hair of its natural oils causing dryness which eventually leads to dandruff.
How often should you use anti-dandruff shampoo?
The use of anti-dandruff shampoo differs from person to person depending on the amount of dandruff they carry.
Recommended Articles