13 Best Dark-Colored Lipsticks To Wear All Day Long – 2022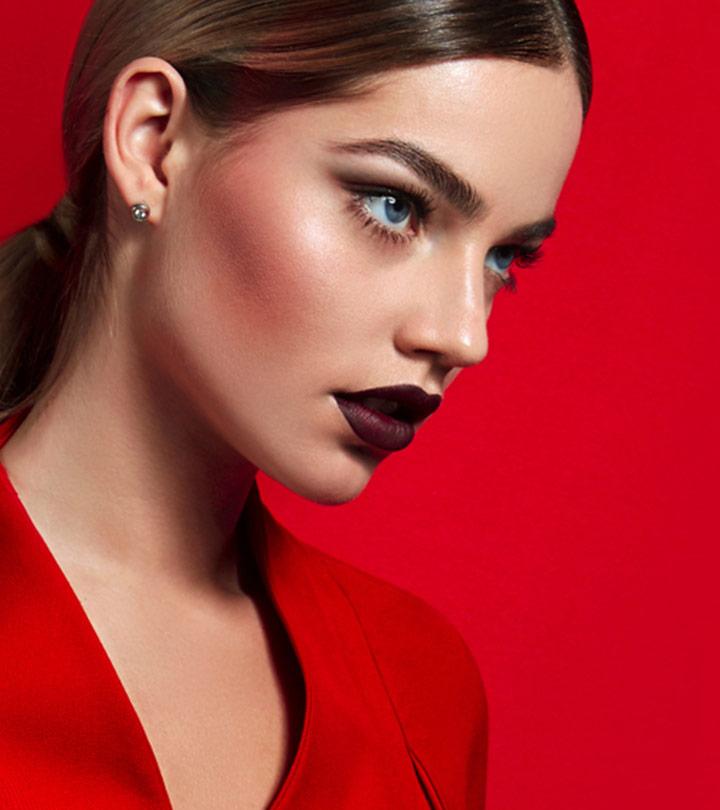 We are always struggling to find the best dark-colored lipstick for ourselves because an irresistible pout needs some sass after all. For every season, an appropriate bold lipstick can do wonders for you. Burgundies, plums, jet black, dark maroon, you name it, none of these shades will disappoint if you know how to rock it with confidence. Also, the variety of textures is immense, including sheer, glossy, or matte. Some like to bling it up with a glossy shine, while some like to keep it classy with a matte finish. However, it is their way of expressing themselves which we can help enhance. Go for something that highlights your luxurious skin tone and makes it glow with a refreshing twist. Lipsticks that actually last long without leaving any rough bumps are goals as they also make your lips soft with deeper nourishment. If you are worried about what to get for yourself and if it will suit you or not, simply glance through our list of the 13 best dark-colored lipsticks that are guaranteed to become your fave!
Top 13 Dark-Colored Lipstick Shades To Watch Out For In 2022
The Maybelline Color Sensational matte lipstick delivers a bold and intense velvety and long-lasting black color. With nourishing honey nectar as an ingredient, this matte lipstick will leave your lips feeling soft and supple. The hydrating pitch-black lipstick is hyperpigmented and available in matte, satin, and gloss finishes so that you can layer on your favorite dark-colored lipstick for an all-day look. The lipstick is infused with sesame seed oil and beeswax, comes with a creamy clay base, and is hypoallergenic, making it suitable for sensitive skin. The dermatologist-tested lipstick glides on in a single stroke and leaves you with creamy, pigmented, and hydrated lips.
Pros:
Highly pigmented
Creamy texture
Glides on easily
Hydrating and conditioning formula
Hypoallergenic
Dermatologist-tested
Cons:
You may find that this lipstick is not entirely smudge-proof.
The NYX PROFESSIONAL MAKEUP Matte Lipstick – Dark Era has a plush, rich-pigment finish that will glide smoothly onto your lips. The Dark Era lipstick lasts all day long without giving you a dry or sticky feeling. The dreamy formula is perfect for those who want to quit worrying about regular touch-ups. This matte dark-colored lipstick is a muted plum shade that is exactly what you need in your makeup kit when you want to make a subtle but bold statement.
Pros:
Rich pigment
Long-wear matte lipstick
Smooth and easy to apply
Non-drying
Cruelty-free
Cons:
You may find the color to be lighter than expected.
The REVLON Super Lustrous Lipstick In Midnight Mystery is a lush and vibrant combination of a pigmented color and an ultra-hydrating formula. The creamy dark-colored lipstick is a pearlized navy blue shade composed of microfine pigments for a lasting shine. The lightweight lip color is infused with nourishing ingredients like avocado oil and vitamin E for a formula that glides on smoother than butter! It not only leaves your lips cake-free but gives you that edgy and spunky look that you are looking for.
Pros:
Creamy texture
Moisturizing formula
Infused with vitamin E
Lightweight
Non-cakey
Cons:
Some may not like the scent of this
The L'Oreal Paris Colour Riche Lipstick in the shade 410 Volcanic offers you a rich and hydrating lip color while also helping you maintain soft and supple lips. Enriched with hydrating ingredients like omega 3, argan oil, lanolin oil, sesame seed oil, rosehip oil, and vitamin E, this dark-shade lipstick has a nourishing deep red shine that will make you feel like a showstopper. In combination with intense hydration, the lasting color and ultra pigmentation are a treat for your lips. Indulge in this royal dark-colored lipstick for the perfect autumn look as you keep your lips soft and moisturized with this creamy lip color.
Pros:
It contains omega 3, vitamin E, and argan oil
Conditioning and hydrating formula
Rich color
Creamy texture
Cons:
This lipstick may not be entirely transfer-resistant.
The Milani Color Statement Lipstick in Double Espresso is a bold yet powerful radiant brown ideal for a sophisticated look. The lasting-wear lipstick is infused with vitamins A and C and is powered by antioxidants to leave your lips feeling nourished. Enhance your face as you indulge your lips in this formula with castor seed oil and soybean oil, which allows for a smooth application that stays in place as you go about your day. The cruelty-free dark-colored lipstick is also suitable for all skin tones and is an absolute must-have, especially if you're looking to glam up a simple outfit!
Pros:
Contains nourishing vitamins
Certified cruelty-free by PETA
Long-lasting color
Full matte finish
Cons:
Some may find this shade to be a bit bright.
If you're looking for a full-coverage lipstick, the Burt's Bees 100% Natural Moisturizing Lipstick in Orchid Ocean is a long-lasting and moisturizing lip color. The vibrant shade has an intense brownish-purple hue topped with a smooth finish. The dark-colored lipstick comprises 100% naturally hydrating ingredients like moringa oil, raspberry seed oil, beeswax, and vitamin E that help keep dry lips at bay. For creamy and luscious lips, you can choose this formula that is not just bold but also leaves you feeling confident and beautiful. The dark shade is perfect for an all-day look and is free from parabens, phthalates, petrolatum, and SLS.
Pros:
Free from parabens, petrolatum, phthalates, or SLS
Contains natural ingredients
Cruelty-free product
Responsibly-sourced
Made with recyclable packaging
Cons:
It may not offer a fuller lip.
MAC's Ruby Woo matte lipstick is an iconic shade that has gained worldwide recognition as a long-wearing dark red lipstick with intense pigmentation to brighten your face. The formula glides onto your lips in a single swipe and does not wear off for up to 12 hours, so you don't have to worry about touch-ups constantly. Ruby Woo not only has a bright shade and distinctly creamy texture but is also topped off with a matte finish. The fade-proof dark lipstick shade is a cult classic if you're looking at adding a splash of this universal red color to your makeup kit.
Pros:
Zero shine matte finish
Intense full-coverage color
12-hour wear
Fade-proof
Non-feathering
Cons:
It may not be intensely hydrating.
For an instant and creamy burst of color, the rich lip color will give you full coverage. The semi-matte formula can be worn in combination with a lip gloss or a lip liner for the effect you want to create. You can trust that this non-drying and permanent dark shade lipstick will last you for hours. Enriched with vitamins C and E, this brown base lipstick is ideal for an unabashed style statement. Infused with beeswax, this dark-colored lipstick will also give your lips the added moisturization that they need.
Pros:
Full coverage
Matte finish
Lasting color
Contains vitamins
Moisturizing formula
Cons:
The moisturizing red lipstick from Iman has a creamy texture that will glide onto your lips smoothly. If you're looking for a semi-matte lipstick that will give you full coverage, this lipstick will be ideal for you. What's more, you can add a lip shimmer or gloss to enhance the bold look. With intense moisturizing and conditioning properties from ingredients like castor oil and vitamin C, this dark red matte lipstick has a lasting, smudge-proof finish that will keep your lips looking and feeling luscious.
Pros:
Glides on smoothly
Conditioning and moisturizing properties
Creamy texture
Semi-matte color
Full coverage
Lasting finish
Cons:
This multi-purpose and blendable lip color in the shade Sunset And Wine is a definite steal if you are looking for an irresistibly alluring dark shade! The cheek and lip tint gives you a natural glow and is ideal for touch-ups, especially when you're out and about in your daily routine. With its lightweight and brightening formula, this blendable color leaves your skin feeling illuminated. The Sunset And Wine shade is a deep burgundy shade that comes with a bonus of a creamy texture. Featuring a double-end design, this dark-colored lip and cheek tint have a flat buffing sponge and a curved dome to help you create effortless looks.
Pros:
Multi-purpose color
Natural-looking shade
Lightweight
Brightening formula
Features a double-ended design
Cons:
It may break easily if not used carefully.
This natural lipstick in the shade berry red is formulated with organic butter, plant-based essential oils, and botanical extracts to give your lips the antioxidants and nourishment they need. The 100% natural ingredients like organic mango butter, castor seed oil, grapeseed oil, cocoa butter, and coconut oil contribute to the overall shine that this lipstick gives your lips. Infused with natural vanilla extracts, this sweet-smelling formula has a pleasant aroma that will keep your lips looking and smelling great.
Pros:
Certified organic ingredients
Moisturizing formula
Free from parabens, phthalates, and petroleum
Gluten-free
Cruelty-free product
Vegan and non-toxic
Cons:
You may find that the creamy lipstick may break if used very roughly.
The Aromi Matte Liquid Lipstick in the shade Dark Caramel glides on smoothly, even more so than a lip gloss. This velvety matte dark liquid lipstick will leave your lips looking and feeling more radiant than ever. Lightweight and easy-to-apply, this dark caramel lipstick's comfortable texture is a bonus to this dark lipstick shade. Choose this vegan product free from parabens, phthalates, mineral oils, and SLS to give your lips a healthy shine. The dark brown pigment of this caramel lipstick is also gluten-free, making this formula perfect for those of you who want to put all-safe ingredients on your skin.
Pros:
Velvety, matte finish
Lightweight and comfortable
100% vegan formula
Cruelty-free
No parabens, phthalates, mineral oil, or SLS
Gluten-free
Cons:
This lipstick may not be entirely transfer-resistant.
The Palladio Herbal Matte Lipstick in the shade Plum Majesty comes with a creamy texture ideal for lasting, full coverage. It offers a moisturized matte finish and leaves your will lips feeling soft and smooth round the clock. Infused with aloe leaf extracts, safflower oil, coconut, and palm leaf, this lipstick will give you nourished lips. The vitamin C and E formulation have deeply moisturizing properties that make it suitable for all skin types. Trust in this cruelty-free dark-colored lipstick for a radiant and lasting glow.
Pros:
Enriched with herbs and vitamins
Suitable for all skin types
Anti-aging properties
Creamy, full-coverage lip color
Cons:
Some may find that the color is not long-lasting
Now that you've got a gist of the products available on the market, you can make an informed buying decision. The best vampy lipsticks look especially warm on pale skin tones, but they can complement deeper skin tones too.
How To Choose The Best Dark-Colored Lipstick For Your Skin Tone
Most often, deeper shades are an ideal dark lipstick for fair skin. You may want to avoid shades with brown undertones, as they may not highlight your lips and instead give you a dull look. You may be afraid of the lipstick making a stark contrast to your face and want to avoid dark hues. With cool undertones, like a dark berry shade, you can highlight your lips for a bold look.
Dark-colored lipsticks are perfect for those with medium skin tones as they complement your skin well. Reddish-brown shades or deep plum shades are great for you if you have a medium skin tone. Of course, since you have a wide range of options to choose from, you can probably make a choice that best suits your outfit.
For deep skin tones, stick to brown-based lipsticks as they can complement your skin the best. A dark burgundy matte lipstick or a beautiful maroon-colored lipstick are just a few of the options you can choose from. While also keeping in mind that you can opt for full-medium coverage lipsticks, you could also experiment with plum shades too!
Choose rich purples and blue-based reds for those with darker skin tones. Deep lip shades, such as purple and dark chocolate brown, are ideal. These vivid hues will look amazing against your skin tone.
How To Apply A Dark Lipstick
Here are a few things to keep in mind before swiping on dark lipstick shades to keep the color looking fresh during the day.
Start by gently exfoliating your lips, ideally with a lip scrub.
Follow it up with a lip primer to prepare your skin for dark-colored lipstick.
Use a moisturizing lip balm underneath your lipstick for smooth lips and a highly pigmented shine.
You could also use a concealer on your lips to neutralize them and get a color boost.
Outline your lips with a creamy lip liner for a more defined look.
Apply the lip color in a gentle swipe and clean up the edges for a sharp and bold look.
You could also add some shiny lip gloss for an extra shine.
If you want to dull the shade and make it appear lighter, you could always blot your lips right after application with a tissue.
Why Trust StyleCraze?
The author of this article, Chaitra Krishnan, is passionate about makeup and loves creating unique looks. She went on a hunt for the best dark-colored lipsticks and made this list that features some of the must-have products. She shortlisted the lipstick after in-depth research and sifting through hundreds of user reviews online. The lipsticks in this article enhance your look, keep your lips plump, and stay put for long hours.