The 15 Best Dark Nail Colors For A Gorgeous Finish – 2022
You are going to love these rich, dark hues that are perfect for gleaming, edgy nails.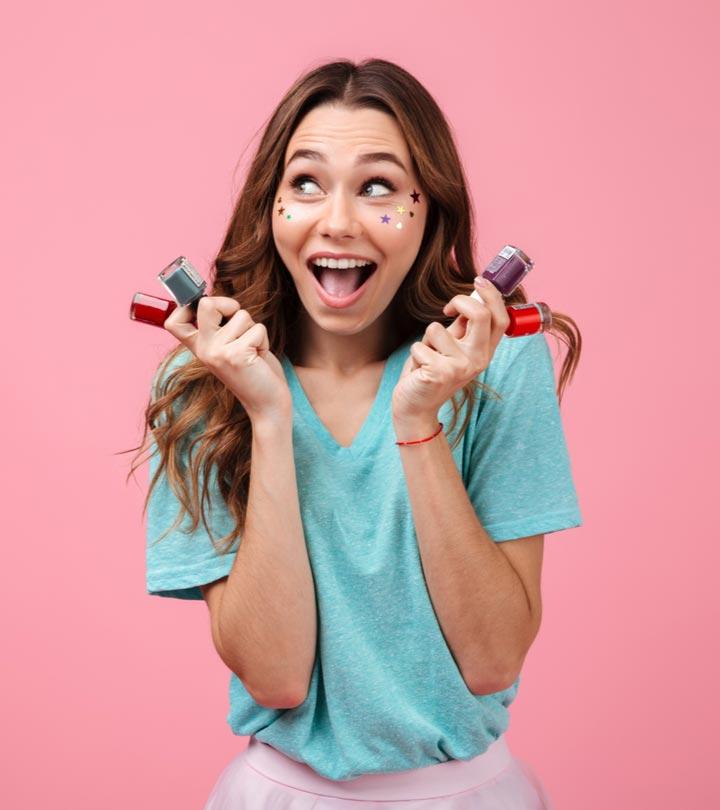 Dark nail polish compliments every look and makes your hands appear attractive. They look richer in cooler climates and luxuriant at night. But choosing the best dark nail color that matches your skin tone is demanding. Emerald green, wine reds, and midnight blues are some startling dark shades that make your nails appear elegant. The nail colors may have shimmer and matte finishes that make the color even more vibrant. A dark nail polish indicates authority and boldness. A perfect dark nail color makes an impact, and if you apply it carefully and precisely, it looks ton-worthy.
If you enjoy matching the nail color as per your mood or weather, you are in the right place. In this article, we have curated a list of the 15 best dark nail polishes that go well with any skin tone. These vibrant nail colors are perfect for all occasions. Scroll down to check them out and add them to your collection!
The 15 Best Dark Nail Polish Colors To Complement Your Outfit In 2022
O.P.I has always been a go-to nail polish brand for millions around the world, and for good reason too! Their variety in shades and finishes is unmatched and will definitely set your nails apart from the rest of the crowd. The Malaga Wine is a classy dark burgundy nail polish that is quite up there in the shine category. It is best-suited for deeper and olive skin tones, but worry not as this shade is made to flatter every skin type. Your O.P.I dark maroon nails will be the talk of the town when worn to a high tea or a sundowner event especially during the fall or winter months.
Pros
Gives a creme finish
Adds shine and depth
Provides up to 7 days of wear
Richly pigmented
Chip-resistant
Easy application and removal
Cons
Might stain nails after removal
If you're addicted to painting your nails without a break, the name Sally Hansen would more than ring a bell. The Miracle Gel Nail Polish is your best bet to getting a salon-style gel manicure but at home! It's perfect for when you're on vacation or don't have the time to book parlor appointments. Wild For Violet is a dark purple nail polish variant that can grace medium skin tones and is ideal for the colder months of the year. This dark plum nail polish makes for a great option when you're switching up your nail routine. We think Sally Hansen's Miracle Gel line should be the next addition to your self-care routine as you won't even require a UV lamp!
Pros
Chip-resistant
Quick-dry
Long-lasting wear
Suited to all skin types
Gives a glossy finish
Easy to remove
Cons
Nails may need to be prepped before application.
Black nail polish always takes us back to jamming to Avril Lavigne's Sk8er Boi for the 8th time, but it has made its place as a classic color now. China Glaze's formula features a special blend of polymers that help maintain color and shine with resins enhancing flexibility and adhesion. The China clay infused into the lacquer strengthens your nails and saves the polish from chipping away. Liquid Leather is a dark nail polish that suits all skin tones and is ideal for casual wear or when you want to add a little grunge element to your look to spice things up. A staple that's like the LBD of our popular dark nail colors collection!
Pros
Strengthens nails
Gives a glossy finish
Chip-resistant
Rich pigment
Clump-free formula
Free of toluene, DBP, and formaldehyde
Cons
Needs more than 1 coat for maximum opacity
A glossy and shimmering burgundy is a staple in many nail polish collections, and that's exactly what the Divine hue is! Revlon includes an angled tip brush for precise application so you can get beautiful nails in a mess-free manner. The formula is enriched with vitamin E to deeply nourish your nails and add a chip-resistant film so your nail stays put. Revlon's dark red nail polish adds an elegant touch with a lustrous finish to fair to medium skin tones and looks absolutely stunning in the night time!
Pros
Quick-drying
Contains vitamin E for nourishment and anti-chip
Features an angled tip brush
Non-streaking
Shock-absorbing film protects nails
Long-lasting wear
Cons
Some may find the consistency to be thin
No nail polish list is ever complete without a mention of the fan-favorite essie, is it? Wicked is not for the faint-hearted as it is a sinister dark blood red nail polish almost bordering on black and complements every skin tone despite being one of the vampy shades. The high-shine finish and flawless coverage with a streak-free application make this formula a must-have in every vanity. An exclusive glide brush makes application easy and you'll be on your way to sexy and sensational nails with this sinister shade!
Pros
Streak-free
Clump-free
Glossy finish
Easy application
Provides full coverage
Free of formaldehyde and toluene
Cons
Might be messy during removal
Namaste Healthy is a creamy brick red formula that is just what you need to turn up the 'wow factor' for your date nights! Orly's best dark red nail polish features a breathable formula that prevents your nails from chipping away and keeps them healthy. This dark maroon nail polish is infused with an enriching blend of argan oil, pro vitamin B5, and vitamin C to strengthen and condition your nails so that they don't get brittle. With an advanced oxygen technology, the Orly Breathable Treatment + Color penetrates deep into your dark colored nails to keep them moisturized. Oh, did we also mention that you won't even need a top or base coat?
Pros
Vegan
Cruelty-free
Contains moisturizing ingredients
Anti-chip and breathable formula
Doesn't require base or top coats
Free from harsh chemicals
Cons
Might be difficult to remove
If you thought we had exhausted all the reds in this list, you thought wrong! Among our picks of dark red nail colors, Wicked is a vampire-inspired red that reminds one of enchantresses and magic potions. A magic potion itself, the Patent Shine 10X Nail Lacquer contains the patented Shock Resistance Polymer Technology for a long-lasting gel-like finish with an unbeatable shine. Furthermore, the formula also contains diamond powder that delivers a brighter color, bamboo extract for healthier nails, and UV absorbers that prevent fading. Suiting all skin tones, this dark colored nail polish will make an impression at weekend brunches or glam events.
Pros
Chip-resistant and anti-fade formula
Provides 10 days of wear
Strengthens and protects nails
Offers a gel-like glossy finish
Cruelty-free, paraben-free, and vegan
Free from harsh chemicals
Cons
How about a lunar eclipse right at your fingertips? ILNP's Eclipse is a black to red Ultra Chrome nail polish that will leave you speechless at its transformation. Inspired by the night sky, the black slowly melts into a fiery red color. And depending on the angle that your fingertips are placed at, there might even be hints of orange, teal, and gold! If you've been looking to improve your nail game, try this multichrome nail color to add a little 'oomph' to your day's look. We don't know about others, but we're sure you won't be able to stop admiring your own nails!
Pros
Vegan
Cruelty-free
Anti-chip
Easy removal
Quick-drying
Cons
May require multiple coats to achieve desired color
We can all agree that you can never have too much of black in anything— be it shoes, jeans, and even nail polishes! Black really is the best dark nail polish out there when you're too lazy to choose a shade for your next manicure. It screams simplicity, elegance, and confidence all at once. Kleancolor's Nail Lacquer offers a matte finish that is a must-have if your style is on the edgier side. The formula goes on ultra-smooth and dries quickly to give your nails the salon-like makeover without all the fuss!
Pros
Offers a matte finish
Opaque formula
Quick-dry
Smooth formula
Smudge-proof
Cons
May not be very long-lasting
When you want to flaunt some dark burgundy nails, look no further than Maroonscape by LECHAT. The high-quality and high-performance color stays on your nails for a long time and can be worn in any season. With its shimmery finish, you can add an ounce of glam for fun nights out with your girls. The brush goes on smoothly and provides full coverage with a mess-free application.
Pros
Offers a shimmery finish
Smooth-gliding brush
Long-lasting formula
Highly pigmented
Provides full coverage
Cons
Green is a color that represents envy, and Elphie by ZOYA is definitely going to make everyone around you super envious! If you have a cool skin tone and fancy a bewitching green to france your fingernails, look no further. Part of ZOYA's PixieDust Matte Sparkle formula, this shade is among the fresh and vibrant dark matte nail colors and adds character. The textured finish with a muted sparkle is unique and definitely a game changer if you're up for trying different varieties in nail polish. With this evergreen shade, it looks like we're sorted for the holiday season!
Pros
Matte and textured finish
Suitable for cool undertones
Breathable formula
Free of toxins
Doesn't dry nails out
Cons
May not be ideal for longwear
For fingernails as luxurious as Smith & Cult's packaging, try their unbeatable nail formulas. Lover's Creep is an enchanting wine shade that will make your romantic rendezvous even more so. This dark red nail color offers even coverage, is chip-resistant, and gives a shine like no other. A dark burgundy nail color is intoxicating and something that every woman needs in her nail polish collection, we think!
Pros
Chip-resistant
Gluten-free
Vegan
Cruelty-free
Free from harsh chemicals
Offers a glossy finish
Cons
Some may find the formula a little sheer.
Reminiscent of hot summer nights spent in the cool waters under the stars, Midnight Swim is a whimsical deep blue with a silvery shimmer that you need to try at least once. With a mere 2 coats, the color goes on lush and stays put for up to 2 weeks with no signs of the slightest budge! A great winter shade, you can rock Midnight Swim at nighttime events or on holiday with your family. We think this makes for one of the best fall dark nail colors owing to its warm yet stunning shade.
Pros
Rich pigments
Lasts up to 2 weeks
Budge-proof
Gel finish
Doesn't cause damage to nails
Offers a shimmery finish
Cons
Some may find the consistency to be thick.
Magic Armor's Gel Nail Polish is for all the beauties out there that are looking to dress up their acrylic nails. The formula goes on like normal polish but wears like gel with a mirror-shine finish. As it is made of natural resin, mineral pigments, and other non-toxic ingredients, rest assured your nails are in good hands owing to the breathable formula. Brown Glitter is like a sparkling glass of drink and is suited for any festive occasion. You will need a UV lamp for this one, though, but the color stays for up to 3 weeks so it's worth it!
Pros
No odor
Long staying power
Made of non-toxic materials
Gives a glossy finish
Cons
May not be chip-resistant
Embellishing your nails with Duri's rich and vibrant red will make your nails hand model-worthy. With a long-lasting glossy finish, the formula offers full coverage and is super easy to apply. To keep your nails healthy, the Metallic Shimmer Nail Polish is made without formaldehyde, resin, DBP, xylene, camphor, and other harsh chemicals. As red falls among the classy dark nail colors, we think this shade pairs perfectly with an evening dress.
Pros
Highly pigmented
Cruelty-free and vegan
Free of toxins
Offers full coverage
Long-lasting wear
Glossy finish
Cons
Now that we've looked at some of the best dark nail colors out there, let's dive into how you can choose the best one for your skin tone.
How To Choose The Right Dark Nail Polish For Your Skin Tone
If your skin tone is on the lighter side, you can pull off almost any dark color. Reds with blue undertones and purples are perfect to add a vibrant contrast but if you prefer something a little daring, don't hesitate to try a blood red or burgundy. Multichrome nail colors can also add a unique look to your fingertips and they can complement any fall outfit. Choosing dark colors with hints of pink can help offset the blue undertones in lighter skin tones. Greys have cool notes that look flattering on pale skin.
If your skin tone is medium or olive, wine or burgundy, blues, and pinks will look great on your skin as most colors would look flawless. Stay away from golden or rust shimmers, though, as they can wash out your complexion. Dark sand or coffee colors will add an elegant touch, and reds with orange undertones will make olive skin look like a million dollars. Cool-toned greys will also look fantastic on your skin and you can always opt for a darker and smokier shade for something a little dramatic and sexy.
A rich plum shade, dark oranges, and greens look good on darker skin tones. Greys with hints of mauve or purple undertones can bring the greyness in deeper skin to light. A wine color is a classic and will definitely set your hands up for major compliments. A vibrant violet shade can give off the illusion of younger-looking hands and a deep navy makes your nail beds look smaller.
You can't ever go wrong with a deep dark nail polish color as it can add a dose of elegance and edge to your overall look. Dark nail colors don't always have to mean black, but whatever your favorite color, it has a friend that's from the underworld. Summers are ideal for a light pastel pink or blue but winters and fall months need you to match the weather with popular nail colors that match the season yet remain stylish. The next time you're prepping for sweater weather, ensure to keep a lush and bold color ready for your next manicure. Dark colors pack a punch with rich pigments and as you choose between matte, shimmery, metallic, and glossy shades, we're sure you'll find your signature. After all, there's a dark nail polish color for everyone.
Why Trust StyleCraze?
The author, Chaitra Krishnan, is a makeup enthusiast who lives and breathes makeup. She has tried out different dark nail polishes and curated a list of the best ones in the market that are perfect for any skin tone. This well-researched list of dark nail polishes has shades with a perfect matte finish that makes them ideal for any mood, weather, or occasion.
Frequently Asked Questions
Are dark nails classy?
Dark nails look very classy and chic. Black, the darkest color, looks the most elegant and sophisticated.
How do you wear dark nail polish?
Dark nail polishes look best when you use a base and top coat with them. This way the color will not leave any stains on the nails.
Is it OK to wear dark nail polish in the summer?
Many people think that dark nail polishes are meant to be used in the winter and autumn seasons. However, you can wear them all year round. With the right outfit and accessories, you can pull off any dark color polish in the summer.
Does dark nail polish make hands look older?
No. In fact, dark nail polishes make your hands look younger. However, dark hues may highlight darkened spots on the hands caused by aging and sun damage.
Can you wear dark red nail polish in the summer?
Yes, a dark red nail polish is a summer appropriate color.
Recommended Articles