9 Best Deep Conditioners For Curly Hair That You Must Buy In 2023
Nourished and healthy curls aren't a distant dream with these hair care essentials.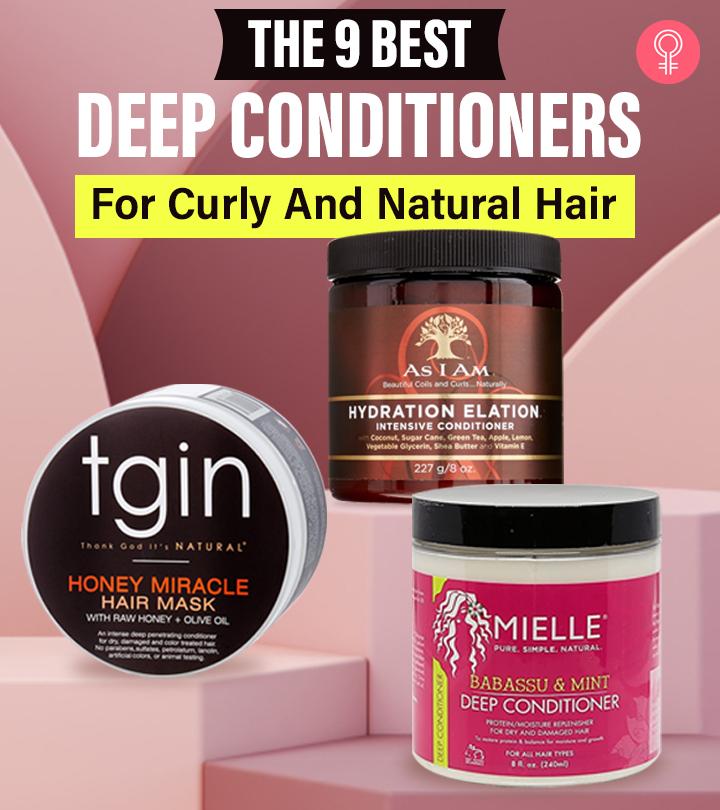 To manage dry and thick, unruly curly hair, you must get your hands on the best deep conditioner for curly hair. Deep conditioners will thoroughly nourish your curls, hydrate them, and keep them healthy. They also add volume, body, shine, and softness to your naturally curly hair. They make your hair manageable, taming away the frizz and easing the entire detangling process. If you are tempted already, find the 9 best deep conditioners for curly hair.
The 9 Best Deep Conditioners
The tgin Honey Miracle Hair Mask softens dry, damaged, and chemically treated and colored hair. It contains raw honey that deeply moisturizes the hair and reduces dryness and flakiness and olive oil that prevents hair breakage.  The jojoba oil and vitamins A, D, and E heal the hair strands, strengthen them, making your tresses manageable and frizz-free. This intense hair treatment is also suitable for natural and low porosity hair. Know more about this product in this video.
Pros
Lightweight
Paraben-free
Sulfate-free
Petrolatum-free
Lanolin-free
No artificial colors
No animal testing
Pleasant fragrance
Cons
None

Price at the time of publication: $14.99
The Mixed Chicks Deep Conditioner nourishes, hydrates, and detangles the thirsty locks. It contains a moisturizing blend of conditioning ingredients like safflower seed oil, rich in oleic acid, which stimulates hair growth and strengthens the hair follicles. Vitamin E keeps the scalp hydrated and prevents free radical damage. This deep conditioner improves blood circulation, keeps the hair shiny, and improves hair texture. Learn more about this product in this video.
Pros
Softens the hair
Detangles the hair
Prevents breakage
Cons
Price at the time of publication: $42.5
As I Am Hydration Elation Intensive Conditioner is a moisturizing hair treatment that goes deep into the hair shafts to hydrate and repair them. This product contains a combination of moisturizing and nourishing ingredients like shea butter, vitamin E, sugar cane, apple, lemon, coconut, and green tea extracts. These ingredients strengthen weak hair, promote shine, prevent dryness and split ends, and make your curls smooth, frizz-free, and manageable. The formula works on the hair follicles to support them and prevent hair fall while promoting healthy hair growth This video will provide you with added insights about the product.. 
Pros
Repairs split ends
Prevents breakage
Prevents frizz
Vegan formula
Detangles the hair
Cons
Price at the time of publication: $15.59
The EDEN BodyWorks JojOba Monoi Deep Conditioner nourishes, protects, repairs, and moisturizes the hair. It contains a botanical blend of coconut, jojoba, monoi, and other oils that provide deep conditioning to rough and dry hair, restoring smoothness and reducing breakage. This super-hydrating formula penetrates the hair shafts to moisturize dry and brittle strands. It is great for over-processed and low porosity hair.
Pros
Prevents dryness
Easy to apply
Softens the hair
Cons
Price at the time of publication: $9.11
Aunt Jackie's Coconut Crème Recipes Coco Repair is a deep conditioner enriched with coconut oil and avocado extract. It moisturizes, repairs, and rejuvenates your hair to keep it healthy. The formula also contains mango and flaxseed extracts that provide nourishment and moisture to the hair shafts to prevent breakage and damage. It has a rich and creamy texture and is best for brittle and rough hair.
Pros
Prevents breakage
Softens the hair
Sulfate-free
Paraben-free
Mineral oil-free
Petrolatum-free
Cons
Price at the time of publication: $9.19
The Babassu Oil And Mint Deep Conditioner by Mielle works perfectly to reduce frizz and add moisture to dry hair. It contains babassu oil (obtained from palm fruit), which is rich in sterols and tocopherols, to provide deep moisturization to the hair and the scalp. This deep conditioner also has soy and wheat-derived amino acids and other natural oils that nourish and repair the hair, improving its texture.
Pros
Contains certified organic ingredients
Pleasant smell
Prevents damage
Provides cooling effect
Cons
Not suitable for protein sensitive hair
Price at the time of publication: $11.0
The ORS Olive Oil Strengthen and Nourish Replenishing Conditioner combines the power of olive oil and sweet orange oil to moisturize, revitalize, and strengthen the hair. This deep conditioner for damaged hair also contains marine proteins to fortify the hair and scalp so that your hair looks shiny, healthy, manageable, and strong. This product maintains the hair and scalp's pH balance so that they stay relaxed and problem-free. The conditioner is also suitable for colored and chemically treated hair.
Pros
Detangles the hair
Softens the hair
Balances pH levels
Imparts shine
Cons
Too greasy
May cause irritation
Price at the time of publication: $60.0
The Camille Rose Algae Renew Deep Conditioner is a vitamin-packed, nourishing, and strengthening product. This conditioner is infused with pure blue-green algae, 65 vitamins, minerals, and antioxidants to protect your hair from environmental damage. It also contains unrefined cocoa and mango butters to provide deep conditioning and moisturizing benefits. The biotin in this product stimulates hair growth, improves hair resilience, making it less prone to breakage.
Pros
Prevents breakage
Softens the hair
Contains natural ingredients
Smells great
Cons
Less quantity for the price
Price at the time of publication: $10.17
The Curls Blueberry Bliss Reparative Hair Mask is an excellent deep conditioner for kinky, curly hair. It contains organic ingredients like chamomile extracts, blueberry extracts, and aloe leaf juice that restore, protect, and repair the curls while encouraging hair growth. The nourishing formula softens the hair so that it detangles easily and appears healthy. It goes deep inside the hair shafts to strengthen them and improve the texture.
Pros
Clinically approved
Certified organic
Defines curls
Prevents frizz
Smells good
Cons
Not suitable for protein sensitive hair
Price at the time of publication: $14.94
Why Trust StyleCraze?
The author Shiboli Chakraborti is a certified skin care coach with considerable expertise in hair care. She understands that proper maintenance of natural or curly hair is essential to keeping it looking as gorgeous as it does. The author has conducted thorough research and selected the best deep conditioners for naturally curly hair for the benefit of her readers. With deep conditioners, your curls will be nourished, hydrated, and kept healthy.
Frequently Asked Questions
When should you deep condition curly hair?
Deep condition the curls not more than once or twice a week. Apply conditioner on wet hair and let it stay for the prescribed time before washing it off.
Does deep conditioning help curls?
Yes. It is a crucial step in the CGM (Curly Girl Method) to provide intense hydration, reduce frizz, and define curls.
Can you make DIY deep conditioner?
Yes, you can prepare deep conditioners using natural ingredients like coconut oil, olive oil, banana, glycerin, and raw shea butter.
Can you deep condition on dirty hair?
No. Deep conditioning works better on clean hair.
Can I use coconut oil as a deep conditioner?
Yes, coconut oil is one of the best natural deep conditioners for rough and dry hair.
Recommended Articles