10 Best Deep Conditioners For Fine Hair To Get That Extra Nourishment – 2023
Transform your fine hair into shiny, voluminous tresses with these potent products.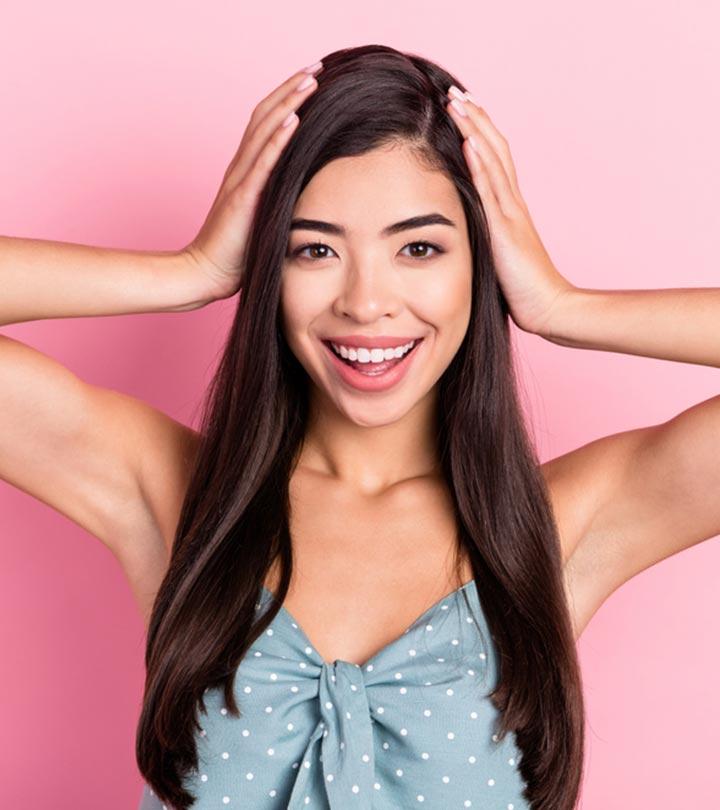 We've all had that phase where we realize that our hair can't take it anymore, and then we ransack stores for the perfect product to reverse damaged hair. After all the coloring, styling, and chemical treatments, all your hair needs is the best deep conditioner for fine hair. Once you have made up your mind to pamper your hair back to health, the next important step is to find a product loaded with ingredients that strengthen your hair like argan oil, coconut oil, keratin, vitamin E, and aloe vera. Once you find the conditioner that suits you, the best part is that you are halfway there to flaunting thick glossy hair. If you are unsure which conditioners will help you reverse the deterioration and enrich your hair with natural ingredients, we are here to help. Go through the list of 10 deep conditioners that will reverse hair damage and leave your hair full of health.
10 Best Deep Conditioners For Fine Hair To Make Them Smooth Like Never Before
Pros
Sulfate-free
Alcohol-free
Paraben-free
Non-oily formula
Cons
Slightly strong fragrance
Price at the time of publication: $19.98
A sulfate-free conditioner that nourishes hair, keeps them soft and helps reduce split ends completely, is totally worth investing in. Marc Anthony Grow Long Biotin Conditioner is one such product and once you get it, you might not feel like skipping it. Unlike other conditioners, it does much more than just hair conditioning. From making hair strong to adding luster, this top-rated deep conditioner has the power to do all. Infused with caffeine, vitamin E and ginseng, the conditioner repairs damaged hair, provides intense moisture, protects its texture and replenishes hair. It serves as an ideal solution to split ends, roughness and breakage. In this YouTube video, you will find a detailed review of this product.
Pros
Light weight
Smells good
Keeps up the volume
Keeps hair tangle free
Cons
Might feel slightly greasy after a day of application
Price at the time of publication: $9.93
Pros
Vegan
Smoothens hair
Doesn't make your hair weigh down
Anti-frizz
Moisturizing
Cruelty-free
Sulfate-free
Paraben-free
Gluten-free
Cons
None
Price at the time of publication: $44
Pros
Light-weight
Paraben-free
Adds volume to hair
Long-lasting bounce
Cons
Might be a little less hydrating for the scalp
Price at the time of publication: $21.0
This is a deep nourishing formula that is loaded with jojoba oil, hydrolyzed keratin, collagen and argan kernel oil. It is an excellent conditioner to fulfill your hair breakage and damage issues. The unique combination of natural oils and proteins is highly beneficial for repairing the damaged ends, improving hair strength and smoothening hair. Frizz control is also super easy with this natural formula. Also, it is safe for all types of hair and can  be used as a hair growth mask.
Pros
Makes hair shiny
Sulfate-free
Cruelty-free
Safe for color-treated hair
Cons
Scent might feel weird to some
Can be a bit heavy for fine hair
Price at the time of publication: $9.99
Pros
Adds volume
Prevents breakage
Light-weight
Protects from heat
Cons
Slightly thin consistency
Better for fine and thin hair
Price at the time of publication: $6.87
When you are worried about your hair health, it is time to switch to Redken All Soft Heavy Cream. As the name suggests, it is a thick, creamy formula that helps in keeping your hair soft and healthy. It serves the role of a perfect deep conditioning treatment and tackles frizz, dryness and brittleness of hair. Induced with argan oil, the cream is loaded with vitamins and transfers the same natural goodness to hair. It has balanced pH and nourishes hair incredibly. The product is suitable for both fine and curly hair. Rinse well
Pros
Non-sticky
Controls frizz
Makes hair soft
Good for dyed hair
Cons
Slightly thick consistency
Price at the time of publication: $27.0
Pros
Cruelty-free
Protein enriched
Safe for colored hair
Improves color vibrancy
Cons
Slightly faulty pump
Great product for cost
Price at the time of publication: $49.99
Pros
Lightly scented
Controls frizz
Gentle effect
Preserves hair color
Cons
Slightly too creamy for some
Price at the time of publication: $12.95
Pros
Sulfate-free
Paraben-free
For all hair types
No sodium chloride
Natural DHT treatment
Cons
Price at the time of publication: $19.76
These are the top 10 deep conditioners for fine hair. Given below are some points that can assist you in coming to a conclusion. Have a look at these points, and hopefully you might be able to make a better purchase.
How To Choose The Best Deep Conditioner For Fine Hair?
Depending on your hair and scalp condition, you should choose the conditioner-
It is always good to go for conditioners that are volumizing in nature and add bounce to your hair. Oily hair might look thin and limp, so adding volume helps. Also, look for light-weight conditioners that are non-greasy in texture to keep your fine hair from looking thin.
Dry hair requires a lot of hydration. Deep conditioners containing argan, jojoba and coconut oils are good for smoothening and shine. Conditioners that are nourishing in nature must be used more to tame dullness.
A conditioner that is meant for frizz control, protects from heat damage and protects hair color is ideal for damaged hair. Color treated hair tends to appear more damaged and needs a deep nourishment formula induced with keratin, vitamin E or biotin.
Types Of Deep Conditioners For Fine Hair
A hydrating conditioner is great for making hair smooth and silky. Such conditioners work really well if you wish to add luster to your hair or if you have curls. Products like Pure Nature Argan Oil Conditioner, Vitamins Keratin Mask are great examples of hydrating conditioners.
A conditioner, like Matrix Biolage Volumebloom Conditioner, adds volume and is most suitable for fine hair. Not only do such conditioners add bounce, but also enhance the overall appearance. For hairdos that require lift, volumizing conditioners work amazingly well.
A strengthening conditioner  like Marc Anthony's grow long biotin conditioner can help you revive your damaged hair. Such products improve the texture, repair split ends and treat brittle hair.
Do's
Always clean your hair first and then apply conditioner.
Get a gentle shampoo.
Use conditioners that add bounce to hair.
Use light-weight and non-greasy formulas, as these are good for fine hair.
Rinse thoroughly so that there is no product left on the hair.
Allow conditioners a few minutes to penetrate into the hair before rinsing.
Dont
Don't apply the conditioner on the roots of the hair. Conditioning is meant for hair length and ends. 5 minutes for regular use and 10 minutes for more damage.
Don't use a large amount of the product. Dr. Tere Pruett, a certified trichologist from the United States Trichology Institute, says, "For even better results, cover the hair with a plastic shower cap and apply a warm towel or external heat and leave on for 10-20 minutes.
Why Trust StyleCraze?
The author, Vaishnavi Kothuri, is a hair care enthusiast, and she believes that deep conditioning helps nourish your hair. So, she conducted deep research about hair conditioners after checking customer reviews online to provide you with this list of the best deep conditioners for fine hair. The conditioners listed above can tackle dull, frizzy hair and make it tangle-free, shiny, healthy and growing at its full potential.
Frequently Asked Questions
How Often Should You Deeply Condition The Fine Hair?
You should condition your hair fine once every week.
Is It Better To Deep Condition Before Or After Shampoo?
Deep conditioning works really well after shampoo.
What ingredients should I look for in a conditioner for fine hair?
Look for conditioners with collagen, biotin, keratin, peptides, hydrolyzed soy protein, etc. for fine hair.
What's the difference between a hair mask and a deep conditioner?
Hair masks condition, rejuvenate, hydrate, and strengthen the scalp. Deep conditioners penetrate hair shafts to reach the cuticles and nourish them from within to soften the hair.
What happens if you deep condition too much?
It causes hygral fatigue or excessive moisture retention that makes your hair lifeless from too much buildup.
Do you put deep conditioner on your scalp?
No. If you have dry hair, deep condition your hair from the roots. If you have oily hair, deep condition the strands from mid-length.
How long should you leave on a deep conditioner?
Roughly 30-40 minutes is enough for the deep conditioner to show visible results on your hair.
Why is my hair still dry after deep conditioning?
It can happen due to multiple reasons like deep conditioning on hair that is not cleansed well or has excessive product buildup. It can also be due to the low porosity of the hair that prevents the products from getting absorbed into the hair shaft.
Recommended Articles